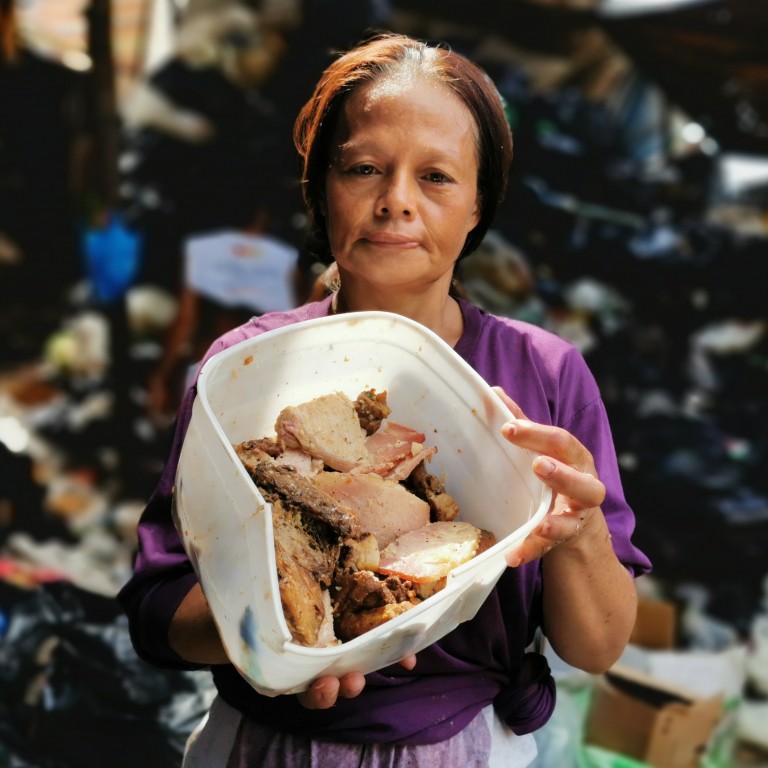 In Philippine slums, meat scavenged from dumpsters feeds those short of meals and hope
Consuming pagpag leads to stunted growth in children, and heightens the risk of acquiring hepatitis A, cholera and typhoid
Despite the government's incremental success at reducing poverty, eating and selling pagpag is a way of life in slums like Payatas
Morning traffic rattles through the slum district of Payatas in Quezon City, just north of Metro Manila. It is 9am but over 30 degrees Celsius and climbing. A truck pulls over and workers unload the morning's collection of rubbish, depositing it behind the corrugated iron gates of Joe's Junk Shop.
Payatas is a sprawling shanty town built on a landfill, and these junk shops are an integral part of the local economy. Inside, it is a hive of activity. The space is piled four metres high in parts with sacks bulging with waste; sweaty, black sausages that split their skin in the heat, detritus spilling out to be sorted and separated.
Joe Bolon, the owner, pays 6 pesos (10 US cents) for a kilogram of waste. Deliveries begin arriving before dawn. Once pulled out and stripped of packaging by Bolon's team of wiry young men in plastic sandals, recyclables get sold for 18 pesos per kilogram.
Myrna Salazar is the only woman working there. She is 40 years old, but looks more weathered. She moved to Manila from Samar 30 years ago and has been "collecting" in Payatas for two decades. Her eyes skim the sea of refuse for anything worth salvaging; her hands move almost as fast, deftly avoiding jagged objects concealed beneath the surface.
One of the men hacks apart a hollowed-out watermelon shell with a machete, adding to the pile of fruit rinds and gristle that will be bundled as pig feed and sold for 150 pesos (US$3) per sack.
Other scraps – chicken and pork deemed edible – are set aside in a white ice-cream tub to be washed, cooked and sold in the neighbourhood. This is pagpag – "shake off the dirt" in Tagalog. Discarded food still fit for hungry mouths in slums like Payatas.
DUMPSTER DINING
After many years of scavenging, Salazar insists she can identify spoiled meat, which she leaves. "If the food is as soft as this, it can't be eaten," she says, pinching meat that has gone bad.
"But if the pork or chicken is as hard as this, this is the pagpag meat we collect," she continues, holding up a chicken breast to demonstrate. "We're used to eating it. We clean the meat thoroughly to remove the smell and so that it will taste good. We cook it or fry it and later my kids will also eat this."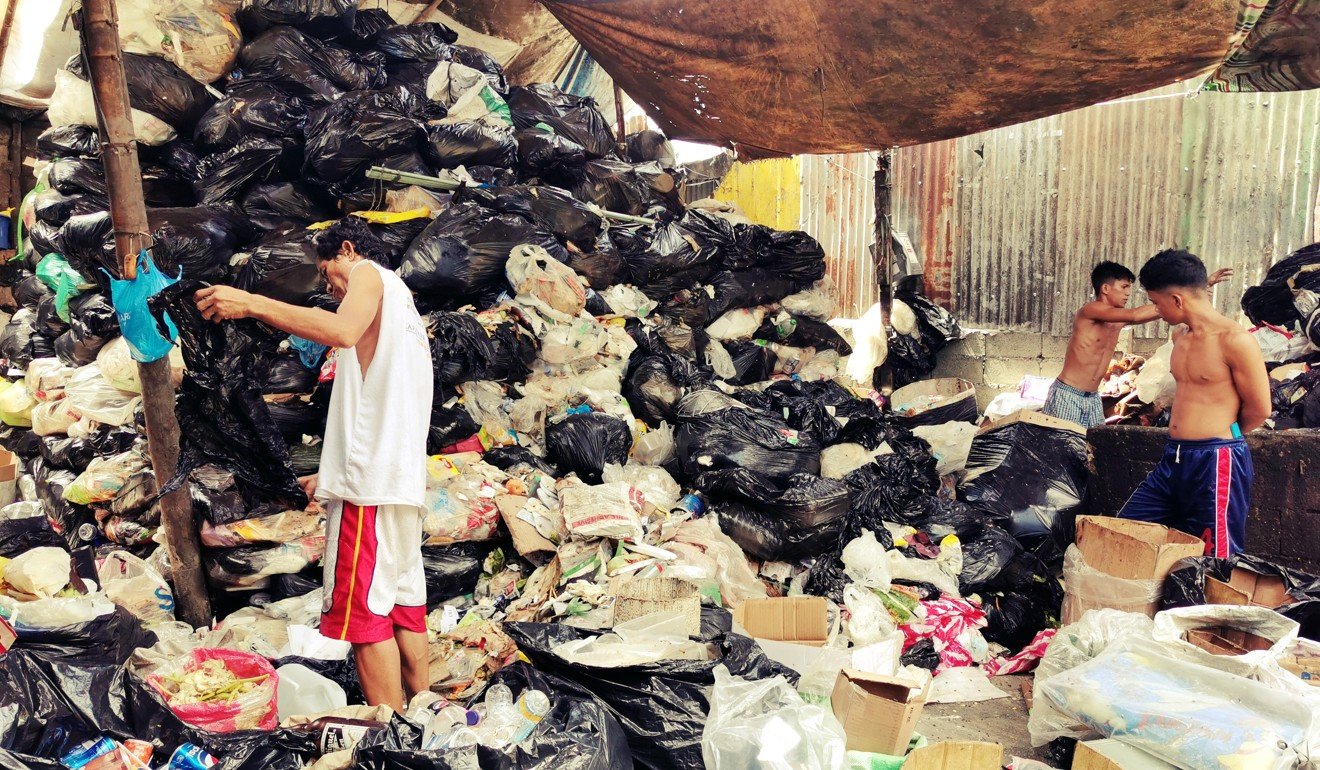 Salazar has no concerns about the health risks of eating pagpag. Nor does she see any need to visit the market, five minutes' drive away, where vendors have stalls filled with goat meat and fresh fruit.
"If you have a strong immune system, it's rare for you to get sick," she says. "We don't need to spend money to buy our food in the market. Sometimes we find rice, cooking oil and soy sauce in the garbage, all for free."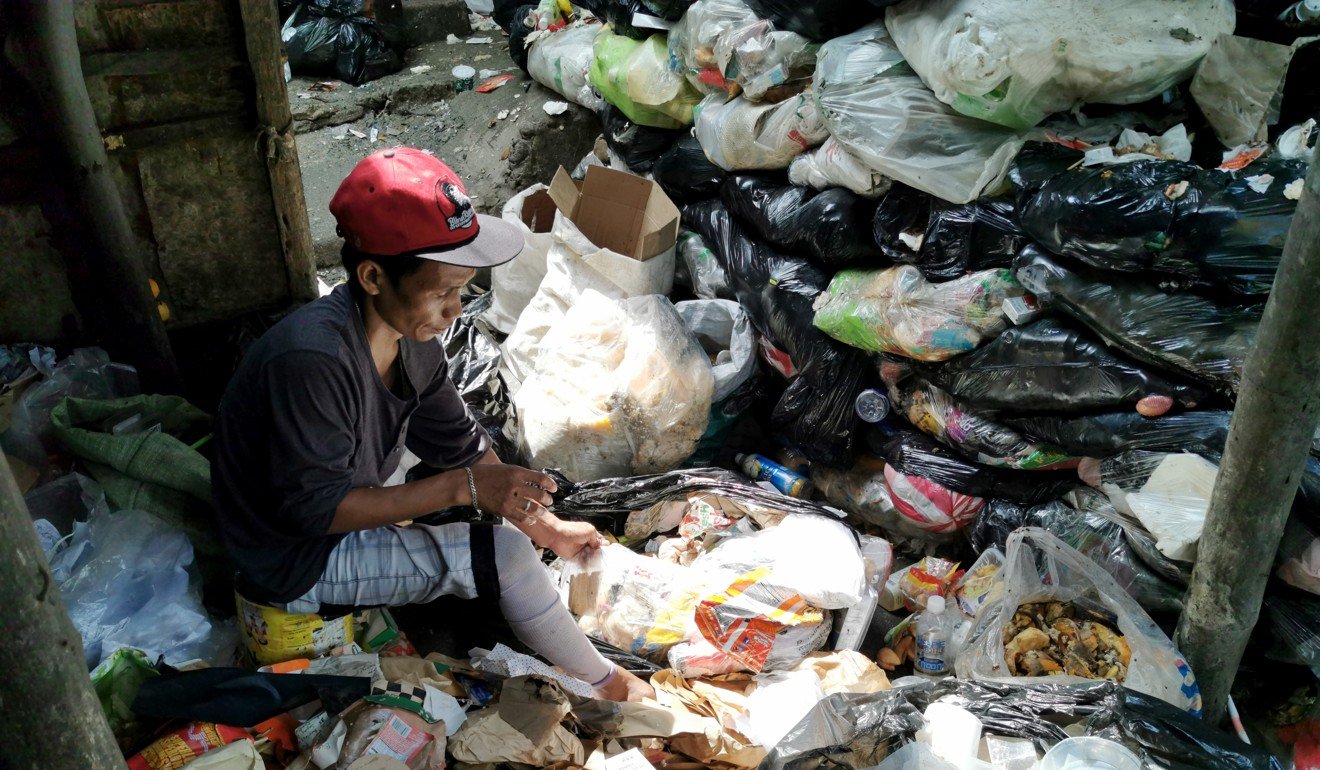 Salazar has four children and her husband also works at Joe's Junk Shop, sorting recyclables. The couple can earn 1,000 pesos (US$20) a day – sometimes more, depending on the volume of waste, although there are lean days when they earn less.
Payatas takes its name from the phrase payat sa taas ("thin at the top") because the soil is no good for rice crops. It is a community scarred by generations of hardship and struggle.
In 2000, a landslide of rubbish in one part of Payatas known as Lupang Pangako – or "Promised Land" – killed 218 people, according to official figures. The real death toll was probably much higher, but the authorities could not verify how many people lived in the area. The Promised Land, where combustible substances within the rubbish would erupt unpredictably into geysers of flame, was shut down with untold hundreds buried below.
More recently, Payatas became one of the bloodiest focal points in Philippine President Rodrigo Duterte's crackdown on drugs. Residents recall too many people turning up dead during the height of the purge in 2016-17, casualties of police operations or vigilantes licensed to kill.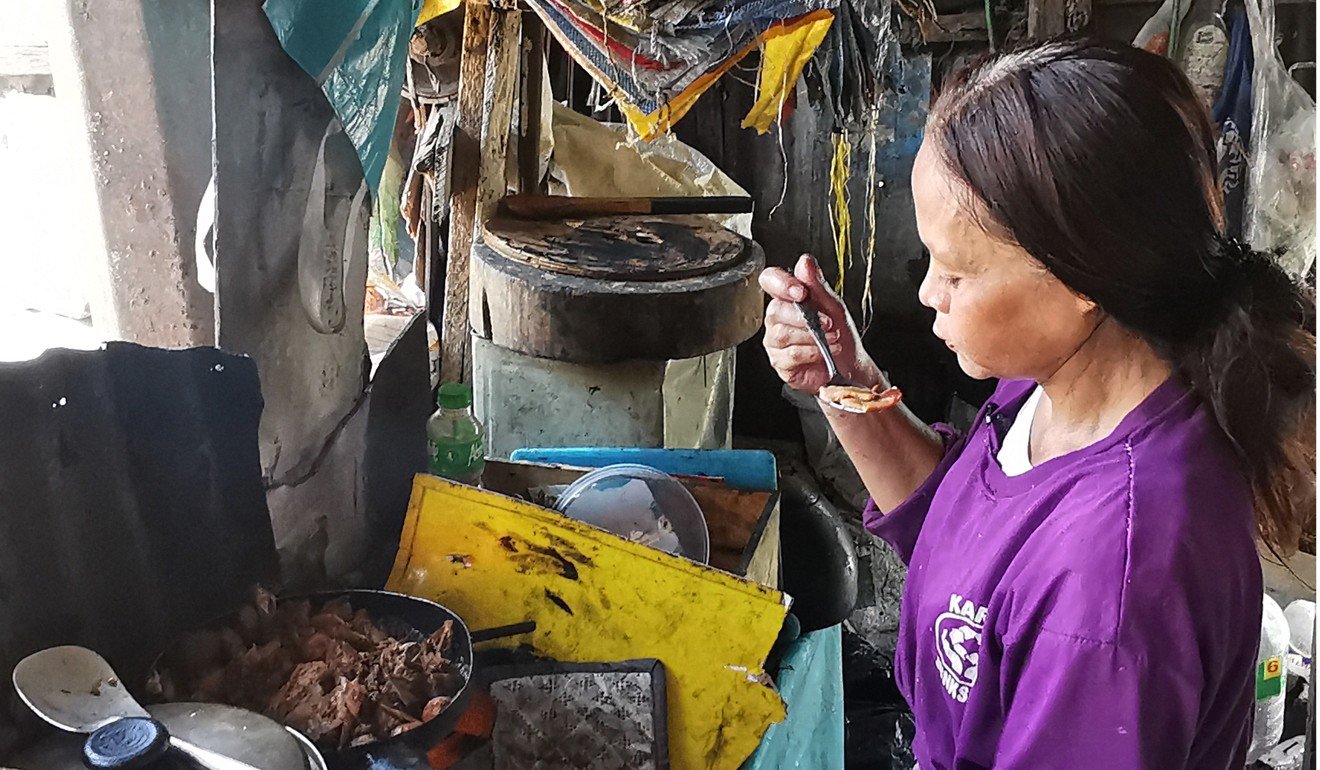 Bolon, the owner of Joe's Junk Shop, moved to Payatas from Masbate. The 59-year-old used to work as an industrial painter – cars mostly – but bought the junk shop at his wife's urging. The rubbish stays for no more than two days, he says, and the local government regularly sends workers to fumigate the site.
He lives close by, his employees all live in Payatas, and although he acknowledges the effects of Duterte's crackdown on the area – previously, taxi drivers would refuse fares there – Bolon grows cautious when pressed for details.
"You hear stories of people in the neighbourhood," he says, trailing off. "Before Duterte became president, there was a lot of crime – burglary, people involved in drugs. Since the war on drugs, that has reduced."
Salazar begins preparing the pagpag. In a small kitchen to one side of the shop, she washes the meat before mixing the adobo seasoning of onion, garlic, peppers and soy sauce. She uses kindling to light a stove and heats a pan with oil before ladling in the meat and adding salt.
Next to the kitchen, on the other side of a chicken coop inhabited by a noisy rooster, two signs hang alongside piles of rubbish. The first asks staff to "Clean as you go". The second is a reminder for would-be thieves: "When you leave, show everything you are carrying."
In Payatas, life may be cheap but nothing is free.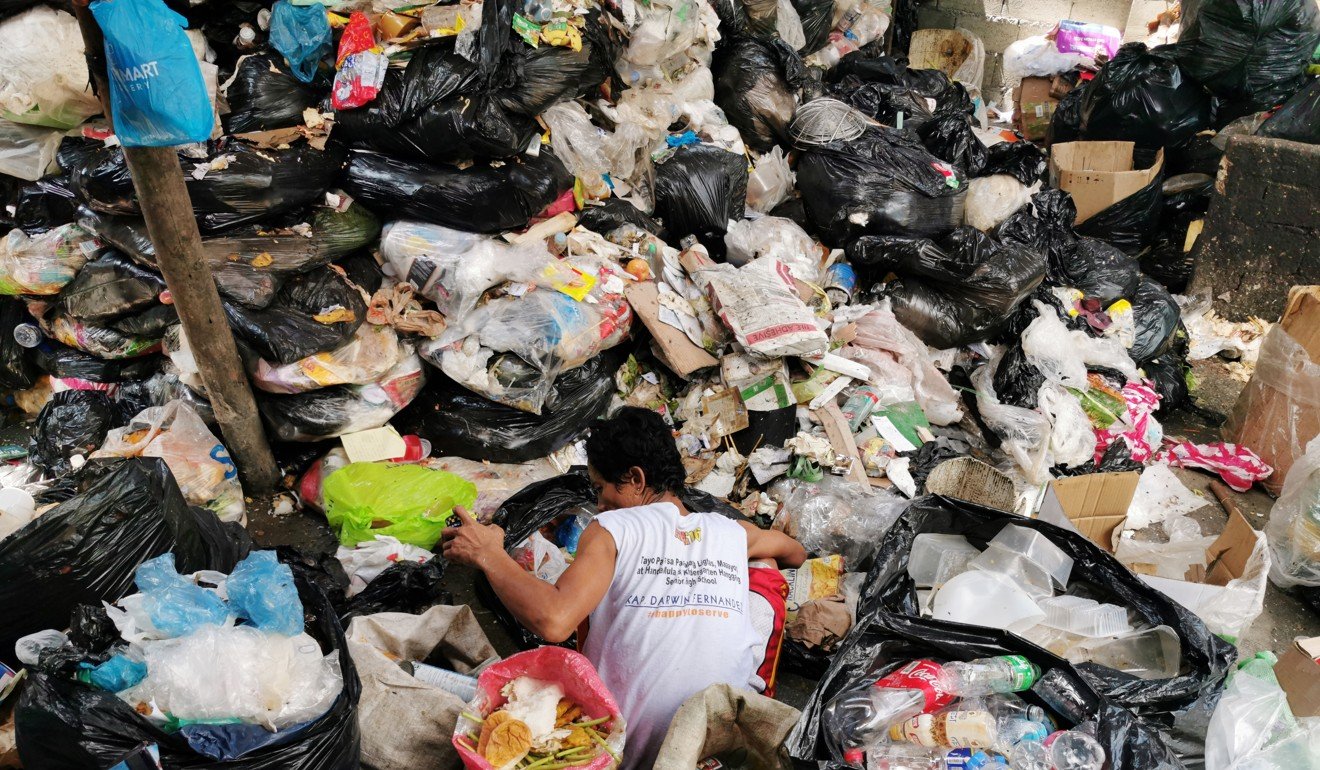 THE SAD REALITY
According to Cristopher Sabal, a senior technical officer at the National Anti-Poverty Commission (NAPC), pagpag consumption is merely one expression of a multifaceted problem.
"A lot of our urban poor settlers are living near these dump sites, in informal settlements," he says. "They are living in the most vulnerable areas, the danger zones. They don't have access to basic necessities … They are primarily the victims of drug abuse and dependency. They don't have security in their tenure in their house – [the houses] get demolished and they will be moved somewhere. There is that sense of insecurity in their lives. They don't have access to livelihoods which would support them … enough to purchase the food requirements for the family. That's the sad reality."
For all Sabal's sympathy for the plight of those surviving on pagpag, he does not tolerate claims it can be eaten "safely", that unsanitary meat can be avoided or a strong immune system suffices.
"You cannot see bacteria, you cannot see how dirty the food is, just by looking at it," he says. "Pagpag is not nutritious … We can definitely say it has an impact in the stunting of growth in children. Aside from that, they would be at risk of acquiring critical diseases like hepatitis A, cholera, typhoid."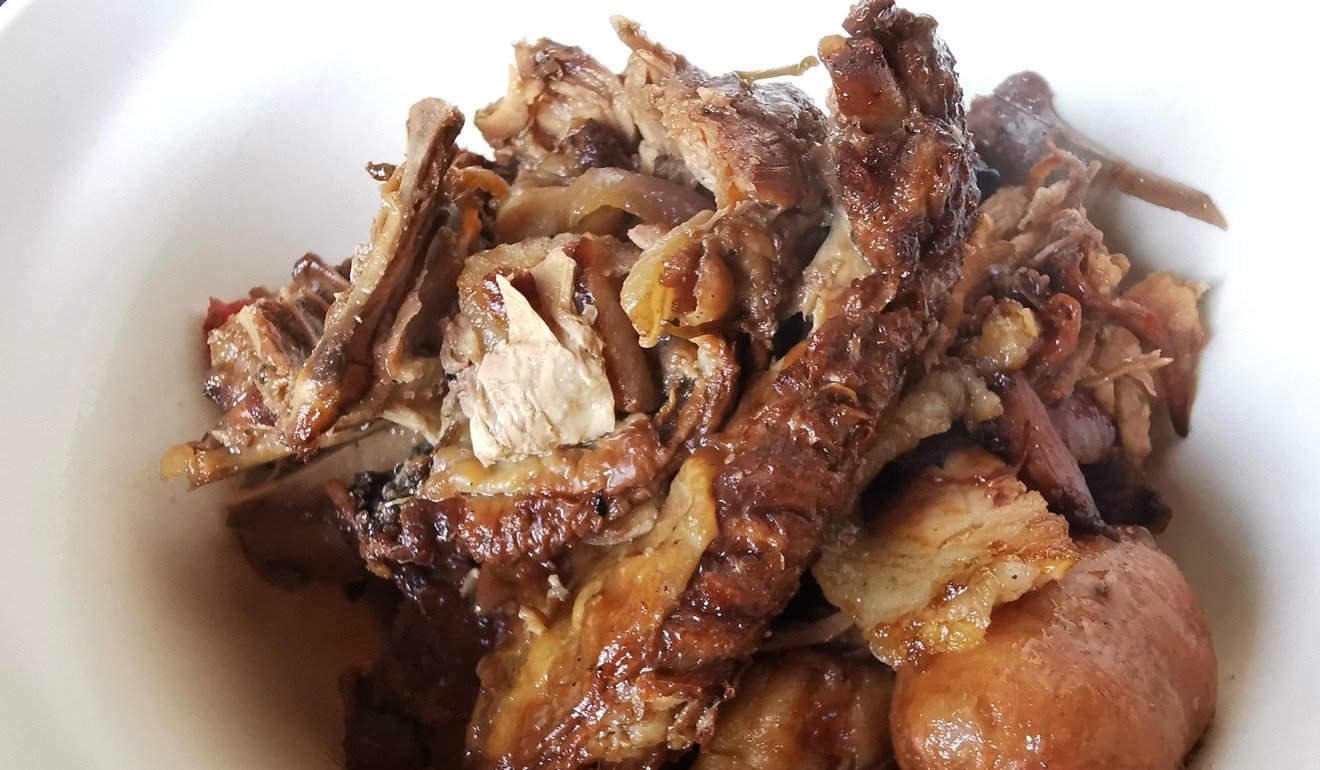 In coordinating poverty-reduction programmes, the NAPC links federal initiatives with implementation at the level of local government – the barangay.
"The fight against poverty does not happen in the boardroom but at the grass roots, where people can really feel the government is doing something to lift them out of poverty," Sabal says.
The Philippine government has also cast Duterte's crackdown on drugs as part of its mission to alleviate poverty by first eradicating drug crime and dependency. Earlier this month,
Amnesty International released a report
, entitled "They Just Kill", chronicling the "climate of total impunity" and systematic abuses that have become hallmarks of the campaign.
Amnesty's East Asia director Nicholas Bequelin described the war on drugs as "nothing but a large-scale murdering enterprise for which the poor continue to pay the highest price".
Sabal, however, insists that "by addressing the problem of drugs, it has a ripple effect in the lives of poor Filipino people".
"It brought back trust in the government at the barangay level. Now they trust that whoever leads them, they are not narco politicians," he says. "It brought back peace and security – if you go out at night, nothing will happen to you.
"The crackdown on drugs did not only result in murders or extrajudicial killings – it also captured a lot of syndicates, big ones and also small street peddlers. We also rehabilitated a lot of poor fathers and mothers who were dependent on drugs."
Sabal cites incremental success: poverty nationwide has fallen, from 27 per cent in 2015 to 21 per cent last year. The
Philippines
is committed to the UN goal of eradicating malnutrition in children. There are financial subsidies for families whose children remain in school, and this year Duterte signed the Magna Carta of the Poor, guaranteeing access to basic services for impoverished Filipinos.
The NAPC officer, however, acknowledges the intractability of Philippine food poverty: 2.4 million families still suffered moderate to extreme hunger last year. And pagpag consumption has become so entrenched it cannot be treated as a purely economic phenomenon.
"There is a danger in sitting in an ivory tower, looking at the problem, being detached from it," Sabal says. "Hunger is a reality in the Philippines.
"People have been doing it for so long, it has been embedded in the subculture of the slums that eating pagpag is OK. Without the government interceding, the cycle will not be broken."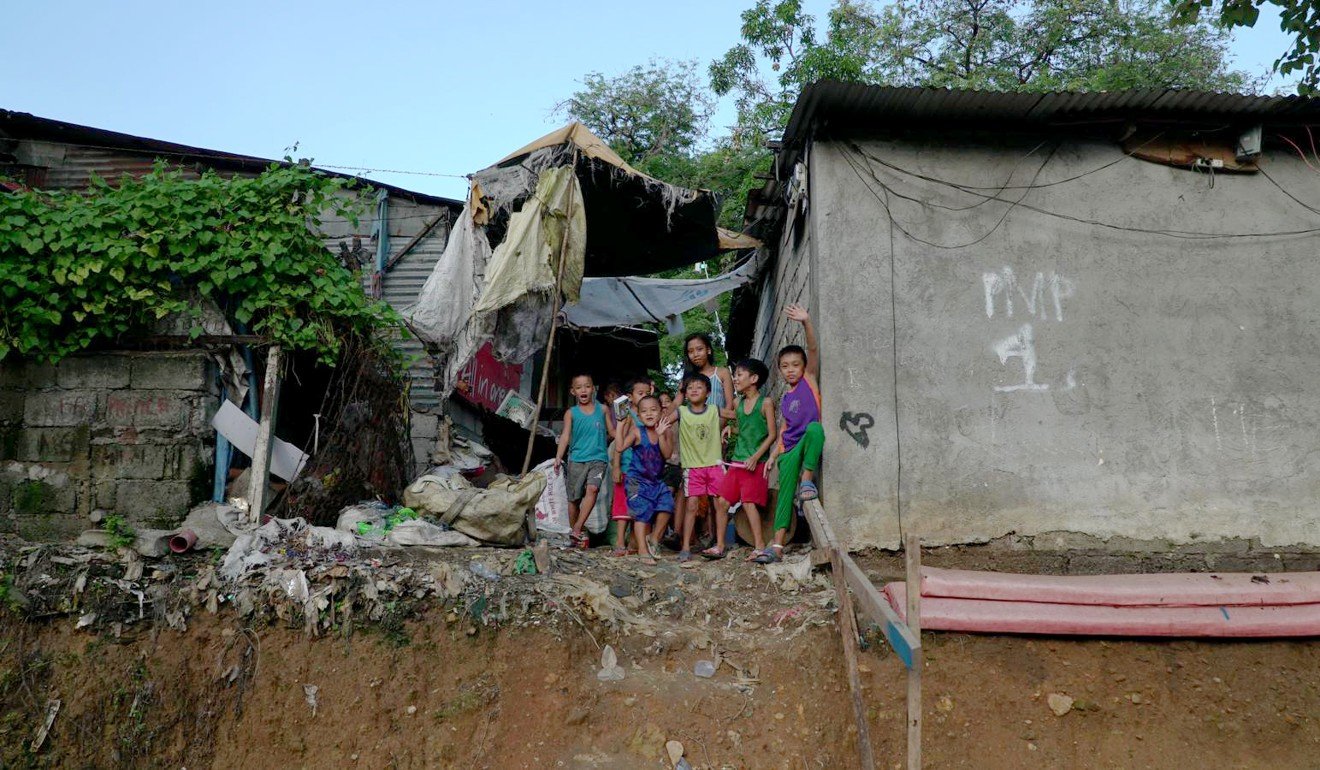 'LIFE IS HARD HERE'
In the afternoon, Salazar finishes work, wraps her remaining pagpag and carries it to the residential area of Payatas. The houses are an improvised patchwork of timber, cement, cinder block and chipboard, with tarpaulins covering the gaps. The school term has not started, so the narrow pavements echo with children's high-pitched chatter and the steady thwack of basketballs hitting concrete.
The central quadrangle bears the chalk outline of a hopscotch court, where some girls have fashioned a skipping rope by tying together dozens of elastic bands. This is where residents used to stage cockfights on weekends, but not any more – not in the new era of law and order.
Salazar makes her rounds. Bags sell for about 30 pesos, each containing an evening meal for four or five people. Susana Abrera, 60, is a regular customer. She buys enough to prepare dinner for her husband, who works gathering sheet metal, as well as Chuchai, 12, and Mariane, 10. The girls are two of Abrera's 17 grandchildren. She moved to Payatas in 1990 and has been eating pagpag regularly since.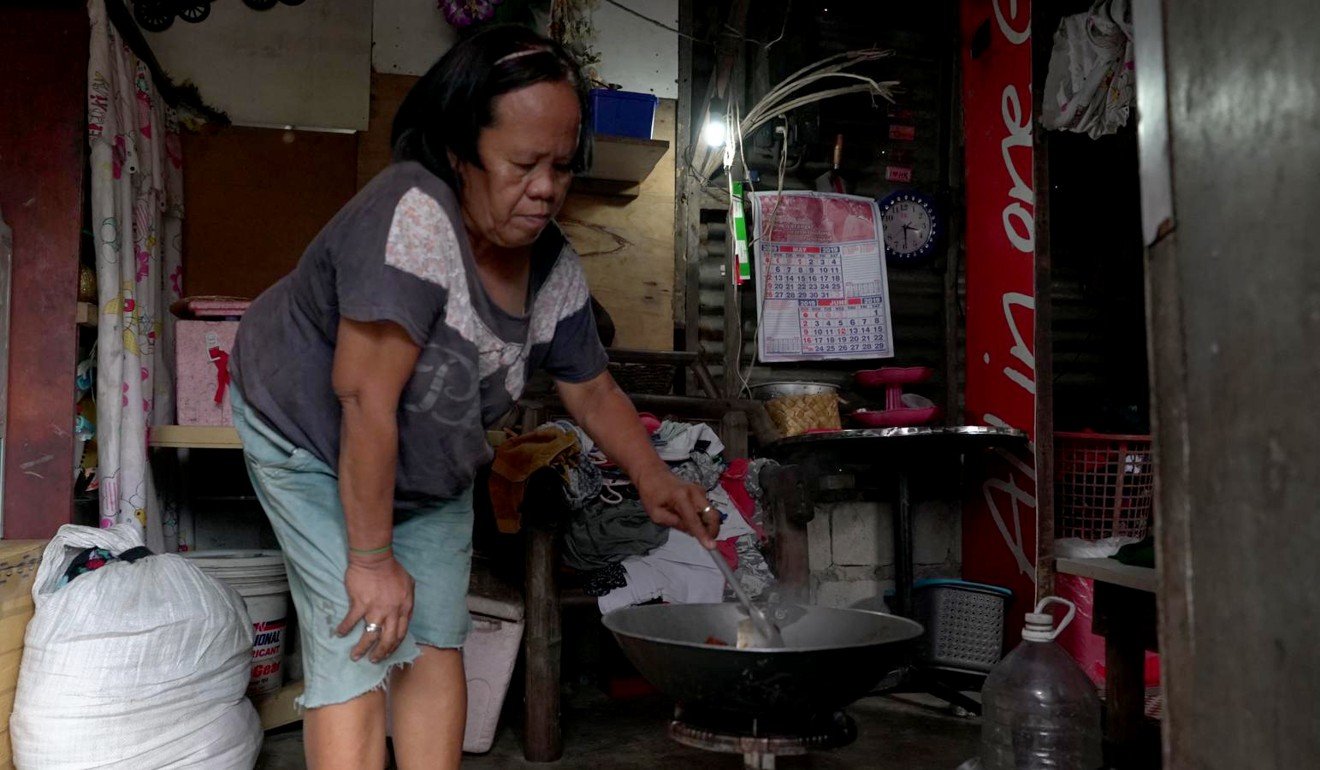 "I wash it three times then sauté the pagpag," she says, heating a wok in the middle of her home. "Then I add more water to cook it well. We are cautious … If pagpag tastes and smells sour it means the meat is already spoiled and we better give it to the pigs and dogs. If we feel sick, we go to the health centre and they can detect our ailment. Mostly, it's liver disease – that's why they advise us to cook the food well."
Abrera says she prepares pagpag four days a week. If there is no pagpag, they eat fried fish and vegetables, although vegetables are more expensive as she must buy other ingredients separately.
Chuchai and Mariane light up at the mere mention of Manny Pacquiao – the champion Philippine boxer who inspires nationwide devotion. Both girls attend school, either walking for 30 minutes or catching a motorised tricycle. Their father drives a truck and their mother sells slippers at a shopping centre.
Pagpag with chicken is Chuchai's favourite, but she insists: "I don't like vegetables – they make me sick."
Mariane is 10 but small enough to pass for seven or eight. She likes school and learning to read and write, but wants to work in
South Korea
as a helper to "send money to my parents". She has seen South Korea on television and says being "a helper is the easiest job you can find".
When the pagpag is ready, they eat swiftly and silently. Once finished, Chuchai burps proudly, immensely pleased with herself.
Abrera recalls how dangerous the area was before Duterte's crackdown, and then the "police raids and shooting everywhere".
"We always hid in our homes because of fear of the police presence," she says. "There were a lot of drug users and sellers before. When they got killed, our area became more peaceful."
Still, she yearns for her grandchildren to improve their circumstances, to leave behind Payatas and its mortal desperation and the meals scavenged from its junk shops.
"Life is hard here. I want them to work overseas. We're getting old and no one can help them when we're gone," Abrera says, overcome with the thought, tears rolling down her cheeks as Chuchai and Mariane stare awkwardly at their feet. "I want them to have a good life far from our lives here. I tell them to study hard … and some day not eat pagpag." ■