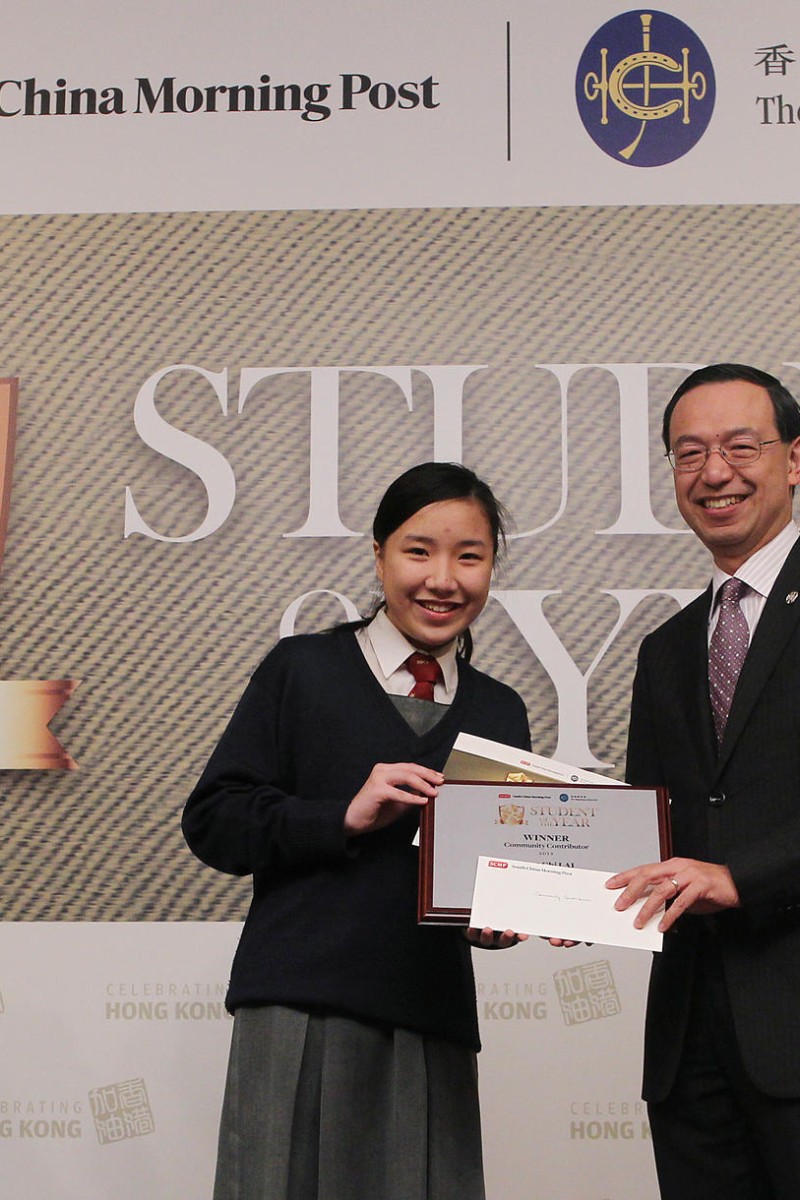 SOTY 2014: Sichuan Earthquake victims inspired Vanesse Lai to re-invent herself
South China Morning Post Student of the Year - Community Contributor award winner Vanesse Lai didn't stop helping after winning the award. In fact, it was only the beginning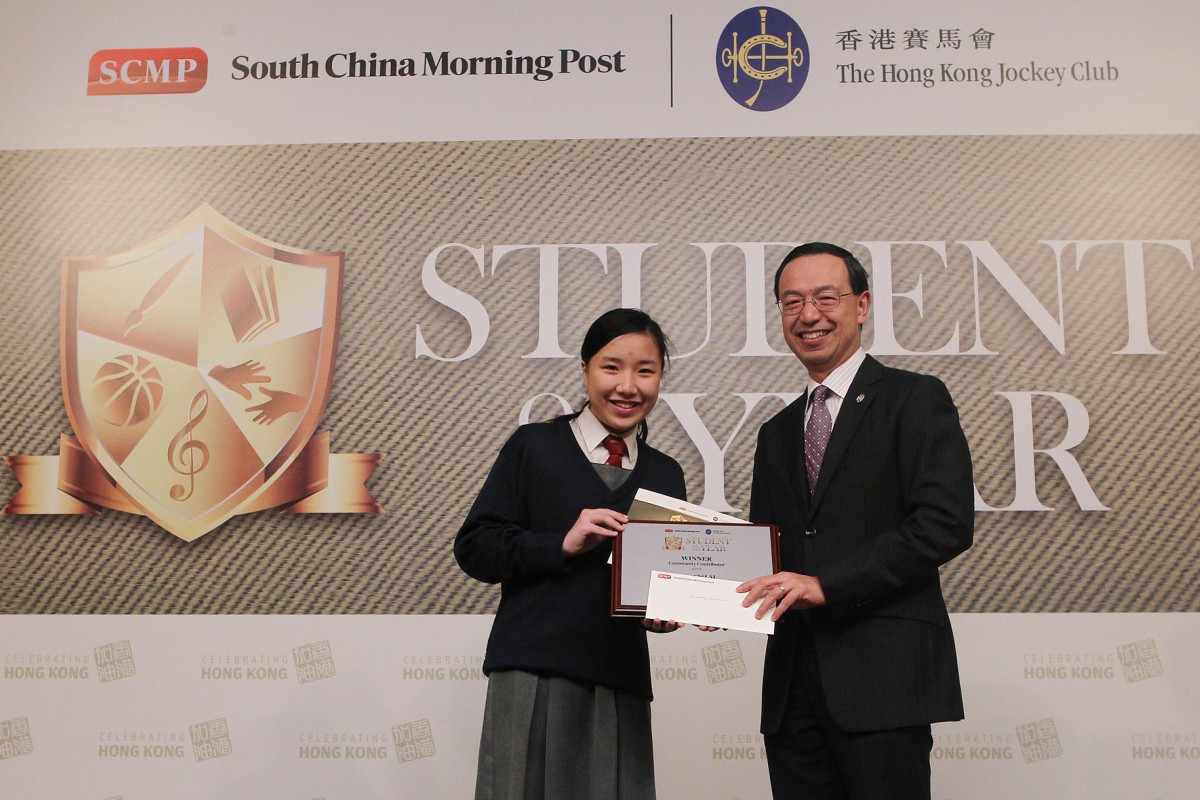 Vanessa Lai receives her South China Morning Post Student of the Year award from the Hong Kong Jockey Club's Kim Mak.
Vanesse Lai Yuet-chi believes that every dedicated volunteer has an unforgettable moment that inspires them to keep going. She found her moment in Wenchuan , Sichuan .
Before that, Vanesse wasn't too interested in helping others. But a one-week school trip to the Sichuan earthquake sites forever changed her thoughts on serving the community.
"After seeing how the people in Wenchuan were suffering, I learned that many people needed help. I felt very lucky to be living in Hong Kong and that I should do more to help," she says.
When she returned to Hong Kong, Vanesse took part in a green campaign competition organised by Yan Oi Tong. She started by encouraging students at her school, Yan Chi Tong Tin Ka Ping Secondary, to recycle plastic, and ended up winning a trip to the North Pole.
"I would not believe what the North Pole is like if I hadn't seen it with my own eyes. There are more rocks than ice! I was inspired to change my lifestyle after the trip. Now I don't go to buffets anymore because it is such a waste of food," she says.
"I also remove the cap and sticker from plastic bottles every time I throw them into the recycling bin to help reduce the workload. The three parts are made of different kinds of plastic; everyone can support the recycling business by helping sort them out early in the process," she explains.
To help widen the scope of her community service, Vanesse also joined Hong Kong 200, a student leadership programme run by the Hong Kong Federation of Youth Groups. With the support of the programme, she helped students learn about the problem of the widening wealth gap in Hong Kong.
To do this, she took them on a tour of To Kwa Wan, one of the older areas of Hong Kong, where old and new buildings mix. "The district is home to the less-privileged who live in old buildings and also well-off families who live in high-rise luxury flats. I wanted students to see things for themselves."
After her an impressive track record of community service at secondary school, Vanesse aims to continue her service as a first-year journalism student at Chinese University.
She founded the Students Take Initiative Rally (Stir) with fellow students. The group wants to encourage university students to think more about the effectiveness of their service learning projects.
"Service learning [volunteering as part of the curriculum] has become a popular trend in schools. On campus you can see a load of banners and displays recruiting students for service learning projects but many of these projects lack proper management," Vanesse says.
"Many students do service for the sake of doing it, and never put themselves in the shoes of the beneficiaries to work out the best solutions. The goal of Stir is to encourage students to develop programmes that are able to meet needs, and to evaluate the effectiveness of their programmes."
Vanesse's dream is to help more people by working in public relations for a social enterprise. "It is important to connect corporate bodies with social projects to create a better society. I hope to contribute to society in such a way."
Sign up for the YP Teachers Newsletter
Get updates for teachers sent directly to your inbox
Sign up for YP Weekly
Get updates sent directly to your inbox