SOTY 2018: Asian Games winner, Tokyo Olympics qualifier and Diocesan Girls' School student Tinky Ho just does what comes naturally - swim
The teen swimmer has competed for Hong Kong all around the world, helping her grow as an athlete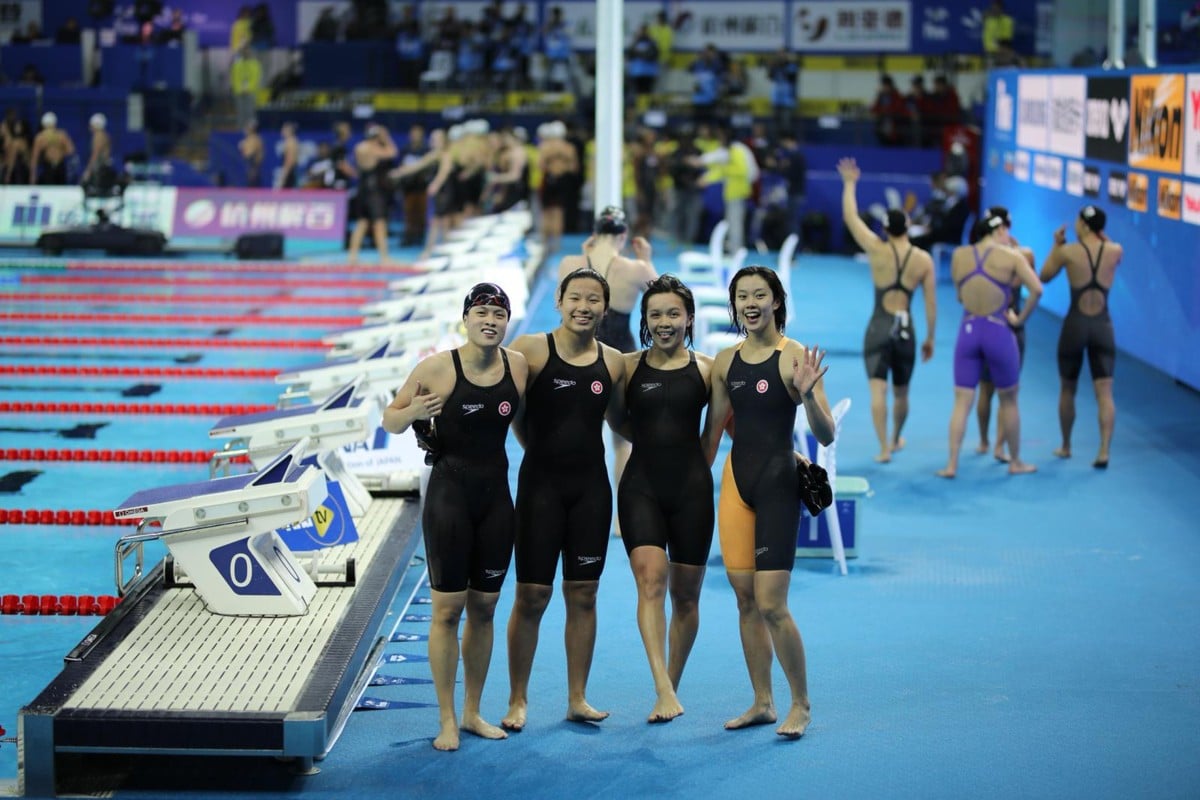 Tinky Ho (second left) would be a member of the Hong Kong relay team at the 2020 Tokyo Olympics.
Tinky Ho Nam-wai, the 2018 Student of the Year Sportsperson Award winner, didn't expect to win the prestigious prize which she said she felt "very lucky and honoured" to have won.
With a tough schedule of academic work, training and swimming competitions, the Diocesan Girls' School student was not able to attend all of the activities leading up to the SOTY award presentation.
However, she received the top sportsperson award, thanks to her amazing achievements.
SOTY 2018: Visual Artist winner Amy Ge Chen of Chinese International School says art is worth the effort
In addition to winning many other awards that year, the then 16-year-old Tinky competed in the 2018 Asian Games in Jakarta, Indonesia, taking home bronze medals for Hong Kong. In July this year, it was confirmed that she would be a member of the relay team that would represent Hong Kong at the 2020 Tokyo Olympics. She had qualified with a solid performance at the World Aquatic Championships in South Korea.
Qualifying to compete in the Olympics is one of Tinky's most memorable experiences. "Getting into the youth Olympic team was especially memorable for me because it [the Olympics] happens only once every four years and you must qualify," she said.
Interestingly, while Tinky, now 17, competes for Hong Kong all over the world, she said: "I was never really properly 'introduced' to swimming, but rather my parents put me in swimming classes due to a sickness I had growing up. Eventually, I just started swimming more and more."
Her perseverance offered many exciting opportunities and experiences for which she is grateful.
As an athlete, Tinky has had to deal with wins and losses and she said she appreciates the support and encouragement that she has received over the years from her peers, coaches and family. "My peers encouraged me when I swam poorly or when I didn't perform as well as I wanted to," she said. "My coaches give solid advice on how to improve, especially when my performance was not as good as expected.
"My parents also supported me. Without them I probably would not be where I am today."
SOTY 2018: Performing Artist of the Year Wallace Lee reveals what he learned as chairman of DBS's award-winning choir
Tinky said she isn't interested in many other activities, but she would definitely like to try her hand at fencing, which her younger brother does. But swimming on a competitive level offers her many other opportunities, such as the chance to travel around the world. When we spoke with her, she was representing Hong Kong at a competition in Bangalore, in India.
The travel experiences and the surprises that competitions sometimes bring have opened her eyes to many cultures and places, which have enriched her as a person and as an athlete. "It is always exciting and sometimes surprising where I end up going," Tinky said.
The Student of the Year Awards competition is organised by the SCMP and Young Post and sponsored by the Hong Kong Jockey Club
Sign up the YP Teachers Newsletter
Get updates for teachers direct to your inbox
Subscribe to YP Weekly
Get updates direct to your inbox