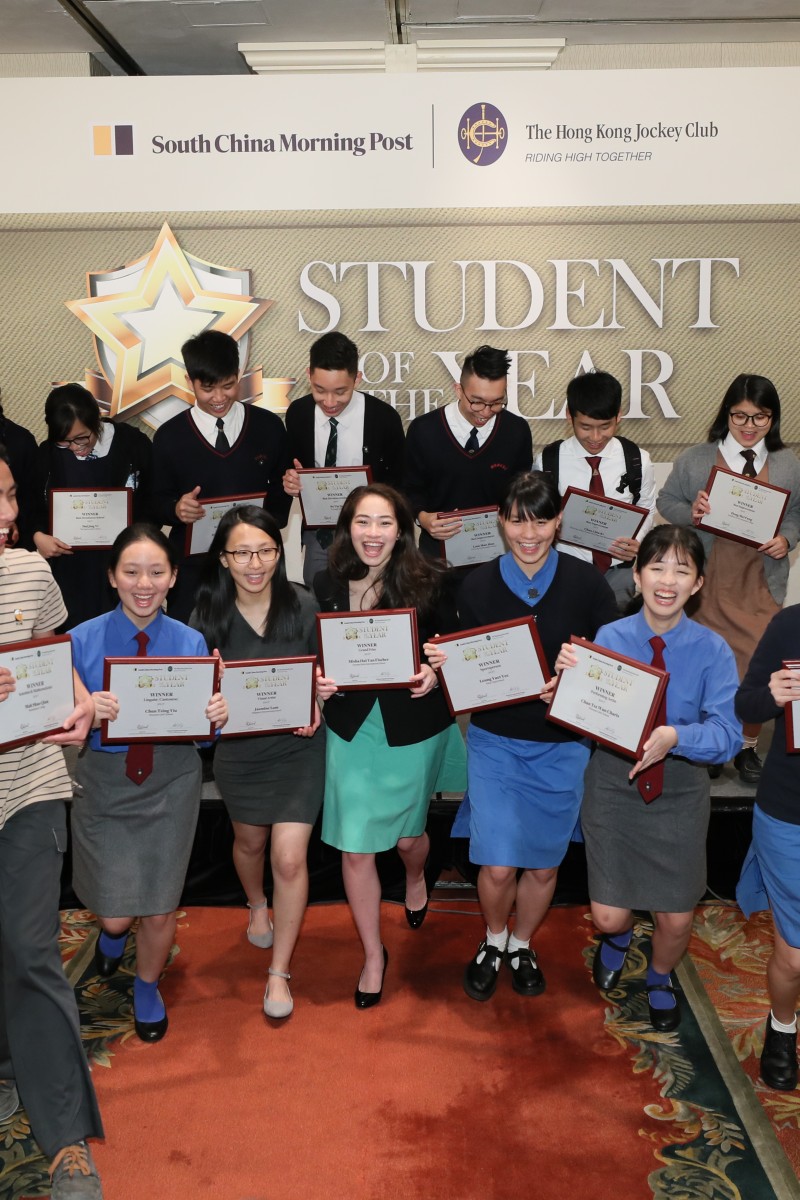 SOTY 2017: meet the rest of the best! From Hongkongers' health to global harmony, this is what matters to this year's winners
Success didn't come to this year's SOTY winners overnight. Here are the stories of hard work and dedication behind the prizes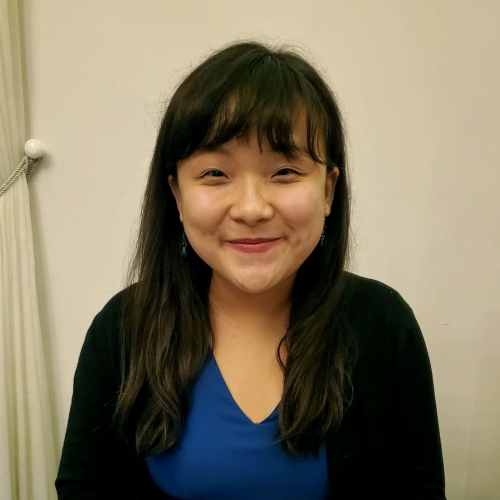 Nicola Chan is a former Young Post reporter. A firm believer in education and self-care, she has a strong interest in writing about teenage psychology and mental health. She's also constantly on the hunt for stories about inspiring students and campus events. She has a master's degree in Comparative Literature.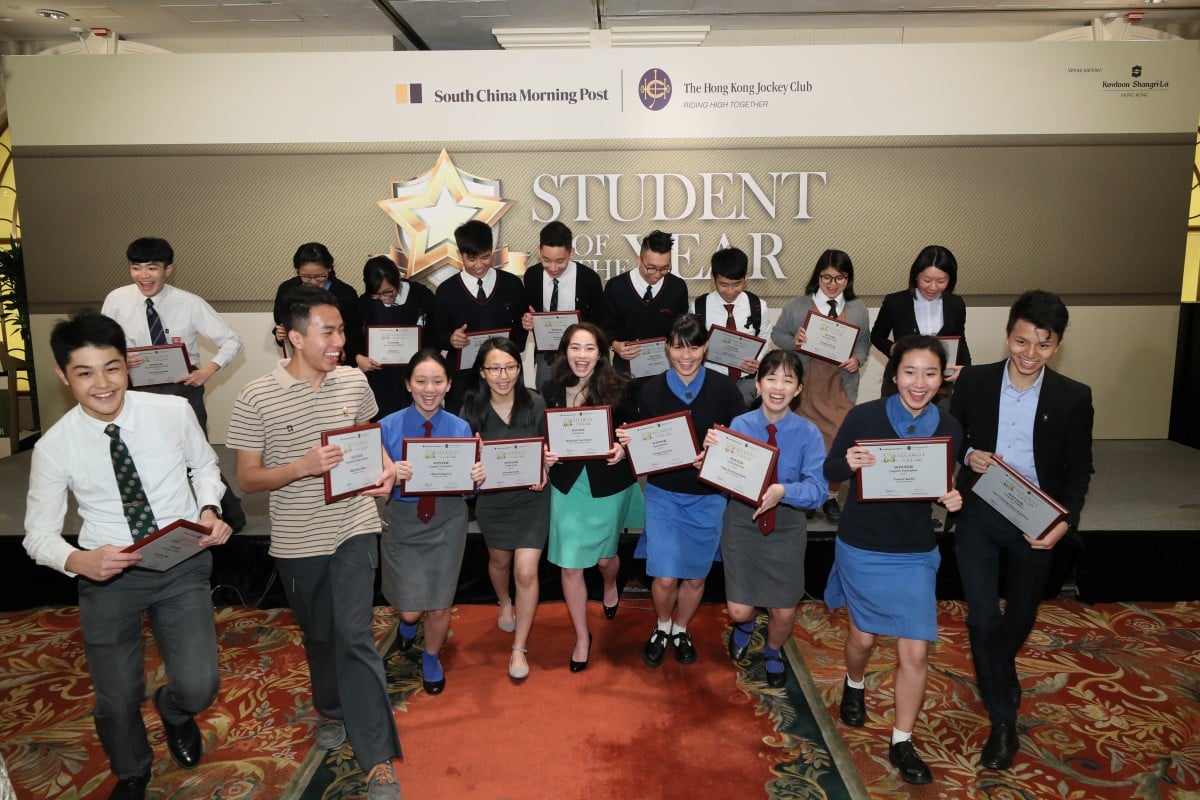 Student of the Year 2017's amazing group of winners!
The 37th Student of the Year Awards reached its pinnacle at Saturday's prize-giving ceremony, with 17-year-old German Swiss International School student Misha Fischer taking home the awards' Grand Prize. Celebrating alongside Misha were those awarded for their achievements in the arts, sport and community spirit. Here's how they made it to the SOTY stage.
Lam Chun-ngai, Ying Wa College
Every week for the past year, 17-year-old Chun-ngai has volunteered with the homeless communities in Hong Kong's Sham Shui Po District. Mostly spending his time chatting to the homeless there, he also prepares home-made food, as well as organises activities like carpentry workshops to help many of them overcome drug addiction.
"They tell us everything, from their basic needs to their feelings; we form a very close relationship," the Form Six student says.
Chun-ngai also travelled to Vietnam with NGO Orbis, and again with the Hong Kong Outstanding Youth Volunteer Scheme. Inspired by the projects he saw there, he hopes to launch similar welfare campaigns in Hong Kong.
"This award acts as a reminder that I should keeping contributing to society. And I'll try to use my win to motivate more youngsters around me, students, friends and family members to come together... to participate in volunteer service," he says. "I believe small steps can lead to big changes, and we can have a big influence on society – even the world."
Leung Yuet-yee, Heep Yunn School
Following in the footsteps of her two older brothers, Yuet-yee first began taking part in sports at just three years old. Now 17, she is a badminton whizz, and has been accepted into the Hong Kong Sports Institute. She fell in love with badminton after watching matches on television and deciding it was "more competitive and exciting than any other sport".
Despite having already won several trophies at interschool and regional tournaments, she admits that she "did not expect to win" the SOTY Sportsperson of the Year award.
"You don't always reap what you sow. But receiving this award shows that my hard work has paid off," she says.
After completing her HKDSE this year, she plans to become a full-time badminton player, and represent Hong Kong internationally.
"I hope to focus on fitness training and honing my skills to prepare for the 2020 Summer Olympics in Tokyo," she says.
Roi Joshua Abad Cruz, 18, PAOC Ka Chi Secondary School
"The trigger for me to change my [introverted] lifestyle happened in Form Three. It was at the end of term, and we had a singing contest. I was very unhappy at not being able to participate, and so that's when I started to suggest songs ... I realised that it felt really good even though it was a small project, and I thought that was the most defining moment."
Hui Jing-yi, 18, Tak Nga Secondary School
"Often taking the role of a leader in school, I find being a house committee member has allowed me to not only learn how to work with people as a team, but also how to be a leader."
Kwok Wing-yan, 17, True Light Girls' College
"I noticed that students and teachers in my school rarely talk to each other about things other than academics. I think it is my responsibility to bring them together, facilitate better mutual understanding, and strengthen the bonds between them."
So Yiu-hei, 18, St Joseph's College
"The most memorable thing I've done as a prefect was to look for a dehumidifier and mop the damp floor on our school's open day."
Tse Cheuk-hang, 17, Queen's College
"Learning about teamwork is really important both in society and at school ... It helps us face adversity in a positive way."
Scientist & Mathematician
Mah Shao-qian, Renaissance College
Eighteen-year-old Shao-qian has always been fascinated by technology and the mechanics behind why things work. He co-founded a start-up that sells smart water bottles which, when connected to a smartphone app, monitor the user's hydration levels.
"We see that in Hong Kong, there's this culture of workaholism. We just neglect our health and don't drink enough water," says the Grade 12 student, who counts businessman Elon Musk among his idols.
That is why, he explains, he teamed up with 25 of his schoolmates to create a company with a product that reminds people to drink water and take care of their health.
The company is now reaching out to Hong Kong teens to show them that starting your own firm or developing a product isn't something you have to wait until you graduate to do.
"It's something you can do right now," Shao-qian says.
Chun Tsing-yiu, Diocesan Girls' School
Tsing-yiu, 15, can't get enough of books, reading, and language. She first discovered the joy of reading in Primary One when she was researching the meaning of her name. Since then, the linguist has won several contests, including the championship of the 42nd Hong Kong Youth Translation Competition and the "Little Writers Training Scheme" Writing Competition.
"Cantonese is a very interesting language as many ancient Chinese poems only rhyme when they are read in Cantonese, but not Mandarin," she says.
There is some Cantonese slang that cannot be fully translated into any other languages, Tsing-yiu adds.
While at first shocked to have won Linguist of the Year, she puts her win down to her accomplishments in Chinese writing and translation. "I also read many books and quoted them during the interview," she recalls.
Christian Suen Chung-man, St Paul's Co-Educational College
Form Four student Christian is an eloquent public speaker and a fierce debater. With experience in various Model United Nations (MUNs), public speaking and debating contests, the 15-year-old was selected as the best delegate at the Hong Kong MUN, and came first in the impromptu category of the fourth Junior Individuals Public Speaking Championship.
But the most memorable experience, he recalls, was speaking at the MUN conference in Nanyang Technological University, Singapore, where he went up against university students.
"Even in my wildest dreams I never thought I would be able to win the best delegate award. But it also made me realise that age is not that big a deal ... as long as you have a common topic, and you're able to communicate."
Christian will take part in the World Individual Debating and Public Speaking Competition next month as one of the representatives from Hong Kong.
Yuen Chu-ki, Heep Yunn School
Expert debater Chu-ki has won a number of high-profile competitions in various cities. Her experience has taught her that listening to others is more important than mastering the art of rebuttal.
You can learn a lot about your opponent simply by listening and observing details about their personality or background, she says. For instance, debaters from Taiwan, Singapore and Malaysia will have different viewpoints about the same topic because of their own cultural influences.
But listening isn't just a good debating tactic, says Chu-ki. It's a way to understand one another better.
In the future, she wants to educate others about Putonghua "and the various cultures and values associated with the language" to help bring people together.
Jasmine Lam, Singapore International School
Whether it's painting on canvas or editing with Photoshop, Jasmine loves being creative. The 17-year-old is equally savvy when it comes to explaining the meanings behind her works of art, having worked at a local art gallery where she learned how to curate an exhibition.
Jasmine's SOTY Visual Artist award is one of her first awards, and she wasn't expecting to win.
And as for her most unusual tool for creating artwork? Jasmine reveals that its a mirror. She recently used one as the canvas of an oil painting.
"It's a painting of an eye, and you can see the mirror through the painting," she explains. So when you look at the painting, you can see yourself as well as the painting of the eye."
Titled Look at me, look at you, Jasmine says the painting captures the feeling of being under scrutiny: when others judge us, she says, we begin to judge ourselves.

Chan Chiu-ki, 18, Society of Boys' Centres Hui Chung Sing Memorial School
"Mountain biking has given me new direction in life. It has also taught me about perseverance, and this award is an acknowledgement of my personal transformation during the past two years."
Cheung Yuen, 18, Hong Kong Red Cross Princess Alexandra School
"Bocce requires you to make quick judgments in a short period of time to score. In other words, you have to be assertive, believe in the decisions you've made, and do what you think is right. This has gradually boosted my confidence."
Dong Mei-feng, 20, Buddhist Fat Ho Memorial College
"I have received a lot of help from different people in my life. Therefore, I would like to give back to the community and help those in need by participating in the volunteering opportunities at my school."
Lai Ho-ching, 19, Good Hope School
"I would like to receive professional training to be a social worker, so that I can learn how to communicate with people in need and take care of them."
Lam Man-hon, 17, PAOC Ka Chi Secondary School
"The death of my father was a turning point in my life. It motivated me to figure out my goals."
Charis Chan Tsz-wun, Diocesan Girls' School
Few manage to make the harmonica sound as angelic as 17-year-old Charis. She began to play the miniature instrument at the age of nine, when she was introduced to it by a friend of her father, who is a world-renowned harmonica player. The Form Five student has since won numerous local and overseas competitions. "I was attracted by the tones and variations of the harmonica," Charis explains. Harmonica is such a unique instrument, she adds. "Whenever I perform, people are usually very curious about the instrument I'm playing."
Her dream, she says, is to teach music overseas, after she finishes her DSE exams.
"Hopefully I can teach some underprivileged children to play the harmonica, and serve them in God's name."
Edited by Charlotte Ames-Ettridge
Sign up for the YP Teachers Newsletter
Get updates for teachers sent directly to your inbox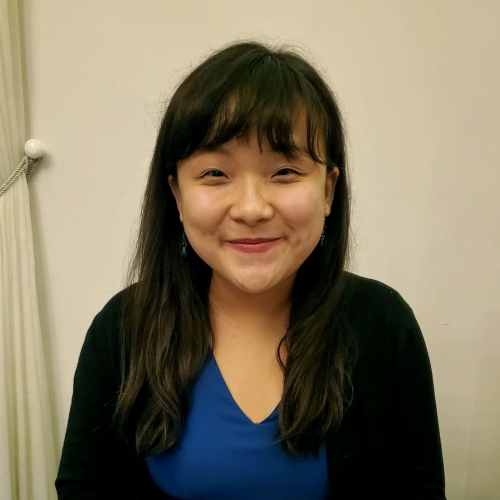 Nicola Chan is a former Young Post reporter. A firm believer in education and self-care, she has a strong interest in writing about teenage psychology and mental health. She's also constantly on the hunt for stories about inspiring students and campus events. She has a master's degree in Comparative Literature.
Sign up for YP Weekly
Get updates sent directly to your inbox