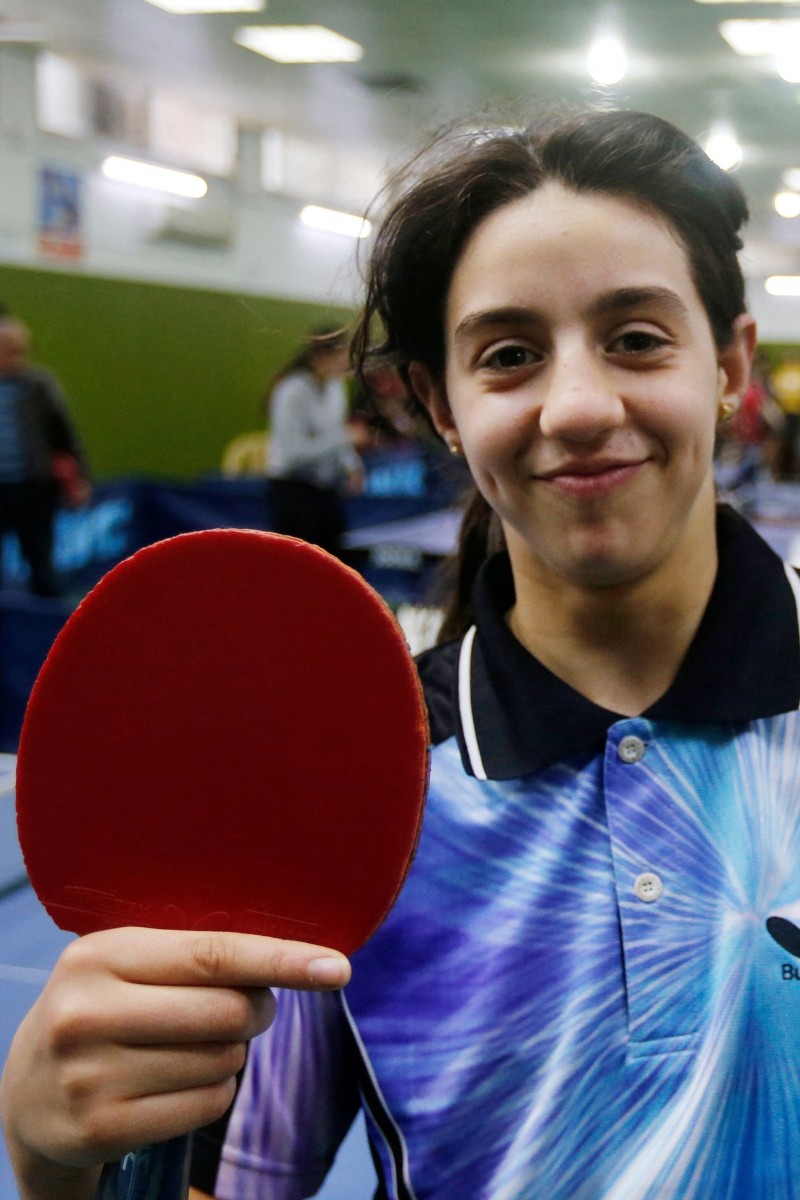 Tokyo Olympics: Syria's Hend Zaza is youngest Olympian, aged 12. Here are some other youthful faces at the Games
Swimming, table tennis and skateboarding events allow some of the youngest athletes ever to compete during this summer's Tokyo Olympics

Golfer Yuka Saso, winner of the US Women's Open earlier this year, and skateboarder Sky Brown, ranked number three in the world for park skateboarding, are just two of the many young faces you can expect to see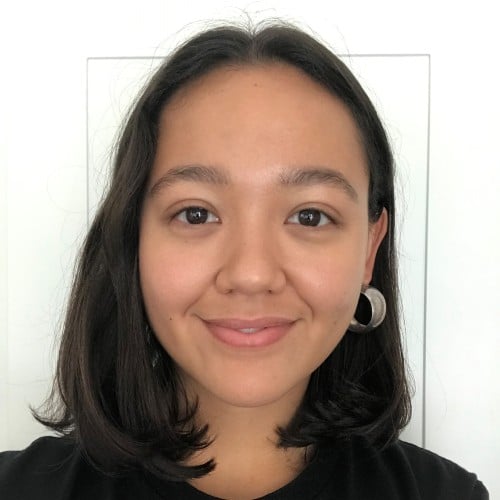 Amalissa joined Young Post in 2020 as the Junior Reporter Manager. She has an interest in lifestyle, culture and fashion and assists young people in their pursuit of journalism.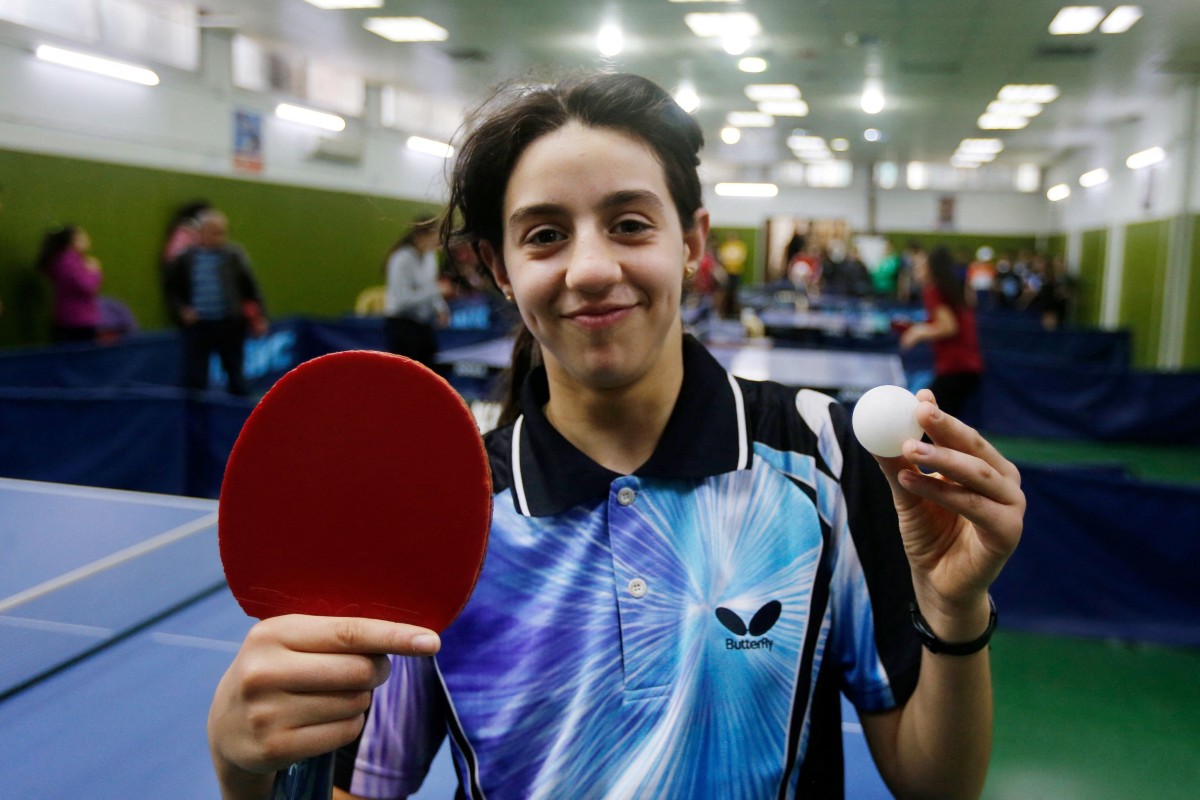 The Tokyo Olympics' youngest competitor, Hend Zaza, was just five when she first picked up a table tennis paddle. Photo: AFP
From a 12-year-old Syrian table tennis player to a 66-year-old Australian equestrian, Olympians of all ages are battling it out in Tokyo for the prized medals.
This year, 11,300 athletes from 207 countries are competing in 33 different sports. Some look noticeably young – because they are. The youngest Olympian competing in Tokyo is Hend Zaza, 12, a table tennis player from Syria. The oldest is Mary Hanna, a 66-year-old Australian equestrian who is competing in the Games for the sixth time.
Here are some of the young athletes competing in the Tokyo Olympics:
Syria: Hend Zaza, 12, table tennis
Hend lost in a preliminary round match to Austria's Liu Jia, 39, in straight sets: 4-11, 9 - 11, 3 - 11, 5 - 11. Despite her defeat, she has already made history as the youngest athlete at the Tokyo Olympics.
She was born on January 1, 2009 in Syria. She started playing table tennis in 2014 when she was only five years old.
"When I was between five or six years old, my brother Obaida won a championship cup, then I decided to follow his example and began training," she told the Arabic news channel, Al Jazeera.
"At my age, the pressure at school is still relatively little, but I am committed to a daily programme of studying and training, so that one does not overwhelm the other."
Hend Zaza was eliminated from the games after a preliminary round match against Austria's Liu Jia. Photo: AFP
The Syrian civil war has affected her training, with a consequence being the frequent loss of electricity. There have been occasions she was unable to practise.
She told the state-run Chinese broadcaster CGTN: "During the conflict, we had a lot of difficulties, and we didn't train much, or travel between cities, so I had to face hardships. Even the paddles and balls were difficult to obtain."
7 Hong Kong athletes at the Tokyo Olympics to keep your eye on
Hong Kong: Oscar Coggins, 20, triathlon
Oscar, who was born and raised in Hong Kong by British parents, is ranked 45 in the world.
The race will feature a 1.5km swim, a 40km bike ride, followed by a 10km run, and he'll be up against 54 of the best athletes in the world.
For Oscar Coggins, the heat in Japan is likely to feel similar to the Hong Kong climate he regularly trains in. Photo: Handout
He entered the triathlon scene in 2016 when he was just 16, but competing alongside men didn't faze him. The strong swimmer and cyclist knows how to use his strengths to his advantage, and he'll do the same at the summer games.
Despite concerns about the heat in Japan, Oscar dismissed any worries in an interview with the South China Morning Post, saying, "Training in Hong Kong, that's not something I'm worried about when it comes to acclimatising. If anything, that works in my favour. I think I'm pretty comfortable with how hot the course will be."
Britain: Sky Brown, 13, skateboarding
Sky is only 13, but she ranks third in the world for park skateboarding. The teen skating machine has been working on her craft since she was just three years old, although she never intended to launch a pro career; she just thoroughly enjoyed learning new tricks.
Sky Brown has been skateboarding since she was just three years old. Photo: Reuters
Although she suffered from serious injuries last year after falling off a skate ramp – she fractured her skull and wrist – it is clear she has bounced back physically and mentally and is excited to compete at the Tokyo Olympics.
This will be her first Games, as the last time they were held in Brazil, she was just six years old. In an interview with the British newspaper The Guardian, she said: "I'm not nervous [about Tokyo 2020], I'm just excited to show the world what skateboarding is really like."
Skateboarding is teaching Hong Kong students the power of perseverance
Japan: Kokona Hiraki, 12, skateboarding
Kokona is Japan's youngest summer Olympian ever. She'll soon beat the record of swimmer Yukari Takemoto, who competed at age 13 in the 1968 Mexico Olympics.
Kokona Hiraki at age 12 is Japan's youngest Olympian. Photo: AFP
The skateboarder landed her spot in the Tokyo Games when finishing fifth at the Olympic qualifying Dew Tour event. She'll be joining Sakura Yosozumi, who won the event, and Misugu Okamoto, who placed third, at the Games this year.
"I was enjoying it. I wasn't as nervous as usual," she said in an interview with Japan's Kyodo News about the event, and her relaxed attitude could be her ticket to performing well in Tokyo too.
Canada: Summer McIntosh, 14, swimming
Summer is Canada's youngest athlete at this year's Games. She placed first in the 800m freestyle Olympic swimming trials, finishing ahead of Olympian Penny Oleksiak who won bronze, silver and gold medals in Rio in 2016.
"It's so surreal – the whole race feels like a blur," she told Canada's The Globe and Mail newspaper about her win, which will send her to Tokyo. Due to pandemic protocols, she is unable to travel with her family, but the teen – who just finished her first year of high school – is not alone.
Of the journey, she said, "It's a little bit nerve wracking, but the people I'm surrounded with feel like my second family. It just hasn't sunk in yet to be honest. It's sunk in a bit more since after my race but it's just really crazy."
Siobhan Haughey: a rising swimming star in Hong Kong
Australia: Mollie O'Callaghan, 17, swimming
Mollie will make her Olympic debut at the 2020 Games, and she is the youngest of the Australians going to Tokyo. Having taken up swimming aged four and competing just three years later, Mollie is no stranger to the pool.
Also, this won't be the first time she's representing Australia – in 2019, she was selected to attend the Junior World Championships, taking silver in the 4x100m freestyle relay. At the Olympic trials, she tied in fifth place with fellow athlete Meg Harries in the 200m freestyle, and they both finished more than half a second under the Olympic qualifying time.
Philippines: Yuka Saso, 19, golf
Yuka won her first major title at the US Women's Open earlier this year, and now she will be competing in her first Olympics. Going to Tokyo won't be new for her though, as the Filipino-Japanese golfer spent a few of her formative years in Japan.
Currently number nine in the world, Yuka Saso says her dream is to win a gold medal at the Olympics. Photo: EPA-EFE
When she was nine, she decided she wanted to be a professional golfer, like her idol Rory McIlroy, and her dad took her dreams seriously and brought her back to the Philippines where she could be home-schooled and train daily.
She's currently number nine in the world, and in an interview with the Olympic committee, she said: "I want to be world no 1, and my dream is to win Olympic gold."
Sign up for the YP Teachers Newsletter
Get updates for teachers sent directly to your inbox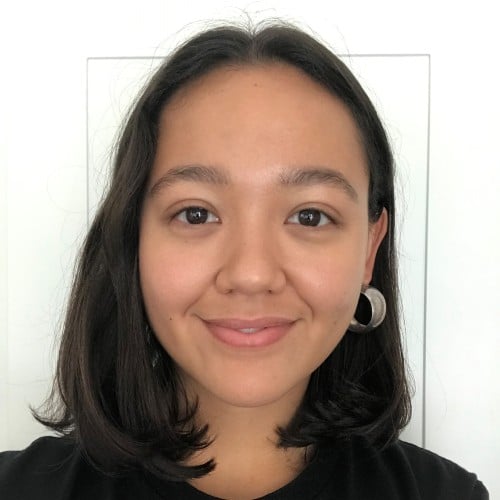 Amalissa joined Young Post in 2020 as the Junior Reporter Manager. She has an interest in lifestyle, culture and fashion and assists young people in their pursuit of journalism.
Sign up for YP Weekly
Get updates sent directly to your inbox