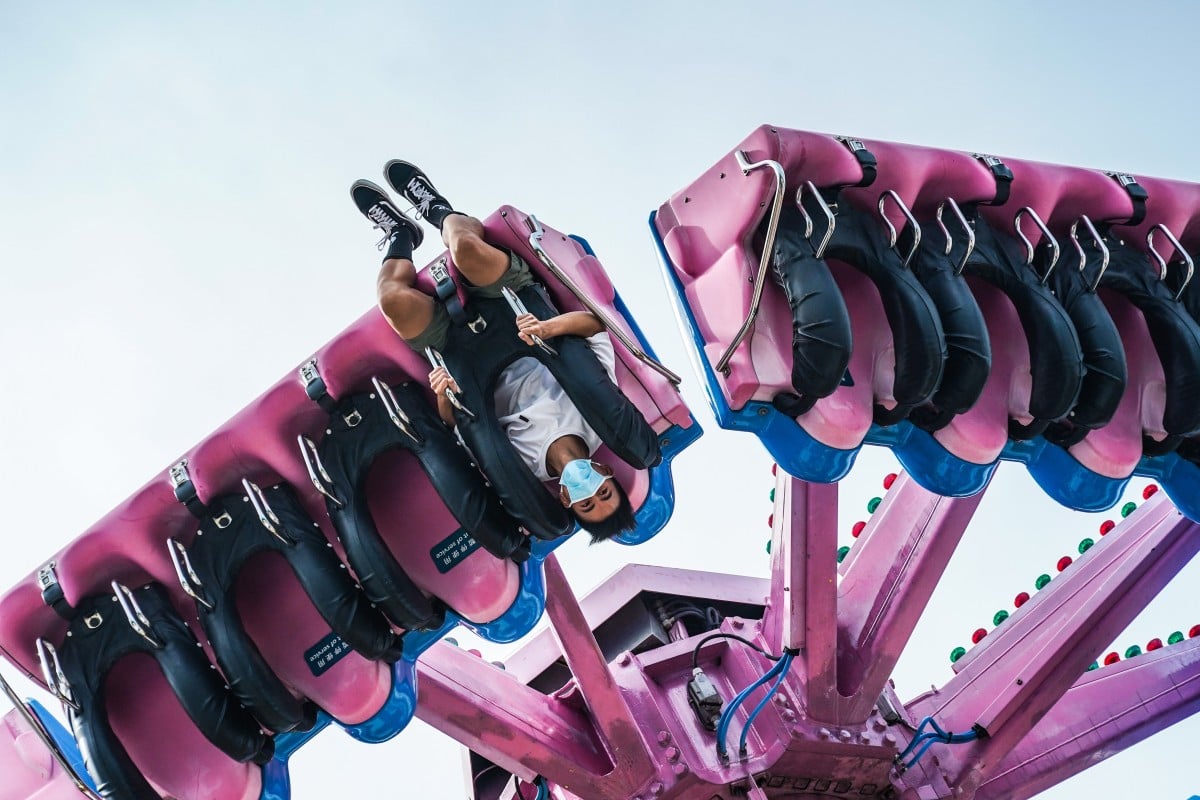 Masks have been legal requirements for going in public in many places around the world, including Hong Kong. Photo: Bloomberg
To help stop the spread of the novel coronavirus, wearing a face mask is mandatory in many places. But some people find them bothersome, particularly on hot days, and they can present problems in other situations as well. Here are some helpful tips on how to handle the most common problems:
If you wear a face mask daily for long periods of time, you may have experienced irritated, reddened skin or perhaps pimples. "It's important to change and clean masks regularly, otherwise the facial region is subject to bacterial infections," points out dermatologist Dr Alexander Nast.
The face mask that will help fight foggy glasses
Understanding one another wordlessly by looking at each other's face is hardly possible when you're wearing masks. "A mask covering more than half of the face eliminates, or severely limits, an important sensory communication channel," inhibiting your ability to interpret the signals from the person opposite you, notes psychologist Dr Isabella Heuser.
"It's simply harder and more taxing to know what the other person means." Nevertheless, it's important to wear a mask, she says, since "it helps to reduce the risk of infection and is a demonstration of solidarity." 
Wearing a face mask can be costly for people with a hearing aid. If the device is dislodged from behind their ear when they put on or take off the mask, they may not hear it hitting the ground. Passers-by should be watchful and help out if necessary.
Eyeglasses that fog up on visually impaired mask wearers can make it very difficult for them to see. In such cases it's helpful to insert a flexible wire into the mask's upper edge that is then moulded over the bridge of their nose, providing a tighter fit and thereby blocking the upward flow of warm, exhaled air.
Coronavirus: I hate face masks, so can I use a plastic face shield instead?
For many people, wearing a face mask is uncomfortable under any circumstances, and "on warm days you've got the added problem of sweating under the mask," notes Dr Dominic Dellweg, chief physician in a hospital specialising in lung disorders and a member of the German Respiratory Society (DGP).
Moisture is a favourable environment for pathogens, he says, and also reduces the mask's permeability, making it harder to breathe. Wearing the mask more loosely isn't advisable, though. 
In exceptional cases, such as for people with shortness of breath, Dellweg says it's better to use disposable masks instead, pointing out that they're more air-permeable than cloth masks and provide good protection.
Sign up for the YP Teachers Newsletter
Get updates for teachers sent directly to your inbox
Sign up for YP Weekly
Get updates sent directly to your inbox