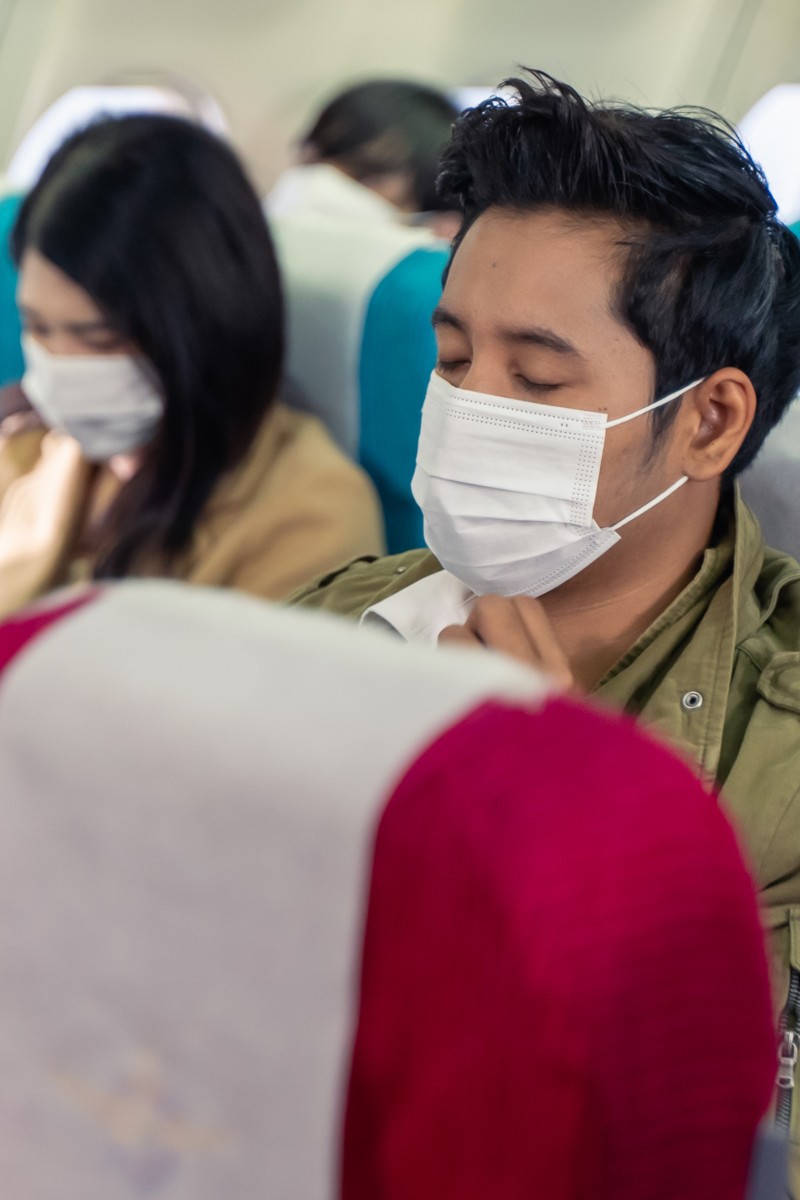 Coronavirus: Airlines say mask mandates no longer needed but are filters enough to prevent Covid-19 on planes?
According to experts, plane filters remove 99 per cent of particles, which can help keep transmission of Covid-19 low on flights

Face masks provide an additional layer of protection, especially if you are sitting next to an infected passenger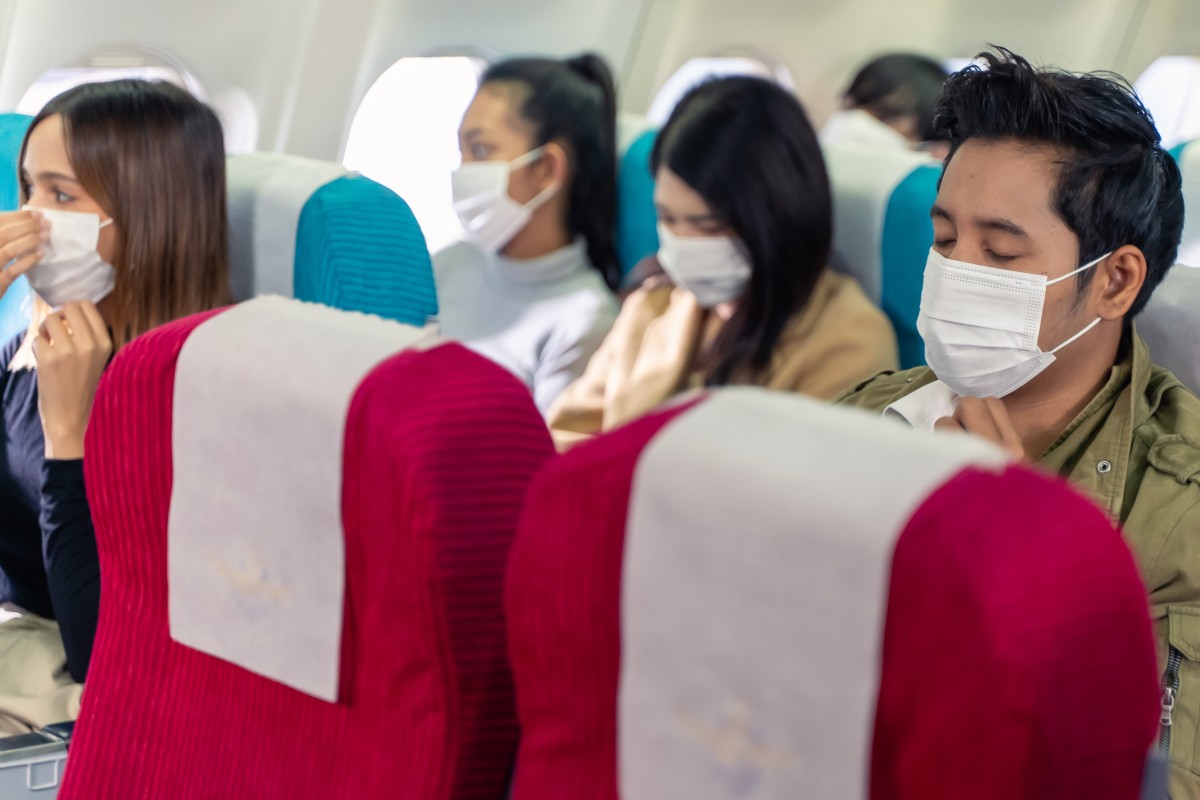 While air passengers in the United States are no longer required to wear a mask, public health experts say they still provide an additional layer of protection on planes. Photo: Shutterstock
Weeks before a federal judge's ruling led US airlines to drop mask mandates, airline executives argued masks no longer should be required – in part because air filtration systems on planes create "hospital-grade cabin air."
Now that masks are optional on every major US airline, experts said the filters that remove 99 per cent of particles, including viruses, will help keep transmission on flights low but will not eliminate the risk of spreading Covid-19 that masks helped mitigate.
Leonard Marcus, director of the Aviation Public Health Initiative at Harvard University, said the air filtration systems are "remarkable" and do make the air as clean as an operating room, but masks provided an additional layer of protection.
5 tips for patients with long Covid
That is particularly important when sitting next to an infected passenger or during the crush of boarding and deplaning, said Linsey Marr, an aerosol scientist at Virginia Tech.
"I don't think they realise the risk of close-range transmission," Marr said.
She expects at least some rise in Covid-19 transmission among passengers and an increase in illness and absences among flight attendants, which could lead to more flight cancellations.
Masks can reduce the likelihood of getting Covid-19 and a person's chance of transmitting the virus, especially when travellers are passing through terminals and other enclosed spaces. Photo: Shutterstock
A federal judge in Florida voided the federal mask mandate Monday, ruling that it exceeded the authority of the Centres for Disease Control and Prevention, which failed to justify the order and did not follow proper rule making procedures.
The Justice Department on Wednesday night filed an appeal in federal court in Tampa seeking to overturn the judge's order.
The CDC continues to recommend that people wear masks in indoor public transport settings.
How to resume your routine once Hong Kong relaxes Covid social-distancing restrictions
Researchers in London estimated masks may reduce the probability of infection on an aeroplane by an average of 47 per cent to 86 per cent, depending on the mask, according to a study published in March 2021 in the Journal of Travel Medicine.
There's little data on Covid-19 transmission in planes, health experts said, and the little that does exist is not conclusive.
It's nearly impossible to know where people might have been exposed while travelling, said Dr David Freedman, president-elect of the American Society of Tropical Medicine and Hygiene. They could have been infected right before the flight or after arriving to their destination.
"It's a very difficult topic to study," said Freedman, a professor of infectious diseases at the University of Alabama at Birmingham. "You need to sample people before they get on the plane, as soon as they arrive and sample them several days later. And that's very hard to do. People get off the plane, and they disperse everywhere."
A study led by Freedman and published in the Journal of Travel Medicine in 2020 showed outbreaks are possible on planes, even when mask mandates are in place. The use of masks appeared to reduce transmission and the risk of secondary cases in flights that had rigid masking policies.
An overview of 18 studies published in September came to a similar conclusion.
"Current evidence indicates that the risk of transmission of Sars-CoV-2 aboard aircraft is low, but the published data do not permit any conclusive assessment of the likelihood and extent of the transmission," the study's authors said.
Why are vaccinated people still getting Covid-19?
Airline companies argued that effective air filters on modern planes make transmission of the virus during a flight highly unlikely.
Most large commercial aircraft recycle cabin air through HEPA (high-efficiency particulate air) filters to trap viruses and particles, turning over the air about every three minutes. A small number of older aircraft have filters with lower efficiencies, according to the International Air Transport Association.
In an open letter to President Joe Biden on March 23, a group of airline leaders wrote that "an aeroplane cabin is one of the safest indoor environments because of the combination of highly filtered air and constant air flow coupled with the downward direction of the air."
James Marsden, director of science and technology for RGF Environmental Group, which makes air treatment systems, said the systems are effective in removing pathogens.
A study conducted for the Department of Defence in 2020 found the risk of aerosol dispersion – transmission of the virus through the air – was reduced 99.7 per cent because of high air exchange rates, HEPA-filtered recirculation and downward ventilation on modern jets.
This level of air quality applies only when the aircraft is in the air, Freedman said.
"The airflow is designed to do that when the engines are fully running in flight and while you're sitting in your seat," he said. "The problem is that travel is a continuum, and it's not just sitting in your seat on the aeroplane that puts you at risk."
What you need to know about coronavirus vaccines for children aged 5 to 11
The study, conducted in part by researchers at United Airlines and Boeing, was revised to clarify its findings were based on hypothetical calculations and "were not designed to provide actionable information about virtual flight, safe flight times or seating capacity."
Crowded airports and stuffy jet bridges do not have the same air circulation as HEPA-grade air filters, Freedman said. Though airlines have made technological upgrades to make their cabins safer, airports remain unchanged.
"The airport is a nightmare. We know how crowded airports are now," Freedman said. "The ventilation in airports really needs to improve."
Although air on planes passes through filters every few minutes, passengers are at risk from those seated nearby before the particles reach the filter, Marr said. "If they're breathing or talking (or) coughing," she said, "it can spread nearby."
Sign up for the YP Teachers Newsletter
Get updates for teachers sent directly to your inbox
Sign up for YP Weekly
Get updates sent directly to your inbox