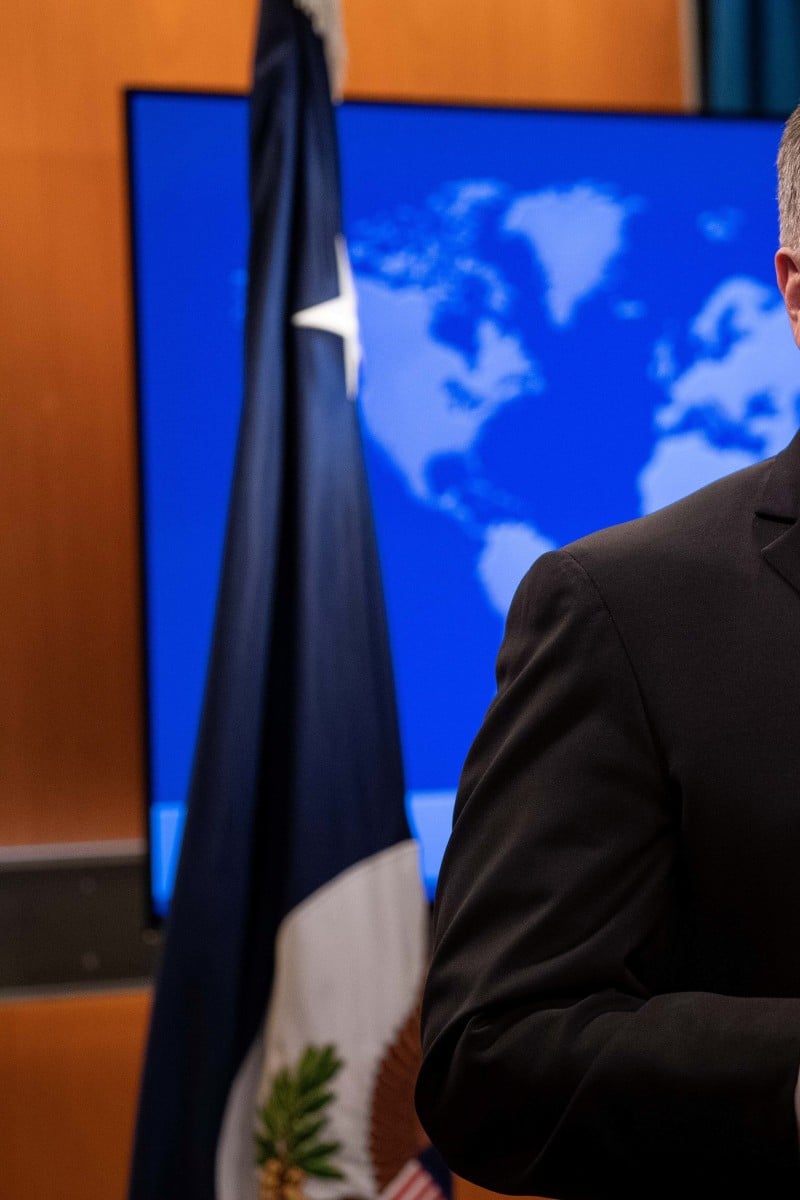 Trump administration rules Hong Kong 'not suitably autonomous' from China
The Hong Kong Human Rights and Democracy Act passed by the US in November says the government must review the decision annually

This could affect the city's preferential economic and trade treatment
U.S. Secretary of State Mike Pompeo speaks to the media at the State Department in Washington, DC. Nicholas Kamm/Pool via REUTERS
In a huge blow to Hong Kong, the Trump administration informed the US Congress on Wednesday that the city is no longer suitably autonomous from China. The assessment is a crucial step in deciding whether Hong Kong will continue to receive preferential economic and trade treatment from the United States.
"No reasonable person can assert today that Hong Kong maintains a high degree of autonomy from China, given facts on the ground," US Secretary of State Mike Pompeo said in a statement. "This decision gives me no pleasure. But sound policy making requires a recognition of reality."
The State Department's certification is a recommendation and does not necessarily lead to an immediate next step. US officials, including President Donald Trump, now must decide to what extent sanctions or other policy measures should be levelled on the city.
Twitter fact-checks Trump for the first time
"While the United States once hoped that free and prosperous Hong Kong would provide a model for authoritarian China, it is now clear that China is modeling Hong Kong after itself," Pompeo said.
Under the Hong Kong Human Rights and Democracy Act passed by the US Congress in November, the administration must decide annually whether governance of Hong Kong is suitably distinct from China.
Options available to the administration – which may in part depend on Beijing's reaction, analysts said – include higher trade tariffs, tougher investment rules, asset freezes and more demanding visa rules.
The national anthem law, explained
The move sent shock waves through China and Hong Kong policy circles.
"Wow," said Bonnie Glaser, director of the China Power Project at the Centre for Strategic and International Studies.
"I fully expect the US to proceed with sanctions on individuals and entities deemed to be undermining Hong Kong's autonomy," she continued. "Secondary sanctions are possible on banks that do business with entities found in violation of law guaranteeing Hong Kong's autonomy."
Should teens be banned from reporting during Hong Kong's protests?
Analysts noted a long-standing dilemma faced by successive US administrations: if Washington imposes sanctions on Hong Kong, it risks hurting residents of the city at least as much as it penalises Beijing.
Following through on threats to change Hong Kong's status will have a hugely negative impact on US companies operating there as well as on Hongkongers while having a minuscule effect on China, said Nicholas Lardy, a fellow at the Peterson Institute for International Economics.
"And I don't know why we want to punish the citizens of Hong Kong for something that the government in Beijing is doing," he added.
The national security law: background and expected timeline
The Chinese embassy in Washington said in a statement that Beijing's recently proposed Hong Kong national security legislation "targets a very narrow category of acts" and will have "no impact on Hong Kong's high degree of autonomy, the rights and freedoms of Hong Kong residents or the legitimate rights and interests of foreign investors".
"Hong Kong affairs are China's internal affairs and allow no external interference," the embassy added. "As for foreign meddling in Hong Kong affairs, we will take necessary countermeasures in response."
Sign up for the YP Teachers Newsletter
Get updates for teachers sent directly to your inbox
Sign up for YP Weekly
Get updates sent directly to your inbox