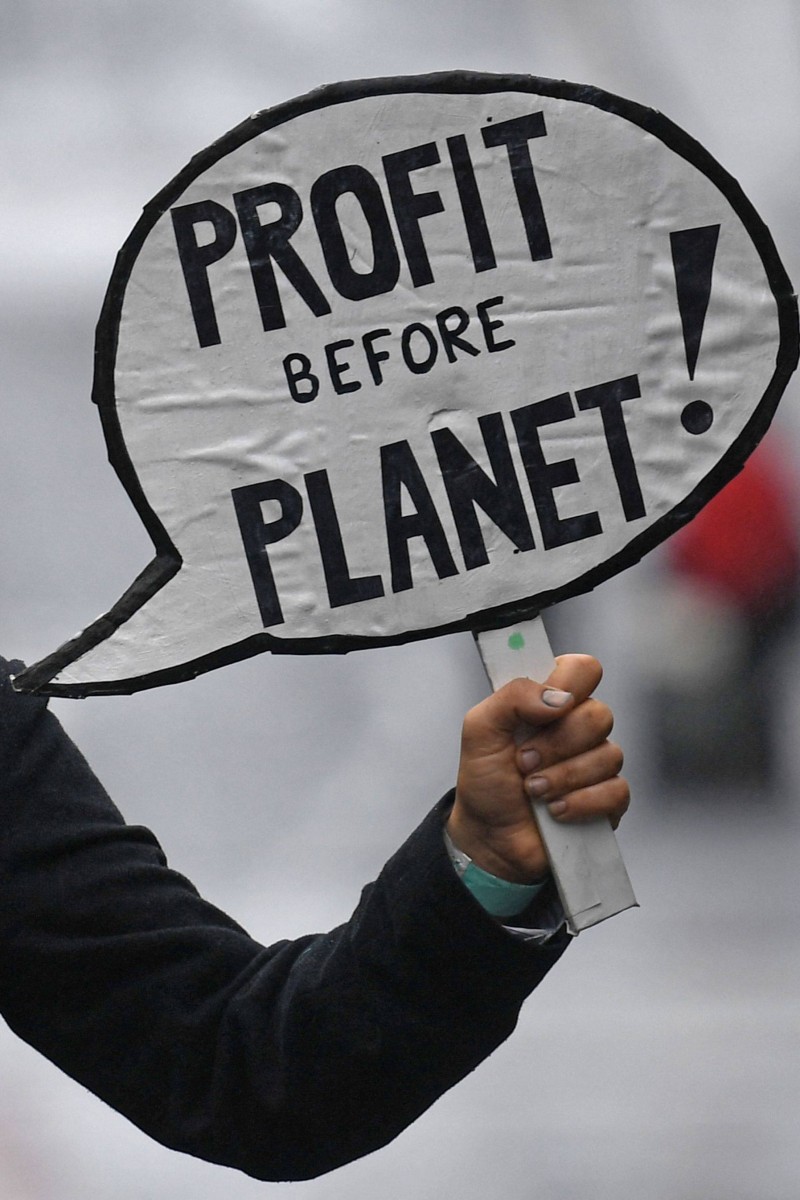 Delegates from around 200 countries met at the UN Climate Change Conference to decide how they would meet the goals outlined in the Paris Agreement

Protesters said the ideas proposed at the summit would have no real impact on the environment and demanded action from world leaders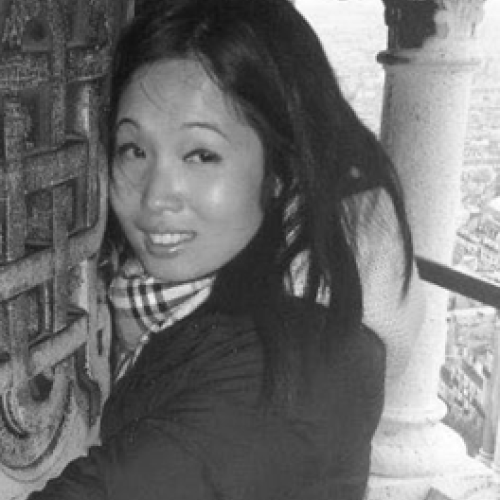 Doris worked in educational publishing, including the BBC and Cengage prior to joining the Post in 2018. She specialises in creating graphics and digital learning content, and has a particular interest in issues related to mental health and wellness.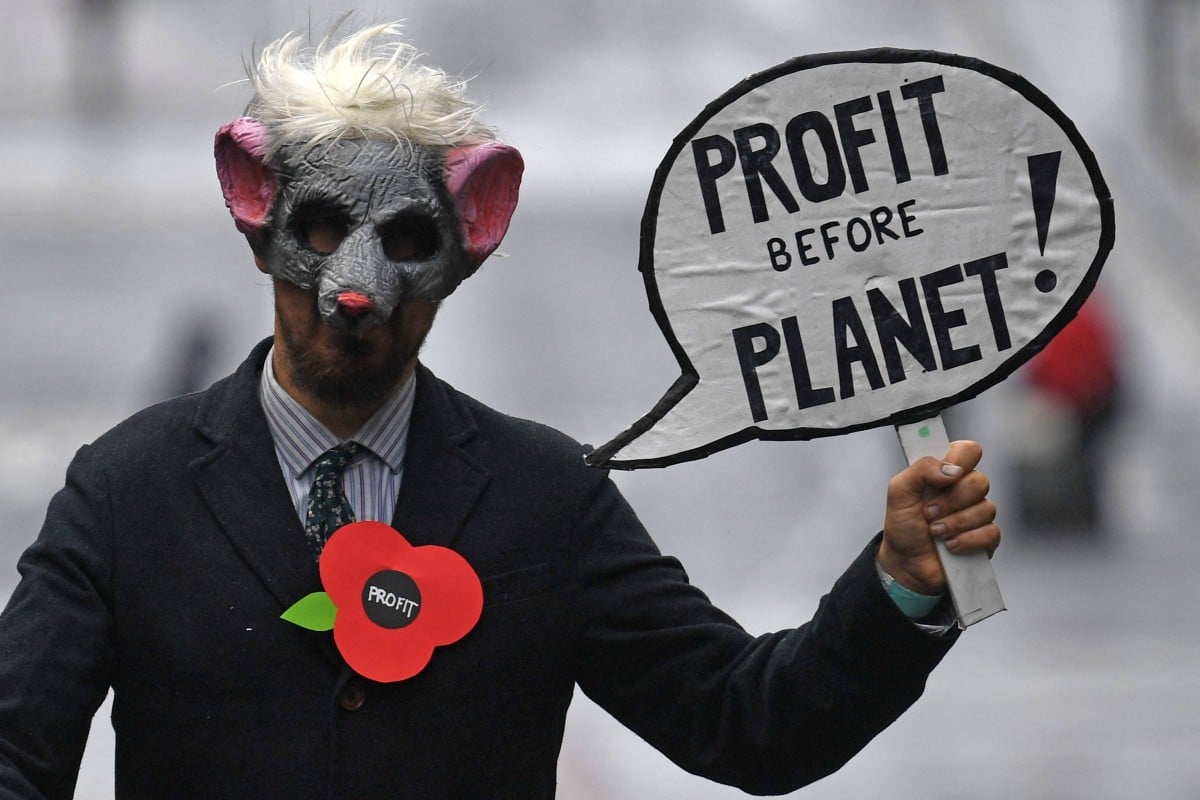 A demonstrator holds up a sign as he attends a protest rally during a global day of action on climate change in Glasgow on November 6, 2021, during the COP26 UN Climate Change Conference. Photo: AFP
Context: Teen activist Greta Thunberg calls COP26 a 'failure'
Delegates from nearly 200 countries met in Glasgow in Scotland between October 31 and November 12 during the UN Climate Change Conference (COP26). The meeting's purpose was to outline climate change commitments and decide how to meet the Paris Agreement goals of limiting temperature rises to between 1.5 and 2 degrees Celsius.
However, Swedish campaigner Greta Thunberg called the UN climate summit a "failure" during a mass protest in the Scottish city. She demanded quicker action from leaders to address the world's climate emergency.
Young climate change activists call out world governments
Some nations made pledges during COP26 to speed up their emissions cuts. But Thunberg said that amounted to little more than "a two-week long celebration of business as usual and 'blah, blah, blah'."
"It is not a secret that COP26 is a failure," she told the thousands of people gathered at the protest. "This is no longer a climate conference. This is now a global greenwashing festival."
"They cannot ignore the scientific consensus, and they cannot ignore us."
Swedish climate activist Greta Thunberg speaks to the crowd at a Fridays For Future rally in Glasgow, Scotland during the COP26 UN Climate Change Conference. Photo: AFP
Demonstrations have been carried out by activist groups worldwide at the same time as the climate change conference. The protesters hope to highlight the disconnect between the slow pace of emissions reductions and the global climate emergency.
During the high-level leaders' summit at the start of COP26, more than 100 nations committed to cutting methane emissions by at least 30 per cent this decade. Experts said this would have a real short-term impact on global heating.
But environmental groups pointed out that governments, particularly wealthy polluters, had a habit of failing to live up to their climate promises.
Greta Thunberg speaks to YP about why adults need to act
"I expect this protest to remind world leaders and negotiators and politicians that young people are watching them," said Brianna Fruean, 23, who is from Western Samoa and took part in one of the marches in Glasgow.
"Scientists have done what they need to do – they've told us about the problem. Young people have done what they need to do by calling attention to this issue," said Natalie Tariro Chido Mangondo, a Zimbabwean climate and gender advocate.
"And it's just up to our leaders to get their act together."
Agence France-Presse
Climate change could force 216 million people to migrate
Why did Greta Thunberg call COP26 a "global greenwashing festival"? Explain your answer using Context and Glossary.

According to Thunberg and the activists mentioned in Context, who is responsible for tackling climate change? To what extent do you agree with them, and why?
What is this cartoon trying to say? Photo: CWH
What is the cartoonist's attitude towards COP26?

Would the activists mentioned in Context agree with the message of this cartoon? Explain using evidence from Context.
News: Carbon offset projects slammed for 'greenwashing', while activist groups excluded from crucial talks
Greta Thunberg and other activists from Greenpeace and the Indigenous Environmental Network interrupted a COP26 panel on carbon offsets early this month to protest against what they called "greenwashing" and the dangers of relying on offsets to compensate for emissions.
Before the panel, she tweeted that fossil fuel companies and banks were trying to "give polluters a free pass to keep polluting".
Offsets are a way for buyers to continue polluting while essentially paying someone else to adopt climate-friendly behaviours. But no global oversight or common standards exist, and an abundance of low-quality offsets appears to have little impact on global warming. The projects funded by offsets also have the potential to harm local communities if they are not executed properly.
What you need to know about Hong Kong's proposed waste-charging scheme
Half an hour into the panel, Thunberg walked out, shouting "no more greenwashing". As she left, another activist started speaking.
"Carbon offsets mean climate sabotage ... they're also going to drive devastating land grabs in the Global South," said Teresa Anderson, climate policy coordinator at ActionAid International.
Former Bank of England Governor Mark Carney, who is leading a task force of hundreds of large polluters and sustainability experts to scale up the voluntary carbon offset market, also attended the event. He spoke at the end of the panel discussion in defence of his work, saying offsets were part of the solution to reaching net zero emissions but that the existing market had to be improved.
People participate in a protest rally in Glasgow during the COP26 UN Climate Change Conference. Photo: AFP
Meanwhile, activists and members of NGOs said they were excluded from the main venue and told to dial in from hotel rooms.
In a statement, COP26 organisers said the event had a high level of attendance and that pandemic restrictions meant entrance might be limited to those who had to be physically present. All who could participate remotely were encouraged to do so.
COP participants did not travel to Scotland to watch proceedings from a hotel while plenary seats remained empty, said Ellery Li, project adviser of China Youth Climate Action Network.
"Civil society must be treated as an equal partner with equal access to the negotiations," Li said.
Bloomberg
The UN releases a damning new climate change report
Based on News, Glossary and your own knowledge, explain what Teresa Anderson meant when she said that carbon offsets meant climate sabotage.

Explain why it is crucial for these activists and members of NGOs to interact and intervene in negotiations at COP26.
Issue: Gfanz's pledged green trillions under scrutiny
Former Bank of England Governor Mark Carney announced at the COP26 panel earlier this month that the Glasgow Financial Alliance for Net Zero (Gfanz) would commit US$130 trillion (HK$1,012.66 trillion) to financing projects that would help get companies and countries to net zero emissions by 2050.
According to Gfanz's terms, signatories must commit to decarbonise their operations by 2050, use science-based guidelines and provide 2030 interim goals. But questions remain about how well banks will live up to their pledges, and how they can be measured and policed.
Since the 2015 Paris Agreement, banks have facilitated almost US$4 trillion (HK$31,158.80 trillion) of fossil-fuel financing while scoring US$17 billion (HK$132.43 billion) in fees, according to data compiled by Bloomberg. That compares with about US$1.5 trillion for green investments over the same period.
Extinction Rebellion activists take part in a demonstration against greenwashing near the COP26 UN Climate Summit in Glasgow, Scotland. Photo: AP
In addition, the 450 firms that have signed up to the alliance are vastly outnumbered by those that have snubbed it. Banks from China, Russia and India are not on the Gfanz list. Also absent are thousands of smaller finance firms that do not have to answer to increasingly green-minded investors or public market regulators.
Larry Fink, the chief executive officer of BlackRock, which is a member of the Gfanz, said hydrocarbon assets were moving from public to private hands. Fink said: "That does not change the net zero world. That's window dressing, that's greenwashing."
How climate change has changed our vocabulary
Despite this, financing for green projects topped that of fossil fuels for the first time this year according to Bloomberg data.
"We have reached a tipping point in finance this week," said Huw van Steenis, the veteran bank analyst and former Bank of England adviser who is leading UBS Group AG's push into sustainable finance.
"Leaving COP, the focus will be on getting the right data and metrics, and engaging with companies, on financing the transition to clean energy."
Bloomberg
Climate change puts many UN world heritage sites in danger
What must banks prioritise if they commit to joining Gfanz? Explain why this could be difficult using examples from Issue.

Some have suggested that environmental groups should have a say in how Gfanz's US$130 trillion will be allocated so as to ensure the recipients are held accountable to the commitment to decarbonise. Using News, Issue and your knowledge, provide ONE argument for and ONE argument against this suggestion.
Hong Kong will see more extreme weather due to climate change
Greenwashing: an attempt to make people believe that a company or government is doing more to protect the environment than it really is
Emissions: refers to greenhouse gases, such as carbon dioxide, methane and nitrous oxide, that are released into the atmosphere, where they trap heat. To achieve net zero emissions, there must be a balance between emissions produced and taken out of the atmosphere
Paris Agreement: also known as the Paris Accords. It is an international treaty that aims to reduce greenhouse gas emissions. The agreement went into effect on November 4, 2016. As of 2021, 191 countries and the European Union have joined it.
The treaty seeks to limit temperature increases in the 21st century to below 2 degrees Celsius and encourages initiatives that limit the increase further to 1.5 degrees Celsius.
Carbon offsets: a reduction in greenhouse gas emissions to compensate for emissions made elsewhere. Carbon offsets can be bought, sold, or traded as part of a market.
Clean energy: energy that comes from renewable, zero emission sources such as wind, solar and hydropower that do not pollute the atmosphere when used
Glasgow Financial Alliance for Net Zero (Gfanz): a coalition of international financial companies that have signed up to tackle climate change. It comprises more than 450 banks, insurers and asset managers across 45 countries.
Hydrocarbon: an organic compound containing only carbon and hydrogen. Examples include fuels such as petroleum, natural gas and coal.
Sign up for the YP Teachers Newsletter
Get updates for teachers sent directly to your inbox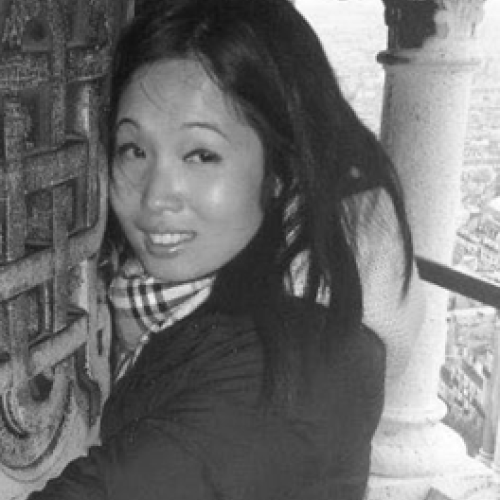 Doris worked in educational publishing, including the BBC and Cengage prior to joining the Post in 2018. She specialises in creating graphics and digital learning content, and has a particular interest in issues related to mental health and wellness.
Sign up for YP Weekly
Get updates sent directly to your inbox