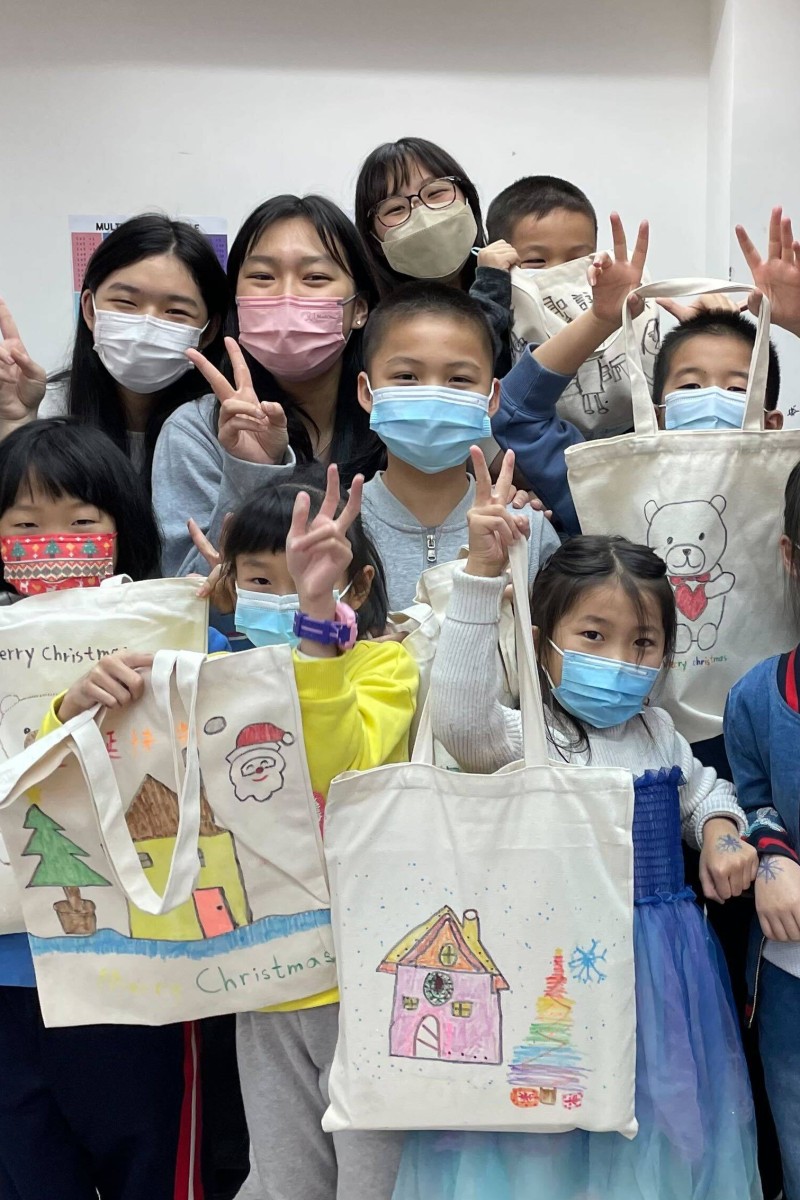 Founded by three students from St Paul's Co-educational College, the group aims to address the opportunity gaps caused by income inequality

They focus their efforts on Sham Shui Po, one of the city's poorest neighbourhoods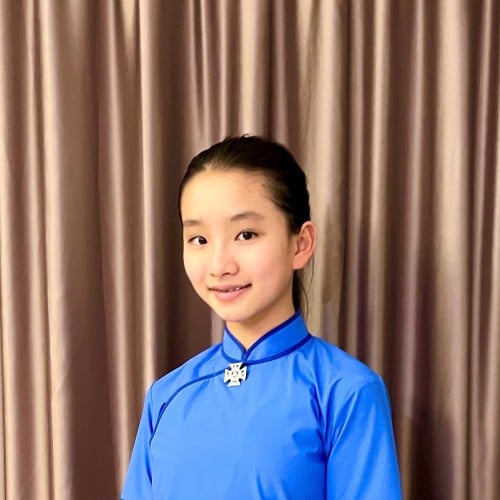 Clarisse Poon
I'm a student at St Paul's Co-educational College. I'm an inquisitive and outgoing person. I enjoy music, debate and swimming.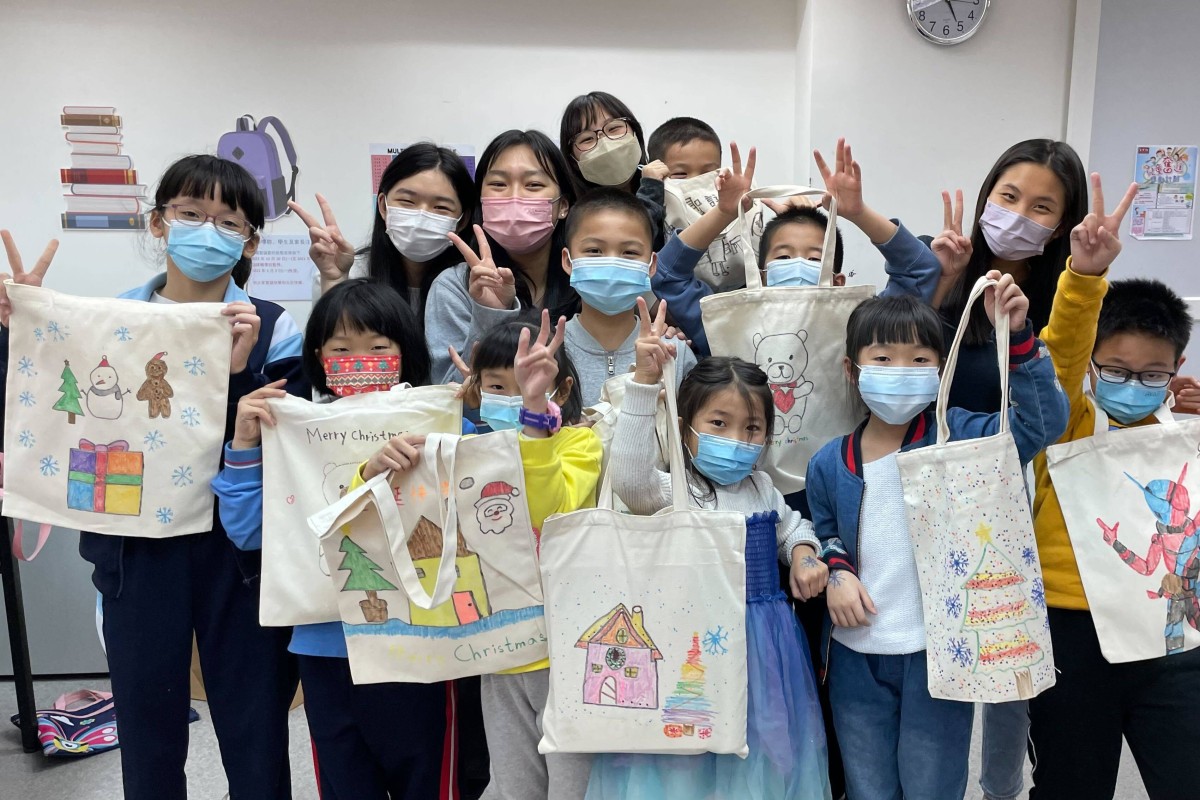 Children hold up their finished bags at the Christmas tote bag workshop organised by SimplyShare. Photo: Handout
One student organisation is working with the city's underprivileged children, filling in the blanks caused by economic inequality – and spreading a little Christmas cheer along the way.
SimplyShare, founded by three students from St Paul's Co-educational College, recently held a tote bag decoration event in Sham Shui Po that gave children the chance to get their creative juices flowing.
The idea of starting SimplyShare, which is dedicated to alleviating the opportunity gaps caused by income inequality, sprouted when co-founder Stefanie Lee Wing-hay went to Cambodia in 2017.
The struggle of one teen from a poor family caring for her sick father
She visited every year to do volunteer work, and would often see underprivileged children in the streets, wearing ragged clothes and living in unhygienic environments. The passion to help these kids prompted the 16-year-old to establish SimplyShare with her friends in 2020.
They launched with a fundraiser to buy clean clothes for these children, which raised HK$12,000, but quickly realised they should shift their focus to Hong Kong, where around 274,900 kids live below the poverty line, according to the government's Poverty Situation Report 2020 published last month.
"Growing up, I went to school in Central, Hong Kong's business centre, while attending church in Sham Shui Po, known to be one of the city's poorest districts," Stefanie said. "It gave me a whole new perspective on struggle and hardship."
Over the past summer, SimplyShare organised a free 4-week basketball course for kids. Photo: Handout
This is why many of SimplyShare's activities are held in Sham Shui Po.
Vera Chuang Hui-hua, another co-founder, said the Covid-19 pandemic has been especially hard on children in the district, many of whom lack the resources they need to learn at home during school suspensions, or even to entertain themselves.
"We hold a diverse range of events, from storytelling to arts and crafts, fundraisers to care package distribution and visits to cage homes," said Michelle Lee Hoi-kiu, another co-founder.
The teens making quarantine a little bit easier
The group also holds workshops and short-term courses for children. Last summer, they organised a four-week basketball camp for kids.
Many participants started as complete beginners, but gradually grew to love basketball, and some were even inspired to try out for their school teams.
"The course was physically uplifting, but it was also a journey of mental growth – they [the participants] became braver, tougher, and more confident on the court as the weeks flew by, " Stefanie said, adding that the group's founders are all avid players themselves.
How one Hong Kong teen opened her own second-hand bookstore
Earlier this month, SimplyShare collaborated with the Salvation Army to organise a leadership camp. They used team games that were designed to guide the children into finding their position in a group; some were natural leaders, while others needed more guidance. But eventually they all learned how to speak up and voice their opinions – key characteristics of being a leader.
The organisation has helped over 400 children over the last year. In the future, they hope to expand to serve more communities in the city and create school chapters, allowing more children to benefit from the group's work and more older students to experience the joy of volunteering.
Sign up for the YP Teachers Newsletter
Get updates for teachers sent directly to your inbox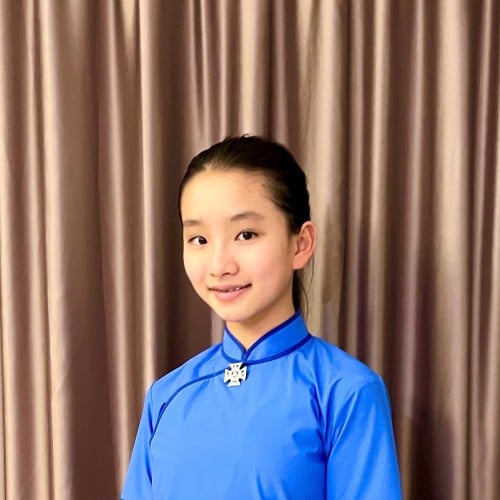 Clarisse Poon
I'm a student at St Paul's Co-educational College. I'm an inquisitive and outgoing person. I enjoy music, debate and swimming.
Sign up for YP Weekly
Get updates sent directly to your inbox