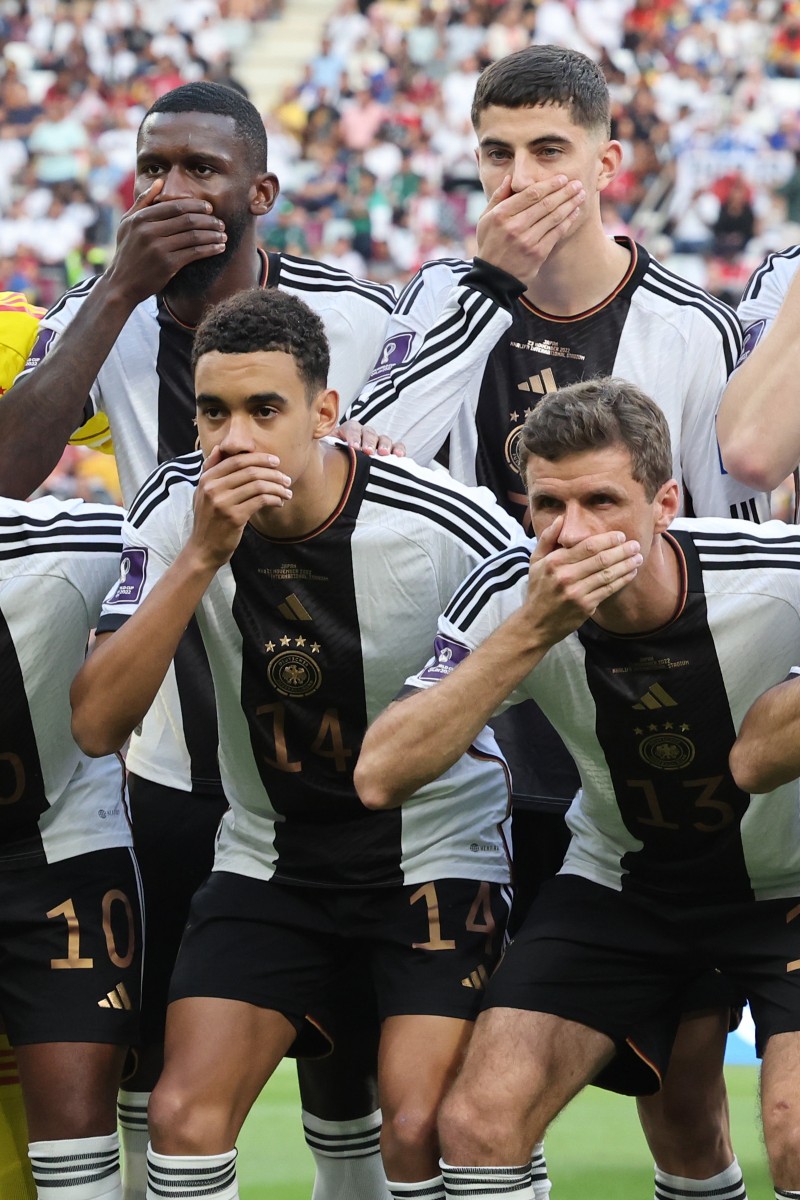 The Lens: German football team makes a statement at Fifa World Cup in Qatar
Sporting organisation threatened sanctions on seven European teams if they wore the OneLove armband in support of the LGBTQ community

Each week, we choose a picture from the news and provide questions to help you dive deeper into the topic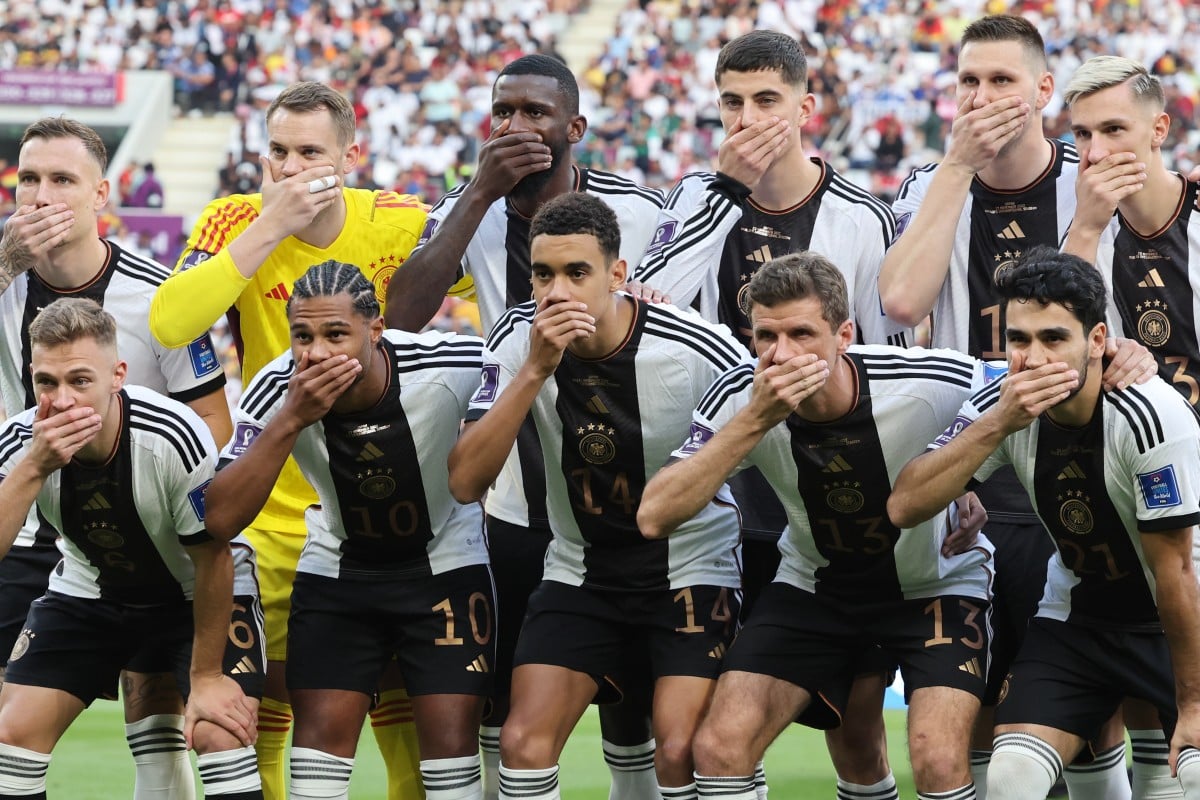 German football players cover their mouths as they pose for a team photo before the start of the FIFA World Cup Qatar 2022 soccer match between Germany and Japan at Khalifa International Stadium. Photo: DPA
Have some thoughts on this issue? Send us your response (no more than 300 words) by filling out this form or emailing [email protected] by November 30 at 11.59pm. We'll publish the best response next week.
Do you recognise the sports team in the picture?

Based on the news snippet, why are they covering their mouths in the photo?
Reuters and Yanni Chow
German football players placed their hands over their mouths during a team photo ahead of their World Cup game against Japan last Wednesday as the row over Fifa's threat of sanctions over the "OneLove" armband continued.
All players from the German team took part in the gesture in front of dozens of photographers on the pitch ahead of kick-off after world soccer body Fifa threatened seven European teams with sanctions if they wore the armband symbolising diversity and tolerance.
A German Football Association (DFB) statement said: "We wanted to use our captain's armband to take a stand for values that we hold in the Germany national team: diversity and mutual respect. Together with other nations, we wanted our voice to be heard.
"It wasn't about making a political statement – human rights are non-negotiable," the statement continued. "That should be taken for granted, but it still isn't the case. That is why this message is so important to us. Denying us the armband is the same as denying us a voice. We stand by our position."
The armbands are intended to send a message of tolerance, connection and opposition to all forms of discrimination. They have been in the global spotlight since Fifa threatened several European team captains with yellow cards if they wore them to support lesbian, gay, bisexual, transgender and queer (LGBTQ) people in Qatar, where homosexuality is illegal.
According to the rules of football , a yellow card means a player is ejected from the game.
Fifa rules say team equipment must not have any political, religious or personal slogans, statements or images. During Fifa Final Competitions, the captain of each team "must wear the captain's armband provided by Fifa".
Why is the "OneLove" armband banned at the World Cup?

Do you think sports events should be separated from politics?
Former US President Donald Trump announced he was running for office again on November 15, 2022. He faces many challenges in his bid for re-election. Photo: AFP/Getty Images/TNS
Valerie Shek, Independent Schools Foundation
Donald Trump has recently announced he is again running for president of the United States. However, his bid is likely to encounter many challenges, as it is extremely rare for a former president who lost his re-election bid to run again four years later.
When he won in 2016, Donald Trump was a blank slate, which enabled him to make bold promises during his campaign. However, he now has a record as a former president, and his past shortcomings and failed promises are well-known to the public, especially his inability to repeal healthcare reforms, his promises to invest in infrastructure and his poor handling of the coronavirus pandemic.
In addition, he is facing both civil and criminal investigations, along with a series of congressional inquiries about his efforts to hold onto power despite losing to Joe Biden in the 2020 presidential election. There is also a lot of controversy over Trump's responsibility in the January 6, 2021 capitol riots, when his supporters stormed government buildings in Washington DC to try and stop lawmakers from certifying Biden's victory.
Despite his seemingly bleak chance to win, we must not underestimate his potential. Anything can happen with Donald Trump. With the US economy suffering from record-high inflation and President Joe Biden's approval rating hitting a low of 39 per cent according to a recent Emerson College Poll, it may come as a no surprise that the public is disgruntled and wishes for a change.
Donald Trump wants to be US president again, but he's no longer a shoo-in for the Republican Party nomination
Sign up for the YP Teachers Newsletter
Get updates for teachers sent directly to your inbox
Sign up for YP Weekly
Get updates sent directly to your inbox