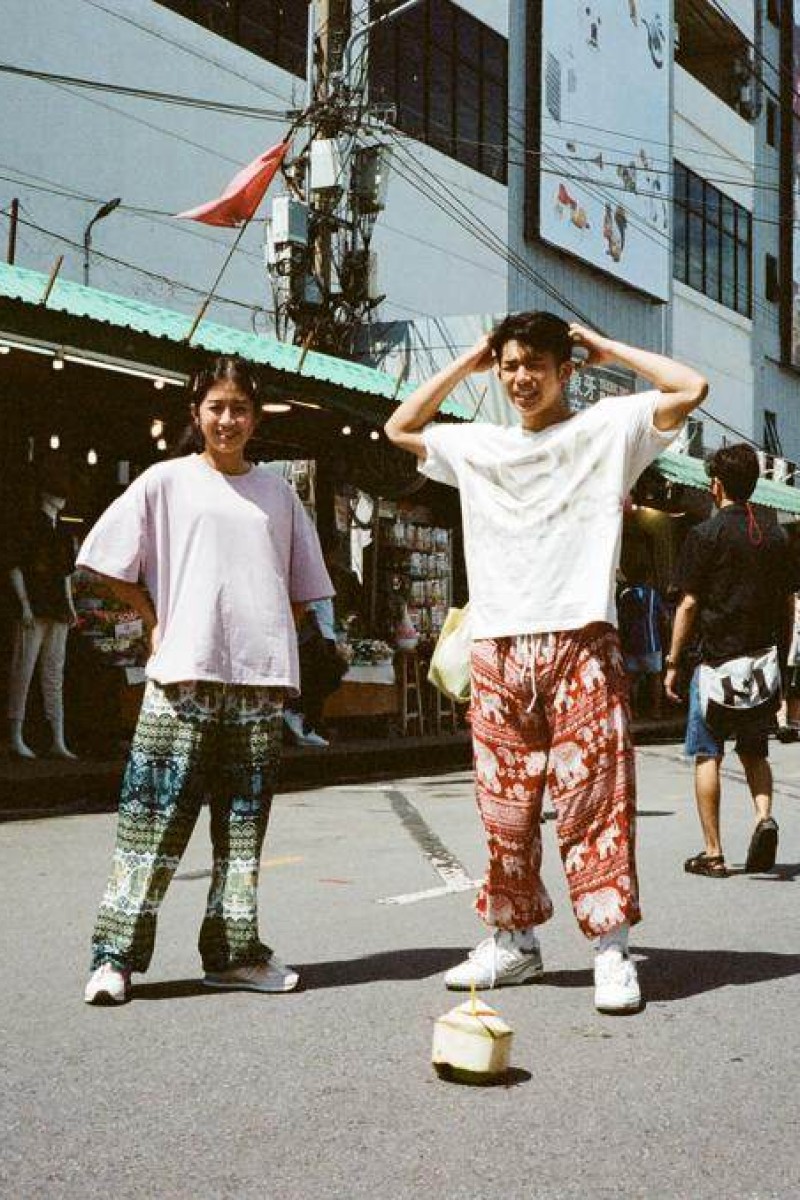 Duo behind viral Hong Thai Agency video talk competing on Trial and Error's The Next Era, obstacles faced, next steps
Yeung Nga-man, known as ThaiMay, and Tang Ngai-hong, who goes by Hong, won third place in their respective groups on the YouTube channel's talent competition show

Yeung, 21, hopes to continue acting in roles that defy stereotypes about girls, and Tang, 17, wants to continue his studies while exploring acting and variety shows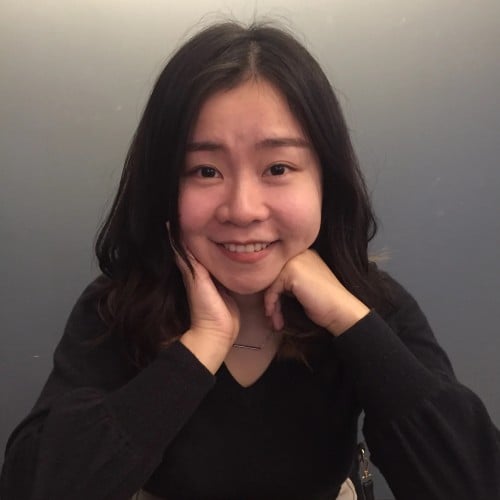 Kelly is a journalist from Hong Kong. She joined the Post in 2018, where she writes about Hong Kong's arts and culture, social welfare and the environment. She has a master's degree in Journalism from the University of Hong Kong.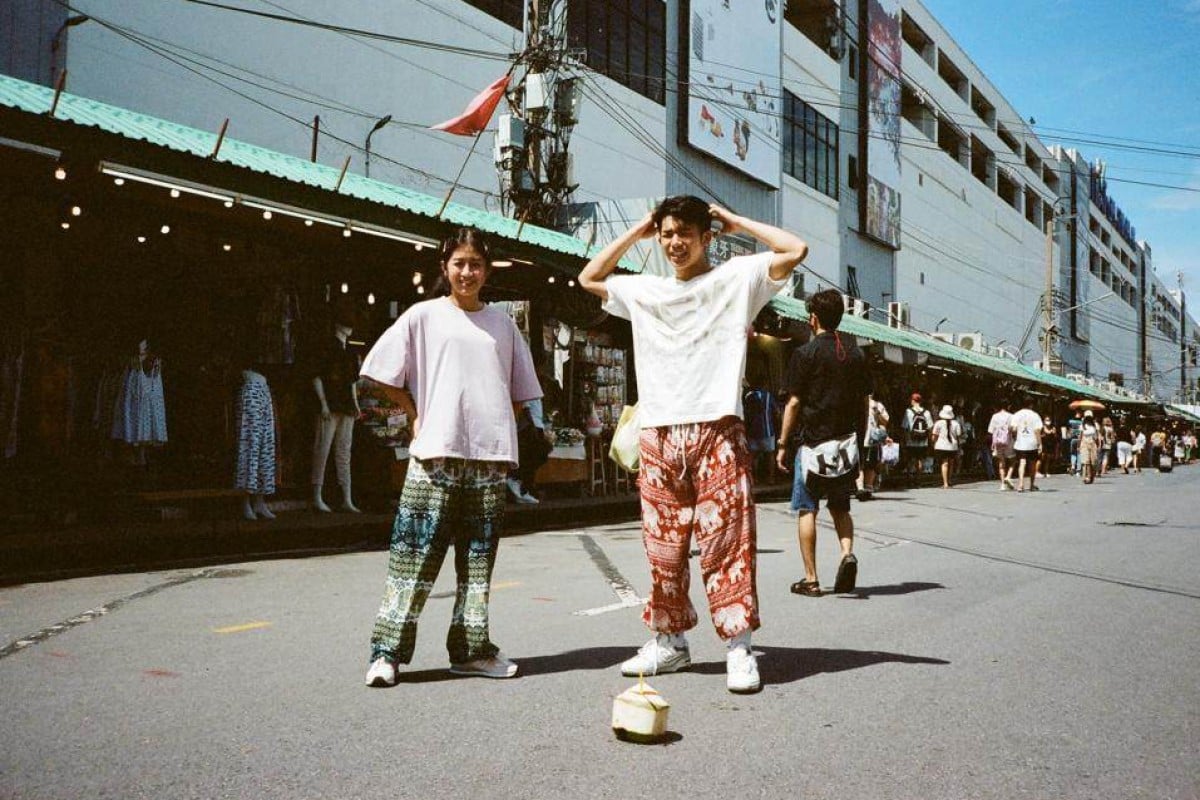 Yeung Nga-man (left) and Tang Ngai-hong flew to Thailand to shoot their music video at Bangkok's Chatuchak Market. Photo: Handout
Last October, the music video "Hong Thai Agency" was an online sensation among Hongkongers. But the tongue-in-cheek song isn't about the defunct travel agency of the same name – it portrays a girl's wish to emulate a martial arts battle.
It stars the duo Hong Thai, made up of Yeung Nga-man, fondly known as ThaiMay, and Tang Ngai-hong. The two were contestants on The Next Era, a talent competition show from local YouTube channel Trial and Error.
In the four-minute music video, Yeung and Tang sport Thai elephant trousers and meme-inspired MLG glasses as they battle in front of Bangkok's Chatuchak Market.
"From stunt training and making music to filming in Thailand, everything took only about two weeks," said Yeung, who is of Thai heritage. The 21-year-old was third in the women's category of the contest and is now signed as an artist to Demo Record under Trial and Error.
MC Soho and Kidney on using Hong Kong humour to 'shake things up'
She added that her co-star picked up quite a few skills in the video-making process: "To make this video, [he] learned from lion dancers how to fall. And for the song, he spent four hours recording just a few lines at the studio."
Though Tang, 17, had no experience with martial arts or singing, he said it was the team's synergy and rapport that helped "Hong Thai Agency" resonate with audiences.
"Our team has great chemistry and trust. We poured our hearts into it and communicated with each other," said the Form Five student who was third in the men's category.
The Next Era, which ended last November, was Trial and Error's way to scout for young talent and nurture them in content creation, film production and acting.
The last 10 contestants – all of whom have signed one-year contracts as artists under Trial and Error – were required to pair up to create a video for a final showdown.
Yeung and Tang, who chose to work together because of their complementary skills, may not have won first place, but this is just the start of the next era of their lives.
"I didn't feel like I fit the image of the 'prettiest schoolgirl'," Yeung revealed, referring to the show's description of the stars it was searching for. "To me, this applies to girls who are well-mannered and elegant. I'm not this type of girl."
In fact, a friend had applied on her behalf. When she was selected, she wasn't sure if it was the right fit, even though she had always wanted to join a talent contest.
"I thought even if I did win the competition, I wouldn't live up to the title," she said.
But as evidenced by her skilled moves and goofy antics in the video, Yeung used her unique qualities to her advantage, admitting, "I thought doing martial arts in the video would give me an edge."
Yeung Nga-man, known as ThaiMay, hopes to inspire other girls to break free from society's expectations. Photo: Handout
She has practised martial arts since secondary school, and it was a pursuit inspired by another hobby.
"It wasn't because of films that I became interested in martial arts. It came from my passion for the dragon and lion dance," she shared, adding she has been a lion dancer since she was 14. "It is a delicate yet fierce dance ... It takes years to form that chemistry with your partner to pull off even just a simple jump."
Yeung, who studied fitness and exercise nutrition at the Hong Kong Institute of Vocational Education, has always challenged herself through sports, while also confronting stereotypes and expectations of girls.
No stage too small for Pomato YouTuber Amy Tang Lai-ying
"I come from a low-banding school where there are not many girls," she shared. "Sometimes, I felt weird because it was like I was the only girl playing sports in school. But I set higher goals for myself since I was training with boys."
"My physical strength was very weak when I had just transitioned to secondary school. A friend of mine encouraged me to try long-distance running, and I started running in Form Two," she said, adding that she later joined the martial arts team as well.
"Girls in sports aren't appreciated enough for how well they perform. What people discuss most often revolves around your appearance and overlooks what [qualities] you have inside," the athlete commented.
Seventeen-year-old Tang does not shy away from challenges, whether it is playing goalkeeper for the Hong Kong U17 Futsal Team or joining a talent show.
"My elder brother applied on my behalf – I enjoy trying new things no matter how difficult the challenge is ... [For instance] I would push myself to hike Lantau Peak or go camping on my own," said the student at Po Leung Kuk Ma Kam Ming College.
Filming a music video and a street fight without prior skills in singing or martial arts is just one example of the teen's can-do spirit.
Tang Ngai-hong is a 17-year-old student at Po Leung Kuk Ma Kam Ming College. Photo: Handout
In primary school, Tang learned to play football on the streets of Hong Kong. In Form Four, he improved his agility in sports by losing weight. Even while playing one of football's least popular positions, a goalkeeper, Tang still pushed himself to make the most of the experience.
"I was very overweight at that time, so I was often told to be the goalkeeper. Over time, I found football fascinating and developed my interest in being a goalkeeper," he explained. "When it is something that I am passionate about, I will go all in."
Having survived round after round of The Next Era on the edge of being voted out each time, Tang struggled for his spot in the finals. But giving up was not an option.
Siu Mai, teen contestant on ViuTV show, discusses her King Maker journey
"Just like a football game, even though I might be losing the whole time, I want to give it my all to leave no regrets," he emphasised.
So unlike some contestants who were more confident in their ability to attract votes, Tang set out on the streets to convince people to help him stay in the contest.
"It was my first time holding a placard to campaign for myself on the street in Mong Kok to get votes from passers-by," he recalled. "I believe it is my silliness and passion that caught the eye of the audience."
Yeung's popularity because of the competition show already helped her land a role in the music video for Dear Jane's "What Happened". In it, she plays the young version of the female protagonist who goes through the innocence of first love and a painful betrayal.
A future goal for the rising star is to become more involved in music, film and television, all while portraying characters that people connect with. Yeung wants girls to feel empowered in defying society's stereotypes.
"Girls shouldn't be confined to a fixed image of how they should look or behave. They can be super energetic and have their unique characteristics," she said. "We do not necessarily have to be girlie or dress well all the time."
For Tang, balancing the competition with school and sports came at a cost, and he had to leave his futsal team.
"I was still training when I entered the competition for Trial and Error," he said, sharing that his coach advised him to take a break. The athlete added that he did not see a future playing this sport in Hong Kong, where there is a lack of resources and slim career prospects for the sport.
He hopes to study physical education and health at Baptist University as he navigates acting and doing variety shows. "I hope that in the next five years, I can continue to improve myself, whether it be in self-expression, bodybuilding or acting. I hope to express my thoughts through my work and influence more people," he said.
"If my videos can serve as an emotional outlet for Hongkongers, I consider myself an entertainer."
Get the word out
Emulate 模仿
To imitate
Synergy 協同作用
The combined power of a group
Rapport 融洽
A close and harmonious relationship in which the people or groups concerned understand each other's feelings or ideas and communicate well.
Scout 發掘
To look for people with particular skills, especially in sport or entertainment.
Antics 噱頭
Funny, silly, or strange behaviour
Sign up for the YP Teachers Newsletter
Get updates for teachers sent directly to your inbox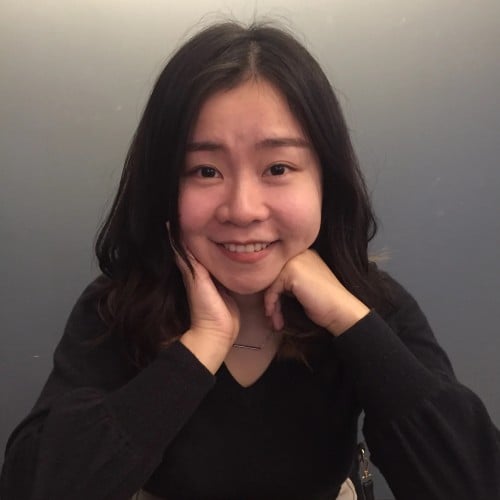 Kelly is a journalist from Hong Kong. She joined the Post in 2018, where she writes about Hong Kong's arts and culture, social welfare and the environment. She has a master's degree in Journalism from the University of Hong Kong.
Sign up for YP Weekly
Get updates sent directly to your inbox