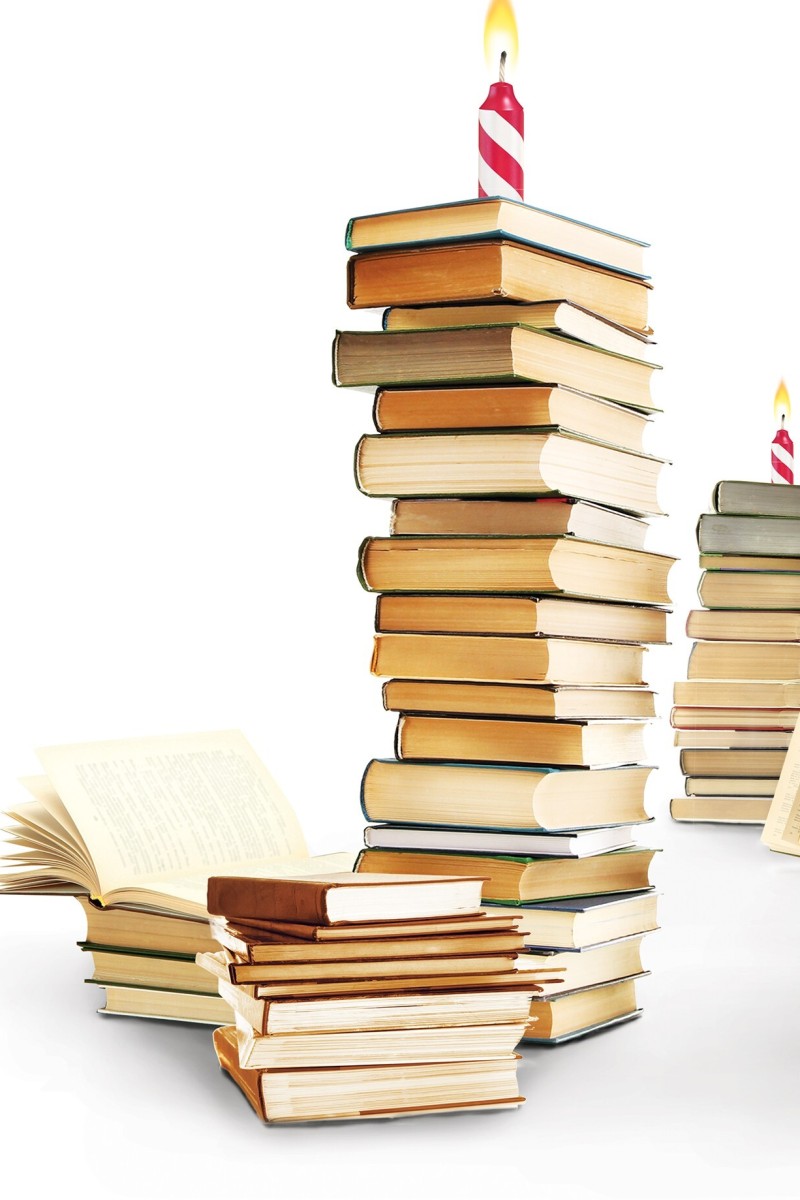 7 authors born in July and the books you should read
'Harry Potter' author J. K. Rowling shares a birthday with her most famous creation

Other July babies include the creators of 'Charlotte's Web', 'Eat, Pray, Love' and 'Wuthering Heights'
Karly joined Young Post with a background in educational publishing, and a degree in law. With a career in youth news and language, education seemed the natural fit. She covers local education matters, news in education, English language learning, and everything teen-related.
YP cover image - for web
J. K. Rowling famously gave her most iconic character her own birthday: Harry Potter turns older every year on July 31, and will celebrate his 40th birthday later this month (the character, not Daniel Radcliffe!).
(Buy the complete Harry Potter here.)
But the British author is not the only July baby known for some pretty iconic stories.
Here are seven other authors whose birthdays fall in the seventh month of the year, and the books you need to check out.
Wyndham was an English science fiction author whose stories remain some of the most influential ever written. His experiences serving in the second world war coloured his outlook on life, making him doubt humanity, and see war as inevitable.
These feelings are reflected in his works, which feature post-apocalyptic settings and often ambiguous endings, and have had a major influence on contemporary writers including Handmaid's Tale author Margaret Atwood.
The Day of the TriffidsCheck out The Day of the Triffids, his first major success: it tells of a terrifying species of carnivorous plant that start eliminating humans and taking over Earth; and The Chrysalids, a coming-of-age tale about telepathic children living in a world where any sort of mutation can mean death.
Buy a copy of The Day of the Triffids here and The Chrysalids here.
Born in 1899, Elwyn Brooks White was a regular contributor to The New Yorker magazine, and also co-authored the English language style guide The Elements of Style. But he is most famous for writing one of the best known works of children's literature: Charlotte's Web.
This story about a wise spider who figures out how to save a pig from going to slaughter, but it is also an important story in terms of theme (it addresses themes of death, change and nature), and writing style.
Charlotte's WebWhite loved animals, nature and the outdoors, an attitude reflected in many of his essays, as well as other children's books including his first, Stuart Little, a fantasy about a mouse-like human boy.
Buy a copy of Charlotte's Web here and Stuart Little here.
The American started out as an illustrator for a children's book publisher, and calls Where the Wild Things Are creator Maurice Sendak a major influence.
In 2007, he published The Invention of Hugo Cabret, a mix of a graphic novel, a picture book and a novel that won the prestigious Caldecott Medal, awarded annually to the most distinguished American picture book for children.
The Invention of Hugo CabretIt tells of a young orphan living in Paris who tries to put a broken automaton back together. The book was made into the film Hugo by Martin Scorcese in 2011.
His following book, Wonderstruck, was also made into a film, starring Julianne Moore. Again, it combine words and images, and focuses on two deaf protagonists, and their heart-warming connection.
Buy a copy of The Invention of Hugo Cabret here and Wonderstruck here.
July 18 – Elizabeth Gilbert
It's like the American author's memoir Eat, Pray, Love is both a blessing and a curse: a blessing because it was a massive hit, on best-seller lists around the world for years, and the basis of a hugely famous movie starring Julia Roberts. But it's also a curse, as many people imagine she's this hippy-dippy, fluffy self-help guru.
City of GirlsIf you choose to believe that, though, older teen readers miss out on two beautiful pieces of modern literature which reflect the necessary curiosity of Gilbert's earlier career as a journalist.
The Signature of All Things follows a pioneering botanist who seeks knowledge about plants in a daring way that is frowned upon in the 19th century. And City of Girls is coming-of-age novel set in 1940s New York City. It's true that, like Gilbert in her autobiographical Eat, Pray, Love, the protagonists go on a voyage of self-discovery. But the stories are so original and different from each other, it's almost sacrilegious to compare them.
Buy a copy of The Signature of All Things here and City of Girls here.
July 24 – Alexandre Dumas
Born in 1802, Dumas – or Dumas Davy de la Pailleterie – to give him his full name is one of the most widely-read French authors. His father was mixed race, with a white French nobleman dad, and a Haitian slave of Afro-Caribbean ancestry.
Although written in the 19th century, Dumas' adventure stories remain as thrilling and accessible today as they did when published.
The Three MusketeersTry The Three Musketeers, a swashbuckling tale of heroic swordsmen who take on injustice and corruption; or The Count of Monte Cristo, which tells of a young sailor who is falsely accused of treason and imprisoned, and spends the next several years plotting his escape – and his revenge.
Buy a copy of The Three Musketeers here and The Count of Monte Cristo here.
The prolific French-English author of more than 150 books wrote about many subjects: politics, economics, warfare, religion. But while much of his writing was of a serious bent, his children's poetry was anything but.
Cautionary Tales for Children A Bad Child's Book of Beasts and Cautionary Tales for Children offer nursery-rhyme-style poems that seemingly instruct children how to behave, but are in fact a satirical attack on Victorian societal expectations and conventions.
While the rhymes tell of the fates of naughty children, they are not intended to seriously warn youngsters to watch their behaviour; instead, you find yourself chuckling at the ridiculousness. If you've read and enjoyed Roald Dahl, you'll appreciate the charm of Belloc's writing.
Buy a copy of Bad Child's Book here and Cautionary Tales here.
The middle member of the three sisters who published their first works under the ambiguous names, Currer, Ellis and Acton Bell, Emily Bronte remains something of a mystery. She would write only one novel, and died aged 30, only a year after its publication. She would never know how successful the book became.
Whilst every effort has been made to ensure accuracy, no warranty, express or implied is given on merchantability, accuracy, reliability and correctness of the services or products as listed in the website. All products or services are provided by third party vendors independently and are subject to its own terms and conditions. We expressly exclude any and all liability, to the extent permissible under law, including but not limited to tort, negligence, all loss, damages, costs suffered or incurred by anyone in reliance on content as set out in the website in relation to the products or services. You are specifically drawn to the attention that the content in the website about the product or services is not meant to be relied on and should not be construed as advice of any kind or the basis for making any decision including but not limited to decision to purchase or acquire such products or services. The content in the website may consist of opinion, data and information obtained from a wide range of sources, both public and private, market research, interviews and third party resources. We cite specific sources where data, research or insights are obtained from any third party. Any trademarks or service marks used in this report are the marks of their respective owners and may not have contributed to the content of such article/video and should not be read or construed as having made any endorsement to the content of the same. All rights in such marks are reserved by their respective owners.
Wuthering HeightsDescribed by her elder sister Charlotte as "not naturally gregarious", she was known to be a great lover of animals and nature. Such descriptions of her character are therefore quite surprising when you read her Gothic novel, Wuthering Heights.
While it celebrates the wild beauty of the Yorkshire moors, the literary classic examines immorality, violence, cruelty, passion and obsession – topics that were frowned upon by Victorian morality of the time. The book is also an important reminder of how nightmarish "old" stories can be. If you're a fan of psychological thrillers, you can't miss this.
Buy a copy here.
Sign up for the YP Teachers Newsletter
Get updates for teachers sent directly to your inbox
Karly joined Young Post with a background in educational publishing, and a degree in law. With a career in youth news and language, education seemed the natural fit. She covers local education matters, news in education, English language learning, and everything teen-related.
Sign up for YP Weekly
Get updates sent directly to your inbox