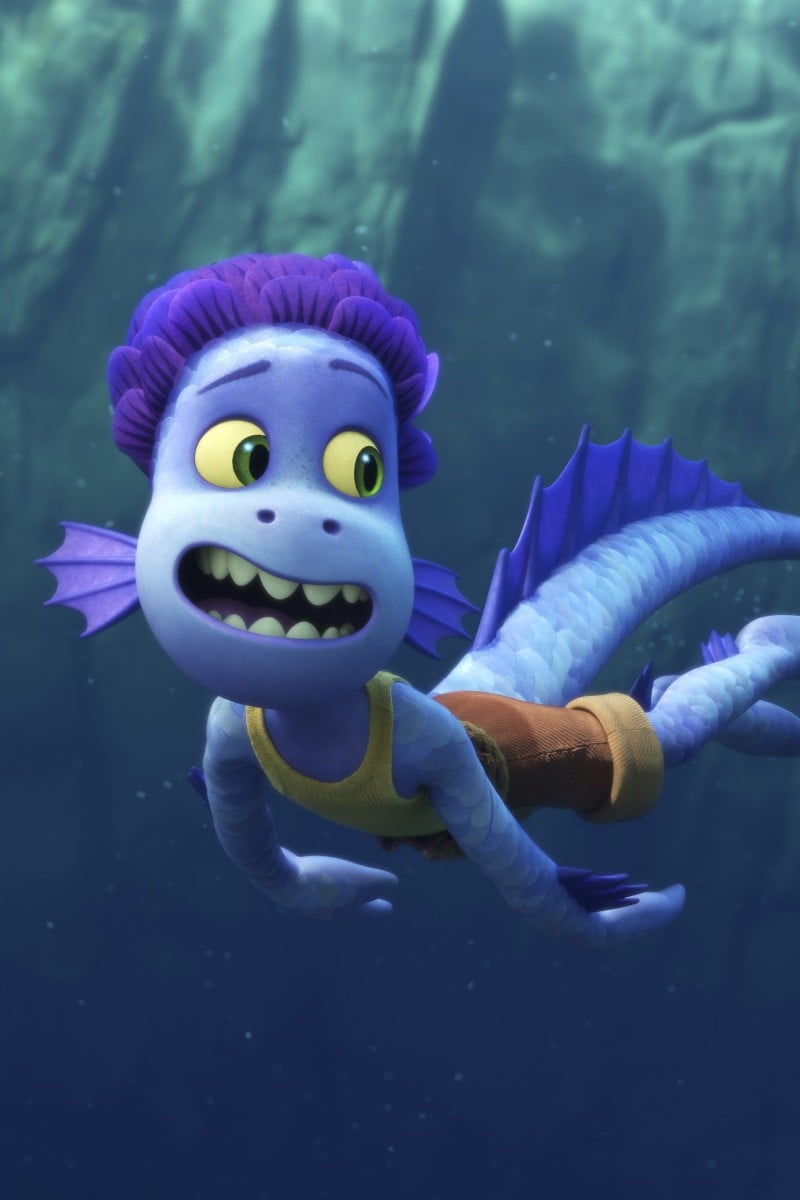 'Luca' star Jacob Tremblay is excited for audiences to connect with friendly Italian sea monsters in Disney/Pixar film
The movie is a dream come true for the teenage star of 'Room' and 'Good Boys', who was a massive 'Cars' fan as a child

The film, also starring the voice talents of Jack Dylan Grazer, Maya Rudolph, and Jim Gaffigan, is out on Disney+ on Friday
This image released by Disney shows characters Alberto, voiced by Jack Dylan Grazer, left, and Luca, voiced by Jacob Tremblay, in a scene from the animated film "Luca." (Disney via AP)
Luca star Jacob Tremblay is ready for Disney and Pixar's new movie about friendly sea monsters to make a major splash.
The 14-year-old actor voices the character of Luca, who dreams about becoming human and life above the water's surface.
"Pixar is such a big part of my childhood," Jacob said. "To be a part of that is very exciting. I love the whole friendship in this movie. It definitely reminds me of summers I've had with my friends. I hope it will be able to remind adults, too, of the adventures they've had when they were younger."
Set along the Italian coast, the animated movie - out Friday on Disney+ - introduces Luca as a young sea monster that can transform into a person whenever he's out of water.
He and his friend Alberto, voiced by Jack Dylan Grazer, risk exposing their secret when they leave the ocean to explore the fictional town of Portorosso, reveling in luxuries like bike riding and pasta. But danger lurks on land, and Luca's parents warn it's unsafe to be spotted by a human.
"Luca's a sea monster, but I think there's a very real, human part of him," Jacob said. "He's very ambitious to go out and explore, but at the same time, his parents are setting limits for him."
13 movies we're looking forward to this summer
For Jacob, it was a dream come true to dive into the role. The teen's a massive fan of Pixar's Cars films, and remembers playing with Lightning McQueen toys from those hits.
He's excited now to see Luca merchandise hit the shelves.
"I went to the Disney store the other day with my little sister, and they had this whole shelf of Luca stuff," Jacob said.
Alberto, voiced by Jack Dylan Grazer, left, and Luca, voiced by Jacob Tremblay, eat ice cream in a scene from the animated film
"They were even saying, 'Oh, on Friday we're getting more stuff.' It's really cool to be able to see something that you've worked so hard on become such a thing."
It's the latest high-profile movie for Jacob, who also starred alongside Oscar-winner Brie Larson in the 2015 drama Room and earned laughs in the 2019 comedy Good Boys, produced by Seth Rogen.
With Luca, Jacob enjoyed helping expand the Pixar universe with a family-focused film.
'Mitchells vs the Machines' is a zany family-fun apocalypse movie
"When I first heard that it was sea monsters, that's obviously very, very exciting, because I think that's such a cool premise, and how when they go to the surface, their scales kind of like retract into their body and then they're human," Jacob said. "Obviously that was a very interesting concept ... and then the biggest part being coming out of your shell and trying new things with friends."
Directed by Enrico Casarosa, Luca features a voice cast that also includes Maya Rudolph, Jim Gaffigan and Emma Berman.
"It's definitely a roller coaster of emotions," Jacob said. "At the beginning, you feel really happy to see all the fun stuff they're doing, but as time goes on, there's conflict. I hope that people will be able to relate to these characters and kind of feel empathy for them."
Sign up for the YP Teachers Newsletter
Get updates for teachers sent directly to your inbox
Sign up for YP Weekly
Get updates sent directly to your inbox