The 15 best K-pop albums of 2020, from BTS and Twice to NCT 127's near-perfect offering
Thanks to the Covid-19 pandemic, fans were robbed of the chance to see many of their favourite bands on tour, but these idols made the most of lockdown

Better known groups like Monsta X and Super M were matched in creativity by up-and coming outfits such as Ateez and Everglow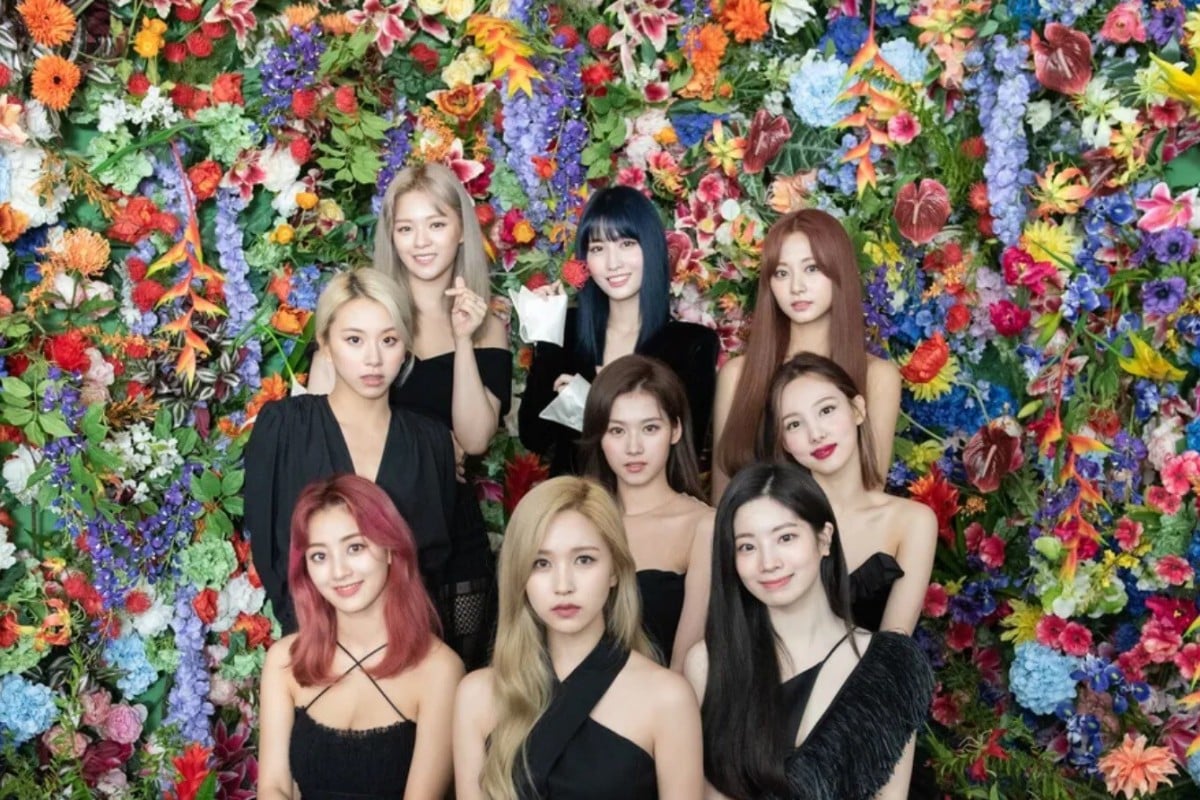 Twice released one of the best albums of 2020. Photo: JYP Entertainment
From upbeat dance song to lilting Covid-19 comfort tune, this year's seen many stellar and engaging releases from the K-pop world.
Here are the best album releases from K-pop groups this year, in no particular order.
1 Map of the Soul: 7 by BTS
February feels like a lifetime ago, when BTS released Map of the Soul: 7 as a seventh-year anniversary album to kick off a year long celebration and revelry including a world tour. Obviously, things haven't gone quite as planned, but BTS have made the most of it, giving comfort with the hit single Dynamite and their album BE.
Map of the Soul: 7, however, is an album for more than just this moment, instead arriving as a commemoration of everything BTS has accomplished in the first seven years of their career.
We Are Bulletproof: The Eternal recalls BTS' earliest days, while ON looks back on their 2013 single N.O, and Black Swan is an exhibition of the highest heights of artistry.
The album not only celebrated the past, but also emphasised the seven parts of the whole, giving each member a chance to shine on their intensely intimate and personal solo songs, creating a cohesive overview of the band. Map of the Soul: 7 is glorious in its musicality and lyrical storytelling, making it an album for the ages.
2 Eyes Wide Open by Twice
Twice's second Korean LP will offer up the perfect jolt of energy to your system with every new listen.
Once known for their bright brand of "colour pop" singles, this album emphasises their dedication to more mature, dramatic pop perfection as the nine women seamlessly glide between a medley of genres.
They show how they can dominate everything from the groovy brashness of Hell In Heaven to the city pop of Say Something, while newtro single I Can't Stop Me and its throwback video explore not being able to hold back when in the spotlight.
Twice has come into their own with this album , and we are all honoured to experience it with our ears and eyes wide open.
Monsta X have been very busy this year, starting with the excellent display of classic boybandery on their pre-coronavirus All About Luv English LP, dropping Fantasia X in May, and Fatal Love in November.
A testament to Monsta X's distinctive aggressive yet sweet style, the 10-track album is perhaps the most fleshed-out release since their start in 2015, showcasing all facets of their songwriting and each members' distinct artistry.
Whether you're looking to groove along to Night View and Nobody Else, or blast Love Killa or Beastmode for a pump-up anthem, this album is a buffet of musicality to satisfy any palette.
4 Minisode1: Blue Hour by Tomorrow X Together
Generally, Blue Hour refers to the period around twilight, an in-between, and that's a feeling TXT captured perfectly in this EP.
The album is a divider of their discography as they move from their first, debut-era album trilogy onto the next stage of their career. This minisode, through everything from upbeat disco to pop rock euphoria and despondent dance hall, ended up capturing those in-between feelings.
Accordingly, on the singles Blue Hour and the Charli XCX co-penned We Lost the Summer, they engage with imagining the world and regretting the lost season, respectively. The album excels at putting a voice to the complex emotions of this reality that people have found themselves in. It's a true soundtrack for 2020.
5 Monster by Red Velvet's Irene & Seulgi
When Red Velvet started back in 2014, the group was touted as being "red" in its bright poppishness and "velvet" in its more sophisticated R&B side.
They've toggled between the two throughout their career, though ultimately their biggest hits have been more upbeat than rhythmic.
This album from two members of the group, known fondly by many fans as Seulrene, ups the ante on the smoother side Red Velvet has shown in the past: singles Naughty and Monster set the tone for the album's sultry themes, revelling in their charismatic performance style and captivating stage presences. It may be the first release from them, but it's hopefully not the last.
A bilingual album built around the coronavirus pandemic but not wholly inspired by it, Super One alternates between songs to listen to while chilling at home with candles lit, exhilarating dance numbers, and soulful, heart stirring tunes that will resonate with anyone waiting for better days.
The point of SuperM is to be a super group, and the amount of skill and finesse that overflows from Super One makes it clear why these seven are touted as The Avengers of K-pop by their company SM Entertainment. Like the Marvel Avengers films, they're producing something so entertaining it goes on to become a stand-out entity in its own right.
7 -77.82X-78.29 by Everglow
Much of the time when a K-pop group puts out a mini album, the focal point of it is the single and all the other songs are good but often not great; greatness of artistry is typically kept for studio albums, where acts can flesh out their musicality more.
Everglow's four-track -77.82X-78.29 shoves this rule aside, leading off with the synthwave vibes of show-stopper La Di Da, and keeping the momentum going with the lush '80s synth-pop of teen movie-ready Untouchable.
Things take a turn towards hip hop with Gxxd Boy, a song that is taunting and uplifting while showing off the charismatic fluid artistry of the members. EP closer No Good Reason is bright in its chill pop balladry, a sweet show of everything that Everglow has to offer in four tracks.
If you need a burst of energy, April's Da Capo is where it's at. The girl group's seventh EP fittingly dropped in April, and has been bouncing along energetically ever since.
The album kicks off with the unapologetic cheer of too-cool Oops I'm Sorry and its amusing "Oops, I'm sorry/ I'm so pretty" taunt of a chorus and ends with the fantastical R&B-laden You.Zip that flirts with being a slow jam, then decides, "Nah, I'll speed up and become an explosive electropop song".
Nestled between the two are three more songs – the chanty explosive dance styling of twinkling synth-fuelled single Lalalilala, the full-blown count off banger of 1,2,3,4 and the sweet pure pop of Doll – with nary a bland moment throughout the EP.
9 Dystopia: The Tree of Language by Dreamcatcher
World building is prevalent across K-pop discographies in recent years, but while most idol groups spend their career flirting with various styles, Dreamcatcher has one of the most cohesive sounds out there with their dedication to melodramatic electro pop-rock, and that's on full display in their first LP, Dystopia: The Tree of Language.
The seven members of the girl group devote much of their time to their typical sound on single Scream and its follow-up Tension, but also delve into varied other musical styles to showcase their versatility and theatricality, like on the haunting trap-rock of Red Sun, the propulsive funk rock of Black & White, and the roaring 2020s lounge Jazz Bar.
The extended, repackaged edition of May's Go Live, In Life picked up where that already great album left off, and redirected it towards a series of songs that felt almost cathartic in the frenzied outpouring of energy of Back Door and Any.
As the new songs lead into the earlier ones from Go Live, where Stray Kids spent their time exploring new facets of their growing musicality, In Life proves to be a perfect soundtrack for the tumultuous, yet often slow-paced, 2020.
11 Neo Zone: The Final Round by NCT 127
There are albums, then there are Albums. NCT 127's Neo Zone and its longer repackaged version The Final Round are the latter. Neo Zone is perhaps the most engaging album ever released by any group under SM Entertainment's NCT boy band umbrella.
This is saying something, considering how fruitful the various NCT brands are: NCT Dream, NCT 2020, and WayV also released albums this year. Neo Zone does what NCT as an idea isn't supposed to do: Neo Culture Technology is all about being experimental and trying out new things, which Neo Zone does especially well on its fight-ready duo of singles Kick It and Punch.
But the album also steps back and focuses on being in the here and now and loving and living life; many songs, like romantic EDM tune Love Me Now or the funky pop of stand-out opener Elevator (127F) resonate because they are perfect examples of their genre styles.
Perfection is hard to achieve, but Neo Zone gets close.
12 The Book of Us: The Demon by Day6
Pack up everyone, and go home. And on your way take a listen to Day6's The Book of Us: Demon.
Comforting in its playful take on sensitive, sad moments, like on single Zombie or stand-out Love Me or Leave Me, this May release from the K-pop rockers is an album for when you're feeling less than happy but want to put a little bounce back into your step. It may be the Book of The Demon, but it's a soundtrack for life.
13 Treasure Epilogue: Action To Answer by Ateez
Ateez make waves with each release, but Action to Answer as the finale of their debut Treasure album series was their stand-out album this year, with creativity pulsating through every moment.
The boisterous, experimental nature of the five tracks urge the listener to ask for more, with the dramatic synth-fuelled single Answer and show-stopper B-side Horizon making this bite sized EP – less than 16 minutes long – a perfect taste for anyone looking to understand why Ateez is one of the most popular young K-pop boy bands out there today.
14 Universe: The Black Hall by Pentagon
As a boy band, Pentagon has gone through so many shifts and ups and downs in its career since 2016, that it almost came as a shock when they released their first full-length album after years of EPs and singles.
Universe: The Black Hall is cohesive show of everything the band had to offer, both moody and melodramatic on songs like single Dr Bebe and The Black Hall or Die For You, and upbeat and sweet on tracks like Worship U and Asteroid.
Pentagon remake themselves with every release, never sticking to one style, but if anything were to stick, it should be this album.
15 Walpurgis Night by Gfriend
Gfriend have always been known for their retro-pop flare, starting their career with their school-themed series, this time, they're modern day witches who are revelling in their femininity.
Walpurgis Night, the culmination of the album trilogy preceded by Labyrinth and Song of the Siren, put their sleek vocals and vibrancy as performers front-and-centre, whether it's being a lucky girl on the sweet and snappy Secret Diary or kicking back and relaxing on the slinking Night Drive.
Magic may not be real, but music in its own way is enchanting, and Walpurgis Night exemplifies that.
Sign up for the YP Teachers Newsletter
Get updates for teachers sent directly to your inbox
Sign up for YP Weekly
Get updates sent directly to your inbox