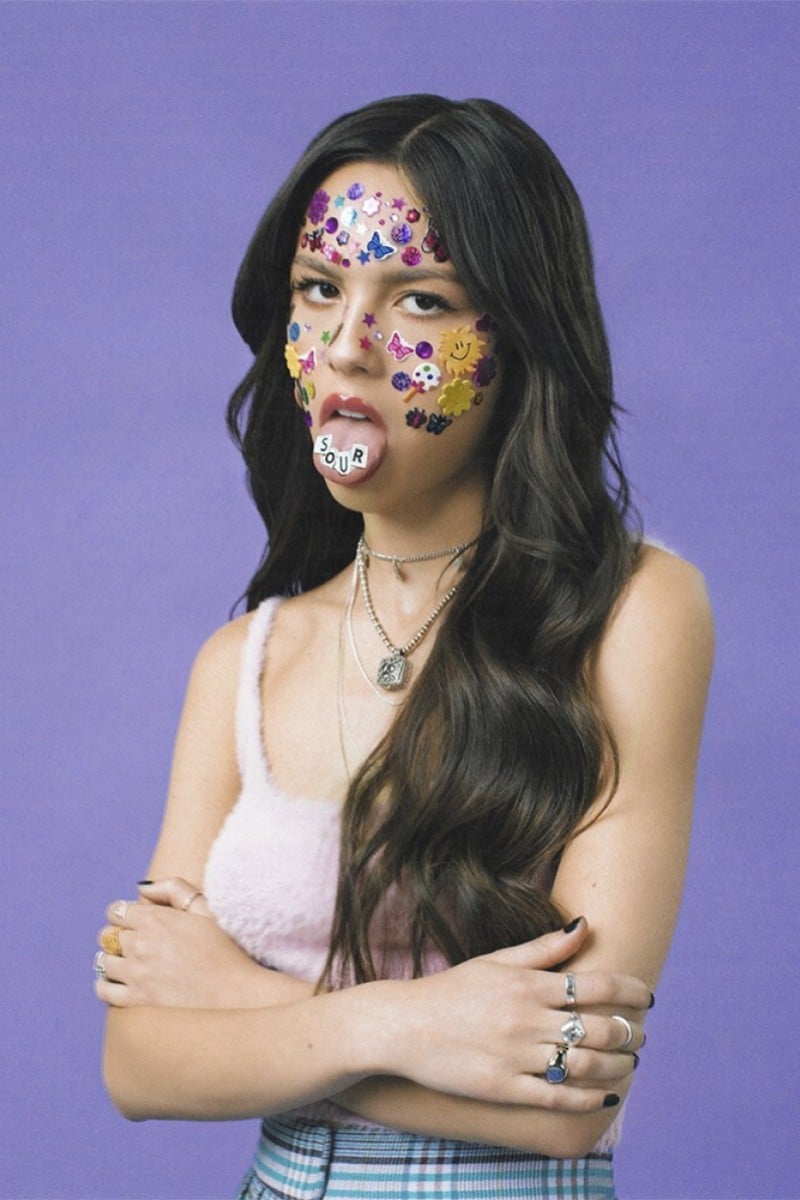 'Sour' album review: Olivia Rodrigo's debut more than lives up to the promise of 'Drivers License'
Her follow-up singles 'Deja Vu' and 'Good 4 U' upped expectations, which the Disney Channel star definitely meets

There are hints of her 'musical mother' Taylor Swift in the confessional self-awareness of the lyrics
It's finally here – and while there's plenty that's Sour in Olivia Rodrigo's debut album of that name, there's a lot of sweet, too. Photo: AP
Does Olivia Rodrigo only write hits? If what we've heard so far is anything to go by, the answer is a resounding yes.
We probably should have suspected as much when the Filipino-American teenager released her first single, Drivers License, a heartbroken ballad with a bridge that demands to be felt. The song had such an impact on pop culture that US comedy skit show Saturday Night Live devoted a whole skit to it.
The vocals are full of emotion, buttery smooth, but still retain an element of rawness, baring her soul to the world – giving the world high expectations for her debut album, Sour.
And it doesn't disappoint.
Olivia switches things up with the second single, Déjà Vu , moving away from balladeering to this bright pop song dissing her ex for repeating all the things he did with her with his new partner – sharing jackets, strawberry ice cream (the twinkling opening piano melody is reminiscent of an ice cream truck, how clever), and reusing date ideas.
"So when you gonna tell her that we did that, too? / She thinks it's special, but it's all reused / That was our place, I found it first … Do you get deja vu when she's with you?"
It's a bit petty, yes, but justifiably so. You might find yourself smiling wryly and rolling your eyes at her ex for his lack of originality. It's also worth noting the conscious decision to only direct shade to her ex, not his new partner.
In Happier, the 18-year-old compares herself to her ex's new partner. While she hopes her ex is happy, she doesn't want him to be happier than he was when he was with her. "She's been "pickin' her apart / Like cuttin' her down, make you miss my wretched heart / But she's beautiful, she looks kind / She probably gives you butterflies." No animosity between girls detected.
5 things you need to known about Olivia Rodrigo. If you've been living under a rock Her most recent single Good 4 U is a fiery, almost acerbic pop-rock tune that wouldn't be out of place in an early 2000s teen movie. The lyrics are straightforward: she seems to be upset by how unbothered her ex seems after the end of the relationship, as if she never mattered at all.
There's a noticeable shift from sadness to anger. "You look happy and healthy, not me / If you ever cared to ask … you're so unaffected, I really don't get it / But I guess, good for you" Ugh, relatable – she hints that it's hard to be the one that feels more.
Not all of Sour focuses on romantic relationships. Olivia explores the relationship with her own body and self-image in Jealousy, Jealousy. The media-wide images of perfect girls with "paper white teeth and perfect bodies" make her want to throw her phone across the room, and the constant scrutiny and comparison to other girls has been leaving her distraught and sick of herself.
Even though she knows what she sees on social media is not real, and that "their win is not [her] loss," she can't help getting caught up in it all. The song features more of her lower register, and the raspiness in her voice juxtaposed against heavenly harmonies gives this song a grittier, bitter edge.
Closer Hope Ur OK finds the artist looking back at old friendships. She references two friends, both with cruel, prejudiced parents who didn't accept them for who they were or who they loved, and hopes that they took their "bad deal' and made a royal flush."
It's a pure-hearted hope, and the softness in her voice makes it sound like she would wish the pain away if she could. She wants to remind them that "nothing's forever" and that they have the ability to create the future they want. It's the perfect tender track to close the record.
How lucky are we to be witnessing Olivia's meteoric rise to pop royalty? She might be a girl on the cusp of adulthood writing about heartbreak, who got her start with kids' shows, but don't pigeonhole her into being "just" a Disney Channel star. Sour is just as self-aware as it is confessional, and while she does somewhat play into being an emo teenage girl, she all does it with a twinkle in her eye, making you a co-conspirator.
Sign up for the YP Teachers Newsletter
Get updates for teachers sent directly to your inbox
Sign up for YP Weekly
Get updates sent directly to your inbox