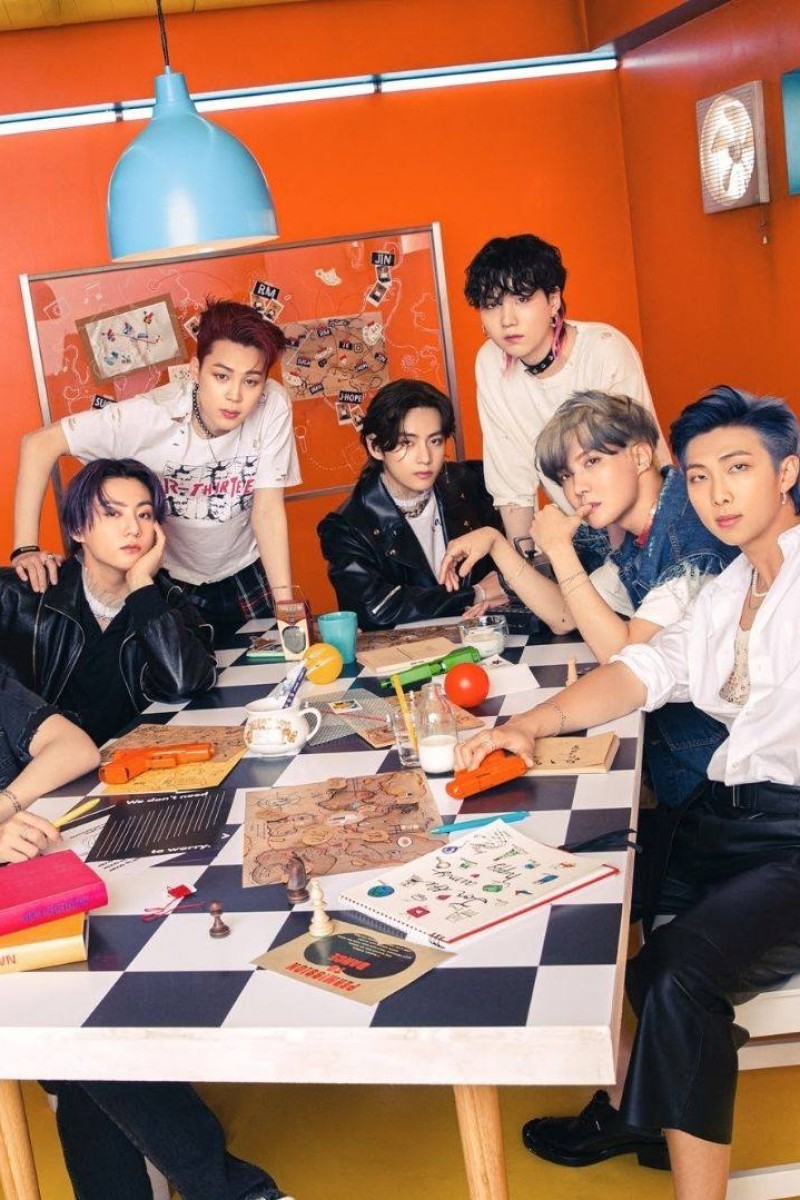 15 best K-pop songs of 2021: BTS' Butter, Lisa's Lalisa, IU's Celebrity, Itzy's Loco and more
Angelika Tamang
Janice Mook
Clara Ki Lu
The Bangtan Boys broke YouTube records with their hit track 'Butter' and earned a Grammy nomination

Blackpink's Lisa made a name for herself with her solo debut and earned praise for the lead single's combination of catchy beats and homage to her Thai heritage
Angelika Tamang
Janice Mook
Clara Ki Lu
|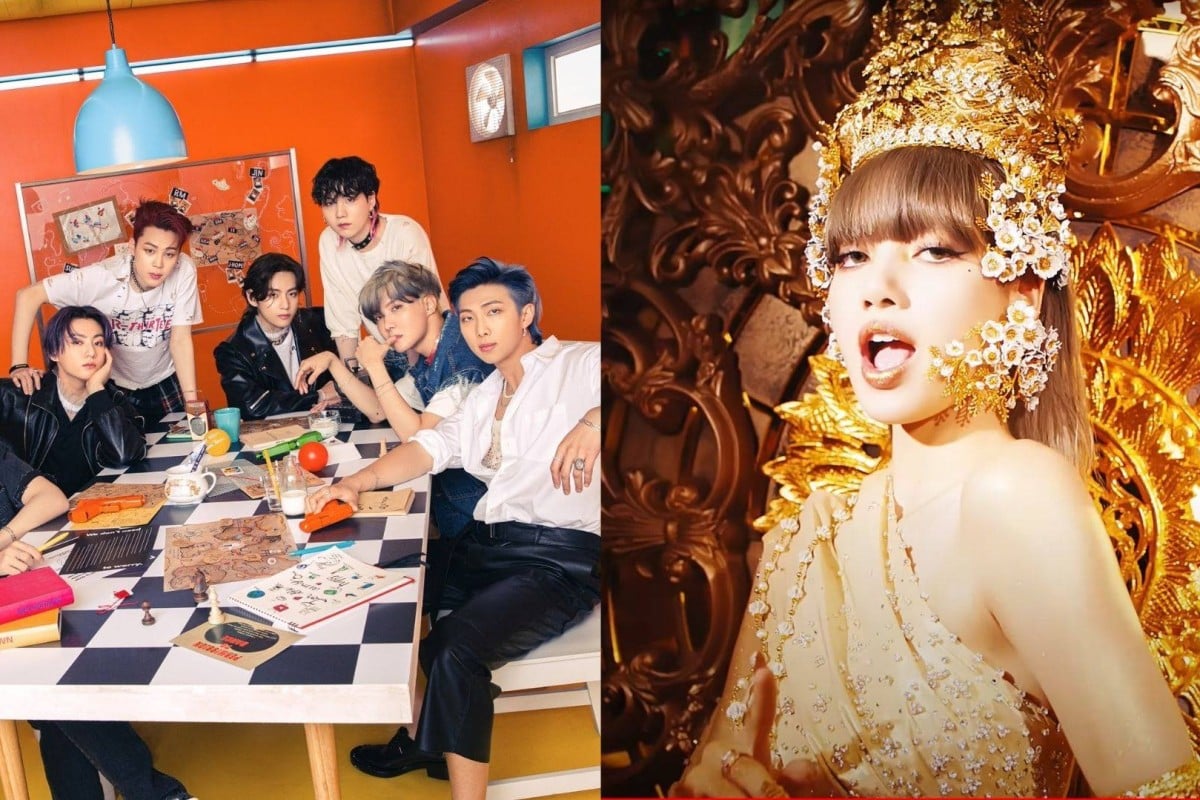 Though BTS and Lisa from Blackpink broke YouTube records this year, they weren't the only artists making waves in the K-pop music scene this year. Photo: Hybe; YouTube
2021 was a fantastic year for K-pop, from rookie groups like Enhypen and Aespa to veterans like Shinee, IU and BTS. There were tear-jerkers, pop-punk anthems, romantic confessions and feel-good dance tracks.
If you haven't kept up with K-pop aside from BTS or Blackpink, you should check out our top picks from this past year:
Just as you thought Baekhyun couldn't get any better after his second mini album, the artist came back with a bang on his track Bambi. The strong bass, catchy chorus and heartbreaking bridge create a perfect showcase of Baekhyun's talented, soulful voice.
This song will make you see him not just as another member of boy band EXO, but also as a strong, passionate vocalist in his own right.
With lyrics as smooth as butter, this dance-pop hit is yet another masterpiece from the Bangtan Boys that boosts your confidence. There's a flirty undertone to the lyrics with strong, groovy beats that make your feet want to move.
When it was first released, the song not only broke the record for most viewed music video on YouTube, but it also has helped the boy group pick up a Grammy nomination. We know this is technically an English song, but how could any K-pop list be complete without a song from BTS?
10 amazing BTS songs that are totally underappreciated
The singer known as Nation's Little Sister returns with her fifth studio album, "Lilac", as a farewell to her fleeting 20s. The lead single, Celebrity, which won best vocal performance at the Mnet Asia Music Awards earlier this month, is a bright electropop track that will bring a smile to your face.
IU's soothing vocals and earnest lyrics will stay in your heart, reminding you to be yourself even amid societal expectations that may tell you otherwise.
4.
Don't call me
(Shinee)
After nearly three years without making music, veteran boy group, Shinee, has returned with a banger, Don't call me.
The song has some hip-hop influences accompanied by straightforward and bold lyrics about moving on from an obsessive ex-lover. When you listen to the song, there is a sense of self-assurance that will make you feel like a force to be reckoned with.
2021 has certainly been Somi's year. Among her new releases, Dumb Dumb by far delivers the most surprises in terms of musicality.
It seamlessly transitions from the slow pop tunes in the pre-chorus to Somi's throaty, low register accompanied by whistles and electric beats in the chorus – the transformation is inexplicably satisfying. Its story-driven lyrics about seeking attention from a crush are also quite relatable.
Review: K-pop singer Somi releases her fun, relatable debut album, 'XOXO'
Despite being a rookie group, Enhypen has managed to blow all of us away with their hazy psychedelic rock song, Fever. Centred around the theme of a burning desire, there is a push and pull in the song's flow that keeps you wanting more.
Lee Hi often leaves you speechless at the end of her songs. With Only, the melody starts off low in energy, but as she moves into the chorus, her breathtaking voice surprises us as she perfectly conveys the emotions of longing and love. This song is a show-stopper that leaves you aching to listen to the track over and over again.
NCT Dream definitely spiced up 2021 with their unique hip-hop comeback. The group takes the phrase "too hot to handle" and makes it into a song as they brag about how their "spice" stands out from the others. If the beat is not enough to make your body sway, their addictively confident chant in the chorus surely will.
Blackpink's Lisa is pretty savage in her record-breaking solo debut, 'Lalisa'
The Thai member of girl group Blackpink kicked off her much-anticipated solo career with the record-breaking hip-hop bop, Lalisa, which was the most viewed YouTube music video by a solo artist in 24 hours. "Lalisa, love me, Lalisa, love me," sings Lisa – and we do love her. The song is incredibly catchy with its brass riffs and strong beats that scream: "Here comes the queen!"
Lisa also pays homage to her Thai heritage in the rap verse with traditional instruments – a refreshing touch of her individuality that can sometimes get lost in the K-pop scene.
Like the title suggests, the lyrics in this song are about the crazy feeling of being in love. The upbeat melody and fast-paced rhythm enhance these fervent emotions, and once the track hits the chorus, you can't help but start dancing along.
Contrary to their other releases with a brighter pop tune, TXT's LO$ER=LO♡ER (which can be translated as "loser equals lover") is a rebellious pop-punk track. It begins with a bang and nurtures a rebellious energy throughout.
You are sure to feel the frustration and empowerment of youth as the five members sing about fighting for love even if you look like a loser.
5 K-pop dance practice videos you should try right now
The rookie girl group is known for their futuristic concepts and for going beyond K-pop norms for their songs. Next Level is a rap-oriented rendition of A$ton Wyld's song of the same name from the soundtrack of Fast & Furious Presents: Hobbs and Shaw.
From the track's head-bobbing EDM chorus to its groovy interlude and high notes, Aespa knows how to integrate contrasting elements into a cohesive and stylish song.
13.
Paint The Town
(Loona)
Girl group Loona took the world by storm when they released Paint the Town, which has quickly become one of their most popular tracks. Accompanied by the music video's striking dance choreography, this song has a fierce melody and a catchy bridge – perfect for your workout playlist.
14.
Rock with you
(Seventeen)
Blessed with versatility, 13-member boy band Seventeen returned in 2021 with their pop-punk release, Rock with you. The upbeat tune perfectly delivers the singers' adoration as they sing "I wanna rock with you" – an invitation to dance with them into unconditional love.
15.
Thunderous
(Stray Kids)
Aligned with their "loud" image from a previous comeback, Stray Kids stepped up their game with Thunderous. Featuring their signature aggressive rapping and wordplay, the song builds up to an explosive point in the chorus – "Thunderous, Ptui, Ptui, Ptui". It's a fantastic clapback to haters, and the message is well delivered.
Sign up for the YP Teachers Newsletter
Get updates for teachers sent directly to your inbox
Sign up for YP Weekly
Get updates sent directly to your inbox