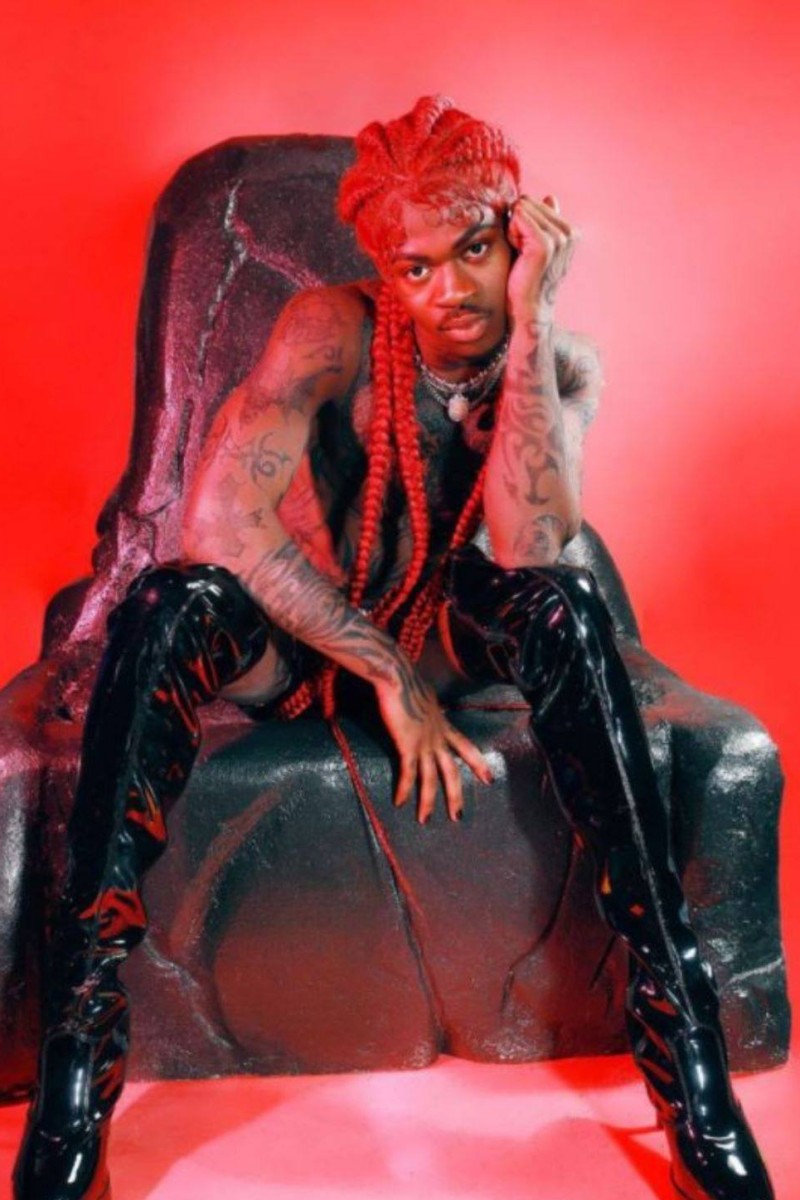 29 best songs of 2021: The songs we played on repeat, from Taylor's version of All Too Well to Olivia Rodrigo's Driver's License
Suhani Bali
Marta Loscertales
Angelika Tamang
Janice Mook
Dhyana Shah
Conan Gray, Rosé, Billie Eilish and Lil Nas X all gave us some bangers this year that will certainly stay on our playlists for years to come

Adele released a new song to cry to, while Dua Lipa and Bella Poarch gave us tunes that have us dancing around our living rooms
Suhani Bali
Marta Loscertales
Angelika Tamang
Janice Mook
Dhyana Shah
|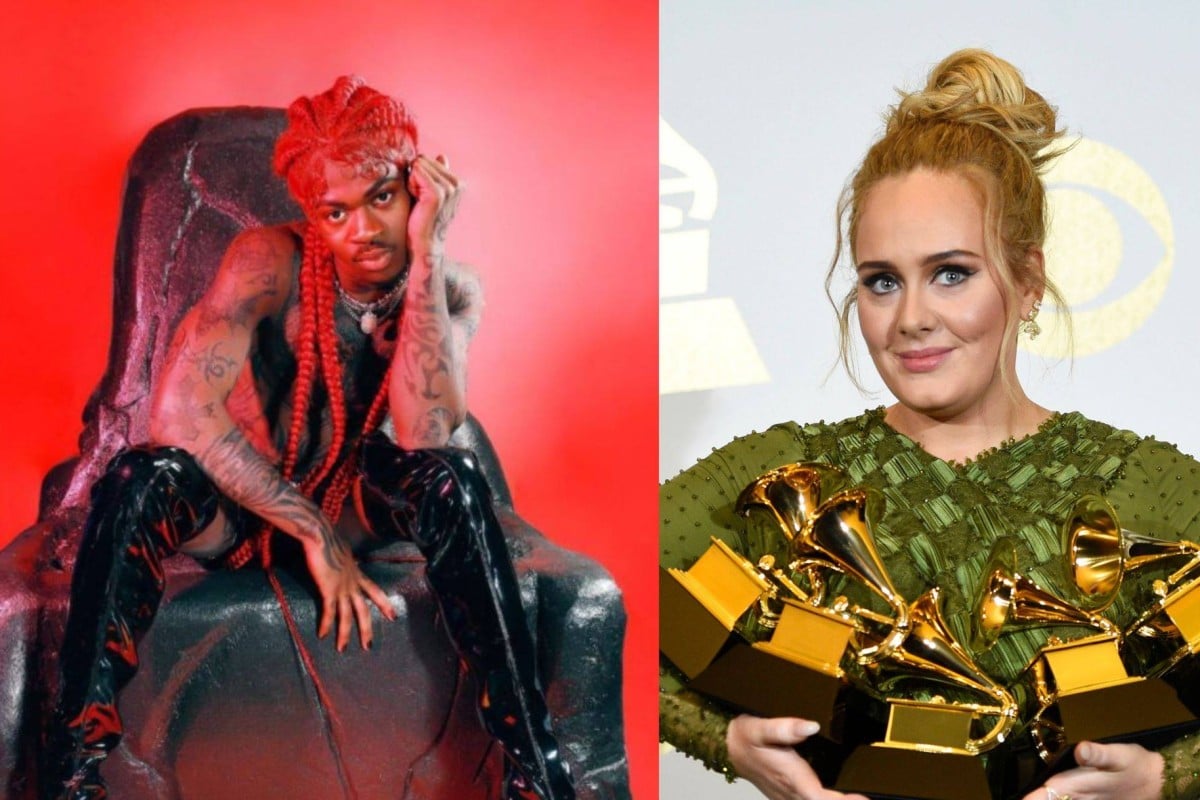 Dua Lipa, Lil Nas X and Adele all gave us great tunes this year. Photos: Getty Images, Captured from Instagram, AP
If we could sum up the music of the last year using only one word, it would be "WOW!" New artists released hits that immediately put them on our radar, while familiar names like Adele, Bruno Mars and Ed Sheeran gave us new tunes that reminded us why we love them so much. It was a hard decision, but we've managed to round up just some of our favourite songs from 2021.
The best K-pop songs of the year
This song contains language that may not be appropriate for young audiences.
The 17-year-old's hit track abcdefu is the perfect break-up song of 2021. The rising American pop-star sings about her dominating, attention-seeking ex, and her powerful lyrics are impossible not to sing along with. Gayle has also released other versions of the song – an "angrier version" with a pop-rock feel and a "chill version" with an acoustic vibe.
2.
All Too Well (Taylor's Version)
by Taylor Swift
Dethroning American Pie as the longest No 1 song on Billboard's Hot 100 list, All Too Well (Taylor's Version) exceeded everyone's expectations. When the original was released in 2012, it quickly became a fan favourite thanks to its raw emotion and powerful bridge, and Taylor's version is even more personal. The singer also released a short film for the single on YouTube starring Sadie Sink and Dylan O'Brien.
The whole "Red (Taylor's Version)" album is fantastic – other tracks to check out include Run featuring Ed Sheeran and Nothing New featuring Phoebe Bridgers.
3.
At My Worst
by Pink Sweat$ ft. Kehlani
This soft, beautiful song from American R&B singer Pink Sweat$ has mesmerising lyrics and chords that can melt even the coldest hearts. Its message is about being loved for who you are, regardless of your imperfections. The song isn't only about finding the perfect soulmate, but about having this mindset toward everyone you love.
4.
Build a B!tch
by Bella Poarch
This song contains language that may not be appropriate for young audiences.
In this song, the Filipino-American TikTok star sings about how men don't get to choose what features women should have. The concept is similar to "build-a-bear" stores where people can choose the different parts for their stuffed toy, but that's not how it works in real life.
5.
Die Right Here
by David Hugo
Die Right Here is the perfect song for the summer with its groovy melody and gentle beat. This soft-pop song describes a cute romance between people who are complete opposites, and it encapsulates the impulsiveness of young love in its purest form.
6.
Don't Go Yet
by Camila Cabello
The music video for this Latin-influenced pop song transports listeners to the scene of a family party with the Cuban-American singer, as she sings about wanting her love to stay with her. This catchy song will get you grooving to its beats within seconds.
7.
Driver's License
by Olivia Rodrigo
The 18-year-old Disney star shot to fame with her mega hit, Driver's License. The power ballad's raw emotions were relatable for anyone who's ever been had their hearts broken. while melding with a mellow tune and minimalistic sound alterations.
The track is the lead single on Rodrigo's debut studio album Sour, which was named the best album of 2021 by Billboard and Rolling Stone and has earned the singer multiple Grammy nominations. Other songs to check out from this album include Déjà Vu and Good 4 U.
With her signature emotional lyrics and powerful vocals, the British singer-songwriter returns to with yet another masterpiece in the first single of her fourth studio album, 30. In it, the singer explains her divorce to her son, as she details the difficulties of heartbreak and asks him to forgive her.
9.
Fan Behavior
by Isaac Dunbar
Sassy and dynamic, the lyrics of this song spotlight the 18-year-old singer's nonchalant self-confidence as he describes an ex who becomes obsessed with him. Fan Behaviour is the ultimate song for when you're feeling yourself.
10.
Happier Than Ever
by Billie Eilish
The title track of the 20-year-old singer's second studio album escalates from a soft, acoustic ballad to a powerful rock anthem. Eilish told Spotify that Happier Than Ever was the most therapeutic song she had ever written, and it is definitely cathartic to listen to.
Her album has songs of various genres – some of them are more experimental, like NDA, and others are empowering pop ballads like My Future.
The best TV shows of 2021 (yes, WandaVision is on the list)
11.
Highly Emotional People
by Marina
The Welsh singer-songwriter often creates music that empowers, and in Highly Emotional People she addresses the problem of how men are discouraged from expressing their emotions. With her mesmerising voice, the song is enchanting and profound – you can unwind while also reflecting on its message.
12.
How I'm Feeling
by Ryan Woods
In this sentimental acoustic song, the young American singer explores emotional vulnerability and how difficult it can be to express it aloud. Ryan Woods' vocals are raw and unfiltered as he questions how the meaning of things change with time.
13.
Hurts 2 Hate Somebody
by Elio, Chase Atlantic and No Rome
The song's relatable lyrics capture the desire to move on instead of feeling the hurt of hating an ex. This release from the up-and-coming singer-songwriter touches on all the emotions people feel during a break-up, and it can be therapeutic for others too.
14.
Kiss Me More
by Doja Cat ft. SZA
This song contains language that may not be appropriate for young audiences.
Doja Cat has had a phenomenal year as she has released quite a few hit songs, from Woman to Need to Know and You Right with The Weeknd – many of which have also gone viral on TikTok. Kiss Me More is full of energy and playfulness, perfect for dancing along.
15.
Kesi
(Remix) by Camilo and Shawn Mendes
This bilingual remix of an already great track from Colombian singer Camilo is breezy and easy-going while addressing matters of the heart. After Camilo sings the pre-chorus and chorus, Shawn Mendes joins in English in the verse. Your feet will definitely tap along to the catchy lyrics.
16.
la di die
by Nessa Barrett ft. jxdn
This song contains mentions of suicide and depression.
Known for their lip-synching videos on TikTok, the pair launched their respective music careers in 2020. la di die, their first collaboration, is an introspective grunge rock song fused with pop, punk and heavy metal elements. The song nods to the famous 27 Club, consisting of popular musicians like Kurt Cobain, Jimi Hendrix and Amy Winehouse, who all died at age 27, as it addresses the dark side of fame. What makes the song so special is how perfectly the lazy vocals pair with the song.
17.
LazyBaby
by Dove Cameron
This song contains language that may not be appropriate for young audiences.
This Dua Lipa-inspired disco-pop track isn't a break up song – it's a break through song, says Dove Cameron, who explained that LazyBaby details her break up from Thomas Doherty. It will help you get back on your feet on a grey day and grant you the courage to give yourself the love and care that you deserve.
18.
Leave the Door Open
by Bruno Mars, Anderson. Paak, Silk Sonic
The modern King of Pop is back with this love letter to the '70s. It is a slow burn romantic song, and the occasional ringing of cymbal adds another layer to Mars' graceful vocals.
19.
Love Again
by Dua Lipa
Love Again is the sixth single from Dua Lipa's second album, the acclaimed Future Nostalgia. Inspired by the '90s hit Your Woman by White Town and sampling the music, Lipa enlivens your spirit with the song's disco and EDM vibes and message of overcoming heartbreak to learn to love again. It's impossible not to dance along.
20.
Love Nwantiti
by Ckay
This instant moodsetter brings all the good vibes to the party, and the consistency of the beats make it a memorable track that no one can forget. This song gained a lot of popularity through Instagram Reels, but quickly became a mainstay on our playlists, as it is the perfect song to listen to while doing homework or sitting on the MTR.
21.
MONTERO (Call Me By Your Name)
by Lil Nas X
This song contains sexually explicit language and imagery that may not be appropriate for young audiences.
MONTERO is a self-titled song that boldly explores homosexuality with lucid biblical imagery. With handclapping synths and a catchy hook, it proves Lil Nas X definitely has a knack for producing earworms. Also check out Industry Baby and That's What I Want, from the same album.
22.
On The Ground
by Rosé
Blackpink's lead vocalist released her solo debut soon after the success of her group's first full-length studio release, THE ALBUM. On The Ground is an impassioned electropop anthem that showcases Rosé's angelic yet impactful voice. It's a fantastic tune about keeping your priorities in check and staying grounded, no matter what, and you can't help but bob your head to the interlude.
23.
Overdrive
by Conan Gray
This song contains language that may not be appropriate for young audiences.
The singer of the viral track Heather has released the quintessential pop song, Overdrive, which throws us back into a nostalgic era of pop music. We can all relate to the messages in the song, which touches on themes like escapism and freeing yourself from labels. It is a bubble of comfort for anyone who has been feeling trapped during the pandemic.
24.
Panic Attacks in Paradise
by Ashnikko
Ashnikko's beautiful vocals and lyrics about mental health and feeling stuck in a deep, dark pit, despite being in a good position in life, will make you feel vulnerable. We have all been in that hole at some point in our lives, comparing the feelings of hurt and fear to being in paradise.
25. Permission
by Avanti Nagral
Permission confidently explores the concept of consent by the up-and-coming artist Avanti Nagral. It educates young people about the principle through music, and highlights the fact that asking for consent won't mess up the rhythm of the relationship. On top of that, the vocals are on point, and the melody is captivating and unforgettable.
26.
Reckless
by Madison Beer
Reckless will make you feel the betrayal and pain that Madison felt after someone was reckless with her heart. We also love how it starts with a narrator who sets up the idea of this song being a story.
27.
STAY
by Justin Bieber and The Kid LAROI
This song contains language that may not be appropriate for young audiences.
STAY is a legit pop song with a disco vibe provided by a buoyant drum riff. The way the last note at the end of each line is held makes us ponder the meaning of the lyrics and reflect on the love we have for people we care about. It's just one of a few bops Bieber released this year, the others being Ghost and Peaches.
28.
Save your tears
by The Weeknd & Ariana Grande (Remix)
This remix is incredibly creative and reflective, and the energy in this song is sure to transport you to heaven. The hook "Save your tears for another day" is relatable, memorable and melodious. This song is therapeutic and peaceful, Ariana's whistle notes are flawless and The Weeknd's voice is perfect.
29.
Shivers
by Ed Sheeran
Shivers is an impeccable song that highlights the feelings you get when you're in love, such as butterflies in your stomach. With stunning lyrics and a catchy beat and melody, this song definitely exceeds all the criteria for best new song.
Sign up for the YP Teachers Newsletter
Get updates for teachers sent directly to your inbox
Sign up for YP Weekly
Get updates sent directly to your inbox