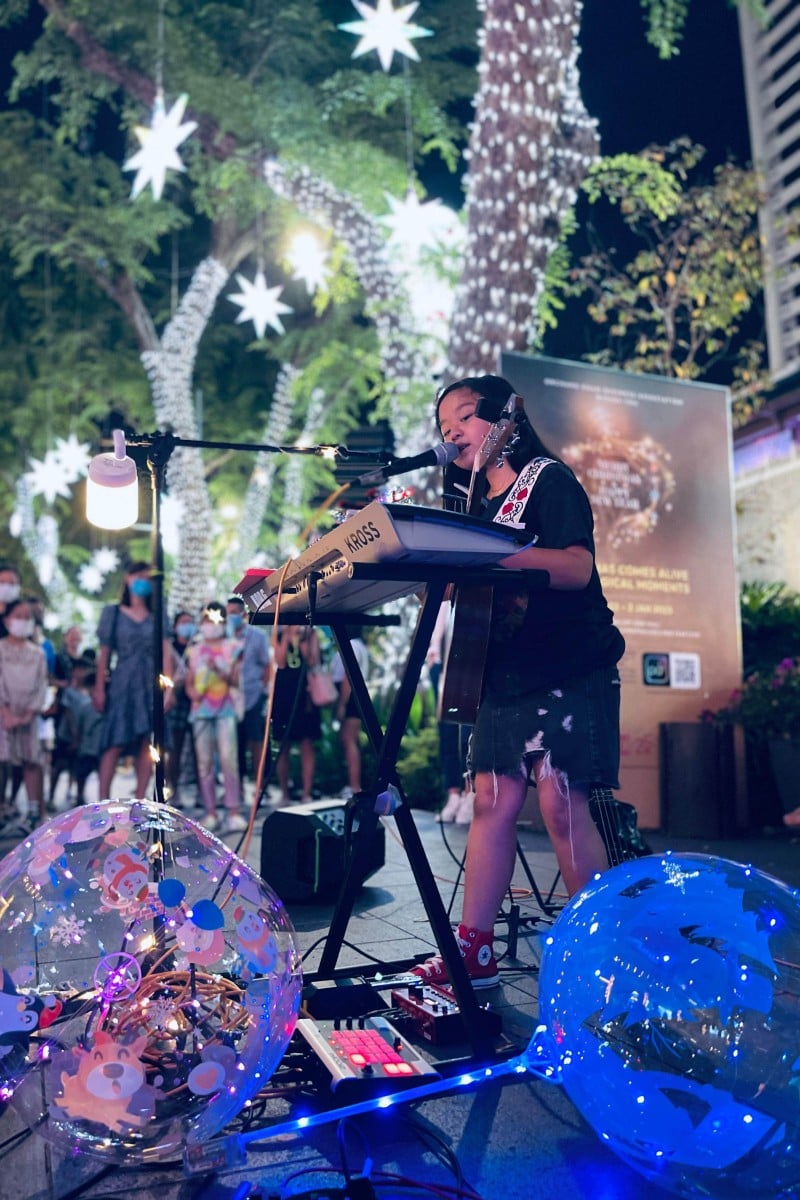 Meet Lyla Ng, 10-year-old busker lighting up Singapore's Orchard Road with songs new and old
Young star's bubbly performances have garnered her more than 6,000 Facebook followers and a spot in the top 16 of singing competition, Battle of the Buskers

Musician shares why she enjoys performing both modern and classic hits and how she hopes to make music into her career one day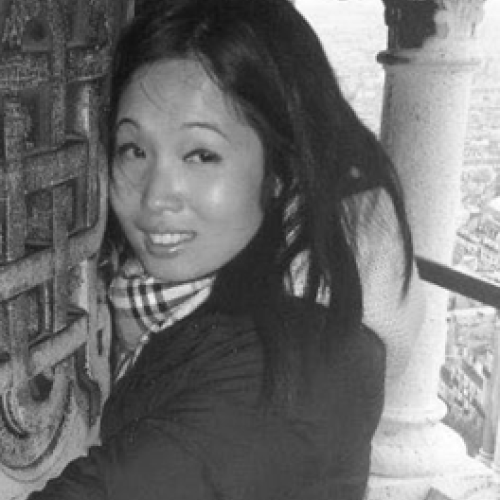 Doris worked in educational publishing, including the BBC and Cengage prior to joining the Post in 2018. She specialises in creating graphics and digital learning content, and has a particular interest in issues related to mental health and wellness.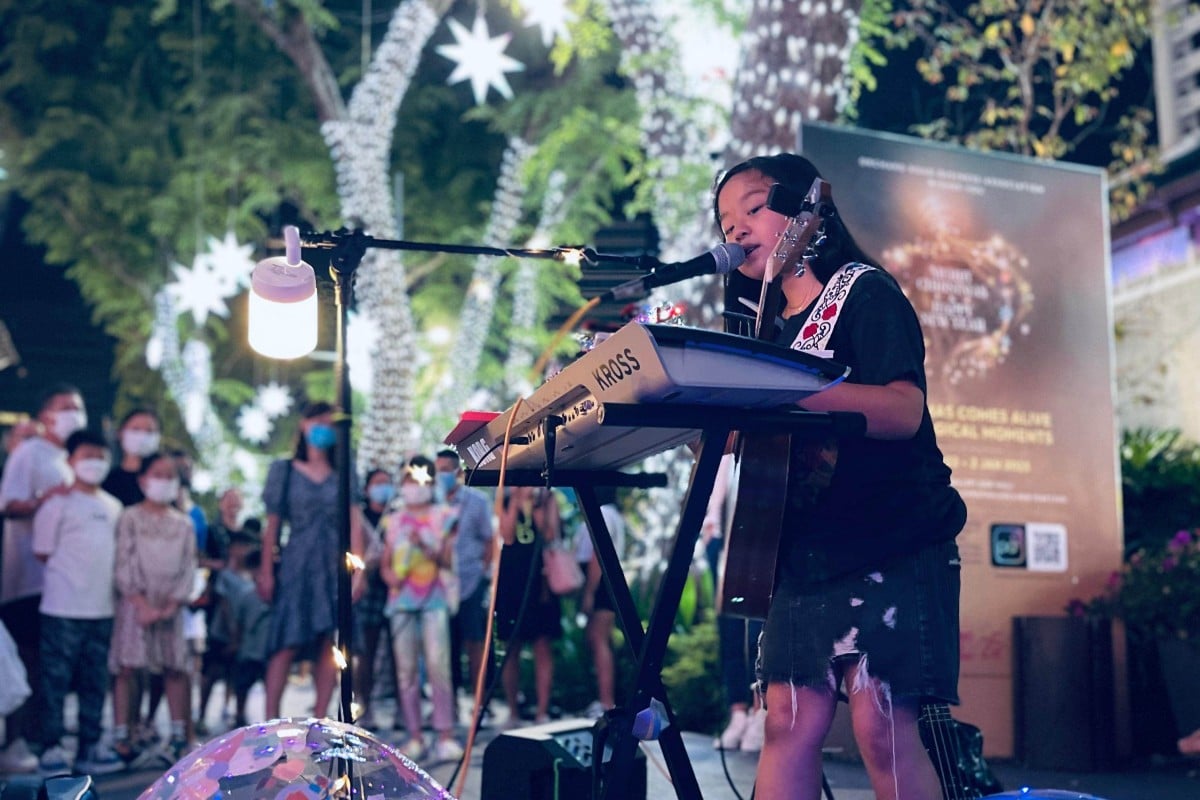 Lyla Ng has been busking since she got her licence last November. Photo: Handout
Lyla Ng is not your average Singaporean 10-year-old. While most children her age are busy with extracurricular activities on the weekends, she can be found busking along the busy streets of Orchard Road, a famous tourist spot in the city state.
With her guitar and piano in tow, she serenades tourists and locals alike with her renditions of popular songs, both modern and old.
"I like performing these high-energy songs with catchy tunes and strong beats because I get to interact with the audience," Lyla shared.
Her spirited performances have earned her a devoted fan base with more than 6,000 followers on Facebook, and she is quickly becoming one of the most popular buskers in town.
The bubbly young performer first became interested in busking when she was at the guitar store with her father.
"It was the first time I saw a pamphlet about the busking scheme in Singapore that allows people to perform in public," said Lyla, who had already been playing different instruments, including the piano, drums, electric guitar and acoustic guitar at home.
"My father explained what it was. A few weeks later, he showed me some people busking at Orchard Road, and I asked if I could do it too."
The youngster saw busking as a natural opportunity to share her music with the world.
Sahal Zaman on how he got award-winning role, became Anthony Wong's friend
Last November, Lyla got her licence to busk and had her first public performance a few weeks later. The aspiring artist has been busking ever since, belting out modern hits such as Taylor Swift's "Shake It Off".
But the youngster also enjoys performing Mandarin oldies like Yao Surong's "Jin Tian Bu Hui Jia", a popular Taiwanese song from the 1960s.
"I also really like to sing 'The Bund'," she added, referring to the hit theme song of an eponymous television series that was produced in Hong Kong in 1980.
Lyla Ng enjoys singing modern music as well as tunes from older generations. Photo: Handout
While these older tunes might not be the songs of choice for most young buskers, Lyla shared that she performed the song at a charity concert for the elderly, and the audience was thrilled.
"I decided to add 'Bund in Shanghai' to my list of songs when I saw how happy it made everyone," she said.
Frances Yip, the track's original singer, has heard Lyla's rendition of "The Bund" and even sent the youngster a message commending her vocal abilities.
While her chirpy performances might make it seem like a breeze to sing on stage, Lyla revealed that she dealt with her share of stage fright.
Meet Hong Kong's young climate activists striking every Friday
"Actually, my first busking experience wasn't that scary because all my friends and family were there. The second one was the worst – I didn't invite so many of my friends to watch me perform," she said.
The singer explained that she was anxious because there were more strangers than people she knew in the audience. This startled her so much that she ended up finishing her act 15 minutes earlier than intended.
"I rushed through all the songs on my list because I was scared," the performer recalled.
She has since become more accustomed to singing in front of crowds with one trick: pretending the audience members are tiny ants.
This strategy was especially useful in May when Lyla was the youngest guest artist performing for 9,000 people at the concert of Wakin Chau, a Hong Kong-born Taiwanese singer known by his stage name, Emil Chau.
In July, the 10-year-old took part in a local reality singing competition, "Battle of the Buskers", where she emerged as one of the top 16 competitors.
She also recently performed at a ge-tai, which are boisterous live performances typically held during the Hungry Ghost Festival that involve music, songs and dances at local temples.
But even amid all of these high-profile performances, the tween takes it all in good stride and has not let fame get the best of her.
"Just because I am performing, it doesn't mean I can't have fun too," Lyla pointed out.
How singer-songwriter Moon Tang embraces feeling lost in her music
Whenever possible, she makes time for another of her passions: skating.
"My schedule is really busy now with so much homework. Of course, school comes first; then, there's also busking. But my father and I try and find time to skate at least a few times every month," she shared.
Learning to balance her singing with other parts of her life will come in handy, as Lyla hopes to make music her career one day.
In the past three years, the young artist has already written four songs.
Her latest one, "Dreams Can Come True", was written specifically for the Singapore Youth Platform, part of an annual event organised by the Singapore Youth Festival to showcase student talent in performing arts.
"In the song, I wrote about musicians such as Olivia Rodrigo and Billie Eilish who inspired me ... to be a professional musician," she said. "I wrote [that] I wish I'll be like my idols because they overcame their obstacles to do what they love."
Lyla is well aware that she will face challenges on her way to becoming a professional performing artist, but she is determined to succeed.
Just as "Dreams Can Come True" reminds her to not give up, she hopes others will be encouraged to take a chance on their passions when they hear her music.
Get the word out
Serenades 爲…演奏
to perform or sing for someone as a gesture of admiration or affection
Renditions 詮釋
performances or interpretations of a piece of music, art or literature
Pamphlet 小冊子
a small booklet or brochure containing information
Eponymous 同名的
referring to a person, place or thing that is named after something else
Chirpy 活潑的
describes someone or something that is cheerful and lively
Accustomed 習慣的
familiar with or adapted to a particular situation or habit due to repeated experience
Boisterous 精力旺盛的
noisy and energetic
In good stride 處之泰然
to handle or manage a situation calmly and confidently
Sign up for the YP Teachers Newsletter
Get updates for teachers sent directly to your inbox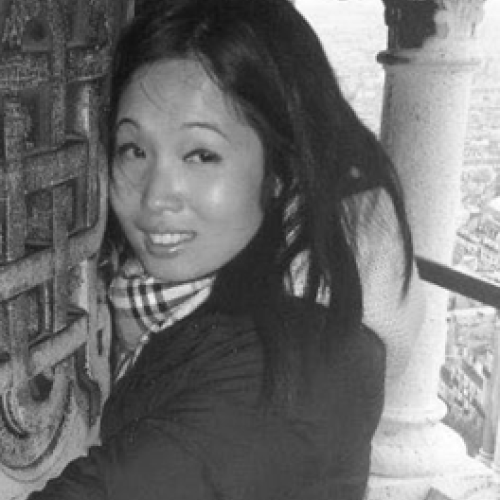 Doris worked in educational publishing, including the BBC and Cengage prior to joining the Post in 2018. She specialises in creating graphics and digital learning content, and has a particular interest in issues related to mental health and wellness.
Sign up for YP Weekly
Get updates sent directly to your inbox