YouTuber Kingsan recreates Hong Kong in simulation video game 'Cities: Skylines' as a love letter to our city
The online streamer spent 300 hours creating a digital version of our thriving metropolis and it has opened his eyes to its problems – and its ingenuity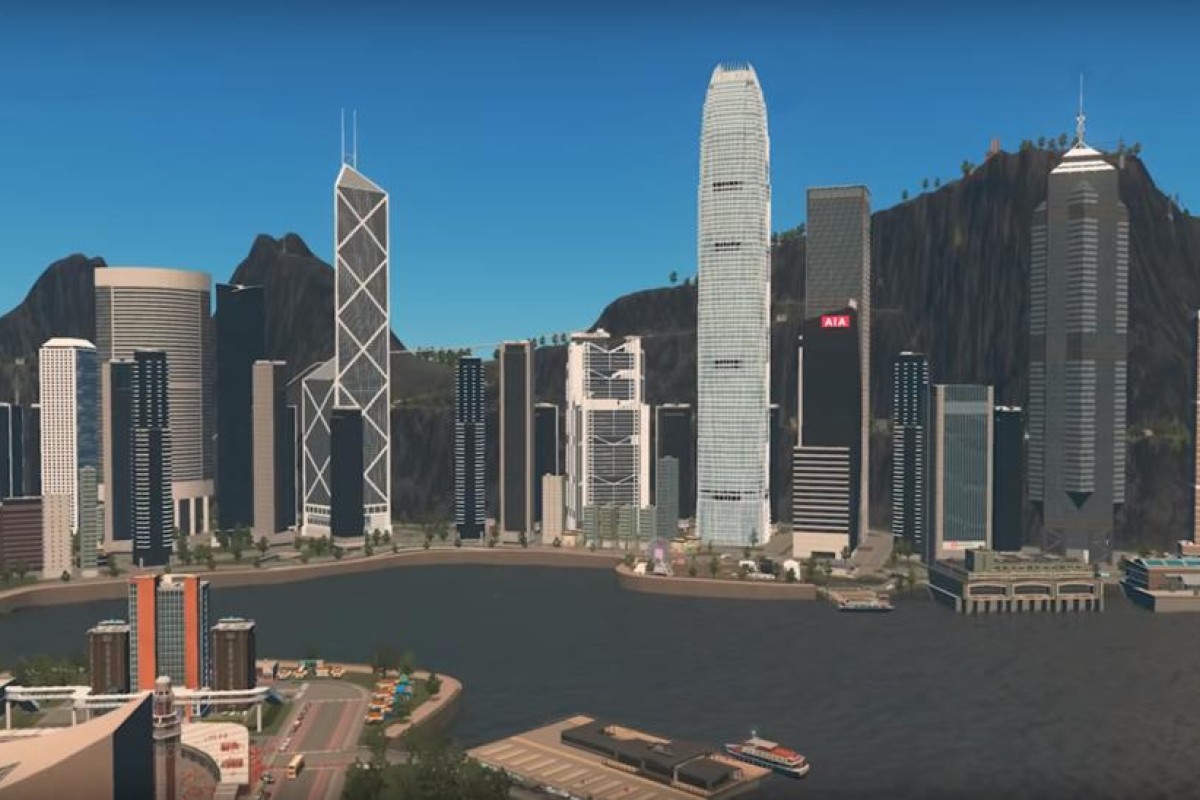 One of Kingsan's favourite scenes from his series is the view of Victoria Harbour.
From a small fishing village to a thriving metropolitan city, Hong Kong has been through quite the transformation. Now, you can witness its 100-year journey in Hong Kong Operation, a game series by local YouTuber Kingsan that is taking the internet by storm. 
Kingston King Ka-ho, better known to his 155,000 YouTube subscribers as Kingsan, began the series last month. In the first episode, he rebuilt Hong Kong from scratch using a  city-building simulation game called Cities: Skylines. 
Instead of creating a fictional city like most players do, Kingsan downloaded a map of Hong Kong and some building units already designed by fellow players, and used them to illustrate how the city has changed over the years. The series has been a huge hit, garnering nearly 130,000 views on average per episode.
Viewers have been impressed by Kingsan's attention to detail. From well-known landmarks like the Tian Tan Buddha to streets filled with neon signs, he has tried to make the virtual  city as close to reality as possible.

Speaking to Young Post three episodes into the project, the YouTuber revealed how much time and work went into making the series. While each episode is only around 15 minutes long, Kingsan says it takes him nearly 80 hours to produce, as the game is rather slow-paced. 

Before he even started the game, Kingsan spent a week researching the development of Hong Kong, to make sure he built everything in chronological order. 

Cities: Skylines was released in 2015, but Kingsan was inspired to try it out after a viewer suggested it to him. "The game has changed a lot since 2015  and I thought this series would be very entertaining to watch," he says. 

Even so, Kingsan never expected that the series would attract so much attention. He believes its success lies in the way it evokes Hongkongers' nostalgia for the past. 
"I didn't expect people to like this series so much. I guess it's because seeing Hong Kong's transformation over the years really struck a chord with local audiences," he says. 
Playing the game for more than 300 hours has some benefits: Kingsan now realises just how meticulous urban planners need to be when it comes to densely populated city like Hong Kong. Some of the city's most pressing problems – such as land scarcity and waste management – are also well reflected in the game. 

"There's even less space in  the game, so it was really hard to find spots for my buildings," he says. "It's even worse when it comes to dealing with waste. There's nowhere to dump the large  amount of waste produced  every day." 

While the game highlights the technical challenges of developing and managing a city, it leaves out the social or political ones, as players don't get feedback from citizens. Kingsan says he would like to see the game's developers add this element, so that players are held accountable for the cities they build. 
In the fourth and final episode of the series, which Kingsan plans to air this Sunday, he will try to simulate how Hong Kong would cope  with a natural disaster like a tsunami. 
Will Hong Kong be left underwater? Given the title of the series – which when read aloud  in Cantonese has two meanings: "Rebuild Hong Kong" and "Goodbye Hong Kong" – viewers may well wonder. 

However, Kingsan says he plans to end the series on a positive note. "Viewers can interpret the meaning of the title however they want, but  I'm more in favour of the optimistic one," he says. 

Towards the end of our interview, he mentions the recent protests in Hong Kong, which were sparked by proposed amendments to the city's extradition law. 

Kingsan believes the protests, which drew as many as 130,000 people, are proof that Hongkongers aren't ready to give up on their city quite yet. "We may feel frustrated about what's happening around us," he says, "but we should not lose hope."
Edited by Charlotte Ames-Ettridge
Forager game review: Mine, craft, explore, and repeat in cute idle scavenger game inspired by Stardew Valley for the Nintendo Switch and PC
Sign up the YP Teachers Newsletter
Get updates for teachers direct to your inbox
Subscribe to YP Weekly
Get updates direct to your inbox