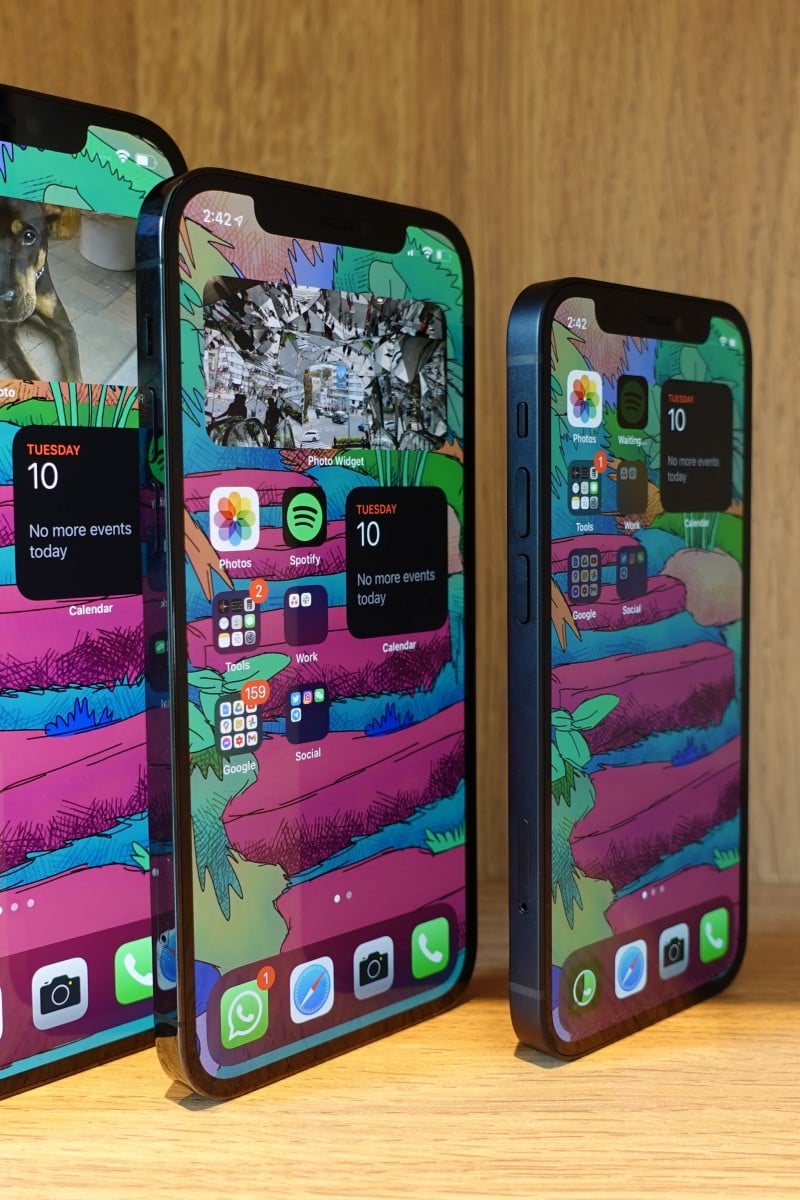 iPhone 12 Mini phone review: compact display and stellar cameras
Apple has introduced its smallest mobile phone yet, but it still holds up to the standard iPhone 12's features

It's much more expensive than the similarly-sized iPhone SE, but has more advanced technology, including support for 5G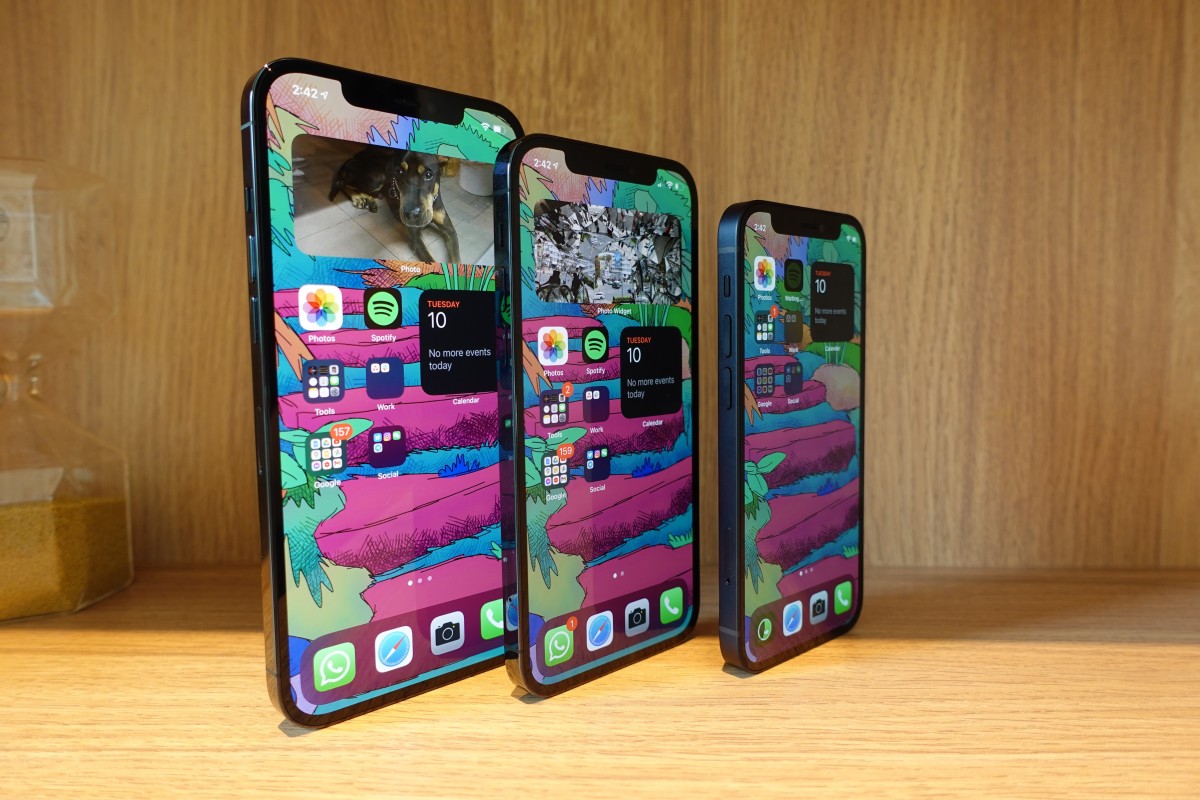 From left to right, the Apple iPhone 12 Pro Max, 12 Pro, and 12 Mini. Screen sizes are 6.7-inches, 6.1-inches, and 5.4-inches respectively. Photo: Ben Sin
Your phone is probably your lifeline to just about everything, so it makes sense that the screens on our mobile devices have only gotten larger. But that increase in size also means our phones have become more difficult to fit in a tight pocket or use with one hand. 
Apple is looking to change that with its US$700 (HK$5,999) iPhone 12 Mini, a smaller and cheaper version of the iPhone 12 that comes with a 5.4-inch screen compared to the iPhone 12's 6.1-inch display.
The iPhone 12 Mini is otherwise identical to the iPhone 12, from its new design to its A14 Bionic processor, support for 5G, and improved cameras. Apple also sells the cheaper US$400 (HK$3,399) iPhone SE, which is similar in size but has a smaller screen and lacks many of the iPhone 12's features.
This is the first iPhone in years that feels like it's designed to be held all day. But, you'll have to be okay with compromising on battery life compared to the larger iPhone 12.
Make sure that cheap iPhone deal isn't a scam
Fresh design on a compact display
Like its larger siblings, the iPhone 12 Mini has an all-new look with its flat metal edges and new colour options. But the iPhone 12 Mini isn't just the smallest version of the iPhone 12. It's the tiniest iPhone that Apple sells, period.
Typing and scrolling on the iPhone 12 Mini feels manageable with one hand yet spacious enough when operating it with two. With its 5.4-inch display, the iPhone 12 Mini is the right middle ground for those who don't want to compromise on modern features like a dual camera and Face ID, but still want a compact phone. It makes the iPhone SE's features seem ancient by comparison.
The downside? Apple's iPhone 12 family — including the Mini — lack fingerprint sensors, meaning you'll be typing in your passcode whenever you leave the house with your mask on. Unlike Android devices, all of Apple's iPhones are missing an always-on display, meaning they can't show the time, date, and battery when the screen is idle. 
OnePlus 9 Pro has a camera for aspiring photographers
Fantastic camera technology
Night mode works on all of the cameras on the iPhone 12 Mini: the wide camera, the ultra-wide-angle camera, and the selfie camera.You'll also get other new features like taking time lapse videos in Night Mode.
None of these features can be found in the iPhone SE. In almost every scenario, the iPhone 12 Mini captured photos with considerably richer color than the iPhone SE.
Compared to Android rivals like the Samsung Galaxy S20 Ultra and Google Pixel 5, the iPhone 12 Mini sometimes took photos that were more colourful and lively, but didn't perform as well when taking selfies in low-light scenarios.
2021's best camera apps and filters to try
Don't upgrade just for the 5G
But, if you're already thinking of upgrading for other reasons, buying a new phone with 5G ensures your device will feel relevant as 5G networks improve in the future.
How would you explain 5G to people in the 18th century?
Easy wireless charging but short battery life
The iPhone 12 Mini will probably last all day on a single charge, but don't expect it to last as long as the standard iPhone 12. However, at least you can charge with ease since the iPhone 12 line is compatible with Apple's MagSafe accessories, which magnetically snap to the back of your iPhone.
In a test, the iPhone 12 Mini's battery was at 23 per cent after about 9.5 hours of use. The iPhone 12, by comparison, had 34 per cent of its battery left after about 15 hours of use. But, remember that battery life will always vary depending on the settings and apps you use on your device. 
Where to recharge your phone for cheap or free in Hong Kong
The iPhone 12 Mini is the right option for Apple fans that want to save a little cash — it's less expensive than the standard iPhone 12 — and prioritise portability over having a bigger screen.
But, for those who find themselves watching movies and TV shows or reading books on their iPhones often, you'll probably want the extra screen space and longer battery life that the standard iPhone 12 offers. 
Sign up for the YP Teachers Newsletter
Get updates for teachers sent directly to your inbox
Sign up for YP Weekly
Get updates sent directly to your inbox