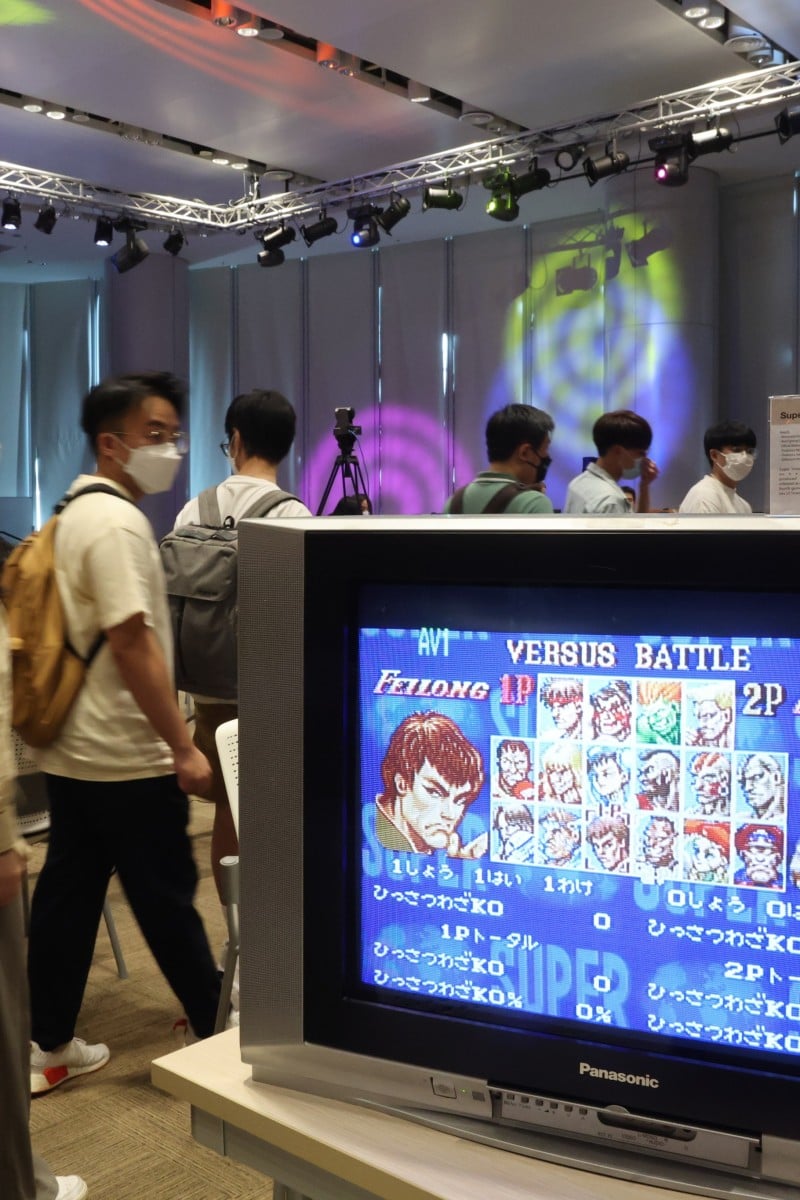 Archiving old-school video games can help preserve Hong Kong culture, says founder of local retrogaming group
Retro.HK and the Hang Seng University of Hong Kong organised an expo on classic games, highlighting their historical, cultural and social significance to Hong Kong and Asia

Dixon Wu, founder of Retro.HK, emphasises the importance of building a collection of games developed in Hong Kong and those that feature its characteristics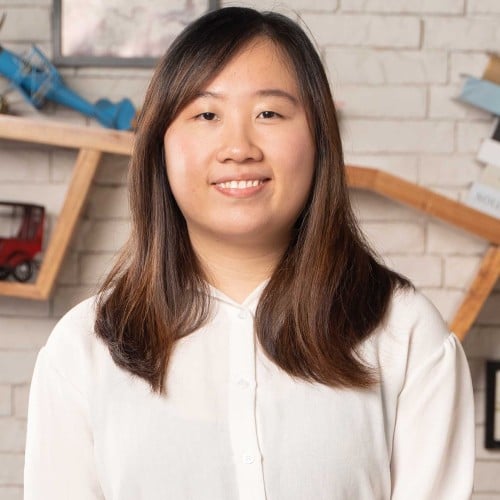 Sue joined the Post in 2021. She graduated from the University of Hong Kong with a double major in journalism and counselling.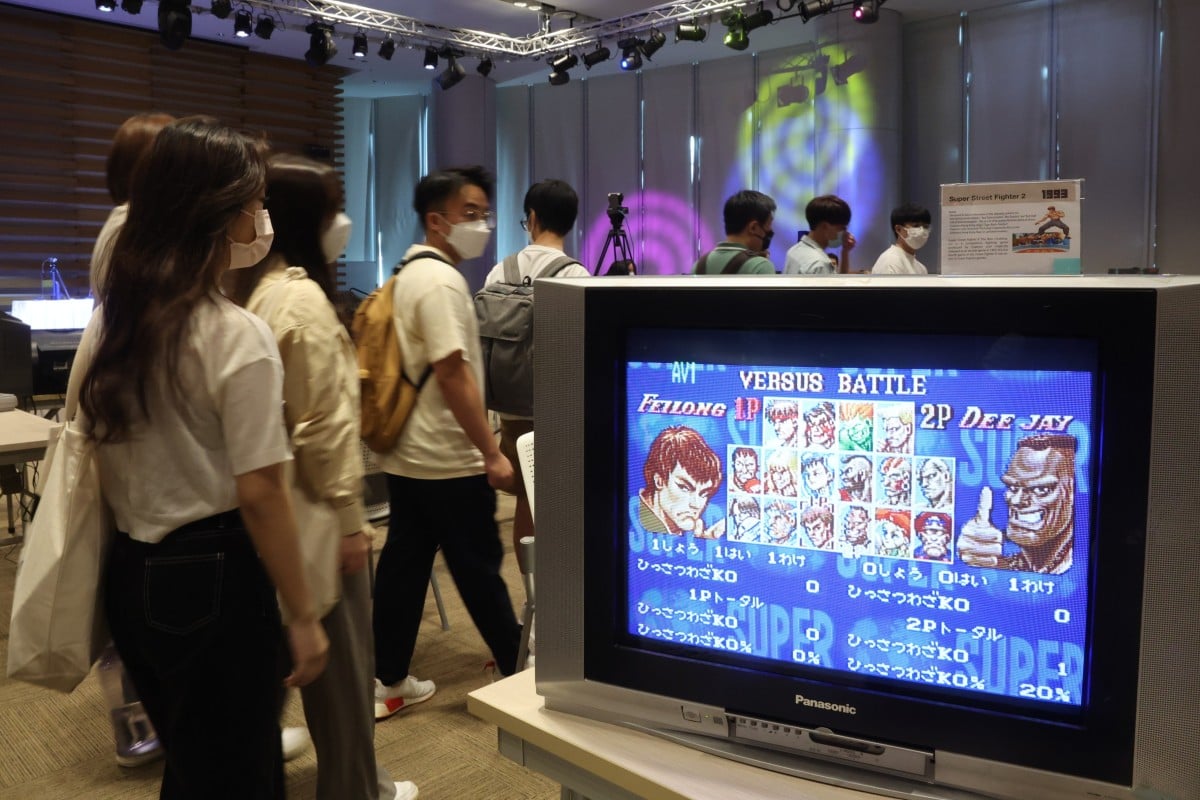 Visitors at Retro.HK's 2022 Gaming Expo at the Hang Seng University of Hong Kong. Photo: Edmond So
When Dixon Wu emigrated from Hong Kong to Canada with his family at the age of four in the 1980s, what accompanied him was the Famicom Disk System, one of Nintendo's earliest game consoles.
The red and white machine was a staple of Wu's childhood. Even now, the 40-year-old video game enthusiast feels nostalgic thinking about the simple joys of playing games with his brother and friends.
"At that time, playing video games was a way of socialising as people had to meet physically to play games together," the retro game player recalled.
Female gamers face stereotypes, but they are game to stay
But he believes modern gaming has become isolating.
"Advanced technology has brought many benefits, but some advantages [of retro games] have also disappeared," said the founder of Retro.HK, a group that preserves and promotes classic games in Hong Kong.
To bring back the close-knit experience of retrogaming, Wu hosted Hong Kong's first exhibition and esports tournament on retro consoles and arcade games in 2015. Last month, the seventh edition of the event took place at the Hang Seng University of Hong Kong (HSUHK). It aimed to educate people about the beauty of old games.
"I hope one day the line between retro and modern games can be blurred," the enthusiast shared. "It is only when they stop treating the [classic] games as something for the older generation, that people can be open-minded to appreciate the beauty of retro games."
Growing a passion for video games
As a child, Wu spent endless hours dismantling consoles' hardware to figure out how they ran and collecting game-related merchandise to understand the artists who designed the games' content and soundtracks.
"Maybe because I was not skilful enough to win the game, I enjoyed understanding the ins and outs of the games more," said the enthusiast.
His interest took him to Los Angeles to study game design in university, and one question stuck in his mind: "How do I create a fun game for everyone?"
"It's hard to design a game of universal appeal, not just [in] the attractiveness of the visuals but also content. And for me, a fun game is about simplicity – everyone should easily know how to play it," said the game design graduate.
Video games could improve kids' brains, new study says
Compared to classmates who focused on visual details, Wu cared more about a game's plot and flow. Inspired by the 1991 Hong Kong film, Tricky Brains, one of his creations required players to set up different traps to trick the boss.
The young designer's game stood out for its creativity and got him a golden ticket to work for Treyarch, a top US video game developer. But he rejected the offer.
"At that time, I thought I was still young and should try something new outside my comfort zone," Wu said, adding he returned to Hong Kong in 2007 to be with his family.
Dixon Wu is the founder of Retro.HK and is passionate about old-school video games. Photo: Edmond So
City's culture preserved in games
Life in Hong Kong was not smooth sailing as Wu could not find many job opportunities in the city's limited video game industry. Eventually, he put aside his passion for gaming and focused on developing his career in user experience design. When his life started to feel more stable in 2015, he was driven to pick up the hobby again.
"I was shocked when I learned Hong Kong had never held any events on retro games, which are common and huge in most cities in the world. And perhaps it was the loneliness that prompted me to take the initiative to organise the first retro game expo in 2015," he noted.
This year, the expo was co-organised with HSUHK's department of art and design and its department of social science to showcase video games' historical, cultural and social significance to Hong Kong and Asia.
Why a concern group made an online game about Hong Kong interim housing
"We have assembled several Asian-themed – especially [those in] Hong Kong – award-winning games, as we hope to understand how Hong Kong looks in foreigners' eyes," said Wu. "They might discover some beauty of the city that we had overlooked."
He shared that many games incorporated Hong Kong's iconic cityscapes and people. For example, the hit fighting game, Super Street Fighter II, features a level that is set in Hong Kong and a character inspired by Bruce Lee. The action game John Woo Presents Stranglehold is a sequel to the Hong Kong director's 1992 film Hard Boiled.
"Video game backgrounds need to be vibrant and eye-catching. [Hong Kong's] old neighbourhoods are a good fit as they were densely populated and chaotic," he said.
"John Woo Presents Stranglehold" was released in 2007. Photo: Handout
Archive of Hong Kong retro games
"In recent years, we have a sense that the city's culture is disappearing rapidly ... I feel the responsibility to preserve it [through games]," said the collector.
Hong Kong has no official data on local video game development. Wu stressed that it was essential to build an archive of games developed in Hong Kong and those that feature its characteristics.
This involves keeping old games, consoles and related products like magazines and soundtracks. But a small volunteer group could not record everything, Wu said. Other places have dedicated institutions for this purpose, such as the Computer and Video Game Archive in the US.
"We are lagging behind ... If we don't have an archive on it, how can we encourage the young generation to produce games or innovate?" said Wu, stressing the importance of involving youth in preserving retro games.
'Brain training': the new frontier for esports
"We need to pass on the skills and knowledge to the next generation. If we only preserve the game and the device, but no one knows how to play, it's meaningless."
Joseph Li Cho-kiu, a lecturer of the social sciences department at HSUHK, recognised retrogaming's value.
"Preservation is a social action that we should all take part in it," said the scholar. "The [retrogaming] event reminds us that it should be the people who define the heritage of their home city."
Wu added: "It's only when you realise something is gone that you want to treasure it. What I can do is continue to remind people to preserve what they have."
Get the word out
console 遊戲機
a computer system specially made for playing video games by connecting it to a television or other display for video and sound
staple 基本的
a basic or necessary item
nostalgic 懷舊之情
sentimental or wistful yearning for the happiness felt in a former place, time, or situation
close-knit 關係緊密的
tightly united, connected, or organised
dismantling 拆開
to disassemble or pull down; take apart
smooth sailing 一帆風順
easy progress
sequel 續篇
a literary work, film, etc., that is complete in itself but continues the narrative of a preceding work
lagging behind 落後
to fail to keep up with one's peers
Sign up for the YP Teachers Newsletter
Get updates for teachers sent directly to your inbox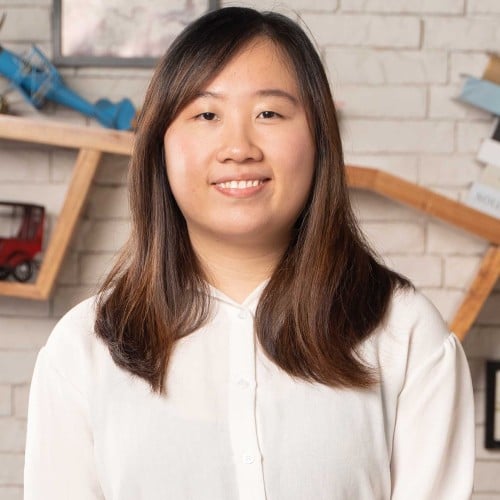 Sue joined the Post in 2021. She graduated from the University of Hong Kong with a double major in journalism and counselling.
Sign up for YP Weekly
Get updates sent directly to your inbox