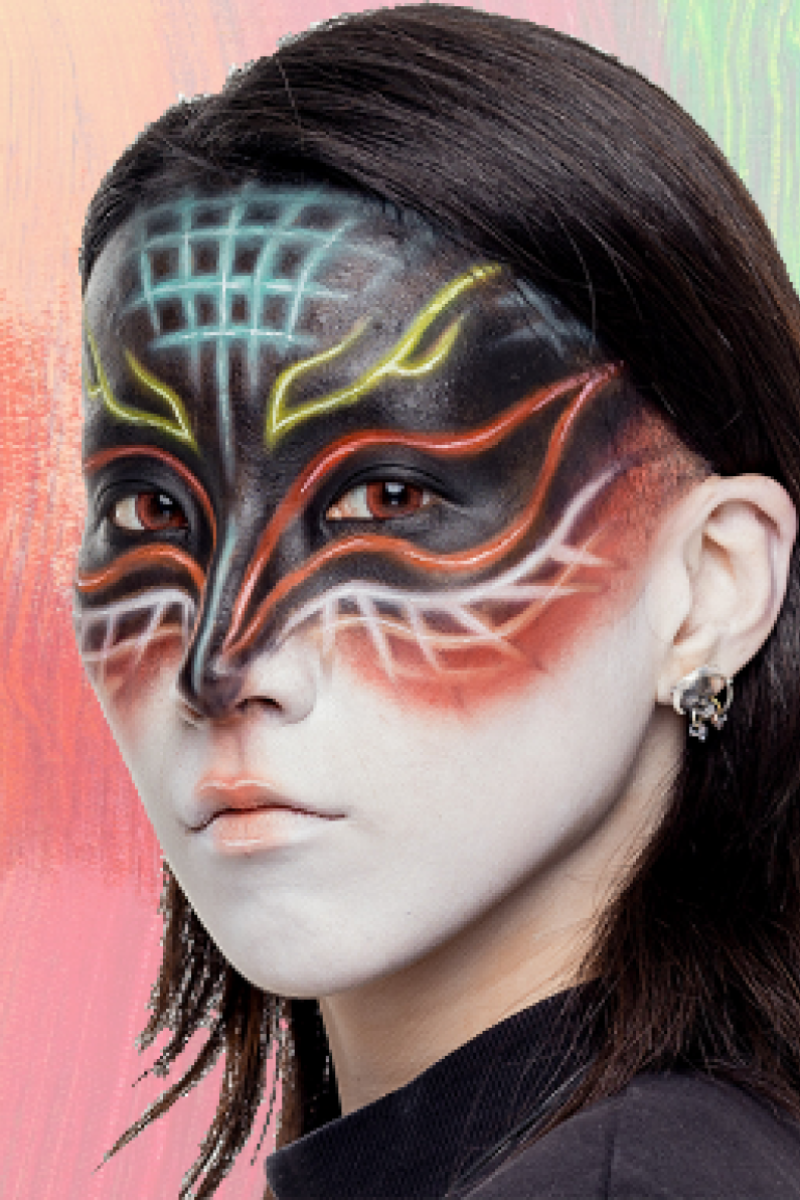 Netflix's make-up competition 'Glow Up' loves finalist Ophelia Liu's Hong Kong-inspired looks
The former KVD Beauty is in the top three of the show judged by global beauty experts Val Garland and Dominic Skinner

The former St Paul's Convent School student hopes to emulate brands such as Dior and YSL, working on both fashion and cosmetics
Ophelia Liu celebrated her heritage in her first look for BBC reality show, Glow Up. Photo: BBC
When Ophelia Liu appears on the screen, you pay attention. Is it her artistic talent, her flawless application of make-up, her sense of humour? Maybe it's because she's so comfortable in her own skin, you can't help but wonder what it would be like to be unapologetically yourself.
Liu is currently a finalist on the second season of the BBC TV show Glow Up: Britain's Next Make-Up Star, where 10 aspiring make-up artists compete for a prestigious three-month contract working under a professional make-up artist.
The first season streamed on Netflix last year, and the current season will soon follow suit.
Judge and MUA Dom Skinner watches as Ophelia applies makeup to her model in the semi-final. Photo: BBC / Wall to Wall / Guy LevyLiu wasn't always given room to freely express herself. She is a born and raised Hongkonger, who spent her childhood and adolescence studying at St Paul's Convent School, a traditional all-girls Catholic institution, with strict rules on grooming and appearance. Emphasis was placed on looking neat and tidy, and there was never any wiggle room around the rules. (I would know: Ophelia and I were classmates.)
"We were not allowed make-up at all, or to use any hairstyling products either. Kids [in Britain] start putting on makeup at 13 and by the time they're in secondary school, they often have fake lashes on, lip gloss, full-on contour, foundation, all of that."
Make-up and nail polish were strictly extracurricular activities. She'd occasionally sneak into bathrooms in shopping malls to put on make-up and contacts, but made sure to remove all evidence before going home. It wasn't until she went to study in England at the age of 15 that she started wearing make-up regularly.
She graduated in 2017 from Ravensbourne University in London with a degree in fashion design, then worked for KVD Beauty (formerly Kat Von D) after a stint at a clothing company. She soon became a favourite among KVD's clientele, and even led some master classes. In 2018, she was crowned the brand's top seller at the London flagship branch of Debenhams, a British department store.
She started posting looks she'd created on Instagram around three years ago; her feed captured the attention of the show's producers. "I got a message last year on Instagram inviting me to audition. I don't know how they found me!" she says.
"I didn't think I could even get on the show, let alone be part of the top three!"
10 movie makeup secrets from a Hollywood icon
The 26-year-old was initially apprehensive about applying for the programme, as she was working a full-time job, and planning to move back to Hong Kong. But the gamble paid off – not only is she in the final, she is receiving inquiries about business opportunities, and her Instagram following has grown exponentially.
Liu credits her success to her time at KVD. "Being around make-up artists pushed my make-up game further. I picked up little tips and tricks from the pros along the way.
"I was really bad at symmetry at the time, but my manager taught me how to approach doing liner or lipstick. I learned to look at the face straight on, and then take a step back."
But not every aspiring MUA gets the chance to work on a counter and get a crash course in essential skills. Liu nevertheless recommends approaching the craft with a technical lens and holding yourself to a high standard.
"You need to practise and be really detailed with your work. Even if it's just a line, it has to be sharp, clean, and symmetrical" says Liu.
She says it's also important to find your own style, and not just blindly follow trends.
Five affordable makeup brands to check out at Sephora
While she's enormously grateful for the fans and support, Liu says she would rather be a muse than a role model to those watching – she wants to encourage young people to seek inspiration from others, and then create something of their own.
"You should have a few muses. I loved to copy others back then, play dress up, and look like somebody because they looked good – and I wanted to look good," she says. "We all go through an ugly duckling phase. Eventually you'll find more muses," she says, and work out who you are.
The phrase "glow up" represents the idea of discovering yourself and going through a physical transformation to match. Given Liu's success and growth in just a few short episodes of a TV show, it's clear that she embodies the phrase completely.
Now that she's so close to the finish line, she hopes the exposure will lead to a steady stream of jobs, and has big aspirations for the future.
"I hope to have my own clothing company, while working on make-up, and eventually, simultaneously have a clothing and make-up brand, like Dior or YSL," Liu says.
"I'm on TV, broadcast all over the UK, and soon internationally. A lot of people will see what I can do, my style, and how I work.
"I'm doing what I like to do – and isn't that what everyone wants?
Sign up for the YP Teachers Newsletter
Get updates for teachers sent directly to your inbox
Sign up for YP Weekly
Get updates sent directly to your inbox