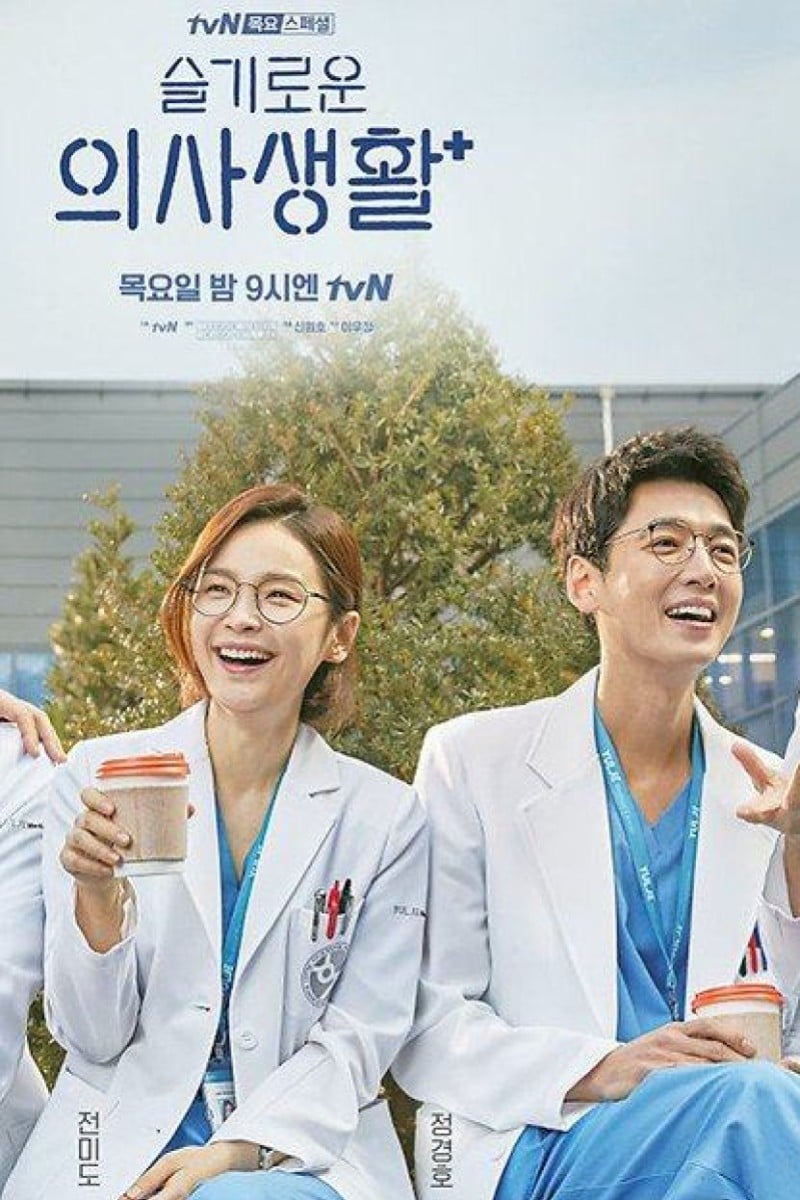 'Hospital Playlist' season 2 review: hit Korean medical drama has realistic romance and is relatable for all ages
What makes the Netflix show special is its slow build-up of romance instead of the overdramatic moments that make up many other popular K-dramas

Compared to season 1, this season spends more time exploring the doctors' personal lives outside their work at Yulje Medical Centre and introducing us to their families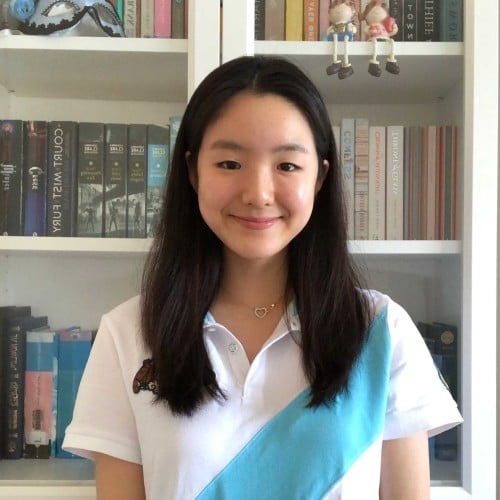 Clara Ki Lu
Clara Lu is an incoming student at Georgetown University. In 2016, she founded her non-profit Read For All (HK), in hopes of better serving students in Hong Kong. She and her team distribute free books and educational material to underserved communities.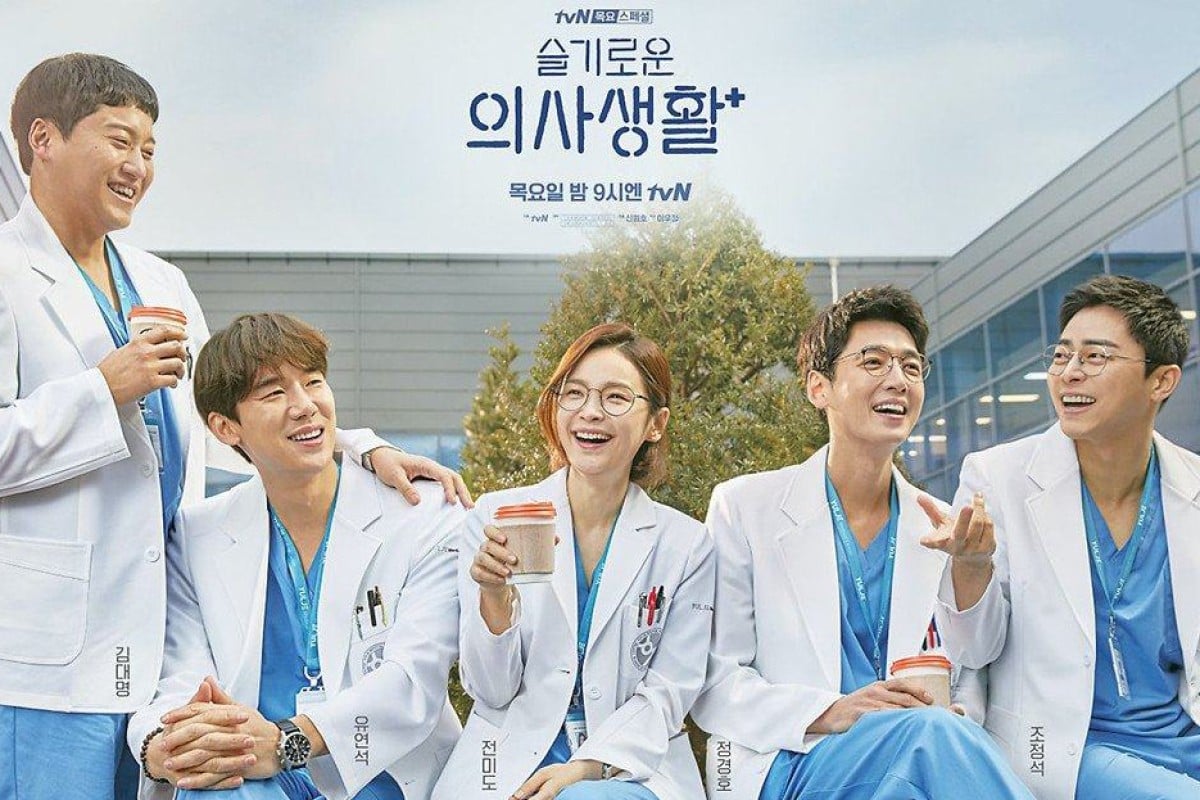 'Hospital Playlist' stars Kim Dae-myung (from left), Yoo Yeon-seok, Jeon Mi-do, Jung Kyung-ho and Jo Jung-suk. Photo: tvN
Hospital Playlist is not your typical Korean drama.
There is no instant spark between characters, nor is there fiery, passionate love. The boy doesn't dramatically take the girl's hand right before she trips, as they stare into each other's eyes, and everything moves in slow motion while romantic music plays in the background. In all honesty, these classic K-drama moments don't happen in real life.
The show is centred around five doctors working in a hospital called Yulje Medical Centre: Lee Ik-jun (Jo Jung-suk), Ahn Jeong-won (Yoo Yeon-seok), Kim Jun-wan (Jung Kyung-ho), Yang Seok-hyeong (Kim Dae-myung) and Chae Song-hwa (Jeon Mi-do).
Season two not only continues to narrate the lives of the main characters as they interact with patients, but it also dives deeper into their personal lives.
Director Shin Won-ho is known for directing heartwarming dramas, such as the acclaimed anthology series Reply, and Hospital Playlist is no exception.
The series' second season finally addresses the romantic links that fans have long anticipated between Song-hwa and Ik-jun, as well as Seok-hyeong and Choo Min-ha (Ahn Eun-jin).
Some fans have been frustrated that the characters get together so slowly. But this is actually a reason the show is so well-loved. People don't get together instantly, and sometimes they don't like each other right away. What this drama does best is depicting the gradual desires of both parties and demonstrating why they work well together.
K-drama for beginners: 4 shows you should watch right now
With Ik-jun and Song-hwa, for example, we see them show love for each other in the most subtle ways, such as when Ik-jun guards Song-hwa's door in episode eight.
He knows everyone in the hospital goes to Song-hwa for help because she is known to be one of the kindest surgeons. But when Song-hwa is under a lot of personal stress, Ik-jun does his best to answer everyone's questions so they don't bother her. He stands outside her door, with a huge smile on his face, and tells them Song-hwa is busy, but that he is available to assist.
Scenes like this demonstrate how it's the small acts that matter. This makes the show feel relatable because people can empathise with the characters, rather than longing for an impossible or unrealistic experience.
Jo Jung-suk (left) and Jeon Mi-do in a still from 'Hospital Playlist' season two. Photo: tvN
But the highlights of season two aren't just the romantic developments. There is so much love surrounding the friendship between Jun-wan and Do Jae-hak (Jung Moon-sung). The duo provides great comic relief, and Jae-hak does an amazing job bringing out Jun-wan's softer side.
Jae-hak always pesters Jun-wan about his plans, only to reject the annoyed Jun-wan once an invitation is extended. But no matter how frustrated Jun-wan gets, he is always there for Jae-hak when it matters.
After Jae-hak receives unfortunate news about his wife, Jun-wan does everything in his power to make sure things turn out okay.
Another great aspect of this season is getting to know characters' personal lives.
We're introduced to Jeong-won's mother, Jung Ro-sa (Kim Hae-sook), and her struggles with memory loss, Song-hwa's distant relationship with her mother, and the tense interactions that Yulje Foundation Chairman Joo Jong-soo (Kim Kap-soo) has with his money-hungry and neglectful sons.
Older viewers will understand Jong-soo and Ro-sa, who are navigating how to enter the later stages in their lives. Teenagers will relate to the flashback scenes of the main characters when they were in university, working hard and playing hard. Parents will empathise with patients' families, who do whatever they can to keep their children healthy.
Creators of 'Crash Landing on You' on how they made the series
These moments capture the attention and hearts of all ages, and they force the audience to think about their own families and reflect on what is important – money, happiness, a career? How can someone balance it all?
On a lighter note, we get to meet so many new characters. All the new interns and residents show the struggles of becoming a new doctor – and the humour, too. For instance, when professors question residents about their medical knowledge, poor Jang Hong-do (Bae Hyun-sung) never seems to know any of the answers.
Season two also features an amazing soundtrack, with catchy songs like Superstar and I Like You (this one is a bop). One of the best band practices has to be the one from episode nine, when Song-hwa finally gets to be lead singer. Although her vocals are horribly out of tune, the reactions from the other band members are priceless, especially Jun-wan, who cringes whenever she sings off-key.
Fans of the show will catch all the small references to season one (Song-hwa is definitely the "villain" of the entire hospital – if you know, you know).
As for the season's downsides, there aren't many. Compared to season one, it focuses more on the main characters rather than hospital life. And for those who love Ahn Chi-hong (Kim Jun-han), the neurosurgeon resident who had feelings for Song-hwa, be prepared for disappointment, as he does not appear in this season.
All in all, season two of Hospital Playlist is a must-watch. While each episode is on the lengthy side, ranging from 78 to 121 minutes long, viewers new and old will have no regrets.
Sign up for the YP Teachers Newsletter
Get updates for teachers sent directly to your inbox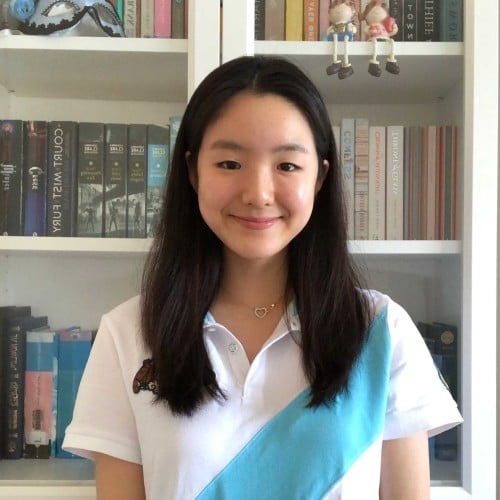 Clara Ki Lu
Clara Lu is an incoming student at Georgetown University. In 2016, she founded her non-profit Read For All (HK), in hopes of better serving students in Hong Kong. She and her team distribute free books and educational material to underserved communities.
Sign up for YP Weekly
Get updates sent directly to your inbox