Wondering what to do with this festive veg? Here are two recipes to make the most of your Jack-O-lanterns and limit food waste

These autumn dishes are perfect for cool November nights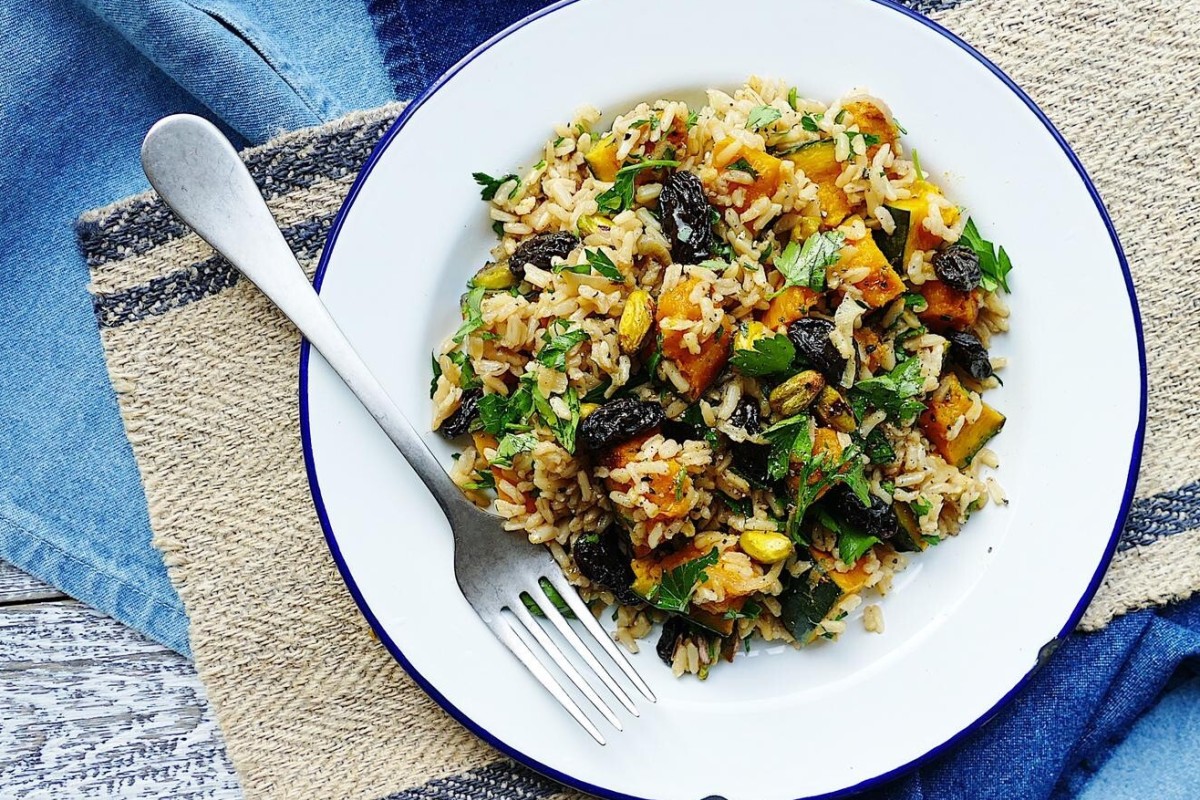 Comfort food at its finest. Photo: Wynnie Chan
Pumpkins are not just for Halloween. Reports of millions of pumpkins being thrown away around the world each year are terrifying, especially when you think about the state of our landfills. So once you've carved your lantern, use the scooped-out flesh!
Here are two recipes to help you reduce waste this spooky season.
Ingredients (serves 4)
450g pumpkin or squash, deseeded, thickly sliced
1 tbsp grapeseed oil
1 large onion, peeled, thinly sliced
2 cloves garlic, peeled, chopped
200g brown basmati or long grain rice, rinsed, drained
300ml vegetable stock or water
4 cardamom pods
1 cinnamon stick
salt and freshly ground black pepper
1 tbsp ready to eat raisins
2 handfuls fresh flat leaf parsley, chopped
1 tbsp toasted pistachios
Method
1 Preheat the oven to 220C/ 200C fan/ Gas Mark 7.
2 Place the pumpkin slices in a single layer on a roasting tray, and drizzle with ½ tbsp oil. Roast in the centre of the oven for 20-30 minutes until the pumpkin is just tender. Remove and set aside.
3 Heat the remaining oil in a non-stick saucepan over a medium heat. Sauté the onion and garlic for 10 minutes or until lightly browned and softened. Add the rice and stir to coat the grains with oil.
4 Pour in the stock, add the cardamon pods and cinnamon stick, and season with salt and pepper.
5 Bring the mixture to a boil over a high heat. Cover, then simmer over a low heat for 30 minutes. Turn the heat off and allow the rice to steam for another 10 minutes.
6 Fluff up the grains with a fork and stir through the dried fruit, parsley and pistachios. Serve warm or cooled.
Nutritional information per serving: 345kcal, 1457kJ, 9.5g protein, 11.6g fat, 58.2g carbohydrates, 6.4g fibre
6 of the best ever chicken soup recipes
Pumpkin, pecan and raisin loaf cake
A sweet treat for November. Photo: Wynnie Chan Ingredients (makes 20 slices)
225g plain flour
75g wholewheat flour
1 tsp bicarbonate of soda
1 tsp baking powder
1 tsp ground cinnamon
1 tsp ground ginger
pinch of salt
140g raw sugar
80ml grapeseed oil
2 eggs
100ml milk
zest 1/2 orange, optional
200g pumpkin purée *
50g raisins
50g pecans, chopped
Method
1 Preheat the oven to 180C/ 160C fan/ Gas Mark 4.
2 Lightly grease a 22cm x 13cm x 5cm loaf tin.
3 In a large bowl, sift together the flours, bicarbonate of soda, baking powder, cinnamon, ginger and salt.
4 Whisk together the sugar, oil and eggs in another bowl until light and combined, then mix in the milk and orange zest, if using. Fold in the flour mixture followed by the pumpkin, raisins and pecans.
5 Pour the batter into the tin, and bake for 50 minutes to 1 hour, or until a toothpick inserted in the centre comes out clean.
6 Remove from the oven, and leave in the tin for 15 minutes. Turn the loaf out onto a wire rack to finish cooling.
Nutritional information per 50g serving: 140kcal, 591kJ, 2.7g protein, 5.7g fat, 20.9g carbohydrates, 1.2g fibre
* Peel pumpkin, then cut into small pieces. Steam for 10-15 minutes over a medium heat, cool, then purée.
Sign up for the YP Teachers Newsletter
Get updates for teachers sent directly to your inbox
Sign up for YP Weekly
Get updates sent directly to your inbox