Formula 1's first black driver equalled racing legend Michael Schumacher's record of wins

From beating Mercedes teammate Nico Rosberg in Bahrain to blocking Max Verstappen in Hungary, Monaco and Silverstone, here are our favourite moments
Janice Mook
Janice enjoys blogging, reading and listening to K-pop. But for now, she is trying to master the art of multitasking.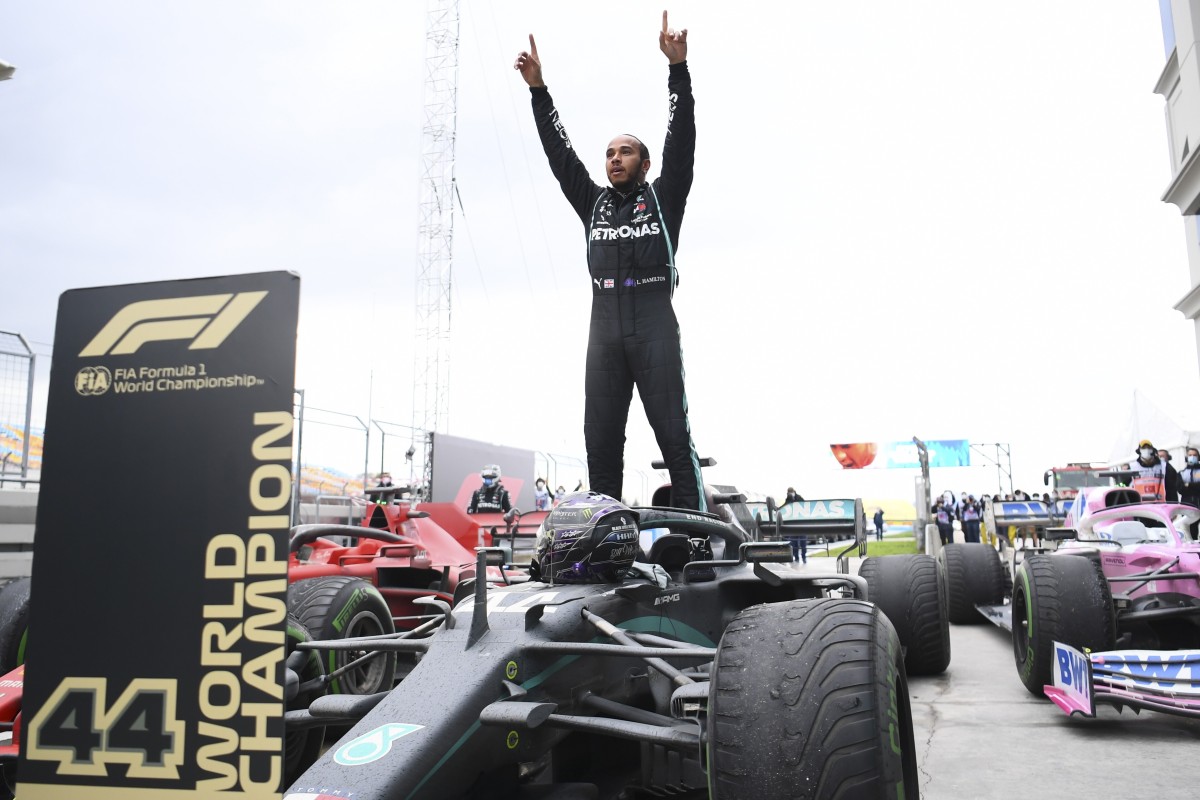 epa08821780 British Formula One driver Lewis Hamilton of Mercedes-AMG Petronas celebrates after winning the race and the 7th Formula One Championship at the 2020 Formula One Grand of Turkey at the Intercity Istanbul Park circuit, Istanbul, Turkey, 15 November 2020. EPA-EFE/Clive Mason / Pool
Lewis Hamilton's victory at the 2020 Grand Prix cemented his status as one of the greatest race car drivers of all time. He's a seven-time Formula One world champion, just like retired legend Michael Schumacher, and with his win at the Turkish Grand Prix on November 15, has just overtaken the record of 92 Formula One wins that Schumacher set in 2012.
Hamilton is also crushing other expectations: he is F1's first and only black champion.
Let's celebrate his incredible achievements by looking back at his greatest performances throughout his career.
Lewis Hamilton and Nico Rosberg were both on the Mercedes team, and were known to be very competitive from 2014 to 2016.
This race is no exception. They were neck and neck for the entire race, but Hamilton finally outpaced Rosberg at lap 53 until lap 57, beating Rosberg by one second. Both of them were almost a whole lap ahead of everyone else. It was the most intense and terrific race in Formula One to date.
It was a tough race between teams Mercedes and Ferrari. At the start of the race, Hamilton was speeding after two Ferrari drivers, Kimi Raikkonen and Sebastian Vettel.
Very quickly Hamilton surpassed Vettel on the left-hand bend causing him to stop abruptly, only in the first lap. Hamilton continually hung on the tail of Raikkonen and overtook him at lap 45, securing his winningfinish.
2019 Hungarian Grand Prix
The entire race was a straight duel between Hamilton and Max Verstappen from the Red Bull team. Verstappen started strong and kept a margin of one second between himself and Hamilton.
But, after Hamilton spun off for the optional second pit to change his hard tyres to medium tyres, he successfully caught up to Verstappen with three laps to go, eliminating the 20-second gap. It was revealed that the strategy of changing the tyres before the last 10 laps was a gamble, but eventually, it proved worthwhile as Hamilton sublimely outplayed Verstappen by 15 seconds. A great decision made on the spot.
The most nerve-wracking race for both Hamilton and the fans. With 22 laps to the finish, Hamilton found his tyres were unfit for driving and were understeering.
However, as his team wouldn't want to risk a second pit stop that might cost him the title, Hamilton had no choice but to complete the remaining 20 laps on sheer skill alone. Even while struggling to keep his tyres going, he managed to block Verstappen, in second place, from overtaking him.
7 things to know about Grenada, the island Lewis Hamilton's granddad is from
This race was solid proof to everyone who had attributed Hamilton's victories to his having the best gear, and not his skills. All in all, a very impressive performance from Hamilton under such high pressure.
This was probably one of Hamilton's luckiest wins. He was way ahead of everyone from the start, until the very last lap, when he his left tyre got a puncture.
Consequently, he had to slow down to secure his tyre while keeping himself far from other competitors. However, Verstappen was closing in at full throttle. It was a close call for the win, and Hamilton barely got away from Verstappen and crossed the line with five seconds between them. He wouldn't have won if that hadn't been his last lap.
Whatever else Hamilton achieves in the future, his achievements to date ensure he will forever be a legend in the history of Formula One.
Sign up for the YP Teachers Newsletter
Get updates for teachers sent directly to your inbox
Janice Mook
Janice enjoys blogging, reading and listening to K-pop. But for now, she is trying to master the art of multitasking.
Sign up for YP Weekly
Get updates sent directly to your inbox