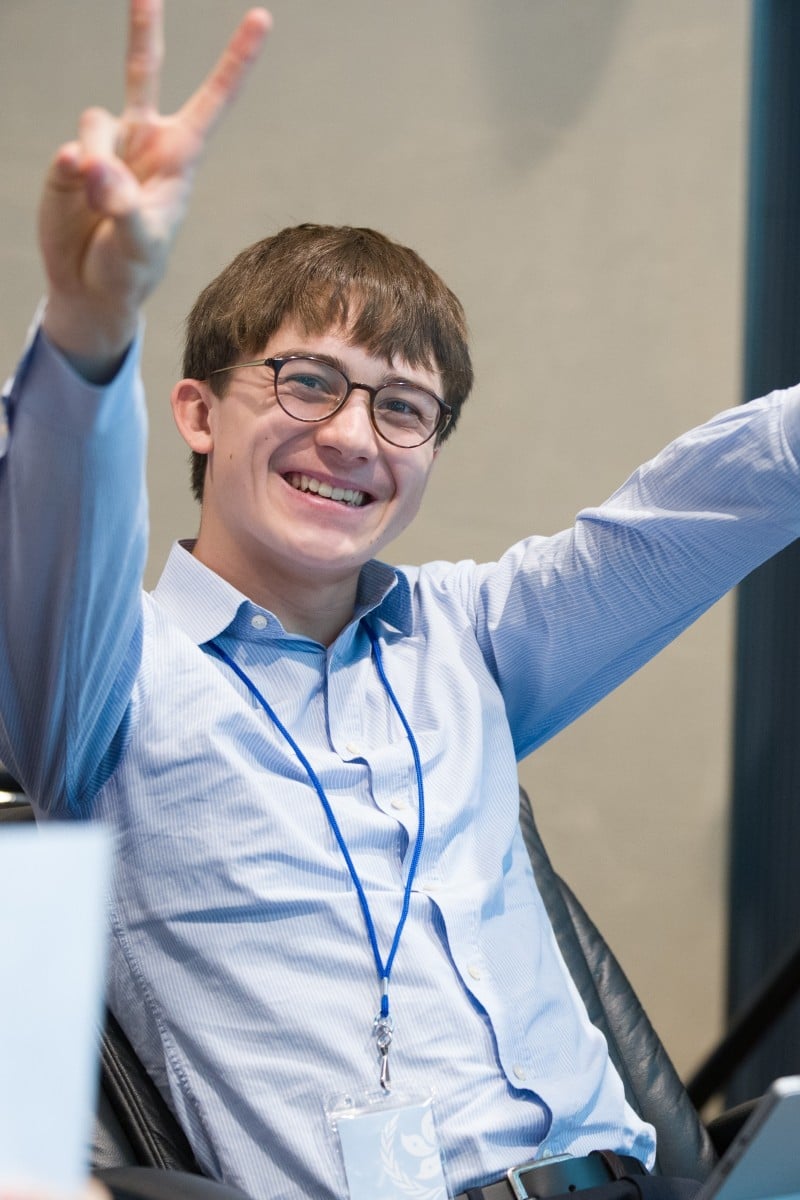 The SOTY 2019/20 Grand Prize winner is a boy of many talents
German Swiss International School student Dylan Robinson, a debater, athlete and human rights advocate, took the main prize at this year's awards

The Student of the Year Awards is organised by the South China Morning Post and sponsored by The Hong Kong Jockey Club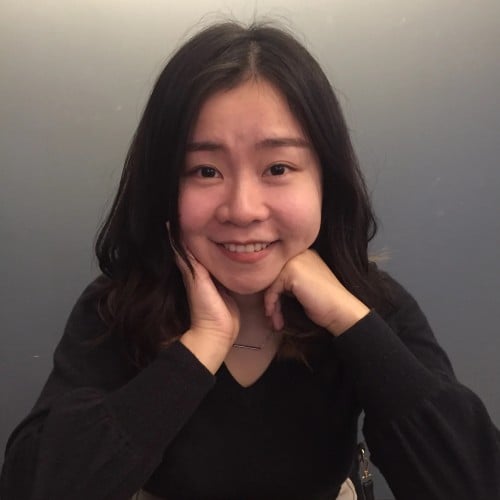 Kelly is a journalist from Hong Kong. She joined the Post in 2018, where she writes about Hong Kong's arts and culture, social welfare and the environment. She has a master's degree in Journalism from the University of Hong Kong.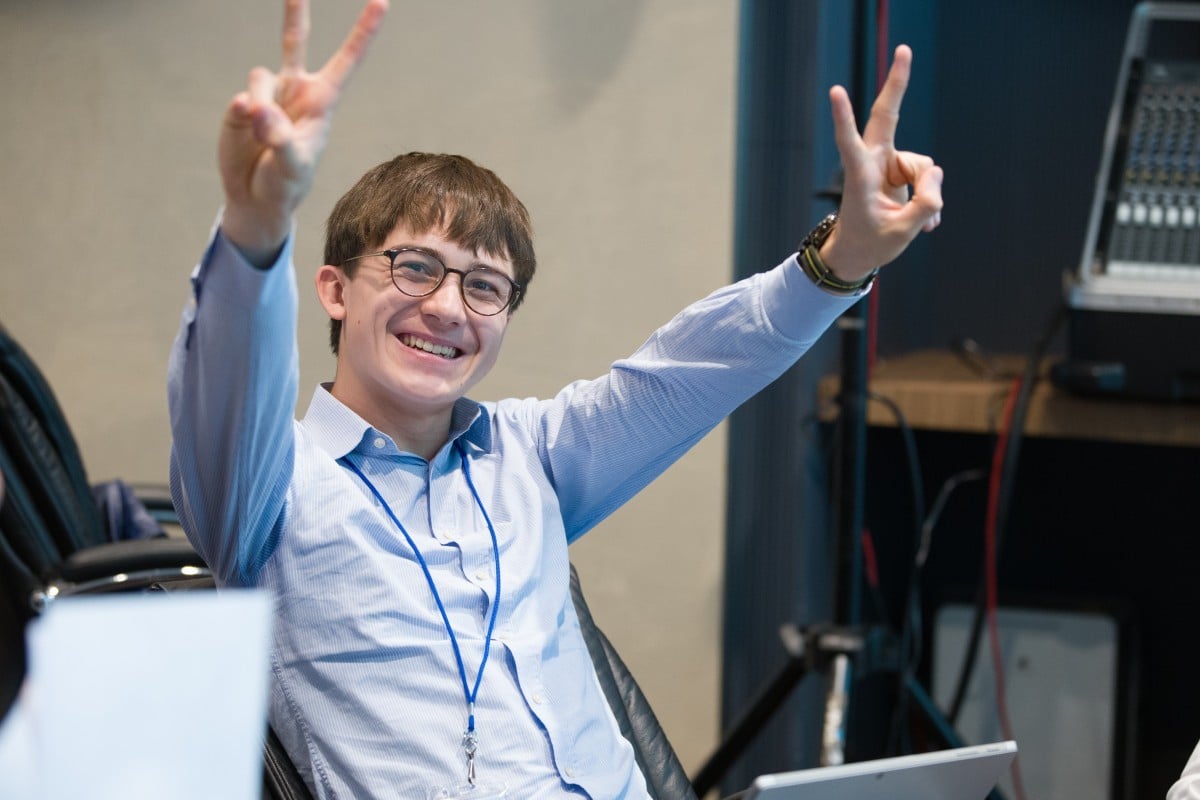 Congratulations, Dylan! Photo courtesy of Dylan Robinson
Dylan Robinson, this year's Grand Prize winner of the Student of the Year Awards, is no ordinary super achiever: he is an award-winning oarsman, debater, human rights advocate, community-minded hiker, and lastly, a Cantonese learner who loves the city.
The 17-year-old student from German Swiss International School, who was born in Hong Kong and raised in the United States, returned to the city eight years ago. Dylan is not only an ace in academics (he achieved top grades in the 2019 IGCSE exams), he was also voted best delegate at two Model United Nations conferences, and became GSIS debating champ in June.
What's more, he is a talented oarsman who has represented Hong Kong at many international competitions over the past five years. His rowing team is ranked number one in Hong Kong, and fourth in Asia.
Despite all these achievements, Dylan still felt something was amiss. One day, when he was training at the Hong Kong Sports Institute in Sha Tin he had an epiphany. From ordering the breakfast in English to having his teammate translate what was being said during the training session, Dylan realised he was living in an "expatriate bubble".
"I wasn't really able to participate in the sport that I loved. And I wasn't able to really engage with the community as much," Dylan says.
Read all about Dylan's experiences as a key member of the HK rowing team
So he decided to learn Cantonese. Whenever he is at a restaurant or shop, Dylan says, he tries to speak Cantonese as much as possible. He believes it is the best way to learn a language. Progress was slow at first, but he is improving day by day.
"Our school requires us to learn German, and also Mandarin. But I never found those as engaging. And I also never found them as useful as Cantonese," he says.
Trying out his new-found language skills helps him feel more connected to the city and its people.
"Of course, if someone like me goes into a restaurant and speaks Cantonese, they always say, 'Oh, where did you learn Cantonese?' So that's been a really great experience," he says.
Dylan (right) receives his award from SCMP Editor-in-Chief Tammy Tam. Photo: SCMP/ Nora Tam"Even if it is just a short conversation, the shopkeeper's smile acknowledges that we are all Hongkongers."
Dylan believes that speaking Cantonese has opened up new avenues for him in Hong Kong.
"Not only have I kind of come out of the international school expat bubble, but I've also been able to interact with people that I wouldn't have otherwise been able to speak to," he says.
And he has been able to experience the magic of Cantonese first-hand.
Learn the Cantonese slang you need to order Hong Kong street food like a local
During an annual school hike, Dylan says he and three of his like-minded friends decided to launch a community project to help disadvantaged primary students explore the city's natural landscape and bond with each other. They called the project "Treem", a combination of tree and dream.
"We thought that we don't need to just limit hiking to our own school, but we could actually bring it to others. And we were all really enthusiastic about it."
In the beginning, Dylan was only involved in planning hikes, but with his improved Cantonese, he has been able to lead the way on the trails.
5 Hong Kong hikes with amazing views to try this holiday
The kids were quick to point out to him that he reminded them of Harry Potter, and he was happy to conjure up a few smiles.
"The children were so happy to have a wizard taking them for walks!" he says.
While talking to the students he realised the importance of families spending time together and enjoying the natural environment. So now parents are welcome to hike along with their children.
2019 SOTY linguists talk about what language means to them
"It became really interesting when parents did come along, everyone was having a lot more fun than when it was just the kids," he says.
"This shows that it's very important to promote closer bonds between parents and kids, especially among disadvantaged communities."
Dylan also advocates freedom of speech and human rights, and he has worked for Pen International, which publishes books that have been banned in some countries. There he helped with the launch of the book, Hong Kong 20/20: Reflections on a Borrowed Place, and the Human Rights Lecture by Canadian essayist and fiction writer, Manjushree Thapa.
Dylan started rowing in 2015 and became a member of the Hong Kong junior team in 2017. Photo: SCMP / Kelly HoIt's never easy to juggle full-time studies, sport and community work, sometimes the routine can be punishing. Dylan says he wakes up around 5am and studies for an hour. Then, he does an hour of rowing training until 7am and heads to school. The weekends are when he gets ahead on school work and projects.
He has a message for his fellow international school students. He wants them to connect with all sections of society to fully experience Hong Kong's diverse cultures and traditions.
So what do the judges look for in the SOTY Grand Prize winner?
"There's some way to go [for the international student community] when reaching out to Hong Kong society. I think that a lot of people might live here for two or three years, but they never really get outside Hong Kong Island."
Dylan says he is no longer the "expat teen" that he used to be. He is always ready to remind his fellow students that not everything can be learned from a book. When people think of Hong Kong, they think of skyscrapers, shopping and food.
"So one thing I'd recommend teens do is just go outside and experience the city's natural beauty," he says.
Sign up for the YP Teachers Newsletter
Get updates for teachers sent directly to your inbox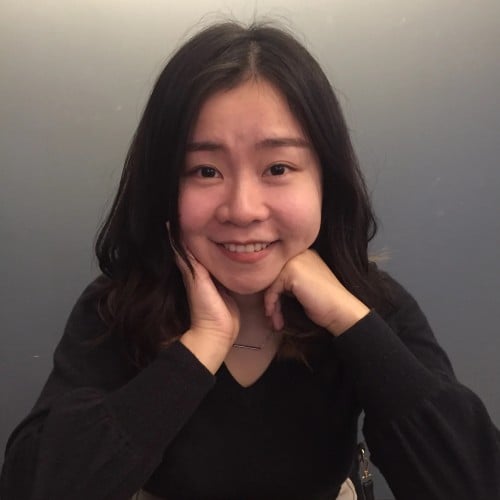 Kelly is a journalist from Hong Kong. She joined the Post in 2018, where she writes about Hong Kong's arts and culture, social welfare and the environment. She has a master's degree in Journalism from the University of Hong Kong.
Sign up for YP Weekly
Get updates sent directly to your inbox