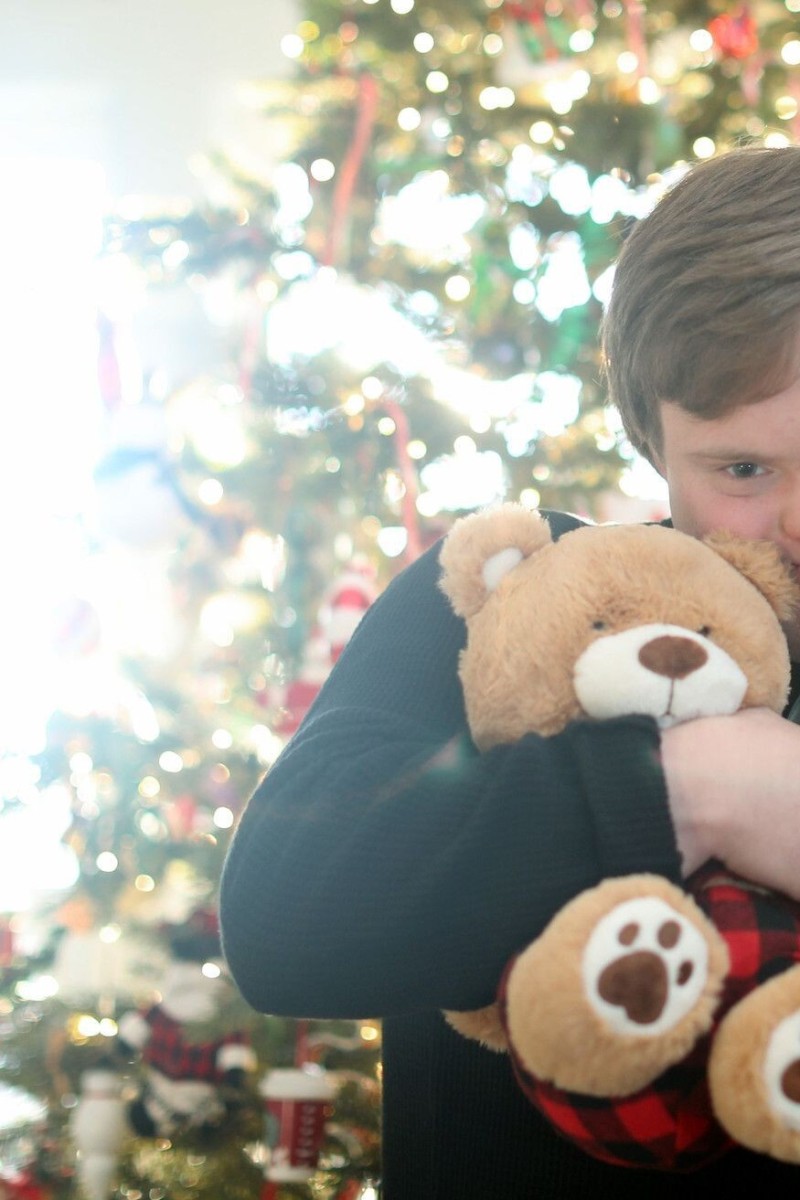 Neighbours come together to pull off Christmas miracle for teen
A 17-year-old boy with Down syndrome was disappointed when Covid-19 meant his beloved holiday parade was cancelled

Friends organised a surprise, coronavirus-friendly celebration, complete with Santa Claus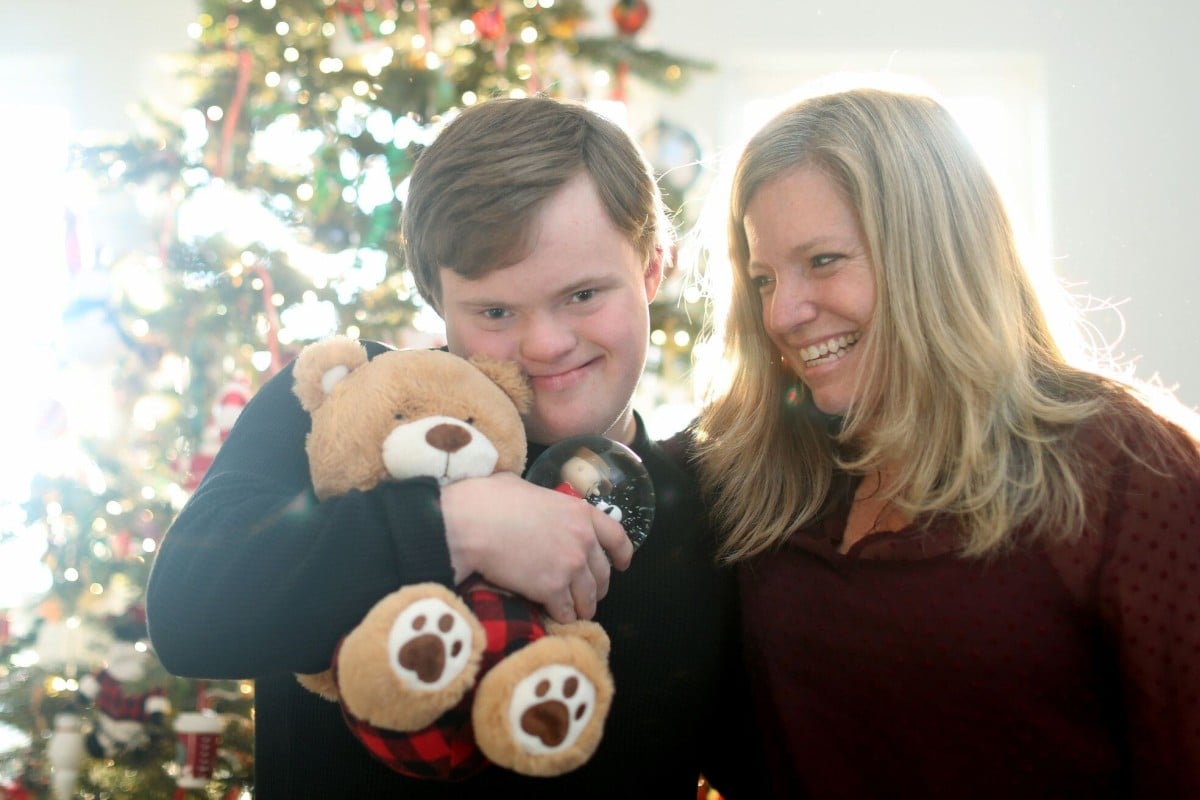 Ben Carnes and his mother, Julie Carnes, at their home. Friends and neighbours put on a Christmas parade for Ben, who loves parades, outside the Carnes family home because the annual Christmas parade was cancelled due to the Covid-19 pandemic. Photo: TNS
Ben Carnes, 17, who lives in the city of Crystal Lake in the US state of Illinois, starts counting down to his town's annual Festival of Lights parade on July 5. Ben, who has Down syndrome, looks forward to the July 4th Independence Day celebration and the Christmas parade all year round.
The Fourth of July parade and the Festival of Lights parade, which typically takes place at the end of November, were both cancelled this year because of Covid-19. Ben took the Fourth of July news hard.
He refused to even acknowledge the Festival of Lights (aka the Santa Claus parade) cancellation.
"Maybe two weeks before it would've happened we started to tell him that it was cancelled," his mother, Julie Carnes, said. "It was honestly as if he was just ignoring the fact. We thought, 'Oh boy. This is going to be tough.'"
Time Magazine names its first-ever Kid of the Year
The start of a great idea
A few days before the parade was originally meant to take place, Carnes was texting in a group chat with friends and mentioned that Ben was struggling.
"Ben's pretty carefree and always in a good mood," said family friend Erin Snodgrass. "Julie texted that he was sad and kept asking about the parade, even though they talked over and over about the parade being cancelled."
Carnes asked if her friends knew of other light shows in the area. Her friends had another idea: What if they lined up and drove by Ben's house one night to wave and honk?"
Ben looked forward to the Christmas parade every year, and he was disappointed that it was cancelled.
Snodgrass, Laura Karamitos, Kerri Bowers and Tammy Freund all work with Julie Carnes at Crystal Lake South High School. The foursome hopped off the group text and got to work planning.
Karamitos began the hunt for a Santa suit and a Santa. Bowers emailed some friends and neighbours. Snodgrass emailed the school's student services department.
"Ben is in our functional living skills programme, so he's pretty well known around the building," Snodgrass said. "And obviously Julie works there, so it's like a family. When we need each other, we kind of just step up."
The young musician making his Carnegie Hall debut
The initial plan to line up four or five cars quickly grew as word spread and everyone wanted in.
Bowers estimated there were 26 cars in all, with Santa leading the line.
Carnes' friends managed to keep the parade a secret from her, but they let her husband, Jeff, in on the plan so he could make sure everyone was home when the parade passed by.
Carnes and her husband grabbed Ben and his younger brother, Charlie, and headed out front.
"There was this tremendous parade," she said. "So many people showed up. He's a pretty happy and social guy in school. Everyone kind of knows him because he's always saying hi. He brings so much joy to people, and I think that's why so many people came."
The teen who helped kids in need by walking the Hong Kong Trail
At every Fourth of July and Festival of Lights parade, someone in Ben's family is assigned recording duties so Ben can rewatch the parade for the weeks and months that follow. Charlie captured this year's makeshift parade for his brother, and Ben has watched it every night since.
"Some cars dropped off gifts," Carnes said. "Santa gave him a snow globe with Charlie Brown inside. And he got some balloons. He takes those balloons and that snow globe into his room every night to sleep.
"It still makes me cry," she continued. "It was huge for him."
And for the participants too.
The teen who could become a saint
"We all needed it," Snodgrass said. "Just as much as Ben."
"It started as a small idea to help a friend out for 15 minutes and bring a smile to Ben's face," said Bowers. "And it just blew up, but with joy. His face when he saw Santa, it was so joyful."
Ben has had to give up a lot this year. While his school has been holding in-person lessons, he's been learning remotely since spring because of some underlying health conditions. Most of his favourite activities have been cancelled or put on hold.
"There have been so many losses for him," Carnes said. "And he's a kid who's very routine driven. So it just meant so much to us to have this to lift his spirits."
Sign up for the YP Teachers Newsletter
Get updates for teachers sent directly to your inbox
Sign up for YP Weekly
Get updates sent directly to your inbox