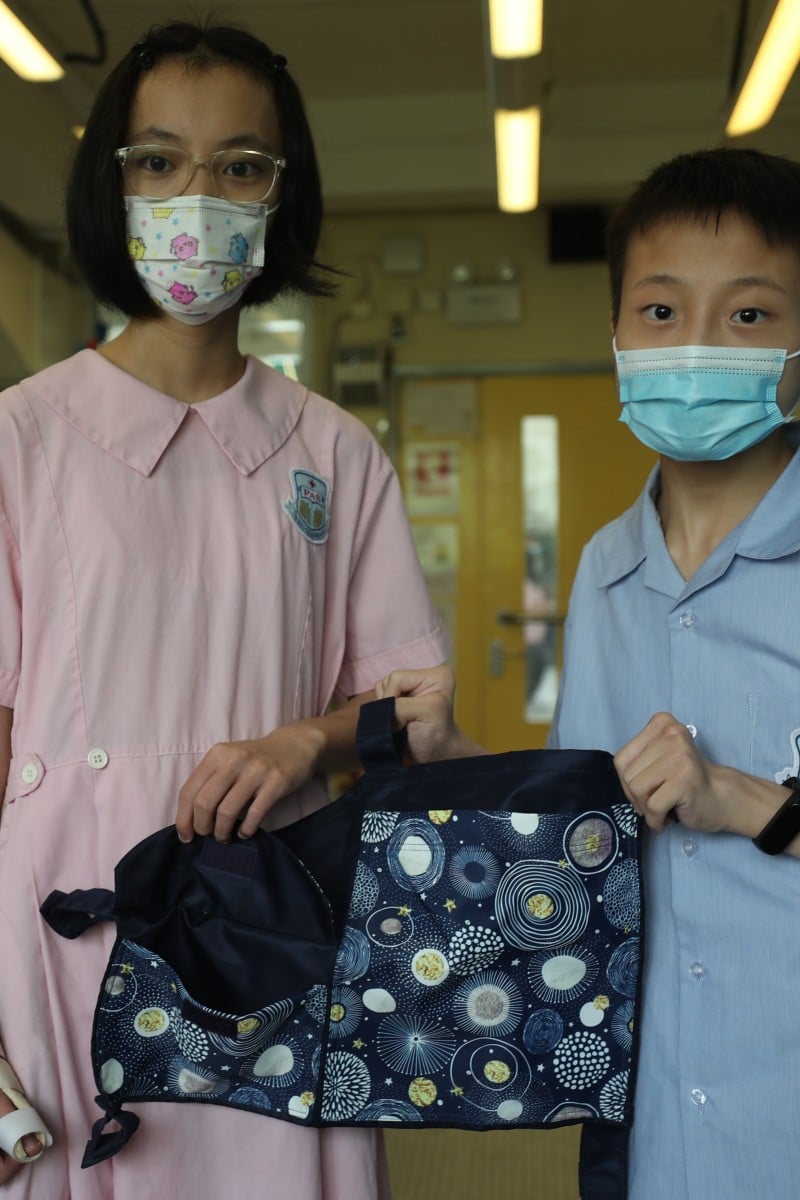 Three students at a school for physical handicaps noticed their classmates had trouble carrying a school bag with a walker and decided to help

The storage pouch won them top prizes at the Youth Impact Awards and recognition for their contribution to the community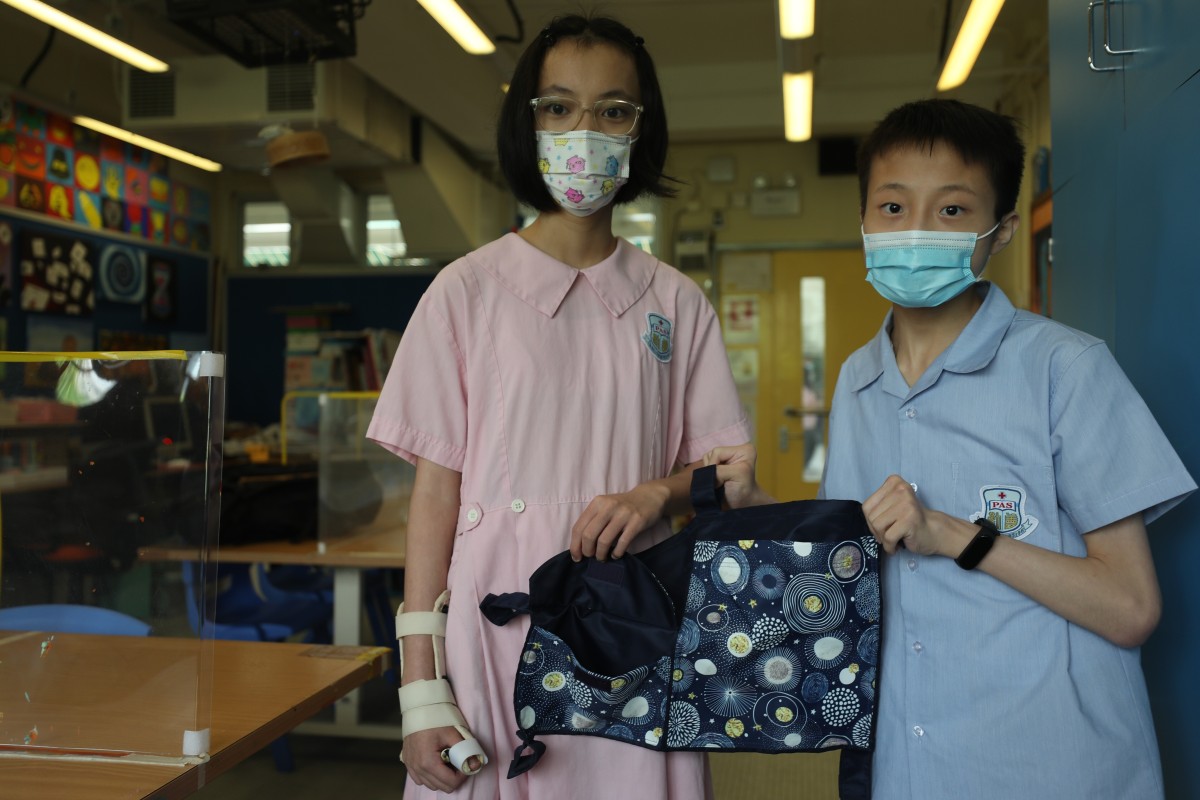 Spirit of Hong Kong nominees and Hong Kong Red Cross Princess Alexandra School Form 3 students Fu Lee-Lee (left) and Yeung Chin-hang show off a pouch they designed to make life easier for people with walking aids. Photo: SCMP / Xiaomei Chen
Noting how difficult it could be for some peers to hold a bag while using walking aids, three Hong Kong teenagers decided to do something about it – designing a pouch that can be attached to a walking frame, and winning a local award in the process.
The storage case, which can carry objects as large as books and bottled water in its biggest compartment, was the creation of students at Hong Kong Red Cross Princess Alexandra School in Kwun Tong, which cares for students dealing with physical handicaps or sickness.
The psychology student hoping to remove the stigma of mental health
The trio – Yeung Chin-hang, Fu Lee-lee and Tam Chi-wan – said they noticed some of their schoolmates needed both hands to control certain types of walkers as they moved, making it difficult to hold a bag.
"We wanted to make a pouch (that can be attached to a walking aid) and started designing it about a year ago," Yeung, 15, said.
The Form Three student said the prototype for the storage case, which is about the size of a small briefcase, was designed specifically for one type of walking frame.
Leung and Fu attach one of their designs to a walking frame. Photo: SCMP / Xiaomei Chen
"We want to make another one for wheelchairs," he said, noting the team had kept improving the design. The student added that the straps of the pouch also needed to be longer so it could be tied to other walking aids more easily.
Fu, also a Form Three student, said the team understood their friends' needs.
"[The pouch] can make their lives easier," she said, noting the trio's design could spare them the trouble of carrying a bag.
Island School students lead the way with zero waste initiative
Their work earned them praise from judges and two top prizes at the 2019-2020 Youth Impact Award, and now, a nomination for this year's Spirit of Hong Kong Awards.
The annual event, co-organised by the South China Morning Post and property developer Sino Group, honours the achievements of remarkable people whose endeavours may otherwise go unnoticed.
Bonnie So of the Hong Kong Red Cross recommended Yeung, Fu and Tam for this year's Spirit of Youth award, which recognises young people who have shown a commitment to the community.
HKU student merges art and activism
The students said the project, from conception to creating their first prototype, had taken about six months.
"We spent a lot of time tweaking the size of the pouch to make sure it fitted well," Fu said.
Yeung said he was thankful that teachers at the Kwun Tong school had given them advice and support.
"My parents also shared their views on our idea," he added.
Fu said she was eager to create more useful items to help people in need.
The students said their design, which has yet to go into mass production, still needed refinement.
Sign up for the YP Teachers Newsletter
Get updates for teachers sent directly to your inbox
Sign up for YP Weekly
Get updates sent directly to your inbox