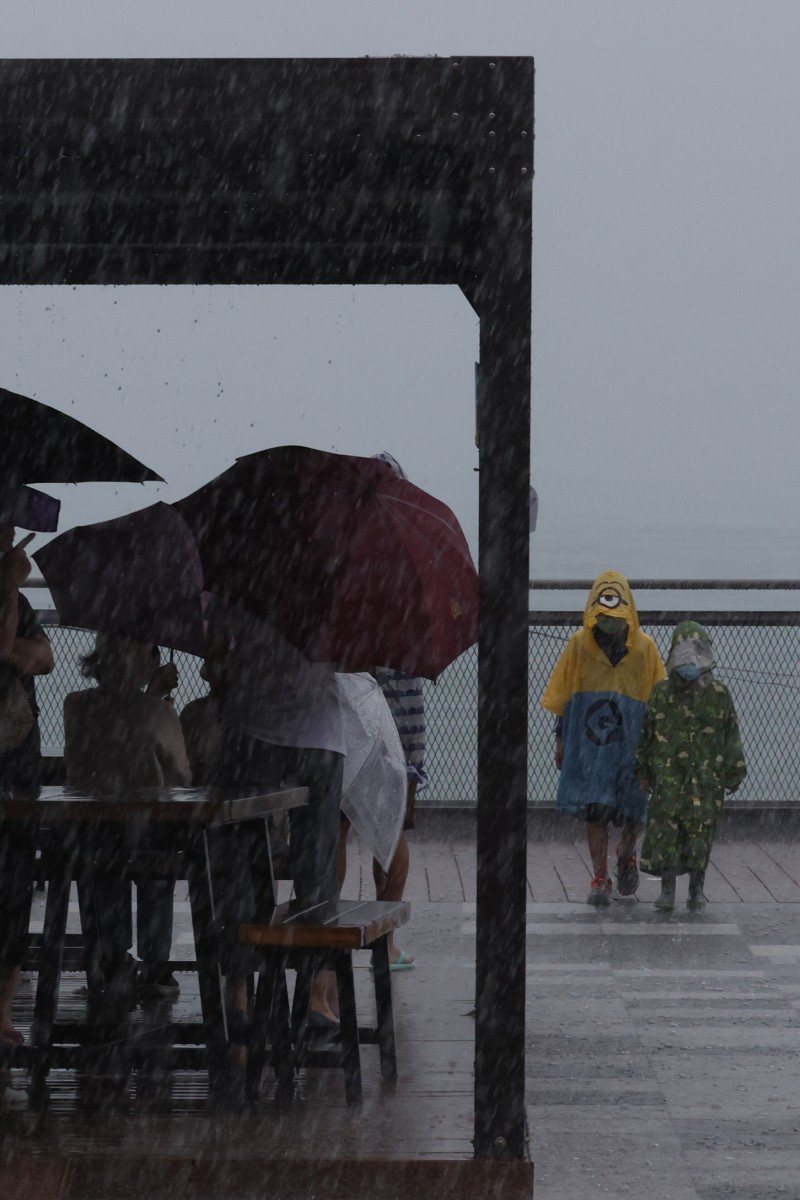 As Hong Kong battles tropical cyclone Kompasu, we wonder: how do typhoons get their names?
The Hong Kong Observatory issued two No 8 warning signals within four days, breaking a record that was set in 1966

Names of typhoons that cause extensive damage or deaths, such as Mangkhut, are discontinued and replaced
People feel the heavy rain and strong winds at Kennedy Town waterfront under typhoon signal No 8 as Kompasu hits Hong Kong. Photo: SCMP / Nora Tam
With Tropical Cyclone Kompasu shutting down the city, the Hong Kong Observatory has issued the No 8 Warning Signal for the second time in four days, following cyclone Lionrock, which caused one death and injured five others.
Here are some facts about typhoons that may interest you.
Typhoon Kompasu downgraded to T3
Tropical cyclones Lionrock and Kompasu have set a record for the speed at which two No 8 warning signals have been triggered, as they were raised within 60 hours and 40 minutes of each other.
The previous record was set in 1966, when it took only 75 hours and 30 minutes to hoist a second No 8 warning signal due to the impact of typhoon Maggie, which came hot on the heels of tropical cyclone Lola.
Stay dry, sweet pupper. Photo: SCMP / Nora Tam
How do typhoons get their names?
Though we usually look at the timing of the signals and the destruction caused by such storms, the names given to them are also noteworthy.
Kompasu has been used as a name for three other tropical cyclones in the northwestern Pacific Ocean, which appeared in 2004, 2010 and 2016. The name was contributed by Japan and is the Japanese word for compass.
Typhoons are given names for ease of communication. It is also less confusing than naming them with the numbers of their longitude and latitude. This way, it's easier for people to keep track of the typhoon, especially when there is more than one involved.
Why Hong Kong will see more extreme weather
Storm warning centres assign names to tropical cyclones following a sequence from a predetermined list, and depending on the part of the world they originate from.
Hurricanes in the Atlantic Ocean were the first to follow this system, when tropical storms with sustained winds of 39 miles per hour (73km/h) started to be given names.
This naming approach is now widely used by storm forecasting centres in the Eastern, Central, Western, and Southern Pacific areas, the Australian region, and the Indian Ocean, in addition to the Atlantic Ocean.
A woman stands at Shek O beach as tropical storm Kompasu nears the city. Photo: SCMP/ Dickson Lee
In the Western Pacific Ocean, the Japan Meteorological Agency's typhoon centre assigns international names to tropical cyclones on behalf of the World Meteorological Agency. It chooses 35 names from a list of 140 submitted by 14 countries and regions around the world.
In the past, storms and cyclones were named using the Catholic liturgical calendar and were given the name of the saint whose day it was. Today, the first tropical storm of the year is given a name beginning with the letter "A", the second with the letter "B" and so on through the alphabet.
In even-numbered years, odd-numbered storms get men's names. In odd-numbered years, even-numbered storms get women's names.
How climate change has changed our vocabulary
Is it true that some names are only used once?
The names of storms that cause widespread damage and deaths are usually discontinued and not used again. Instead, a replacement name is found.
The name of the Super Typhoon Mangkhut, for example, has been struck off the typhoon name list due to the extent of casualties and destruction it caused.
In regions of the Pacific Ocean, each country and city contributes names for storms.
Hong Kong faced heavy rains during its two typhoons. Photo: SCMP/Martin Chan
What are some typhoon names from Hong Kong and mainland China?
Apart from the name Lionrock, Hong Kong has submitted names such as Yun-yeung, which is a species of duck. It is also the name of a popular drink in the city's cha chaan tengs that mixes coffee and milk tea.
It also submitted the name Kai-tak, paying homage to the city's former airport, which closed in 1998; Choi-wan, which means colourful cloud, but is also the name of a public housing estate; and Lingling, a fairly common pet name.
Other names for Chinese cyclones include Wukong, which means "King of the Monkeys", while Haishen refers to the "God of the Sea". Dianmu means "Mother of Lightning," and Fengshen translates to "God of the Wind".
Sign up for the YP Teachers Newsletter
Get updates for teachers sent directly to your inbox
Sign up for YP Weekly
Get updates sent directly to your inbox