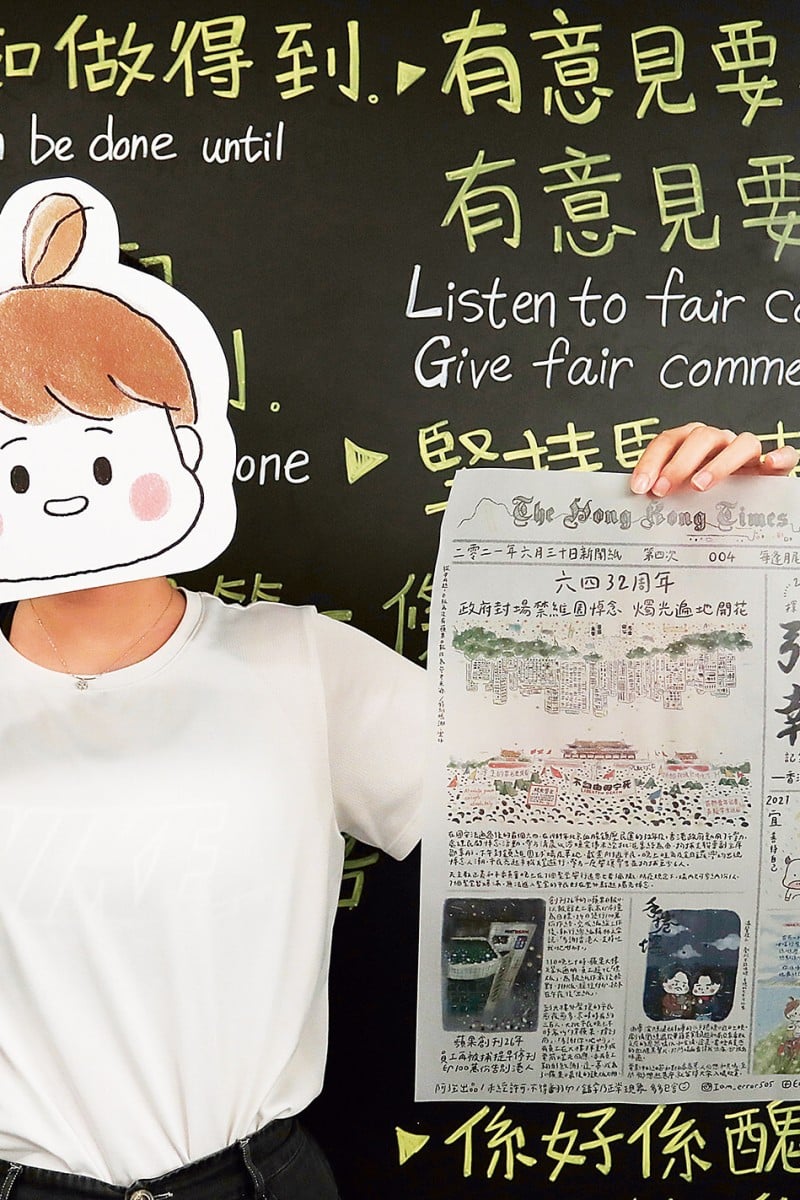 Drawing on hope: Hong Kong artist shares how her newspaper project puts a lighter touch on the city's heavy news
Error Wong publishes monthly editions of The Hong Kong Times, covering hot topics from the city's Tokyo Olympics successes, to the capture of 12 Hong Kong fugitives by mainland Chinese authorities

Every week, Talking Points gives you a worksheet to practise your reading comprehension with questions and exercises about the story we've written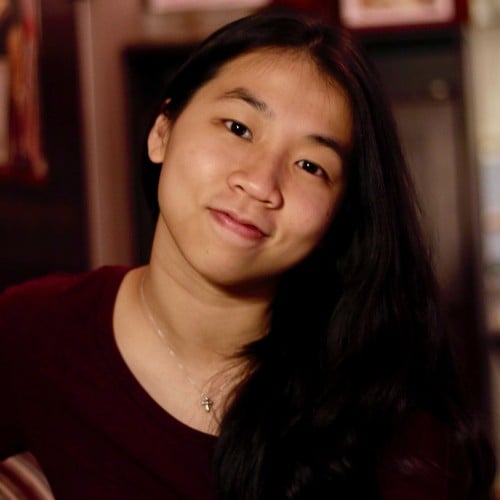 Yanni joined the Post in 2021. She has a bachelor's degree in communication and majored in international journalism. Previously, she worked at Reuters covering Hong Kong political news including the enactment of the national security law.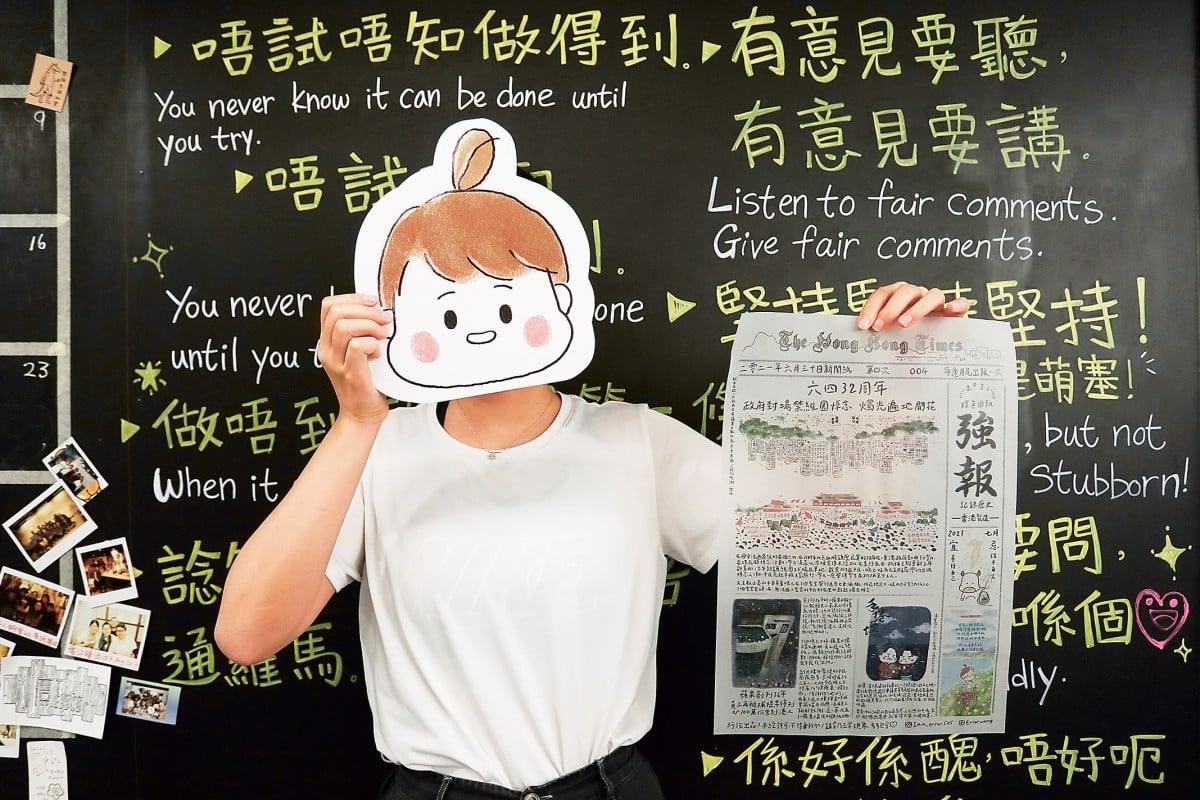 Hong Kong illustrator Error Wong, known as Ah Keung on Instagram, hopes that the newspapers and other art she makes can bring joy to others. Photo: Jonathan Wong
The first edition of The Hong Kong Times, published in March this year, was unlike any newspaper one would normally find on a news stand.
The cover, printed on an A3-sized sheet of paper, had no photos. Instead, beautifully hand-drawn illustrations filled the page. All the stories were handwritten by Error Wong, a 24-year-old illustrator in Hong Kong.
Wong, better known as Ah Keung on social media, founded the paper earlier this year in an attempt to put a lighter touch on the heavy developments the city had been facing.
The "newspaper" is a one-page cover featuring the most important news of the month.
"I think my decision to make [art] for a living is crazy, but I am doing this because of my [newspaper] readers," said the artist.
Ah Keung (full name not given), an illustrator and the creator of The Hong Kong Times, a monthly newspaper on important news in Hong Kong. 25OCT21 SCMP / Jonathan Wong
Last June, Beijing imposed a sweeping national security law in Hong Kong to outlaw acts of secession, subversion, terrorism and interference by foreign forces in the city's affairs. Reports have suggested that about 150 people have since been arrested.
Later that year, Wong started designing letters that others could download for free from the internet and use to write to people in prison.
Some letters include cheerful lyrics, flower illustrations and cartoon characters exercising. She does this to help add colour to prisoners' lives behind bars.
"It's already hard for them [in prison]. They deserve something sweet and cute," she explained.
After a few months of working on these designs, she noticed how Hong Kong news was quite overwhelming for many people to read.
"Reading the news has been tiring for all of us. Why don't I summarise the most important news of the month, and then let my readers revisit them when they are ready?" Wong recalled of her thought process.
She then decided to expand her work by creating The Hong Kong Times.
In March this year, she printed 100 copies and set the price at HK$30 each. Customers could buy them in certain independent bookstores or via her Instagram account.
Hong Kong students celebrate Asian pride with charity fashion show
All 100 copies sold like hot cakes, so she now prints 200 copies of each edition. Since then, her Instagram account has grown to more than 7,800 followers.
The main story in the first edition was about the 12 Hong Kong fugitives captured by mainland Chinese authorities while they tried to flee to Taiwan by sea.
Since her first edition, she has done illustrations about Hong Kong athletes' success at the Tokyo Olympics and Paralympics. Other stories she has covered include the disbandments of the Professional Teachers' Union and of prisoners' rights group Wall-fare.
"I don't fill the whole newspaper with depressing news," Wong emphasised. "I also want it to be a space to recognise Hongkongers' hard work."
Founders of Plastic Wood Studio on making art with a repurpose
Of all the illustrations she has drawn, there is one she holds close to her heart. It is her drawing of a father holding a sleeping baby girl in his arms on a Mong Kok footbridge, overlooking an array of neon lights.
The headline reads: "Home is where the heart is".
"A lot of [neon lights] have been taken down. Hong Kong's culture is gradually disappearing. There's too much uncertainty for the next generation," she said of the drawing.
At the start, Wong planned for the newspaper to last for 12 months. Fearful that her freedom to express herself could face suppression, she is unsure if she will continue after the one-year period. But she wants to make it work.
"You cannot just stop what you're doing whenever there's a hindrance," Wong said.
She is now selling a 2022 calendar that features an illustration for each month, and its theme is emigration – a hot topic in Hong Kong.
'I suddenly turned 30': Hong Kong teens discuss move to Britain
"I hope it is a little comfort to everyone, no matter if they're still here or have already left," the artist said.
Lately, she has received more requests to deliver her newspaper overseas, as her customers leave the city. She estimated that 20 of her regular readers were leaving Hong Kong for good.
"In the process of drawing, I realised all I wanted is to cheer people up," she said. "If people smile or laugh when they see my drawings, that's satisfying enough."
Click here to download a printable worksheet with questions and exercises about this story. Answers are on the second page of the document.
Sign up for the YP Teachers Newsletter
Get updates for teachers sent directly to your inbox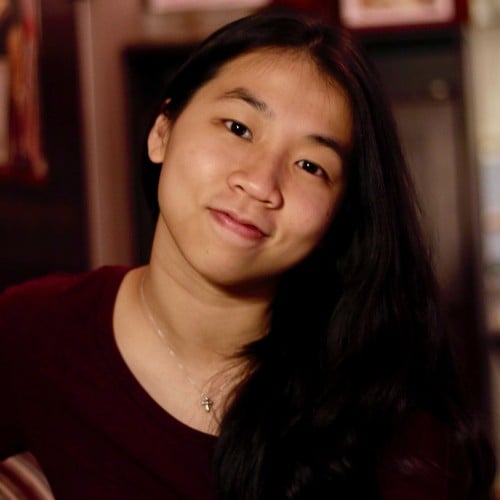 Yanni joined the Post in 2021. She has a bachelor's degree in communication and majored in international journalism. Previously, she worked at Reuters covering Hong Kong political news including the enactment of the national security law.
Sign up for YP Weekly
Get updates sent directly to your inbox