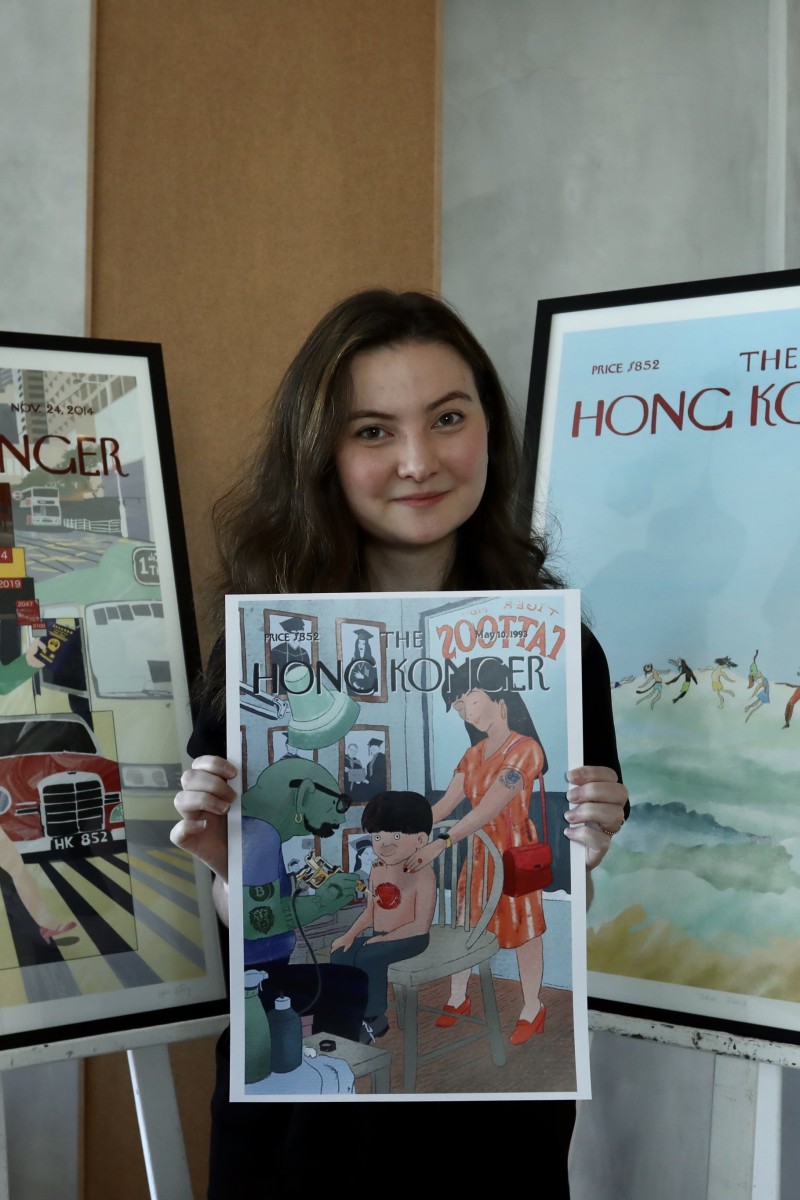 'The Hong Konger' artist on how a Christmas gift changed her life after feeling she lost her career to chronic illness
Sophia Hotung, who has seven different chronic illnesses, explains how she quit her job in 2018 after becoming too sick to work

The illustrator shares how a present from her mother – an iPad – inspired her to create Hong Kong versions of The New Yorker's magazine covers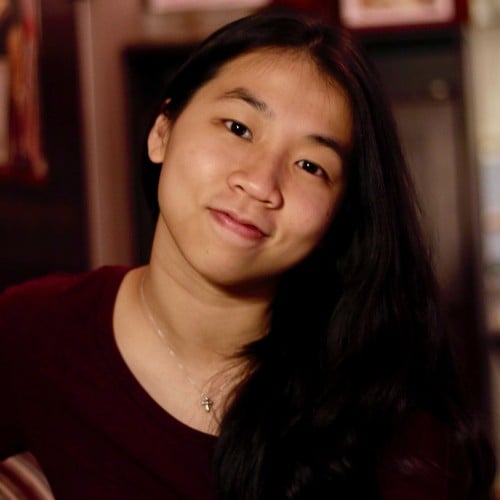 Yanni joined the Post in 2021. She has a bachelor's degree in communication and majored in international journalism. Previously, she worked at Reuters covering Hong Kong political news including the enactment of the national security law.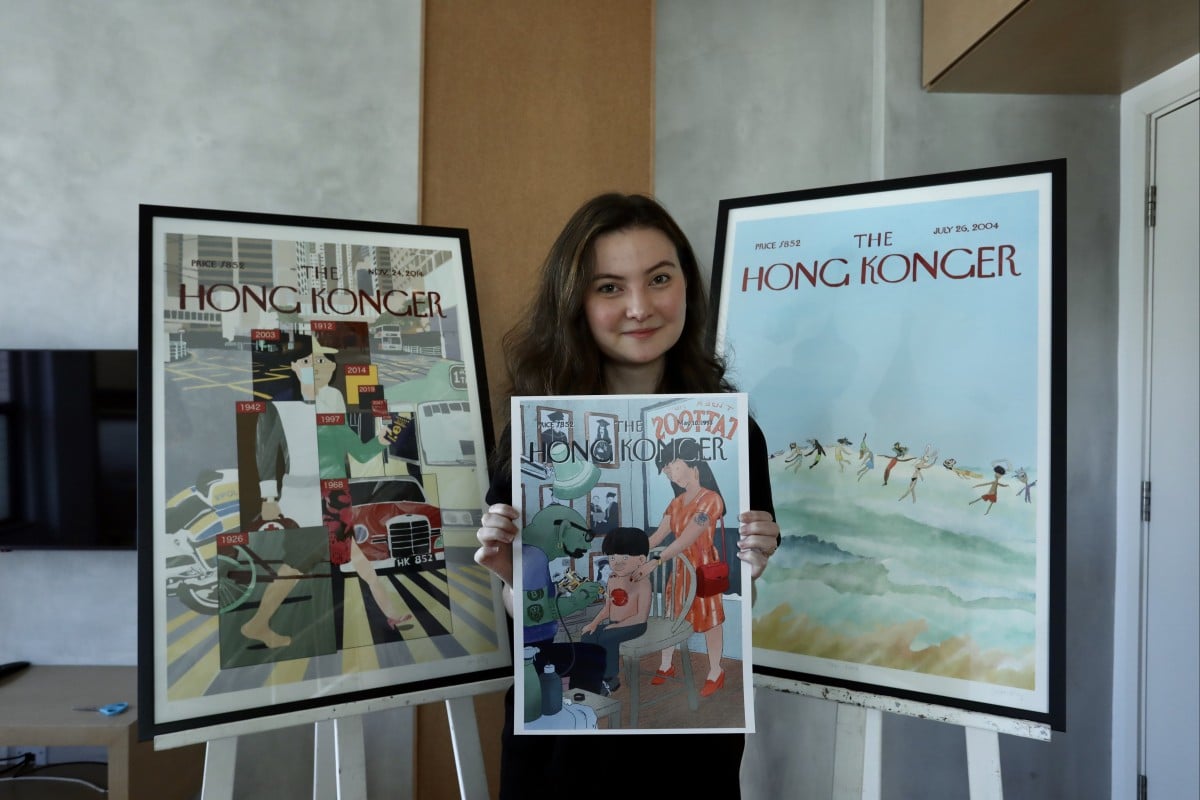 Sophia Hotung started her illustrations, called The Hong Konger, after she used her iPad to retrain her hands following a bad bout with her autoimmune diseases. Photo: Jonathan Wong
With multiple autoimmune diseases that constantly prompt her immune system to attack her own body, Sophia Hotung at times has to take 41 pills in one day.
In 2018, the Hongkonger had been working at a top firm in Scotland, when she became too sick to continue and returned to her hometown in 2019, where she was bedridden for months.
"I was like, oh my God, my whole personality is gone. What do I have to base my existence on?" the 27-year-old recalled feeling at the time. "I never properly acknowledged how sick I was."
While she was struggling to recover and maintain her health last year, her mother gave her a Christmas gift that changed her life – an iPad. What started as a way for Hotung to retrain her muscles – tracing the outlines of images on the device – eventually became her passion.
Hong Kong artist on putting a lighter touch to city's heavy news
Three months after she received the gift, she was inspired to make Hong Kong versions of the covers of The New Yorker, a weekly US magazine known for its outstanding front-page illustrations. She called her work The Hong Konger.
For example, in 1973, The New Yorker published a front-page illustration of a cat thinking about fish despite being presented with a table full of delicious food.
Hotung took the concept and drew a Eurasian girl looking at a table of Chinese food but thinking about a McDonald's happy meal.
She was that girl.
Hong Kong illustrator Sophia Hotung drew Bao Bei's Feast (left) to put her own spin on a 1973 cover of The New Yorker. Photo: Sophia Hotung
For the artist, who is mixed, the drawing symbolises the pressure she often feels to prove she is Asian.
This is especially difficult when her Coeliac disease prevents her from eating most Chinese food, as she cannot process the gluten that is in everything from soy sauce to wonton noodles.
"Some people just assume that I don't know anything about Hong Kong, and it kind of annoys me a little bit because I'm from Hong Kong," she said.
Hong Kong students celebrate Asian pride with charity fashion show
The artist is a descendant of the late Robert Hotung, an influential colonial-era tycoon. Born and raised in Hong Kong, she was sent to attend a British boarding school when she was 12. Hotung did not enjoy the experience at the time and was always homesick.
In 2010, when she turned 16 – the legal age to consume alcohol in Britain – the teen had her first taste of wine at her birthday dinner. Never had she imagined this would mark the start of a long fight against a series of illnesses.
"It turned out that the alcohol was really bad for my liver, and [my] liver was the problem," said Hotung.
She was diagnosed with a chronic illness called autoimmune hepatitis – an incurable disease that causes her immune system to attack her liver.
Students with disabilities doubly impacted by half-day class
At first, she thought she would be fine after taking medicine for some time. But then, her condition made a turn for the worse. She was constantly in and out of hospitals taking tests and could not go to school.
She returned to Hong Kong and was eventually able to complete secondary school at Harrow International School before leaving to start university in New York City. After graduating in 2018 from Barnard College – a private liberal arts school – with a degree in English, she went to Scotland to work at the firm, KPMG. Three months after starting her job, she became too sick to work.
Eventually, she came back to her hometown.
At the time, the young woman recalled feeling that her diseases had stripped her of a career.
Now, 11 years after she discovered her first autoimmune disease, she has seven. The only way to stop her immune system from destroying her body is to suppress it entirely.
But that also means a sickness as small as food poisoning could cost her a surgery or even her life. Since the start of the pandemic last year, she has avoided going out for fear of being infected with Covid-19. Her condition is so unstable that she has three doctors to monitor her.
But after receiving her iPad, Hotung has found her passion. Although she never studied in an arts school, her mother had taken her to arts classes since she was two.
Why art therapy could help with your mental health
She posted the first The Hong Konger illustration on her Instagram in March. While she did it just for fun, some people loved it so much that they asked if it was for sale.
Her illustrations include Hong Kong elements – mahjong tiles and cha chaan teng restaurants – as well as, of course, details about her life.
"The thing that people liked about my art would never be the quality or the technical brilliance of it. It would be the storytelling," she said. "There's so much of me ... and my stories in them."
In one of her works, a man is walking out of a made-up railway station at Lion Rock Hill, but the remaining steps to exit are a set of stairs with no lift in sight.
She wanted to show how inconvenient the city is for disabled people with mobility issues. Even if they were to arrive at the top of Lion Rock Hill through an imaginary MTR station, they would not be able to see how striking the view was.
Earlier this month, Hotung published a book called The Hong Konger Anthology, a collection of her prints, poems and musings on each illustration. She described it as a "celebration of diversity and community".
Of the first 500 copies printed, more than 400 have already been sold, and she has ordered 1,000 more to be ready for Christmas.
"I didn't think this would happen, so it makes me feel very, very touched," said the proud author. "I feel really lucky that I'm from here and can call this place home."
Autoimmune 自身免疫的: Relating to disease caused by antibodies or lymphocytes produced against substances naturally present in the body

Trace 描摹: Copy (a drawing, map, or design) by drawing over its lines on a superimposed piece of transparent paper

Eurasian 歐亞混血的: Of mixed European (or European American) and Asian parentage

Gluten 麩質: A mixture of two proteins present in cereal grains, especially wheat, which is responsible for the elastic texture of dough

Chronic 長期的: (of an illness) persisting for a long time or constantly recurring

Incurable 無法治癒的: (of a sick person or a disease) not able to be cured

Strip (sb) of 剝奪(某人)的: Deprive someone of (rank, power, or property)

Suppress 抑制: Prevent or inhibit (a process or reaction)
Sign up for the YP Teachers Newsletter
Get updates for teachers sent directly to your inbox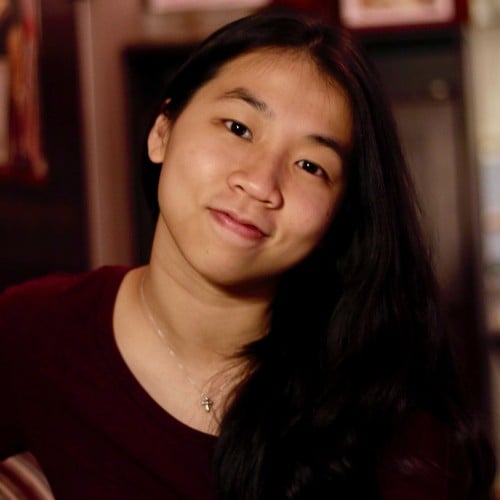 Yanni joined the Post in 2021. She has a bachelor's degree in communication and majored in international journalism. Previously, she worked at Reuters covering Hong Kong political news including the enactment of the national security law.
Sign up for YP Weekly
Get updates sent directly to your inbox