Marine pollution is a serious problem in the city, and one that can be difficult to see

A harbour observation tour held by the HSBC Clean Waterways Programme allowed students to see the issue first-hand and learn what they could do to help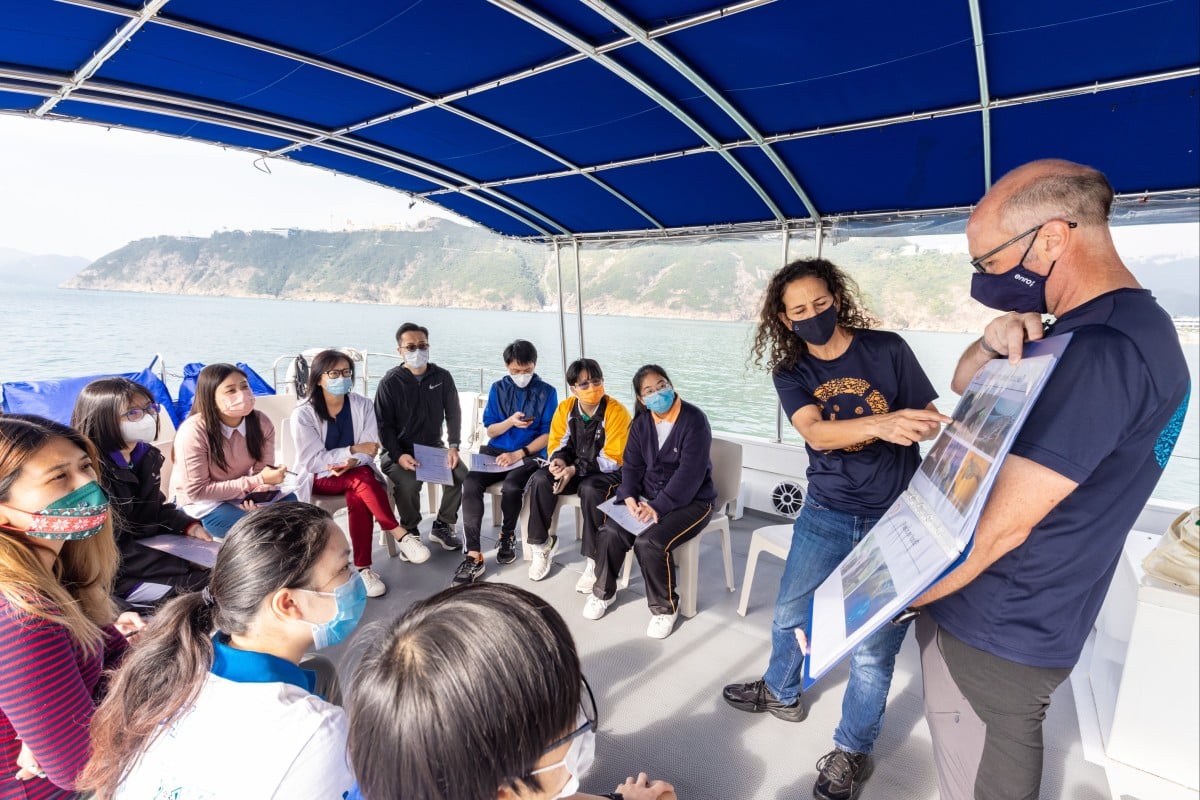 Dana Winograd, Director-Operations at Plastic Free Seas, teaches students about plastic pollution and the devastating effect it has on marine life. Photo: Handout
According to environmental group, The Green Earth, the equivalent of 5.28 million 430 ml plastic bottles is disposed of each day in Hong Kong. After Tropical Storm Lionrock and Tropical Storm Kompasu in October 2021 dumped piles of rubbish on the city's beaches and coastline Hong Kong's marine pollution problem was exposed for all to see.
In December 2021, a group of secondary students was invited on a harbour observation tour to learn more about marine pollution in Hong Kong by the HSBC Clean Waterways Programme, a partnership between HSBC and the Clean Waterways Initiative, a non-profit organization which has designed four zero-emission, solar-powered boats that collect and sort floating plastic.
Form 4 students Justin Chiu Yat-tin and Natalie Wong Hang-yiu from PLK Lo Kit Sing (1983) College wrote about the experience and what students and schools can do to help.
What is marine pollution and what can we do about it?
By Justin Chiu Yat-tin (Form 4, PLK Lo Kit Sing (1983) College)
During the tour, we expected to see lots of rubbish, but rubbish usually flows away from the shore at this time of the year. According to Dana Winograd, Director – Operations, Plastic Free Seas who led the tour, sources of marine pollution in Hong Kong include chemicals, sewage and plastic rubbish which we can't always see.
Back at school, I asked students about what they knew about marine pollution. In general, the students thought that marine pollution in Hong Kong is not a serious problem as they can't see it. It is much more serious than they realise as rubbish sinks and is not always visible. Just look at how much rubbish is washed up along the coast after a typhoon! And there is more below the surface.
Justin Chiu Yat-tin and Natalie Wong Hang-yiu learn how to use a digital microscope to look for microorganisms in seawater samples. Photo: Handout
Whatever is in the sea affects the seas animals and humans. The animals eat plastic which causes health problems or even death and affects the food chain.
What can schools do? Schools can help by educating students and raising awareness of the pollution issues through talks and workshops, encouraging students to learn more, organising activities for students to experience the pollution problem first-hand, and holding recycling competitions to encourage students to recycle and reduce.
Stop destroying our oceans!
By Natalie Wong Hang-yiu, (Form 4 PLK Lo Kit Sing (1983) College)
The water did not look very polluted in the small area we observed but that there was much hidden under the surface. We conducted some experiments examining the water, testing the pH, salinity and turbidity of the sea water and more. These activities showed that there is much below the water surface including rubbish that may be deep below.
I went to observe more of the waterways in Hong Kong and it was an eye-opening experience. In Ping Chau, I saw that the water was murky, and I could see lots of rubbish along the coast. The sight of all the pollution was difficult to comprehend.
Justin and Natalie collect water samples for the on board experiments. Photo: Handout
I spoke with my teacher, Miss Au Mei Shan about activities at our school and she said that there were many activities currently being organised. There is a recycling programme, a talk on plastic waste pollution, an exhibition about Chinese White Dolphins (February 2022), a green festival (red packet recycling programme/promotion to reduce the use of disposable tableware), an inter-class energy conservation competition, participation in various environmental competitions, such as the Low Carbon Q&A Competition and Hong Kong Electric Green School Competition. According to Miss Au, the school plans to continue with the ongoing activities, and to encourage the students to use refillable water bottles as well.
At my school, we will continue to take steps to protect the environment, what about yours?
Sign up for the YP Teachers Newsletter
Get updates for teachers sent directly to your inbox
Sign up for YP Weekly
Get updates sent directly to your inbox