With Hong Kong's landfills running out of space, it's important to understand more about the waste we generate

Plastic Free Seas is a local charity that aims to change people's view of society and single-use plastics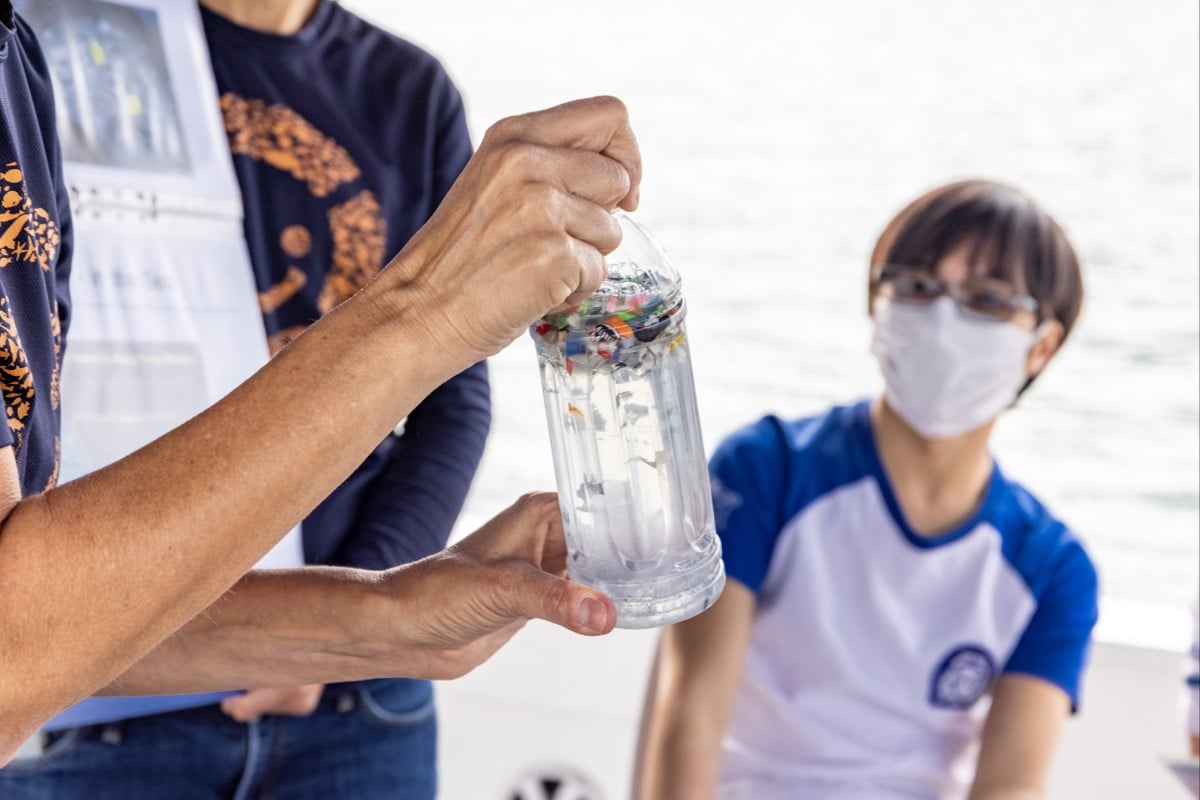 Tour participants examine plastic pellets collected after some 150 tonnes spilled into Hong Kong waters during a typhoon in 2012. Photo: Handout
Awareness is key when it comes to dealing with the plastic pollution problem. With Hong Kong's landfills running out of space, understanding of the waste we are generating is vital to working on solutions.
Two Form 5 students at Po Leung Kuk Lee Shing Pik College, share an interview with Dana Winograd of Plastic Free Seas (Travis Li Cheuk-fung), and a guide to recycling with the Green 6 shops (Kiki Chung Yan-tung). In December, the students took part in an HSBC Clean Waterways observation tour to learn about marine pollution in Hong Kong waters led by Winograd.
Cleaning Hong Kong's waterways
A conversation with Dana Winograd, Director – Operations, Plastic Free Seas
Travis Li Cheuk-fung (Form 5, PLK Lee Shing Pik College)
Travis: Hello, Dana. Can you tell me a bit about Plastic Free Seas (PFS)?
Dana: PFS is an eight-year-old registered charity established in Hong Kong. We not only focus on education in schools, but also work with community groups, companies and liaise with the government. Our mission is to change people's view of society and single-use plastics through education and action campaigns.
T: According to the United Nations, at least 800 species worldwide are affected by marine debris, with as much as 80 percent of that being plastic. What kinds of plastic litter are found in Hong Kong?
Dana Winograd holds up a plastic water bottle that was manufactured decades ago and found buried in the sand during a beach clean-up activity. Photo: Handout
D: Styrofoam, plastic packaging, bottle caps, plastic bags, plastic fragments, plastic bottle, plastic cutlery.
T: Which animals are commonly harmed by plastic pollution?
D: In Hong Kong, I am aware of sea turtles, crabs, Chinese white dolphins and fish (after the plastic pellet spill in 2012 fish were found to have bellies full of pellets) being harmed. In South Lantau, "Billy the Cow" was found to have died with a belly full of plastic. But many creatures are harmed, including birds.
T: How are they affected by plastic waste?
D: Some get stuck in fishing net rolls and ring-shaped plastic may trap them and affect mobility. They can't distinguish plastic from food, so micro-plastic gets into their bodies when they eat or drink. Some micro-plastic can't pass out through excretion which accumulates in their bodies. Chemicals can leach from plastic into the fish.
Two teen climate change activists say there is still hope
In Sam Pak Wan, we found many crabs stuck in a net that we pulled in from the shallow water. We spent almost 2 hours cutting out the crabs. Most lived but some died. It was sad and upsetting.
T: Humans seem to cause the most harm to marine life. What can we do to change things?
D: No more single-use plastic like cutlery, bottles, take away containers and bags. The most important thing is to USE LESS!!
What you can do to save the Earth
Kiki Chung Yan-tung (Form 5, PLK Lee Shing Pik College)
Hong Kong's landfills are running out of space and it's time for us to take action to reduce our waste. A good start is to join the waste separation programme at one of the [email protected] locations (Green 6 shops) throughout the city. To prevent more waste heading to landfills, here is a guide for common recyclable items so you can be prepared before you visit.
Travis Li, Kiki Chung and their teacher, Lam Kwok-wai, examine examples of plastic waste found in Hong Kong's waterways. Photo: Handout
Glass bottles
Empty and rinse. Handle with care
Beverage cartons
Cut, rinse, remove plastic parts
Plastic bottles
Empty and rinse
Metals (drink cans, food tins, etc)
Empty and rinse
Hong Kong's young climate activists taking on Starbucks
Small electrical appliances
Tie up cables
Rechargeable batteries
Cover terminal battery with masking tape to prevent contact between terminals or other metal surfaces during storage and transport
Fluorescent lamps
Wrap in paper and handle with care
Paper
Remove non-paper materials, e.g. plastic coated pages, plastic tape, staples, paper clips
Hong Kong students invent smart rubbish bin
We can all help to protect the environment by taking our recycling to Green 6 shops where people are encouraged to "Dive in, live green!" and "Don't wait, take action!" To learn more, visit the Environmental Protection Department website at wastereduction.gov.hk.
Sign up for the YP Teachers Newsletter
Get updates for teachers sent directly to your inbox
Sign up for YP Weekly
Get updates sent directly to your inbox