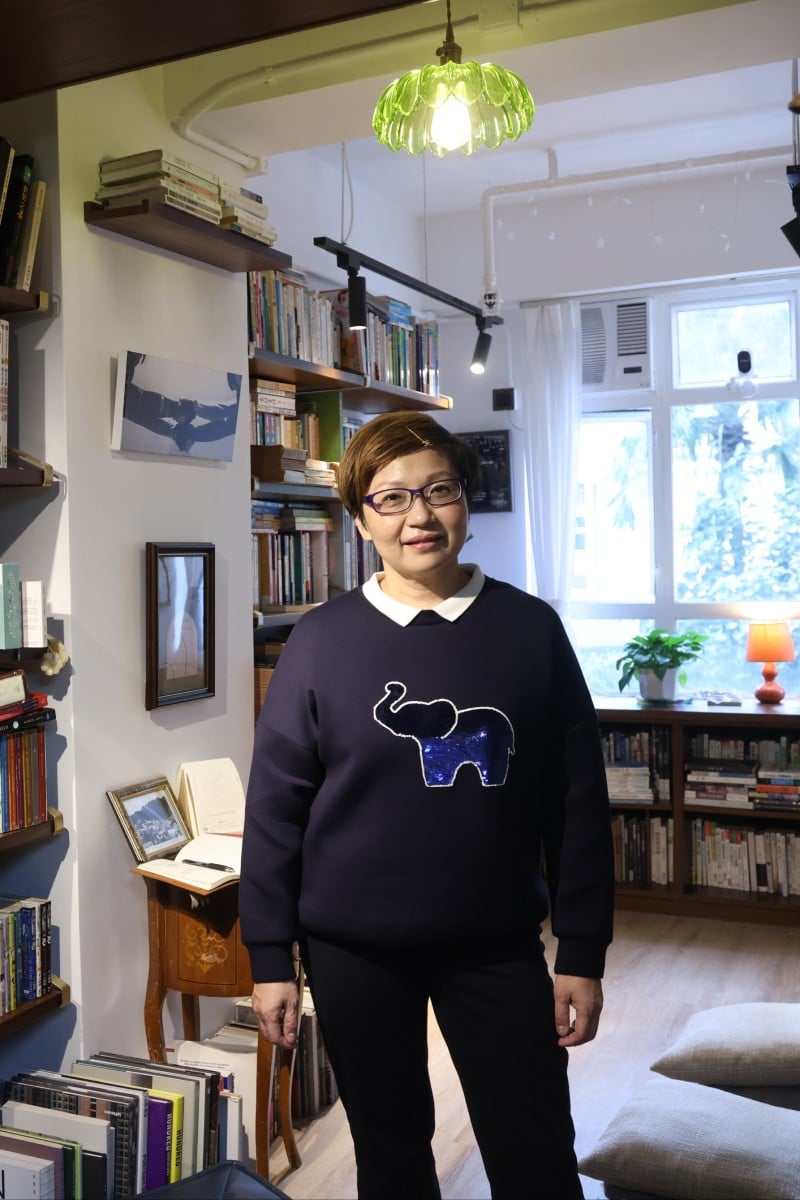 Why a Hong Kong social worker has a library, Traces of Books, that sells nothing – it's just a place to rest and read
Inspired by her late father's love for reading, Map Tang Wing-lu, 50, wants the bookshop to be a place for visitors to discover new stories and explore themselves

The bookstore is in Fu Lee Loy Shopping Centre, a previously decrepit mall in Fortress Hill that is now being filled with unique shops like Tang's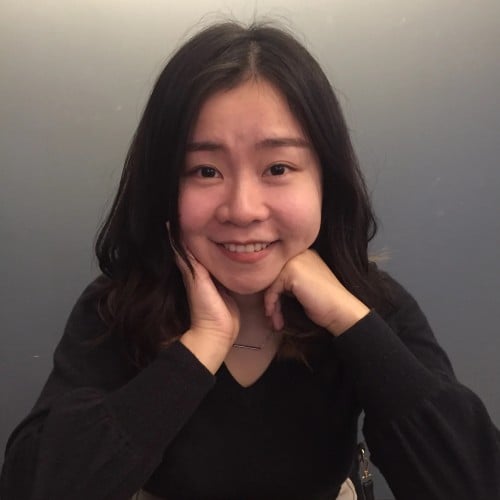 Kelly is a journalist from Hong Kong. She joined the Post in 2018, where she writes about Hong Kong's arts and culture, social welfare and the environment. She has a master's degree in Journalism from the University of Hong Kong.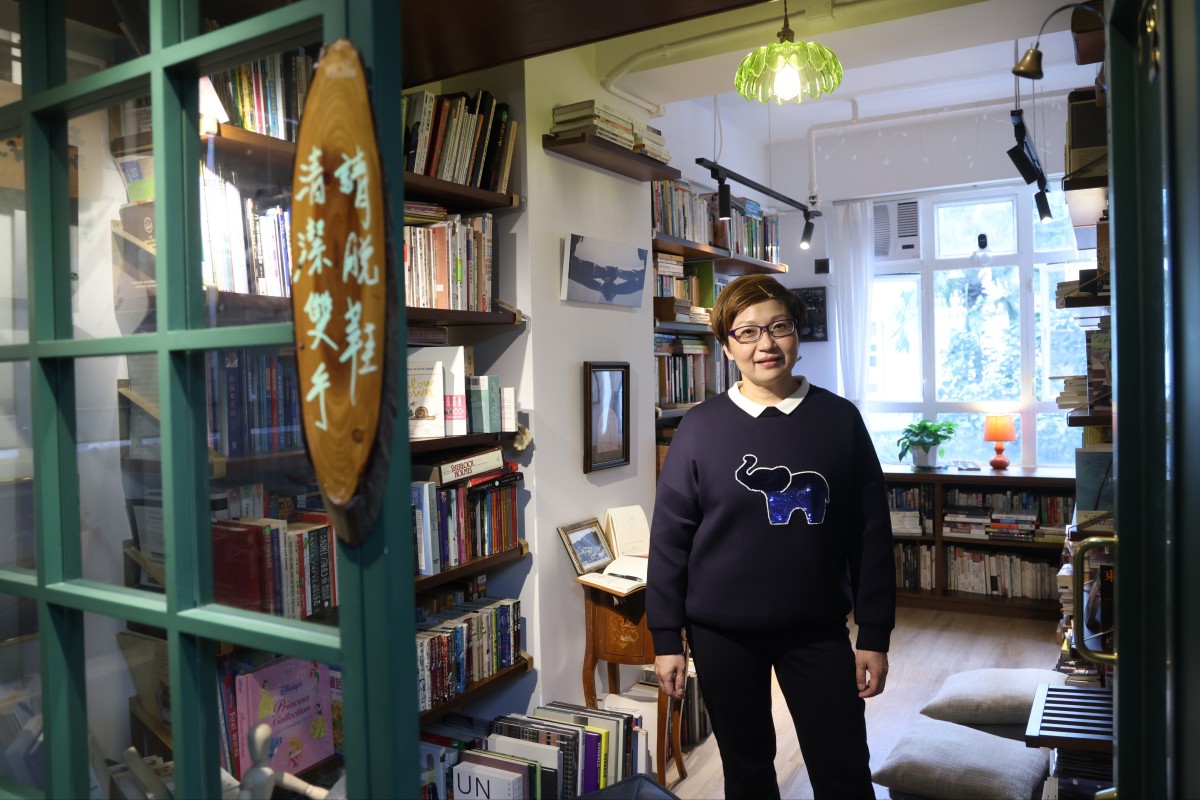 Map Tang's shop, Traces of Books, is nestled in an up-and-coming mall in Fortress Hill. Photo: May Tse
Nestled on the first floor of an ageing shopping centre in Fortress Hill is what may seem at first glance like an abandoned bookstore. Rarely are there staff guarding the hundreds of titles on the shop's black walnut shelves.
But past its emerald green doors is a place unlike any other in Hong Kong – a reading space, Traces of Books, that does not sell any of its books or make any profit.
Opened last August, the 192 sq ft library in Fu Lee Loy Shopping Centre was started by social worker Map Tang Wing-lu as a hideaway for people to pause and comb through their thoughts as they read.
"I have nothing to lose – perhaps just some books or decorations," the 50-year-old shop owner said. "When money is not involved, the intention is simple and pure."
How a study room gives Hong Kong's troubled youth a place of refuge
Occupied with her full-time job, Tang has operated the space – open from 2pm to 8pm on Monday to Sunday – without volunteers since December.
"I want to create a space where you don't feel the need to buy anything or do anything," said Tang. "But it is for those who simply want to rest, read and recharge."
Near the entrance is a section dedicated to children, where primary school students flock to pore through comic books most public libraries do not offer. From Doraemon to Death Note and old classics like Old Master Q, the shop has a bountiful supply for the many young people and neighbours, or kai fong, who visit.
"This place has many possibilities – people have told me it allows them to have their own journey of self-discovery," Tang said, adding that she had seen people cry while reading at her library.
Patrons of all ages love coming to Traces of Books in Fortress Hill. Photo: Traces of Books
Owning a library in the space-starved city was a pipe dream for Tang until she had the chance to open one last year. While many, including her own family, have been leaving Hong Kong, Tang wanted to do something to help the city's remaining youth who have been affected by 2019's social unrest and the current pandemic.
"There is something I think I can do to serve those who remain – especially the city's teenagers because we as adults owe them a lot," she said, adding that she believed books could bring people together.
"Though I do not have much power, I want to do as much as I can."
Hip Sham Shui Po bookstore is addressing physical, mental health
Ever since she was a child, Tang has held this belief in the importance of reading, inspired by her late father.
"He is the reason that I read so much as a child," she explained.
An avid reader, he would write letters to Tang to share his feedback on books and stories he read, before asking her to do the same in return.
In fact, Tang revealed that her shop was dedicated to her father.
For 10 years, he was a schoolteacher in a remote county in mainland China. Tang recalled visiting his school when she was about 26.
Her attention was immediately drawn to the library, named after her father, who had donated money to help build it. He had also constructed a playground with his bare hands.
This trip left an immense impact on the social worker, as did her father's wise words: "Knowledge brings you strength, and strength comes from books."
Because of the city's notoriously high rent, Tang never thought she would have her own shop, though she still sought out other ways to contribute to the community.
Why an independent bookstore continues even if it doesn't make profit
About five years ago, she co-founded a project, Traces of Hong Kong, to document the city's past and present by capturing the collective memories of Hongkongers.
Then, early last year, a call from a friend opened a door to the possibility of a bookshop. The friend had just launched a store at the Fortress Hill shopping centre and informed Tang that the previously decrepit mall was undergoing renewal.
"Everything used to look broken," she recalled. "The floor was just made of concrete."
But in recent years, the mall has been experiencing a revival with many of the previously empty storefronts increasingly occupied by a variety of artsy and unique shops.
Hong Kong teen shares how she opened her own used book store
This seemed like the perfect window of opportunity for Tang, who knew her dream of creating a reading space would also benefit her city.
Last April, she signed a lease, spent about HK$100,000 renovating and furnishing the space, and started paying the monthly rent of HK$5,000.
In May, she went on social media to ask for book donations. In three months, she had received more than 40 red-white-and-blue packing bags filled with books from friends, fellow social workers and Fortress Hill's kai fong.
After Traces of Books opened officially in August, patrons told Tang that the library offered beloved titles they had enjoyed as children, and kai fong expressed how much they adored the space.
Visitors write comments in the guestbook to show their appreciation for Traces of Books. Photo: Traces of Books
On a wooden stool in the bookstore sits a guestbook, where visitors – or "Tracers" as Tang prefers to call them – can leave messages. She explained how she had wanted the guestbook to be an opportunity for people to reflect on and share their life experiences.
"I get emotional every time I come back to the library and read the notes in the guestbook," she said.
The founder hopes to switch to a part-time job and spend more time engaging with her visitors.
"I want to place a postbox outside the store for people to write letters, and I can reply to them," she said.
Window and Alley in Causeway Bay is a small space with big dreams
Though most of Tang's family have left Hong Kong, Traces of Books signifies her devotion to the city.
"I still want to – no matter how much Hong Kong has changed or how many people have left – keep walking with those who stay," she said.
Tang said she hoped her shop could spread the magic of reading.
"I see a dancing spirit in words. They bring you different messages throughout your life," she said. "You don't just choose books to read here. I think books are also calling you."
Address: Shop 29, 1/F, Fu Lee Loy Shopping Centre, Fortress Hill, Hong Kong
Get the word out
Nestled 坐落於
(of a place) be situated
Pore through 埋頭
Be absorbed in reading or studying (something).
Bountiful 慷慨的
Large in quantity; abundant.
space-starved 空間匱乏
Suffering from the lack of space.
avid 熱衷的
Having or showing a keen interest in or enthusiasm for something.
lease 租約
A contract by which one party conveys land, property, services, etc. to another for a specified time, usually in return for a periodic payment.
Signifies 意味著
Be a symbol of; have as meaning.
Sign up for the YP Teachers Newsletter
Get updates for teachers sent directly to your inbox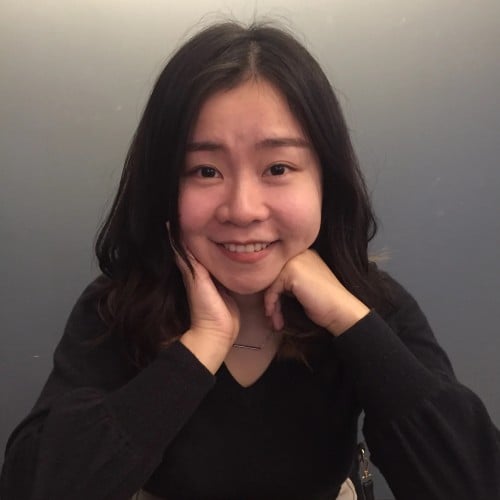 Kelly is a journalist from Hong Kong. She joined the Post in 2018, where she writes about Hong Kong's arts and culture, social welfare and the environment. She has a master's degree in Journalism from the University of Hong Kong.
Sign up for YP Weekly
Get updates sent directly to your inbox