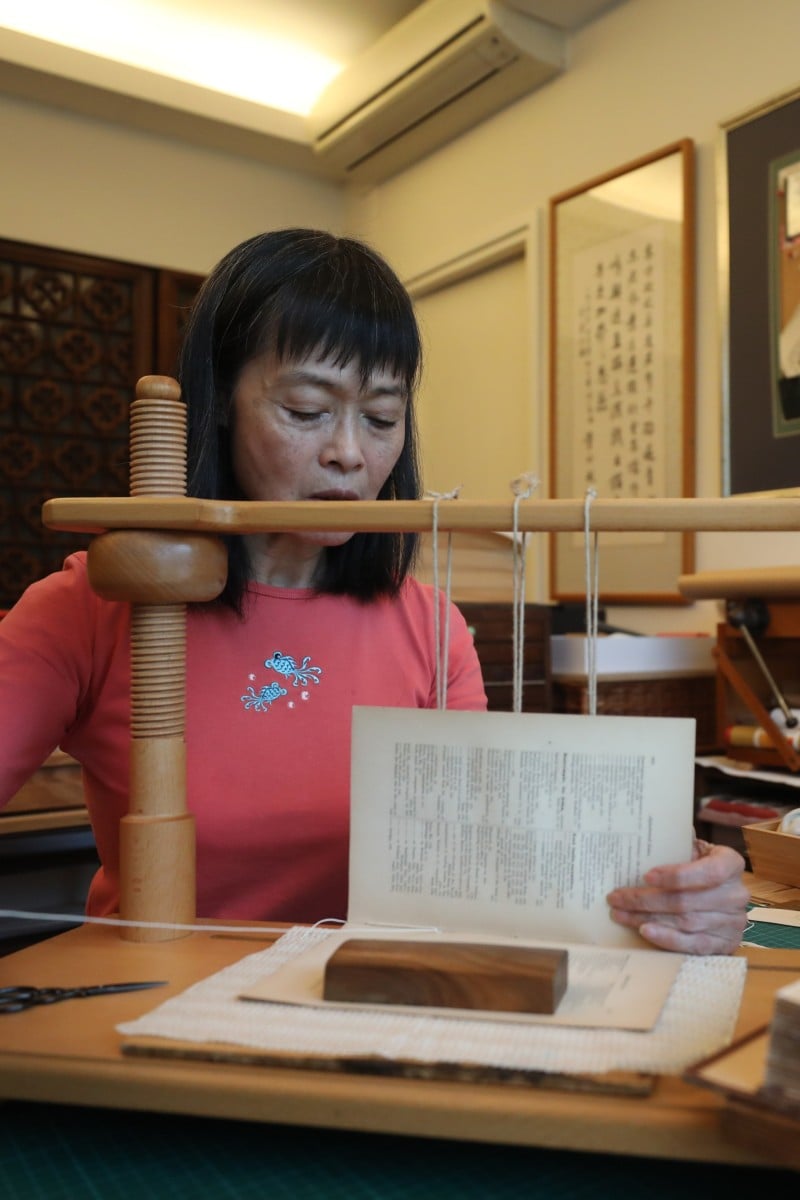 From vintage books to Song dynasty records, how a Hong Kong craftsman restores old works to give them a fresh start
For the past 13 years, Jennifer Li Sui-wan has learned the art of repairing run-down books, a process that takes time and focus but also yields beautiful results

Every week, Talking Points gives you a worksheet to practise your reading comprehension with questions and exercises about the story we've written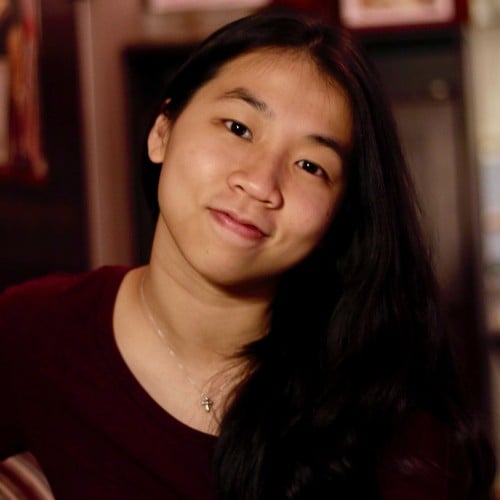 Yanni joined the Post in 2021. She has a bachelor's degree in communication and majored in international journalism. Previously, she worked at Reuters covering Hong Kong political news including the enactment of the national security law.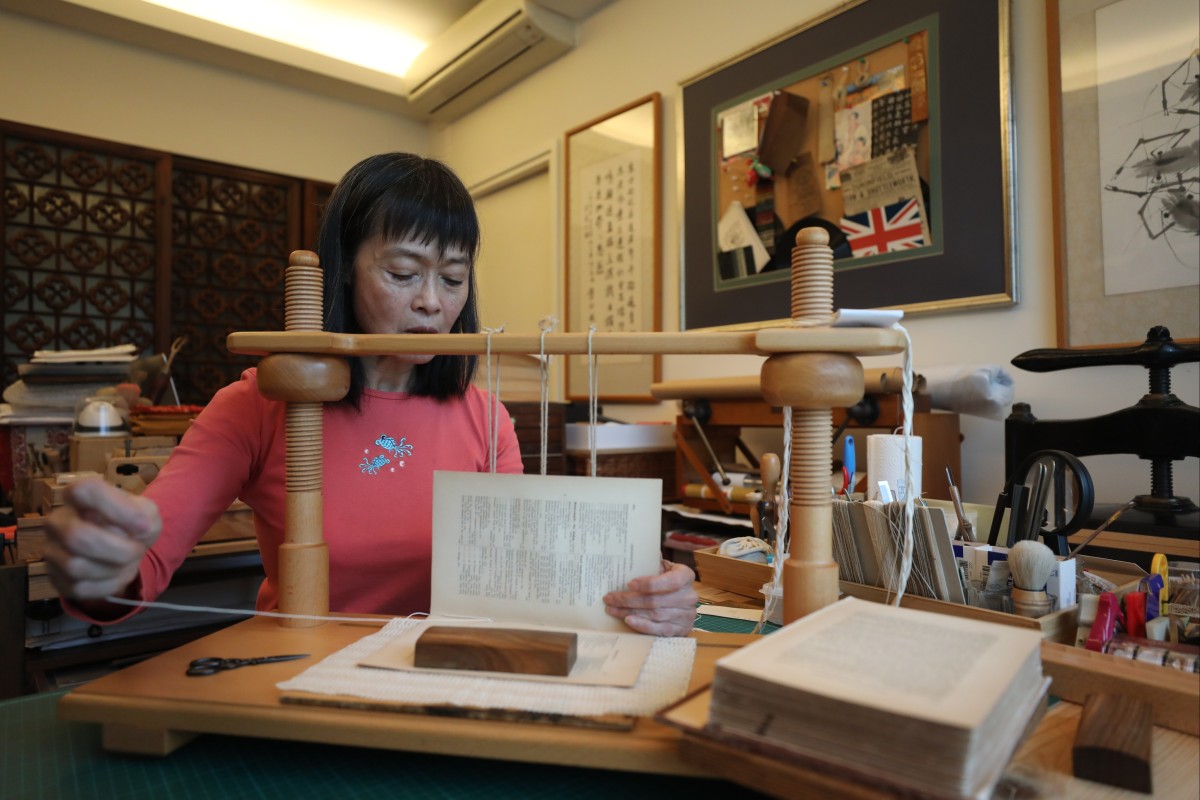 From her home in Discovery Bay, Jennifer Li binds a book that she has restored for a customer. Photo: Xiaomei Chen
During the day, Jennifer Li Sui-wan does not take phone calls as she needs all her focus for her work – fixing books. Some have been bitten by mice and insects, while others have decayed to the point of pages falling apart.
But with her steady hands, she performs miracles – as long as nothing disrupts her concentration.
"For example, when I'm putting on the adhesive, it can dry very quickly. If I stop to answer a call, I cannot continue my work," said the 68-year-old book repairer.
Li has been restoring books for the past 13 years, starting in her now-closed bookstore called The Book Attic. These days, her home in Discovery Bay is where she repairs everything from teenagers' mouldy books to ancient manuscripts and even Qing dynasty paintings.
This art is on fire: the craftsman behind chicken wing paper offerings
From a young age, Li has always been an avid reader. During her childhood, she enjoyed reading about Chinese legends like the Monkey King, as well as Western fiction such as Grimms' Fairy Tales and Robinson Crusoe.
When she started work, her role as a consultant gave her the chance to leave Hong Kong's hustle and bustle by travelling to places such as New Zealand, Britain and Taiwan, where she found herself reading more often.
"The pressure to work in those places ... is not as high as it is in Hong Kong. They have a very regular working schedule, which gave me more free time to read," she said.
While overseas, she visited flea markets, garage sales and bookstores, where she eyed many vintage titles.
Jennifer Li unrolls an ancient painting she will work to restore. Photo: Xiaomei Chen
"A vintage book, if preserved well, can be very expensive. I don't have that money," Li explained.
She settled for cheaper, run-down copies that still had more than 100 years of history and amassed a collection of original English copies of her favourite fairy tales.
"They're in poor condition, but I still love them," Li said.
After returning to Hong Kong, she trusted two of her beloved titles to people who claimed to know how to restore old books. But after her treasures were returned to her, she had to take apart the unprofessional handiwork.
"They used some quick-fix techniques that a normal library usually does. I don't see how that work was worth what I paid," she said, adding that she had spent HK$1,700 (USD$218) for one of the repairs. "I've been to vintage bookstores ... [with] well-preserved books. You have a standard in mind after seeing those."
Hong Kong teen shares how she opened her own used book store
In 2008, she quit her consulting job to start her shop, The Book Attic, to share the magic of vintage books. She disinfected old titles and did simple repairs on her own.
"People felt as if they were buying new books instead of preloved ones," said the proud bookworm.
At the store, Li did basic book repairs for customers but did not attempt anything too advanced at the time.
"I read a lot ... about how to fix books, but when it came to some crucial parts, I did not have the nerve to do it [myself]," said Li, adding that some books she dealt with were up to 200 years old.
Jennifer Li's projects include a book about the history of banks (left) and a family record that dates back to the Song dynasty. Photo: Xiaomei Chen
In 2010, she went to Britain to take an apprenticeship with a professional book conservationist. In total, she travelled there three times to delve deeper into the craft.
After closing her bookstore in 2014, Li continued doing book repairs in her home. Her living room became filled with tools such as adhesives, book presses, threads and, of course, a stack of books waiting to be repaired.
She spends her days deconstructing books, repainting covers, and soaking and cleaning the pages in water, before reassembling the cover and pages.
Hong Kong artists preserve the city's history with miniatures
In fact, Li's business is among the few book restoration services available to the public in Hong Kong.
While she charges about HK$2,000 (USD$257) to HK$60,000 (USD$7,698) per repair, it is not much considering the time it takes.
"The longest I've taken to fix a book was a year and a half ... it was very broken," Li said. "That's why I say I am doing volunteer work for book lovers."
Even after 13 years, Li is never bored of her craft. Not only does she have a deep love for literature, but she also relishes being able to help people preserve the past.
Hong Kong's young 'neon nomads' keep dying trade flickering
Many customers, Li said, came to her with items that had sentimental value and hoped her services would restore something to leave behind for their children.
Holding a yellowing, handwritten family record that originated from the Song dynasty, Li said: "After I finish washing and binding this, the owner will continue recording the next generation."
Ultimately, Li enjoys helping others.
"It is delightful to see the expression on book owners' faces when they're able to open their books again," she said.
Click here to download a printable worksheet with questions and exercises about this story. Answers are on the second page of the document.
Sign up for the YP Teachers Newsletter
Get updates for teachers sent directly to your inbox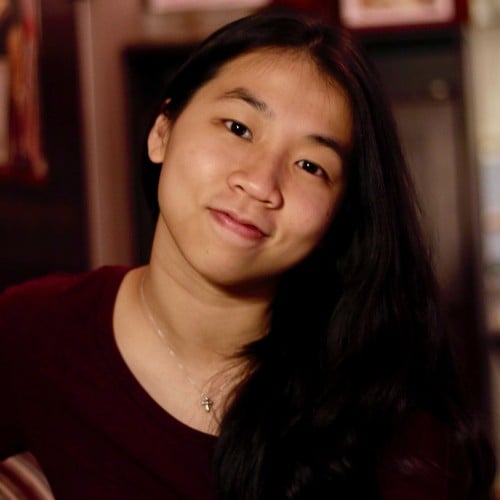 Yanni joined the Post in 2021. She has a bachelor's degree in communication and majored in international journalism. Previously, she worked at Reuters covering Hong Kong political news including the enactment of the national security law.
Sign up for YP Weekly
Get updates sent directly to your inbox