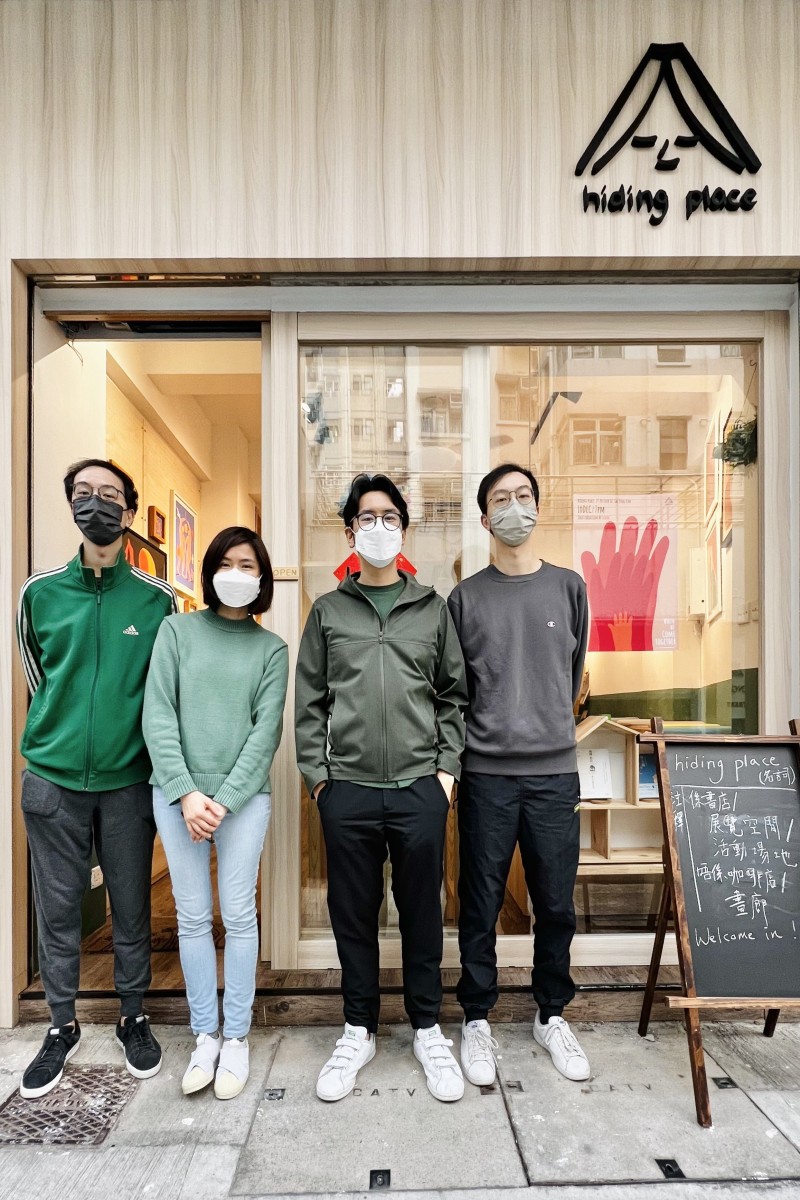 Independent bookstore Hiding Place offers pause to hectic Hong Kong life with just 10 hand-picked books at a time
The four founders of the small bookshop located in Sai Wan say they only sell titles that at least two of them have read and approved

Every week, Talking Points gives you a worksheet to practise your reading comprehension with questions and exercises about the story we've written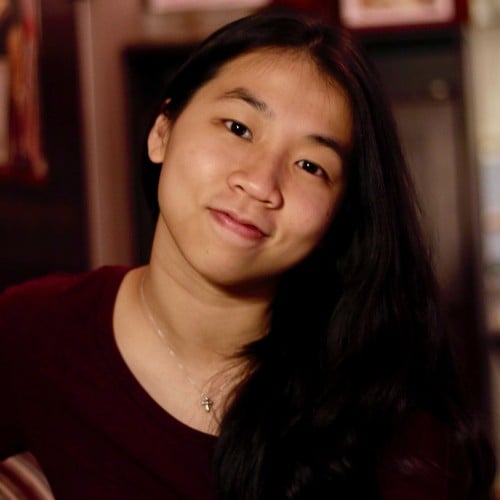 Yanni joined the Post in 2021. She has a bachelor's degree in communication and majored in international journalism. Previously, she worked at Reuters covering Hong Kong political news including the enactment of the national security law.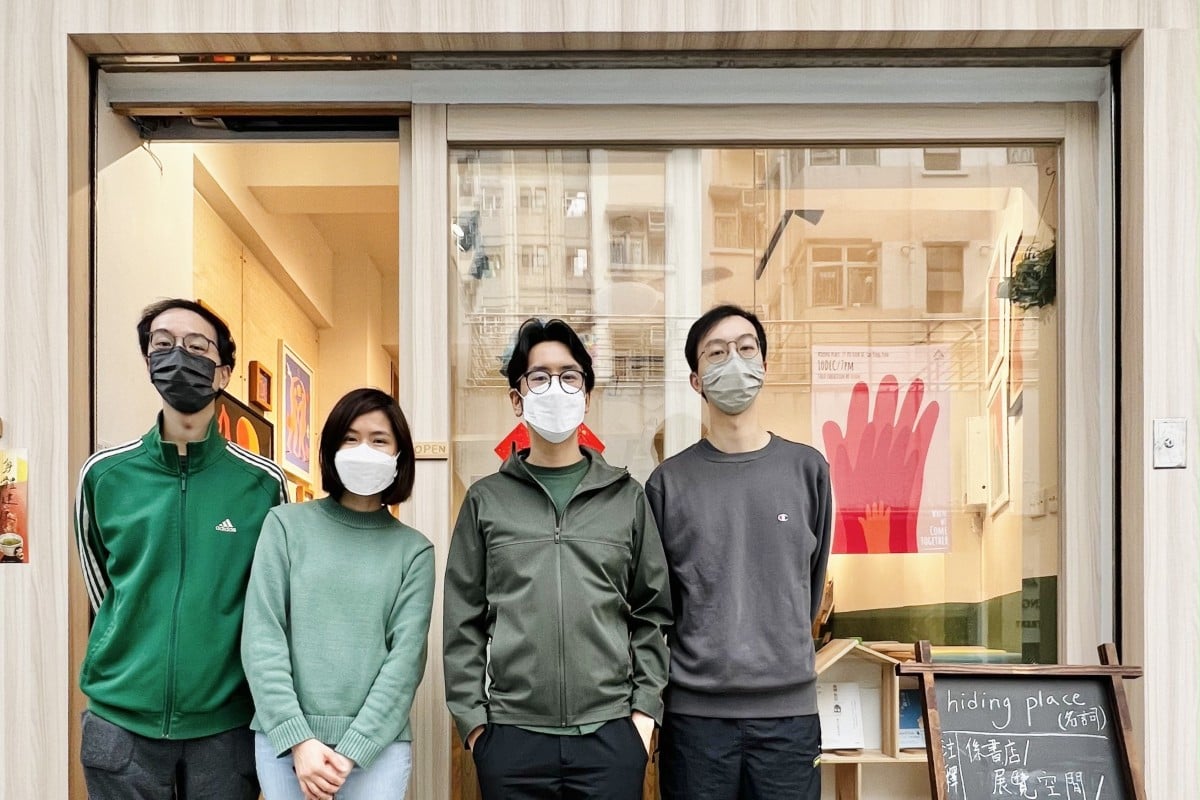 Michael (from left), Joanne, Kenneth and Gabriel* love sharing their favourite books with people who visit their shop in Sai Wan, called Hiding Place. Photo: Handout
Tucked away from the hustle and bustle of Hong Kong, is a tiny independent bookshop sitting quietly in the narrow streets of Sai Wan, hoping to offer visitors a place to pause amid their hectic lives.
But Hiding Place, opened last August, is not your typical bookstore.
Across from the space's wheat-coloured wooden platforms covered in cosy cushions, there are only 10 books for sale – a small, hand-picked selection that changes about once every month.
"There are many good books hidden in the corners of bookshelves that might stay that way forever," said Michael*, one of the bookstore's four founders. "We wanted to give each book its own time to shine."
Why this Hong Kong shop is just a place to rest and read
Michael and his co-founders, Joanne, Kenneth and Gabriel*, were classmates in university. After graduating, they still enjoyed discussing books they were reading.
Last year, the brothers, Michael and Gabriel, quit their jobs and moved to Sai Wan where Joanne and Kenneth were living – this sparked an idea to open a bookshop. They wanted to promote reading while also creating a space that would bring hope and imagination to visitors.
"We were thinking, 'How can we encourage people to read?'," recalled Gabriel. "Then, we came up with the idea of picking out books for them."
Hiding Place's founders display books they have read recently, though those are not among the 10 that are for sale. Photo: Jonathan Wong
When shopping for something to read, a dilemma many face is having to judge a story only by its cover, which can be discouraging if the book ends up not being very good. Hiding Place offers a simple solution – the shop only shares quality reads that the founders have enjoyed.
"Our house rule is that at least two of us needs to have read the book and think it's a good read before selecting it for display and sale," said Michael.
While most bookshops aim to stock as many new releases and bestsellers as possible, this one believes in quality over quantity.
"We make sure every book ... in our shop is one we enjoyed and hope our visitors can too," added Michael.
Why an independent bookstore continues even if it doesn't make profit
The bookstore is named after The Hiding Place, a 1971 memoir by a Dutch Christian, Corrie ten Boom, that was Joanne's favourite book when she and the other founders were choosing a name for their brainchild. The author wrote about her experience during World War II helping Jewish people escape persecution, for which she was eventually sent to a concentration camp.
"This author showed a lot of hope amid that environment," said Joanne, adding that this matched with the bookstore's goal of bringing hope to its customers.
Having read the book, the other three founders agreed to the name, which holds another meaning for them, too.
"We are all Christians, so [the name] means that God is our hiding place, while books are also our hiding place," Joanne explained.
But books are only part of their operations – in fact, the shop's business card reads, "Books, culture and space". In hopes of creating a community that extends beyond the titles on their shelves, the founders often host cultural events, talks, and book sharing sessions.
Before government anti-pandemic restrictions moved their activities online, Hiding Place had organised an interactive theatre show last December. Audience members were invited to share personal anecdotes, which actors used to improvise performances.
"Participants felt safe sharing their stories here and built close relationships with the actors," said Joanne.
To draw in people from all walks of life, the shop's offerings span a range of genres and forms, from novels to magazines. The founders hope their approach will convince Hongkongers to get off social media and read.
"We want to place reading back into people's daily rituals," said Gabriel.
Opening a normal bookshop already does not promise much profit, let alone a store that stocks only 10 works at a time. Yet, the founders are passionate about what they do because they know the power of a good book.
"[Reading] has the ability to help you slow down and concentrate," Gabriel explained. "It is thought-provoking, and the words can enrich your life."
* Full names have been withheld at interviewees' request.
Address: G/F, 27 Po Tuck Street, Sai Wan
Click here to download a printable worksheet with questions and exercises about this story. Answers are on the second page of the document.
Sign up for the YP Teachers Newsletter
Get updates for teachers sent directly to your inbox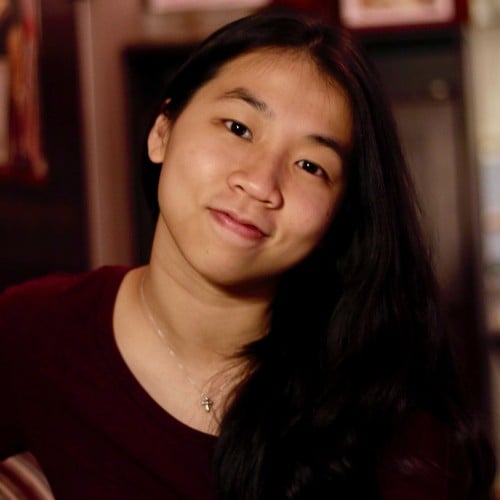 Yanni joined the Post in 2021. She has a bachelor's degree in communication and majored in international journalism. Previously, she worked at Reuters covering Hong Kong political news including the enactment of the national security law.
Sign up for YP Weekly
Get updates sent directly to your inbox