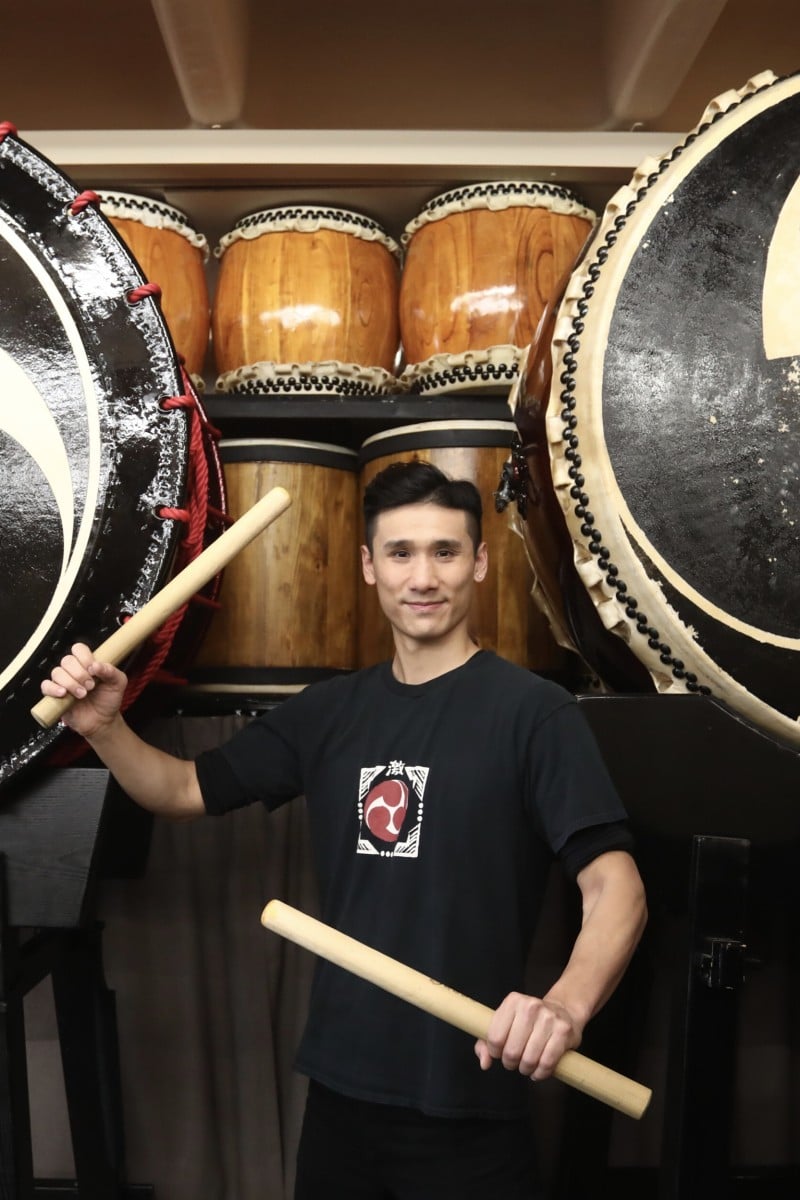 Hubert Leung, member of taiko band Gekko, explains how the group takes many of the art form's traditions and adds its own flair

As an instructor, he has seen the many benefits of drumming – for example, as a form of exercise and stress relief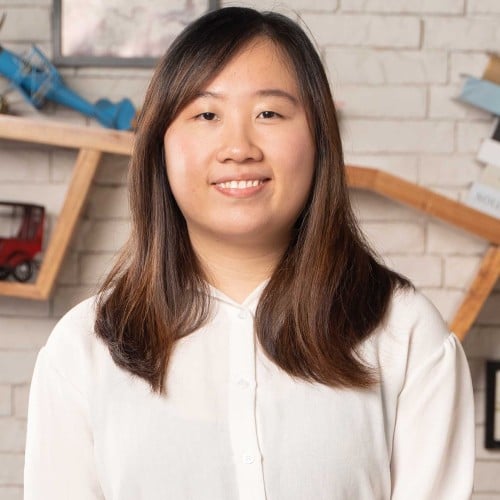 Sue joined the Post in 2021. She graduated from the University of Hong Kong with a double major in journalism and counselling.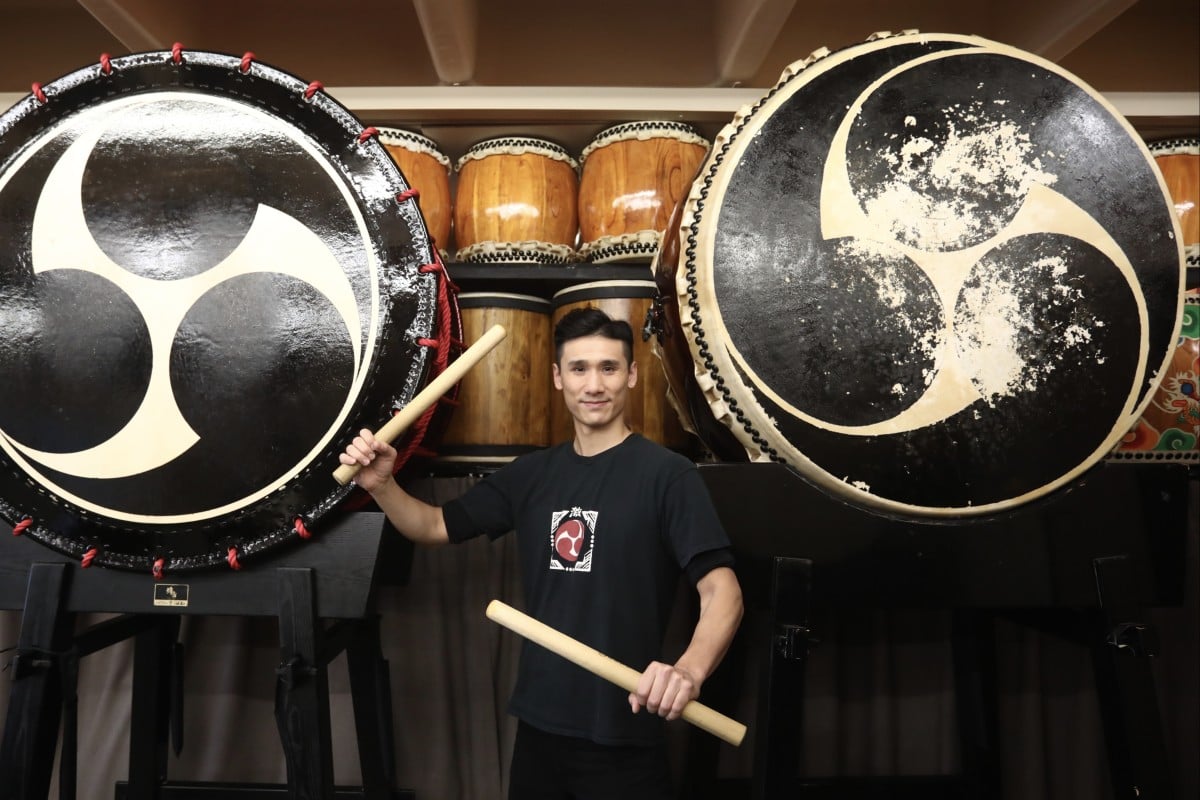 Hubert Leung is the creative director and head instructor for Gekko Taiko Centre in Hong Kong. Photo: Jonathan Wong
Wearing a black vest and flowy yellow and red trousers, Hubert Leung struck a large standing drum, as his forearms, wrapped in red, flew through the air to the rhythm of Keung To's solo performance at a Mirror concert last May.
The popular Canto-pop idol may have been the focus of the hoards of screaming fans in the audience, but the booming sound of Leung's giant barrel-shaped drum, called an Odaiko, could not be missed. The instrument is just one of the many types of drums used in the Japanese tradition of taiko.
"This is a good demonstration of how we merge the Japanese drum with Hong Kong culture," pointed out Leung, a member of local taiko group Gekko.
With a history dating back centuries in Japan, taiko drums have been used in warfare, theatre and religious rituals. The traditional music form has also been modernised as a popular drum-based rhythm game called Taiko no Tatsujin, from video game developer Namco.
Before the coronavirus pandemic, top taiko ensembles from Japan were regularly invited to perform in concerts and festivals in Hong Kong. But the city also has its own burgeoning taiko culture in which Leung – head instructor and creative director of Gekko Taiko Centre – plays a part.
"Taiko is about making a sound with your heart and delivering it to the audience," said Leung, 35.
Hong Kong comedy group on the transformative, hopeful power of laughter
With a centre in Chai Wan and another in Kwun Tong, Gekko Taiko Centre has been teaching drumming since it was founded by Leung's father in 2006, and its professional taiko performance team, Gekko, comprises 15 drummers, including Leung.
Besides accompanying Keung To, the band has also played in its own concerts, at company events and at art festivals – not to mention a taiko competition in Japan.
The first syllable of the group name means "passion" and is a homophone for a Cantonese word meaning "hit".
Ever since he was six years old, Leung has had a passion for music inspired by his father's interest in Latin American drumming. Although he did not have any formal music training when he was young, he met like-minded peers who loved jamming with him.
"At the time, we were playing the drums for fun," Leung said. "We were hitting everything that could make a sound and randomly created some rhythms ... We tried to play different drums, some traditional and some handmade."
What was meant to be a weekly gathering among friends eventually transformed into a band, Gekko.
Tyson Yoshi on how boarding school shaped his music – and his name
At the time, the percussion group was using a mix of different drums, and the band was getting noticed as they started performing in events.
"Back then, we knew what taiko was and had watched some performances online. But we were not very passionate about it since no one was teaching this Japanese drum form in Hong Kong," recalled Leung.
In 2008, Leung's friend who had learned taiko was returning to Hong Kong after having spent many years living in Japan. Not only did he share his knowledge with Gekko, but he also invited experienced Japanese taiko musicians to teach the novices.
That was when the group was inspired to specialise in taiko.
When Mando-pop met Canto-pop: Qiu Fengze on learning Cantonese for song with Edan Lui
None of the bandmates had ever taken any proper music classes before, so Leung decided to conduct his own research on taiko and even took music theory exams.
While some other drumming traditions are mainly about the music, taiko also includes a visual performance that combines its beats and rhythms with dynamic movement and spirit.
Leung explained that because taiko drumming required the entire body and mind to work together, the spirit of this art was about putting one's whole heart into playing.
"I remember my teacher once told me that he felt like his soul had left his body during a performance," said the drummer.
Gekko at The Drums of Hong Kong Resound, an event organised by Hong Kong Chinese Orchestra. Photo: Handout
Even within taiko, there are many styles, and Gekko plays different ones depending on the show.
For the Hong Kong group, the members take many of the Japanese drumming form's foundations and add their own flair. They don't limit themselves to using only Japanese music for their performances.
In 2019, Gekko had the chance to exhibit its unique style at a competition in Japan – the First Katsugi Oke Battle. There, Leung and three other Gekko drummers formed a team – the only non-Japanese group to make it to the semi-finals.
"We never thought we could compete against experienced Japanese taiko ensembles," Leung said, adding that Gekko's strength was in its innovation. "We didn't limit our performance to the traditional framework ... We just used the music and choreography that we found beautiful and that suited our piece's theme."
MC Soho and Kidney on using Hong Kong humour to 'shake things up'
Their artistic choices resonated with judges who said Gekko's act was fresh and entertaining. Leung recalled that one local ensemble even told him they had learned from the Hongkongers' performance.
Aside from Gekko's gigs with Canto-pop stars like the trendy Keung To and the legendary Paula Tsui, Leung also hopes to promote wellness through teaching taiko.
The drummer, who studied psychology at City University, said the art form had benefits for participants of all ages.
For children, he noted, playing taiko was often about learning discipline and patience, as they had to practise by continuously repeating basic rhythm sets.
Why a social worker writes role-playing games on bullying, mental health
For adults, it could be a form of exercise and stress relief.
"Hitting the drum can distract someone from their problems and allow them to connect with their body, which benefits both physical and mental health," he explained.
While the pandemic has severely affected the centre's business, Leung still finds hope in the spirit of taiko.
"Through our drumming, we hope to deliver a positive message to Hongkongers – persist in your faith, work hard on the things you enjoy, and never give up," he said.
Get the word out
Horde 人群
A large group of people
Booming 低沉有回響的聲音
(of a sound or voice) loud, deep, and resonant
Ensembles 樂團
A group of musicians who perform together
Burgeoning 迅速發展的
Beginning to grow or increase rapidly; flourishing
Homophone 同音詞
Each of two or more words having the same pronunciation but different meanings, origins, or spelling, for example new and knew
Percussion 敲擊樂器
Musical instruments played by striking with the hand or with a stick or beater
Gigs 做樂師
(of a musician or group) perform live
Sign up for the YP Teachers Newsletter
Get updates for teachers sent directly to your inbox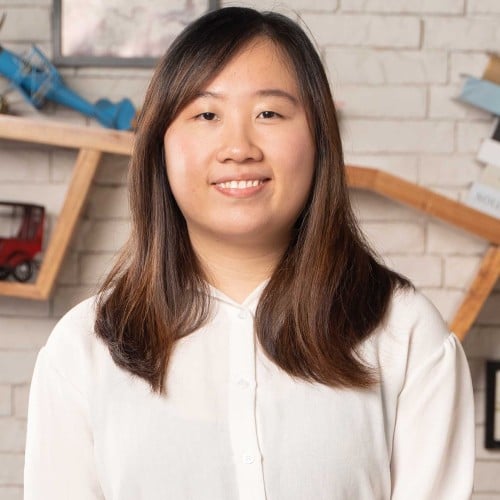 Sue joined the Post in 2021. She graduated from the University of Hong Kong with a double major in journalism and counselling.
Sign up for YP Weekly
Get updates sent directly to your inbox