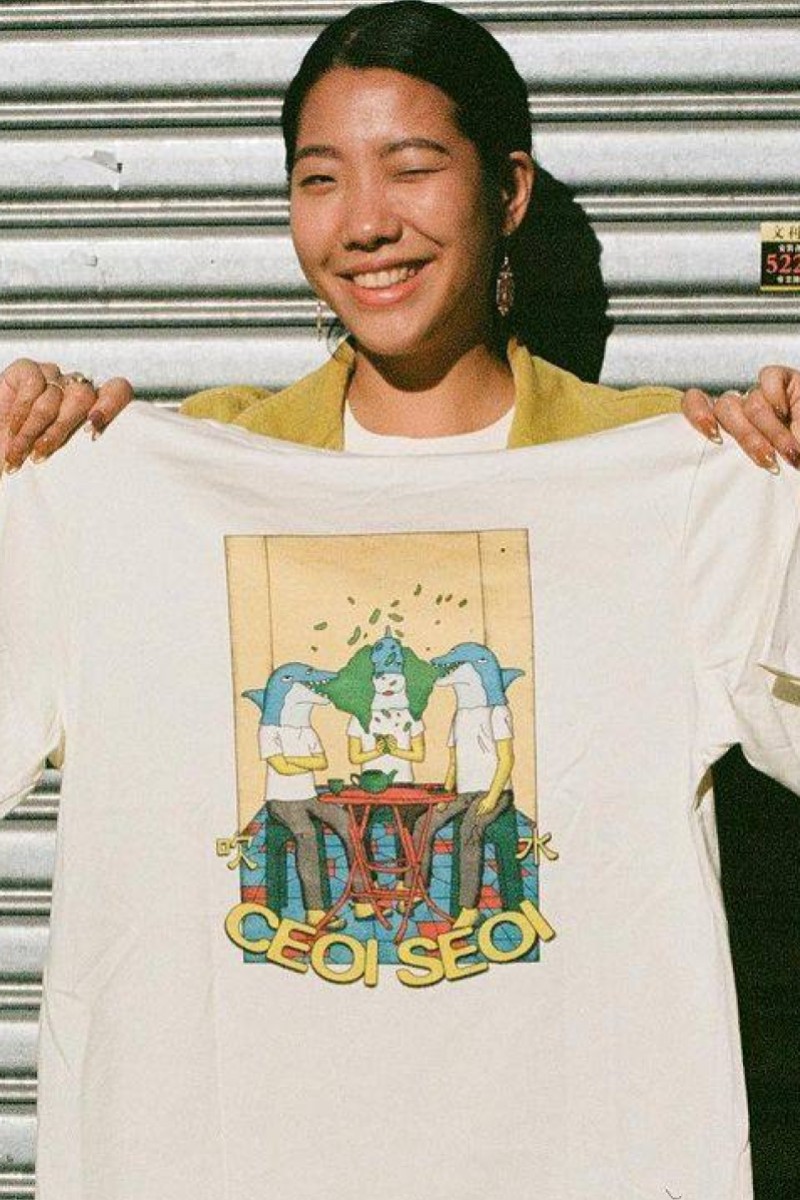 Home is where the slang is: for Hongkongers abroad, Fool of a Kind's clothes represent city's unique Cantonese culture
Artist Nicolee Tsin, born in Hong Kong and now living in London, hopes to spread her love for her hometown and for Cantonese slang through her clothing brand

Every week, Talking Points gives you a worksheet to practise your reading comprehension with questions and exercises about the story we've written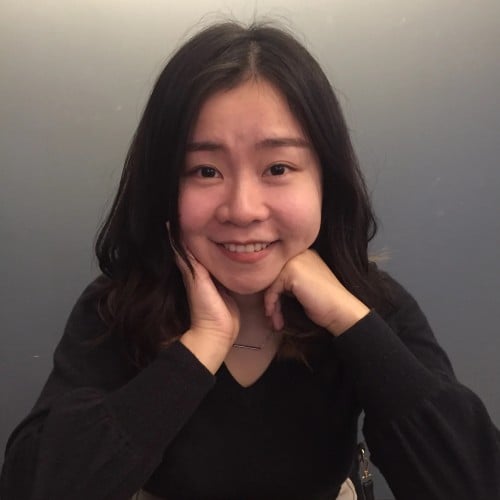 Kelly is a journalist from Hong Kong. She joined the Post in 2018, where she writes about Hong Kong's arts and culture, social welfare and the environment. She has a master's degree in Journalism from the University of Hong Kong.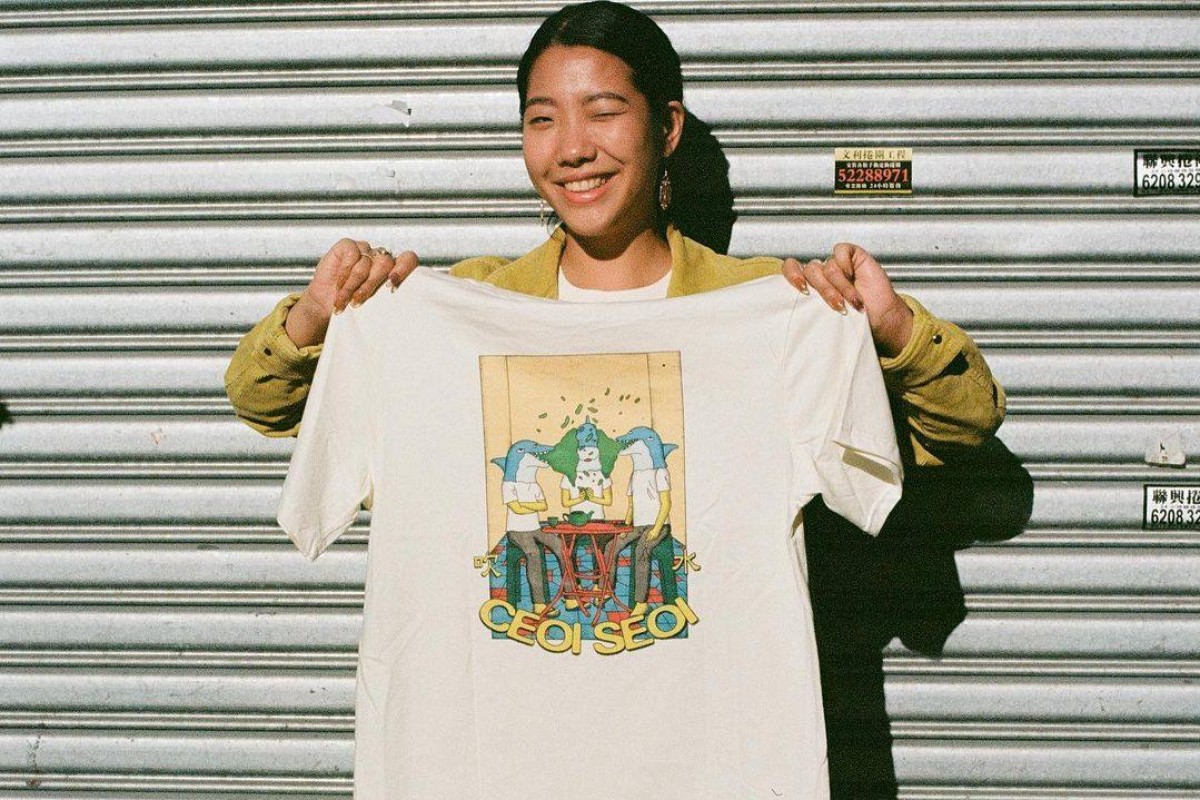 Nicolee Tsin says her favourite design is this "ceoi-seoi" T-shirt, which reminds her of memories with friends and family in Hong Kong. Photo: Nicolee Tsin
On the high streets of London, Nicolee Tsin, a writer and filmmaker from Hong Kong, could not stomach seeing retailers sell T-shirts with sloppy and nonsensical Chinese typography for £50 (HK$510).
"That's an insult. I thought I could ... do it better," said the 28-year-old, who had moved to Britain at the age of 18 to study graphic design at Central Saint Martins, a world-renowned school of art and design in London.
A few years later, Tsin would do it better. In 2019, she created an online clothing brand, Fool of a Kind, to pay tribute to Hong Kong culture through Cantonese slang.
Hong Kong linguist on the 'new possibilities' of Cantonese education
"It's a statement to my home city and an opportunity to bring people together," she explained. "I thought it would be cool if I wore a T-shirt with Cantonese slang and ran into another Hongkonger on the street saying to me: 'Oh, you're from Hong Kong too?'"
Of the five T-shirts the brand has launched over the years, Tsin's favourite is based on the popular phrase, ceoi-seoi, which literally means "blow water" but refers to chit-chat or talking nonsense. The design features three dolphins hanging out in a Hong Kong dai pai dong, spitting at each other as they speak.
Tsin believes ceoi-seoi encapsulates her hometown's attitude, as well as her memories there with friends and family.
"Ceoi-seoi" is a Cantonese saying that refers to talking nonsense. Photo: Nicolee Tsin
"I love the fact that you can make clothing accessible but still tell a story. That really spoke to me. You can embody it. You can share it. You can celebrate it," Tsin said.
Fool of a Kind's name is derived from a Cantonese saying, mou-liu-baan-sei-tiu, which describes a person in a card game who pretends they have four of a kind in their hand. Tsin tweaked the lingo, making it more lighthearted and playful to reflect the spirit of the brand and of Hongkongers.
"We're funny; we're sarcastic," she said. "This is the part of us I'm really proud of, and I want the world to know."
British teen on how learning Cantonese led her to start a YouTube channel
The designer said the idea for the brand began through conversations with other Hongkongers living in Britain. They would often share how difficult it was to translate their culture to people who did not understand Cantonese and its subtle nuances.
"We thought drawing it out and expressing it visually would best describe its meaning. From there, we had so many ideas," she recalled.
The artist drew inspiration from old Hong Kong cartoons and films, such as those featuring her muse, Stephen Chow, a popular filmmaker and actor known for his comedic style. Tsin would keep a list of his signature phrases and punchlines that she found humorous.
This Fool of a Kind T-shirt features "gui-gui-su-su", a Cantonese saying for someone who is suspicious. Photo: Nicolee Tsin
Another influence on Fool of a Kind was a French streetwear brand, Reception Clothing, which inspired the way Tsin's designs would capture Hong Kong memories.
"Their whole concept is based on creating graphic sweatshirts that pay tribute to restaurants and places where precious memories with friends and family were shared," she explained. "The product itself then becomes a souvenir, a memory."
To visualise Cantonese slang and paint a scene of its culture, Tsin worked with a Seoul-based illustrator and visual artist, Minet Kim, whose work has appeared in The New York Times and The New Yorker.
"I wanted my approach to graphics to have a childlike quality ... adopting non-human characters to create a more universal and all-inclusive identity," she explained, adding that she used handwritten typography to reflect the experience of learning a language while growing up.
Posting about Hongkongers' home-cooked food to record city's memories
For her first T-shirt, it took almost nine months, from designing the logo and the slang to choosing the right fabric. But after that, launches got easier, taking roughly three months to complete each one.
"I made a lot of mistakes. I thought shirt production was easy – it's not," she laughed.
She now sells through pre-orders – less risky and more eco-friendly than producing in bulk, which she did at first.
Besides T-shirts, the young artist has also designed acrylic clips with Cantonese slang. One spotlights the popular expression, duk-haan-yum-cha, which is the Hong Kong equivalent of "see you later". Last year, Tsin designed tote bags as part of a fundraising campaign for the London Chinese Community Centre.
Next month, the designer will sell her T-shirts at an exhibition run by the Migration Museum in London, called "Taking Care of Business: Migrant Entrepreneurs and the Making of Britain" at the Makers Market.
In the future, Tsin hopes to work with Hong Kong artists to keep spreading her love for her city's Cantonese culture.
People have been supportive of her work, and Cantonese speakers have said her brand has given them a sense of home while living abroad.
'I suddenly turned 30': Hong Kong teens discuss move to Britain
"After moving to Britain, I realise how much Cantonese means to me, and it represents a whole culture, way of life, home," a netizen wrote in support of Tsin's work.
"It means a lot especially seeing it resonate with Hong Kong people – they understand what I'm trying to do and say," Tsin said.
But the Hong Kong-born designer lamented that not every Cantonese speaker would embrace their roots.
"I can understand when you're overseas, you need to fight for your place. You need to prove yourself. Sometimes you forget to celebrate [your mother tongue]," she said.
The Hong Kong-born designer hopes that locals will continue to celebrate the beauty of Cantonese culture. Photo: Nicolee Tsin
"It makes me sad. And it's not only overseas – I've seen people who grew up in Hong Kong [and] can't speak Cantonese," Tsin observed, adding that the city's schools and workplaces would often reward English proficiency.
"My parents [say] ... 'You mustn't forget your mother tongue and where you come from'. I hope people can be more proud to be bilingual."
Click here to download a printable worksheet with questions and exercises about this story. Answers are on the second page of the document.
Sign up for the YP Teachers Newsletter
Get updates for teachers sent directly to your inbox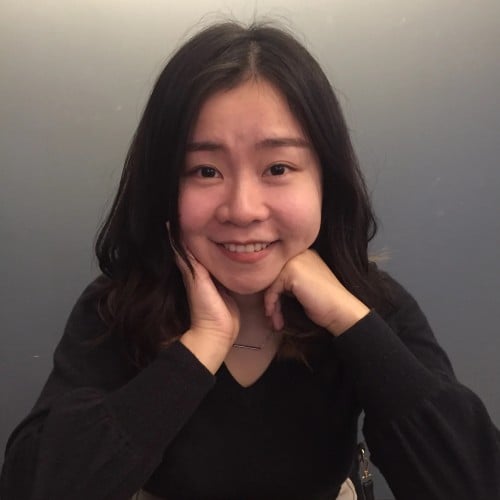 Kelly is a journalist from Hong Kong. She joined the Post in 2018, where she writes about Hong Kong's arts and culture, social welfare and the environment. She has a master's degree in Journalism from the University of Hong Kong.
Sign up for YP Weekly
Get updates sent directly to your inbox