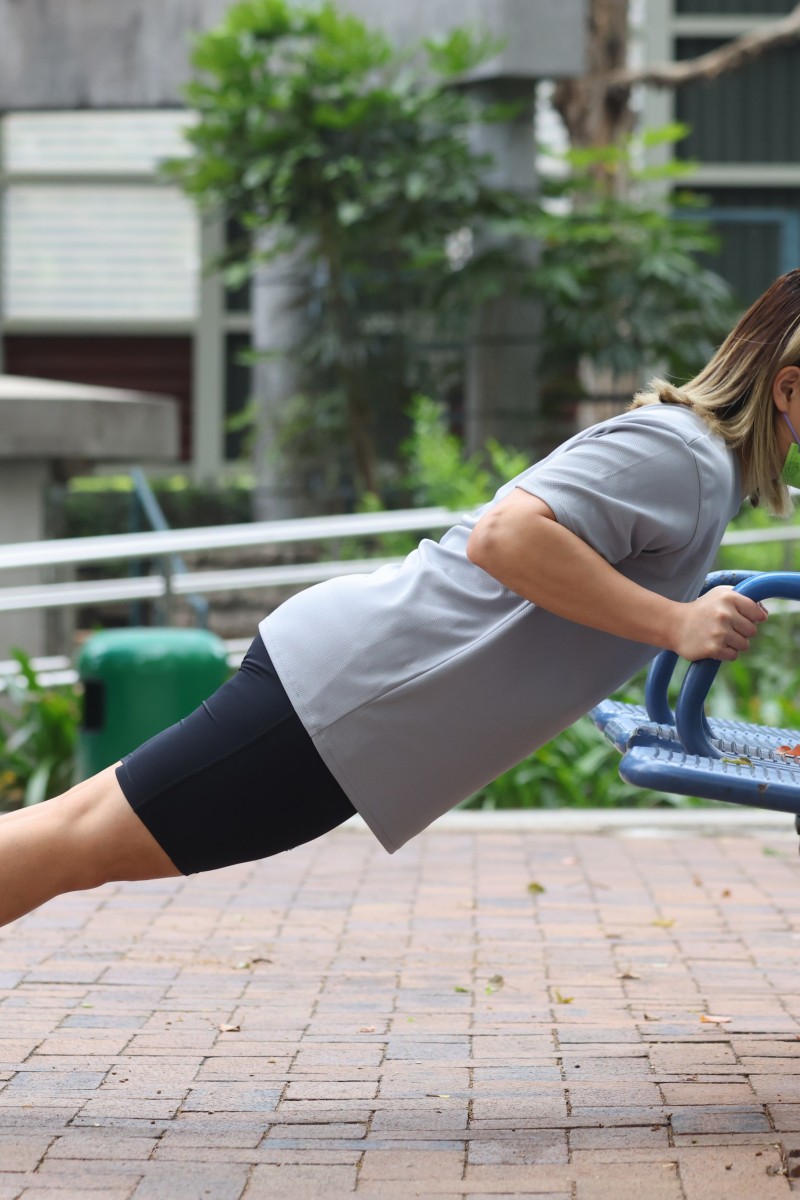 Hong Kong's 1st certified female street workout coach on how the sport is for everyone: gym-goers, newbies, men, women
A certified trainer, Wong Chor-yan, explains how she got into this sport and why more people should try it, especially as the pandemic closes sports facilities

Every week, Talking Points gives you a worksheet to practise your reading comprehension with questions and exercises about the story we've written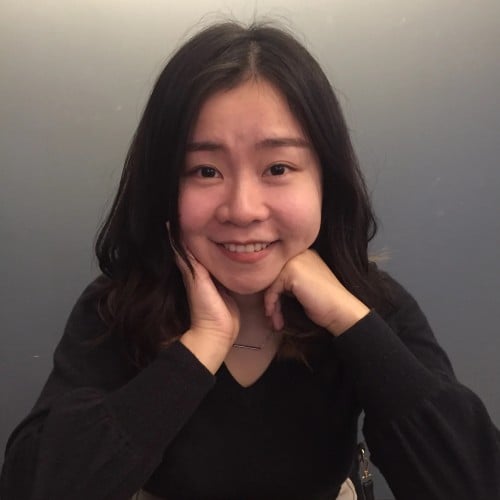 Kelly is a journalist from Hong Kong. She joined the Post in 2018, where she writes about Hong Kong's arts and culture, social welfare and the environment. She has a master's degree in Journalism from the University of Hong Kong.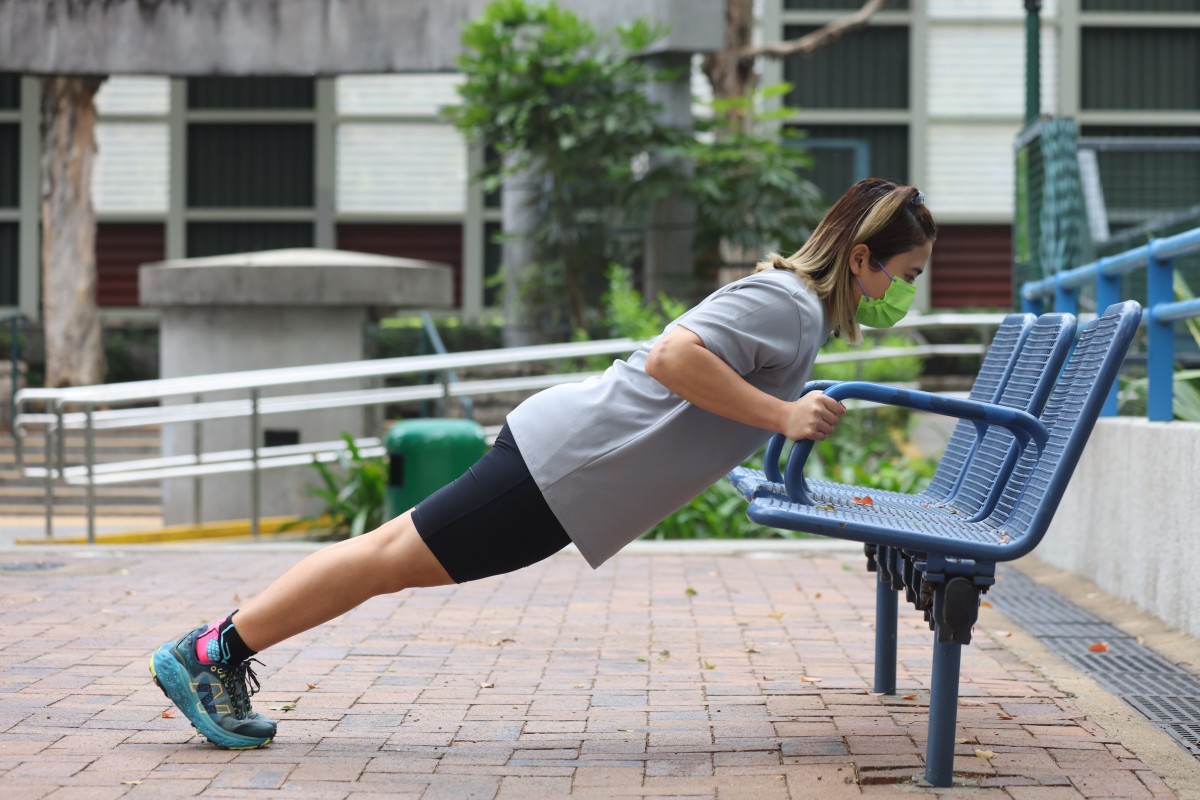 Wong Chor-yan, 25, Local coach talks about her passion for street workout and judo, and how she continues training under the pandemic. Nam Cheong Estate, Sham Shui Po. 20MAR22. SCMP/ Dickson Lee
For the street workout aficionado, Wong Chor-yan, the public parks are her gym, and the bars and benches her essential equipment.
At Nam Cheong Estate in Sham Shui Po, Wong held tightly to the metal bars with flaking orange paint, as she lifted her body to be parallel to the ground, so she could perform a planche, one of street workout's hardest tricks.
"You can do street workouts anytime and anywhere. It's very limitless – you don't need to prepare anything such as a yoga mat or dumbbells. All you need is your body strength," said the 26-year-old coach.
Wong is Hong Kong's first and only female trainer certified under the World Street Workout and Callisthenics Federation (WSWCF), and in 2019 and 2021, she was the women's champion in local street workout competitions.
Hong Kong's Covid curbs on sports hit young athletes
Street workout uses callisthenics, which is strength training that requires minimal equipment. The internationally recognised sport combines muscle-building exercises, like push-ups and dips, with elements from gymnastics, such as handstands and 360-degree spins.
Before becoming interested in street workout, Wong was a member of the Hong Kong judo team. In 2014, she won an international tournament in Indonesia, and in 2015, she placed seventh at the Junior Asian Championships.
In 2018, the judo athlete was training at Yuen Long Park, when she ran into a group of street workout enthusiasts doing tricks on the bars.
"I found it quite amusing – it's very different from judo. In street workout, you focus on yourself and on completing the whole set of moves. You don't constantly think about how to knock down the other person," she said.
"The process is like having a conversation with yourself. You can immerse yourself in it and focus on the training."
After doing the sport for a year, the dedicated athlete took part in her first local street workout tournament in 2019 and won. In 2020, she became a WSWCF-certified trainer and founded Hong Kong Street Workout Kwun to offer classes for the sport.
Help! I don't have time to exercise, and it's making me feel self-conscious
"More people are joining the sport ... men, women, even children and elders are doing street workout," the coach said, adding that some parents and children would sign up for her lessons together.
Because of the two-person limit on outdoor gatherings, all of Wong's group classes are suspended for now, but her one-on-one sessions continue.
During the pandemic, Wong received about a dozen students who joined because gyms and sports facilities were shut. Some are even experienced gym-goers.
Street workout involves a mix of traditional strength-building exercises like push ups, as well as some gymnastic elements. Photo: Dickson Lee
One of her students is Raymond, 27, who was going to the gym regularly for about seven years until the city's fifth wave began. In January, he came across Wong's workout videos on Instagram and signed up for 11 private classes.
"I'm not too scared because the airflow is better when you're outside, and you wear a mask," he said. "In a way, it feels safer to exercise on the street because the ventilation in the gym is not very good."
For Raymond, the equipment-less sport isn't just his last resort to keeping fit, but also a new passion.
"You usually go to the gym for bodybuilding exercises or muscle training. But in street workout, you learn tricks and skills that are very impressive and can catch people's eyes," he explained.
Your Voice: While you're staying home, focus on health (long letters)
Switching from the gym to the street requires enduring heat and rain, but he enjoys how social the sport can be.
"Since I go to a public housing estate for my workout, neighbours often pass by, and once, an elderly woman came up to me and gave me a thumbs-up," he recalled.
Wong agreed, adding that a perk of the sport was how it could bring people together.
"Unlike sports complexes or gyms, public parks are open to all. Everyone takes turns using the facilities, so there are more interactions," she said. "Some uncles and aunties will even share with me their childhood memories."
One time, when some older passers-by saw her doing a body lift called "skin the cat", they recounted how they used to do this move when they were young.
"They told me that back in the 70s and 80s, they learned these moves by themselves as they played with other children on the rooftop, running and doing flips all over the place," Wong recalled.
"I was elated ... the sport could bridge the gap between different people."
Walk 7,000 steps a day to help you live longer
While street workout can seem like a male-dominated activity, the coach said she had noticed a lot of women joining her street gym.
Even so, Wong said she felt that the sport was still associated with some gender stereotypes.
"Some people think women are physically weak. And for those complex moves, some would tell them: 'You don't need to think about it – you just can't do it'," she said.
"This feeling of being underestimated often gives women pressure."
Hong Kong's first female pro basketball player shoots for the stars
As a coach, Wong felt these stereotypes made women think it was unrealistic for them to pursue street workout.
"Callisthenics is not that different between women and men. As long as you train ... and take it step-by-step, you can also do those moves," she emphasised.
Click here to download a printable worksheet with questions and exercises about this story. Answers are on the second page of the document.
Sign up for the YP Teachers Newsletter
Get updates for teachers sent directly to your inbox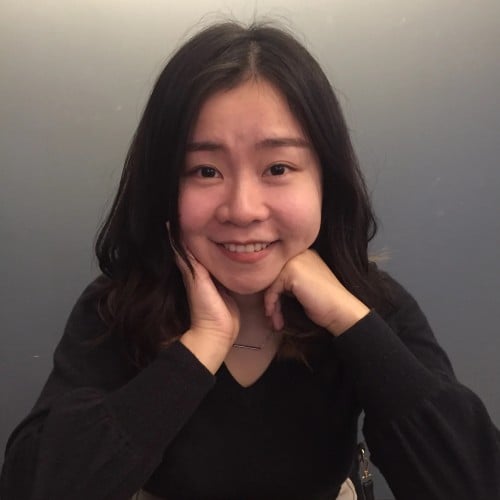 Kelly is a journalist from Hong Kong. She joined the Post in 2018, where she writes about Hong Kong's arts and culture, social welfare and the environment. She has a master's degree in Journalism from the University of Hong Kong.
Sign up for YP Weekly
Get updates sent directly to your inbox