The classic performing art had its heyday in the 50s and 60s, but Chloe Chan Hei-yu, 27, believes it still has much to offer for young Hongkongers

Every week, Talking Points gives you a worksheet to practise your reading comprehension with questions and exercises about the story we've written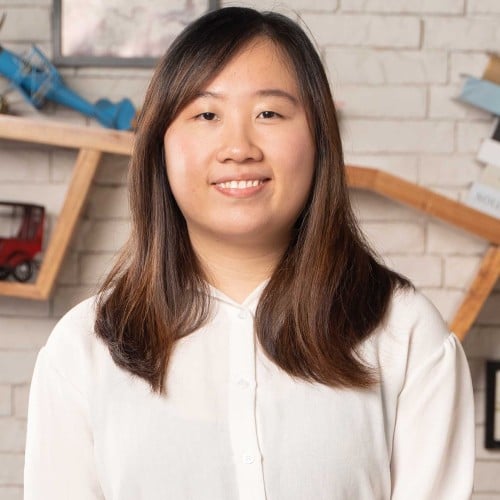 Sue joined the Post in 2021. She graduated from the University of Hong Kong with a double major in journalism and counselling.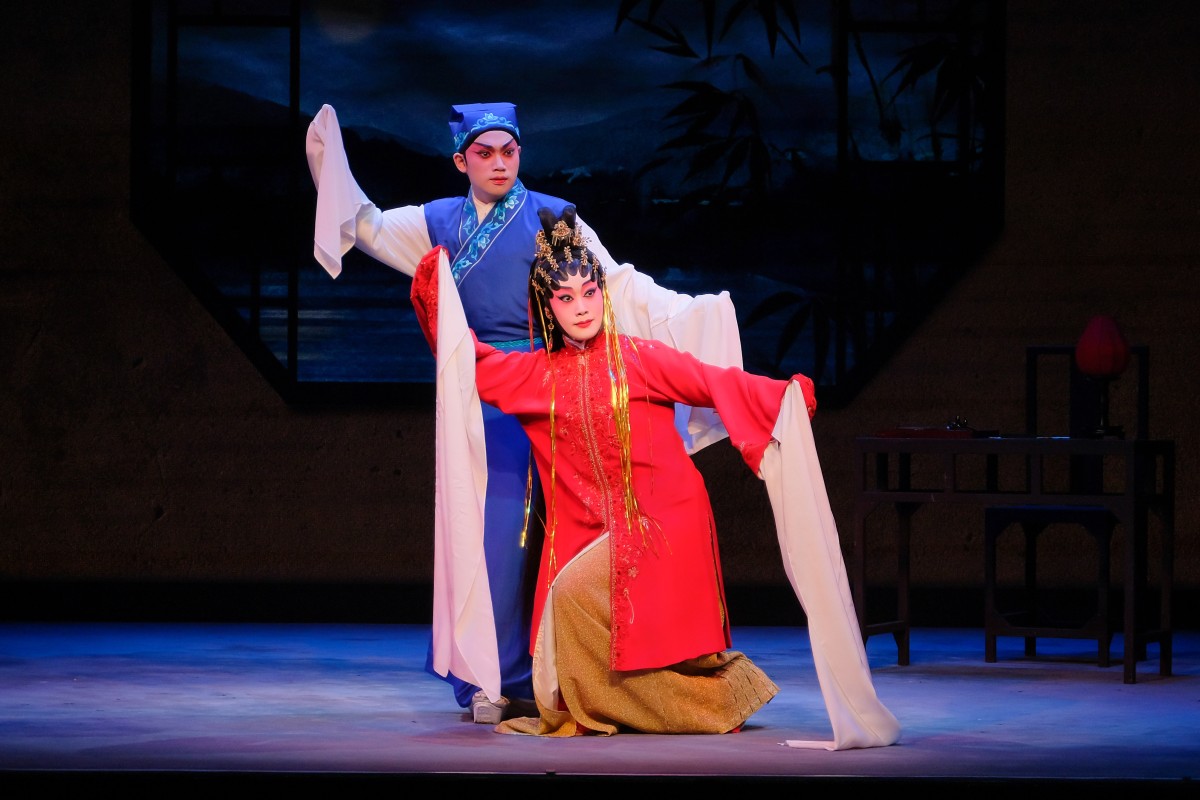 Chloe Chan (right) performs "The Reincarnation of Red Plum" at Tea House Theatre in Xiqu Centre. Photo: Handout
Performer Chloe Chan Hei-yu has a vivid memory of the first time she watched a Cantonese opera play in Cheung Chau with her grandma when she was three years old.
In an open-air temporary bamboo theatre, the young girl sat in the audience, her attention captivated by famous actress and singer Liza Wang Ming-chun.
"It was stunning. The flamboyant garments of the performers were very beautiful," recalled the 27-year-old. "And I was also very impressed that we were allowed to eat while enjoying the performance."
At the age of seven, she began learning Cantonese opera, starting with the basics like make-up and body movement. As she dived deeper into the art, she realised its true beauty went beyond the extravagant costumes.
"What I like the most is its diversity which combines different elements of performance," she shared, referring to how Cantonese opera incorporates singing, acting, rhythmic narrations and martial arts.
Chan added that another charm of the classic art form was that these well-written plays performed in Cantonese represented Hong Kong's unique local culture.
"As long as Cantonese still exists in this city, there will be Cantonese opera," Chan insisted.
Why historians at We Toast HK want you to look up from your textbook
Cantonese opera, or yue-ju, is a type of Chinese traditional theatre that originated in the Guangdong region. The tradition reached its climax in the 1950s and 60s when it was a major pastime for Hongkongers.
But with the rise of Canto-pop and the internet, its popularity has declined as fewer young people join the industry.
Still, the classic art form is regarded as part of the city's cultural identity. In 2009, it became the first Hong Kong tradition to be listed by the United Nations Educational, Scientific and Cultural Organisation (Unesco) as an intangible cultural heritage that needs to be conserved.
Children watch a Cantonese opera performance during the Bun Festival on Cheung Chau island. Photo: SCMP
As one of the few fresh faces in Cantonese opera, Chan has performed on countless stages since her debut at eight years old, and the only pause in her acting life was when preparing for Hong Kong's university entrance exam.
During her student days, the artist recalled having to spend three days a week practising Cantonese opera after school, and each lesson would be up to three hours long.
Though she enjoyed being on the stage, the student did not dream of devoting her life to it: "At that time, I only treated Cantonese opera as my lifelong hobby and had never thought of making a living by performing."
After graduating from secondary school, she enrolled at the University of Hong Kong to study journalism. Even while she was on this career path, Cantonese opera managed to find its way into her life.
Hong Kong taiko group merges local culture and Japanese drums
As an undergraduate student, Chan worked part-time at public broadcaster RTHK Radio 5, hosting programmes to introduce audiences to Cantonese opera. The performer gained a new perspective on the art she had grown up with, and she was inspired to promote the sunset industry.
After graduating from university, Chan continued freelancing at the radio station while also working in various supporting roles on the stage. Once, she was given the rare opportunity to perform in Cheung Chau.
"I had a déjà vu moment when stepping on the bamboo theatre as I had never expected that one day I could perform on the stage of my childhood dreams," said the actress. "And this was the moment that prompted me to think: maybe I could try becoming a full-time performer."
The following year, she became one of the youngest artists at the Tea House Theatre at Xiqu Centre in West Kowloon, which opened in 2019.
At Tea House Theatre, audiences can enjoy dim sum and tea while watching a Cantonese opera performance. Photo: Nora Tam
But this theatre is not like most other Cantonese opera houses – its purpose is to make this traditional art more accessible and down-to-earth for modern audiences.
"I often hear people say they can't understand Cantonese opera, but they just need someone to guide them," Chan said, pointing out that the ancient art form's complex lyrics, symbolic movements and shrill sounds could be confusing for newcomers.
"All abstract movements all have a meaning ... We seldom rely on props ... for storytelling but [instead] on suggestive gestures and lines," the performer said, explaining as an example that certain hand gestures would indicate the opening and closing of a door.
Website preserves one of Hong Kong's oldest public housing estates
"The 90-minute programme features a varying selection of music and performances from different classic plays. And there will be a moderator explaining the background of the story, with subtitles in both Chinese and English," the actress said of Tea House Theatre's approach to helping a new generation appreciate Cantonese opera.
"And audiences can enjoy a set of dim sum and a cup of tea during the performance."
"We hope to attract more young audiences to watch the ancient art form, at least to get a taste of it."
Chloe Chan (left) performs in "A Duel of Immortal Snakes". Photo: Handout
She noted that Cantonese opera could also enhance students' appreciation of Chinese culture: "Most of the scripts are from classic Chinese literature which often carries messages about filial piety and righteousness, which are core virtues in Chinese culture."
Having practised Cantonese opera for two decades, the actress feels it is her mission to pass on the city's heritage.
"People are exposed to so many forms of entertainment, it's not easy to preserve this ancient performing art ... While we can still enjoy performances from Cantonese opera veterans, will the art die out after they pass away?" she wondered.
"I hope 30 years from now, someone will still be performing and watching Cantonese opera."
Click here to download a printable worksheet with questions and exercises about this story. Answers are on the second page of the document.
Sign up for the YP Teachers Newsletter
Get updates for teachers sent directly to your inbox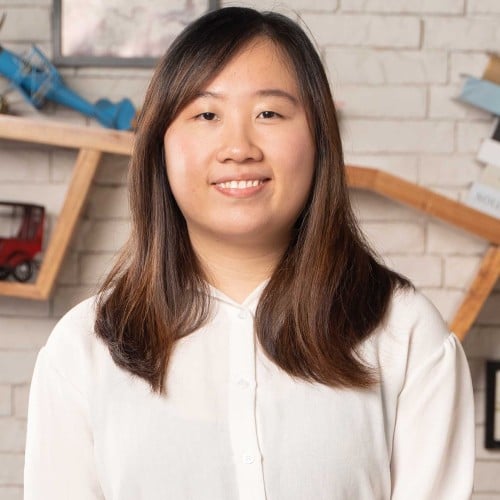 Sue joined the Post in 2021. She graduated from the University of Hong Kong with a double major in journalism and counselling.
Sign up for YP Weekly
Get updates sent directly to your inbox