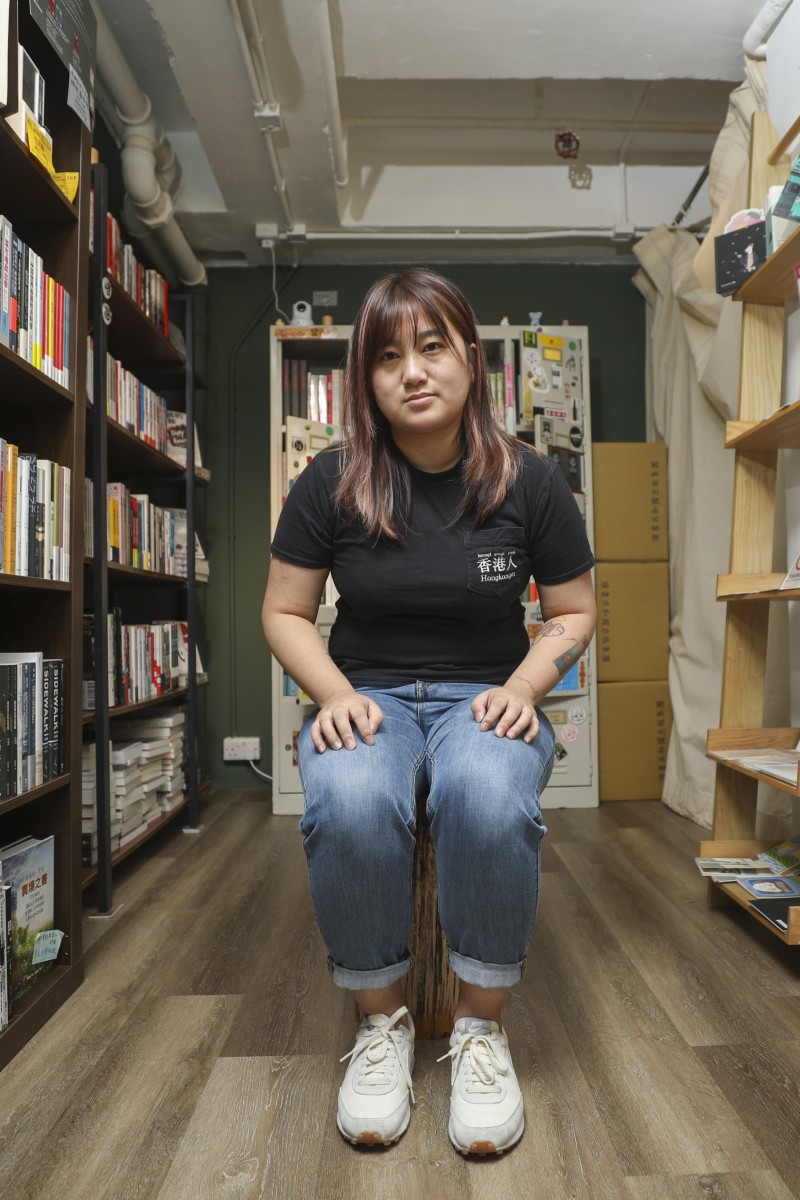 Owner and activist Leticia Wong named the shop, located in Sham Shui Po, after her favourite Japanese anime and hopes to make it a place where people can connect

Wong was elected to serve City One in Sha Tin district in 2019, but resigned in 2021 ahead of a new oath-taking requirement under the national security law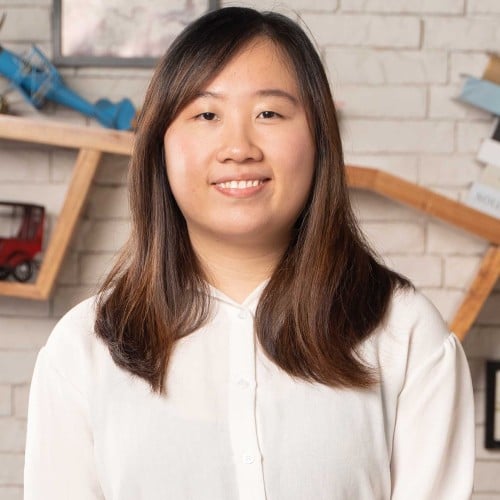 Sue joined the Post in 2021. She graduated from the University of Hong Kong with a double major in journalism and counselling.
Leticia Wong Man-huen, owner of Hunter Bookstore, says her shop is a subtle way for her to communicate with Hongkongers. Photo: Xiaomei Chen.
One year after stepping down as district councillor, Leticia Wong Man-hun has a novel way to connect with Hongkongers at her bookstore in Sham Shui Po: through the volumes that line the shop's shelves and the words on its entrance.
On the door of the two-storey Hunter Bookstore is a poster reading "Living in Truth". The sign and the store encourage people to take initiative in times of uncertainty.
Wong, 30, and her business partner Wayne Mak opened Hunter Bookstore in May of this year.
Its name was inspired by the owners' favourite Japanese anime, Hunter x Hunter, which centres on a 12-year-old boy named Gon as he follows in his father's footsteps to become a hunter, an occupation that requires him to travel the world and complete dangerous tasks.
Boundary Bookstore helps locals quench their thirst for Hong Kong history
"Hunter is proactive and always makes the first move. I hope [to inspire] people to break free from being passive and refrain from lying flat when they're searching for knowledge," Wong said.
One particular scene from the anime stands out in her mind – when Gon meets his father and asks what he is supposed to be looking for.
"His father replies: 'What was important came before what I wanted'. [It reminds me] that even though we underwent [the upheaval] in 2019 and that we might not have got what we wanted, I gained the things that really mattered during the journey."
Wong named her shop after her favourite Japanese anime series. Photo: Xiaomei Chen.
After graduating from the journalism programme at Chinese University in 2015, Wong worked as a political reporter for two years, covering elections in the city. In 2019, she devoted herself to community affairs and took part in the district council election, hoping to make a difference in her neighbourhood.
"I wanted to change the structure of the council and bring more diversity to the community to make it a better place for residents," recalled the journalist-turned-activist, who won a seat in the City One constituency in Sha Tin district in 2019.
But Wong did not fulfil her four-year term. Last summer, she and more than 260 other councillors resigned ahead of a new oath-taking requirement introduced under the national security law.
Former Hong Kong journalists open independent bookstore for those who remain amid emigration wave
"What I regret [leaving behind] the most was the connections I built with the residents and the space where I communicated with them," she said, adding that her neighbourhood lacked a common place for people to sit down and chat.
After she left the realm of politics, Wong felt lost and unsure of the future. She ended up joining a programme that trained people to run bookstores and was organised by One Seventh Bookshops in Sham Shui Po.
The six-month project put the activist on a new path: "At first, it was just for fun, as it didn't require much commitment. But then I found joy in the process and started thinking that [running a bookstore] might be a way to earn a living."
Co-founder of independent bookstore Jisaam Books shares why she continues, even if it makes no profit
After the project ended in March, Wong went on to open Hunter Bookstore, initially eyeing a spot in Sha Tin that would allow her to continue serving her community.
"After all, it's my home, and can you believe there is only one bookstore in a district of about 700,000 people?"
But the expensive rent put her off, and eventually, she chose to settle in Sham Shui Po.
The shop's grand opening was a memorable moment, and some Sha Tin residents even came to support Wong.
Wong wanted to open her bookstore in Sha Tin, but the rents were too expensive. Photo: Xiaomei Chen.
"I still remember how proud I was when I finished filling the shelves with the books I chose ... I was looking forward to connecting with someone through books," she said. "Because of the nature of my previous job, I had to talk to a lot of people, which was tiring. At the shop, I can communicate with others through books."
Compared to serving on the district council, the bookstore has been a more subtle way to help Hongkongers.
"Both provide a space [for people to sit down and rest]. But back in the office, people mainly came to see me so they could chat or ask for help.Even though people may not know me in the bookshop, they can find what they want through my displays, which makes me feel satisfied," she shared.
The bookstore that only offers 10 hand-picked selections at a time
The first floor of the shop is dedicated to books about the real world and personal growth, such as world politics and mental health. Meanwhile, the second floor stocks comics and fiction books – selections that can serve as an escape from everyday life and current events. Many questions could be answered with books, she said.
"I want to remind Hongkongers not to be pessimistic about the city. Instead, try to read how other places are doing to find the answers to Hong Kong's issues," said the bookworm, who has enjoyed reading since she was young.
Some of her favourite books from her school days include the adventure-science fiction series Wisely Series, by Hong Kong-American novelist Ni Kuang, who passed away last month.
The bookstore that doesn't sell any books
"They can save you from the monotony of studying and break your stereotypes about the world, which I think is essential for students."
"Ni was very good at adding an unexpected twist to the small things in our everyday lives, and his out-of-the-world writing challenges your way of thinking," she said. "For example, one of his early books, published before all the advanced technology [we have now], talks about how humans become toys for robots in the future," she added, referring to the story Toys, released in 1979.
Wong hopes that her bookstore can help Hongkongers connect through talks and events and encourage them to read and think.
"When people get frustrated, they may find comfort or an answer in a book. But I hope they can also learn to question the answer and the status quo."
Get the word out
Novel 新穎的
Interestingly new or unusual
Proactive 主動的
Creating or controlling a situation rather than just responding to it after it has happened
Refrain 避免
Stop oneself from doing something
Upheaval 動盪
A violent or sudden change or disruption to something
Constituency 選區
An area whose voters elect a representative to a legislative body
Monotony 單調乏味
Lack of variety and interest; tedious repetition and routine
Status quo 現狀
The existing state of affairs, especially regarding social or political issues
Sign up for the YP Teachers Newsletter
Get updates for teachers sent directly to your inbox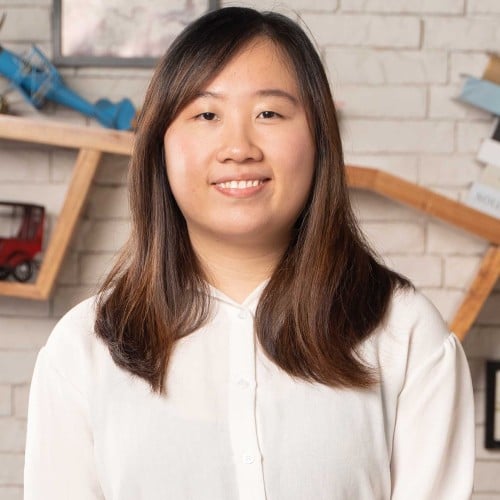 Sue joined the Post in 2021. She graduated from the University of Hong Kong with a double major in journalism and counselling.
Sign up for YP Weekly
Get updates sent directly to your inbox