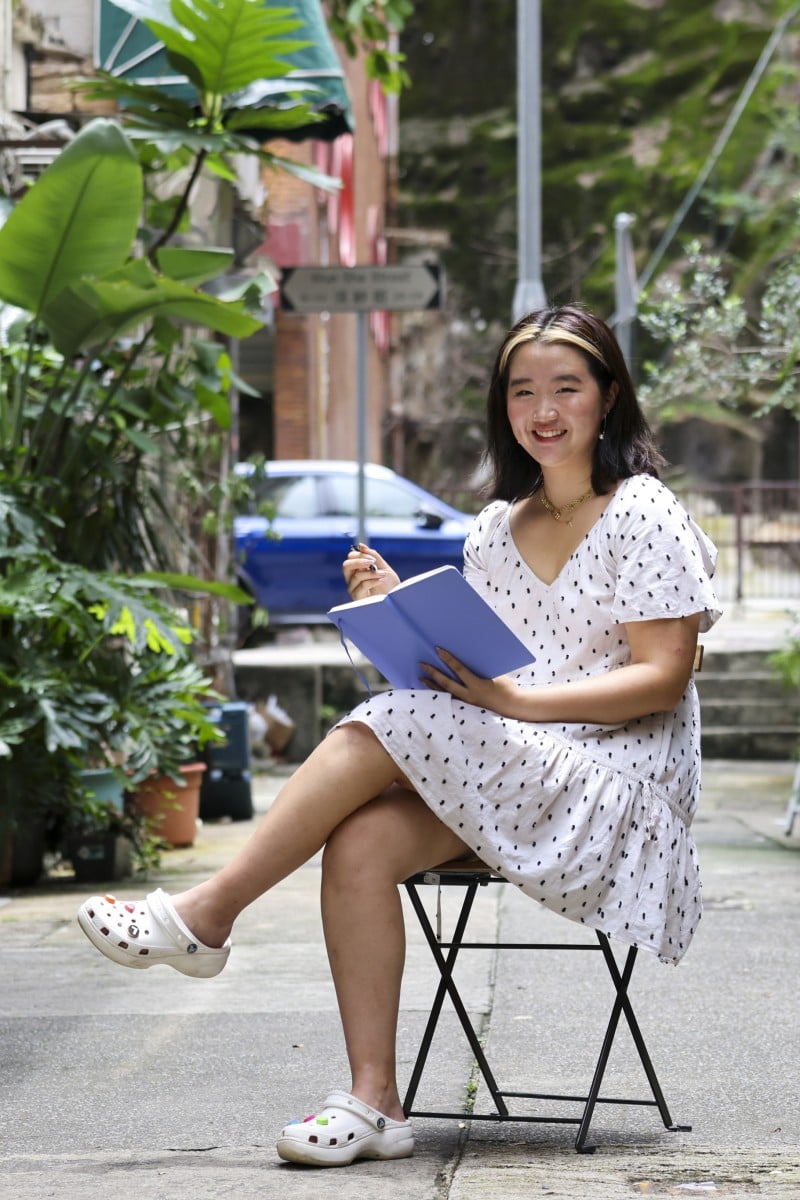 Hong Kong poet Louisa Choi talks about mental health and opening up on Instagram
The 19-year-old began writing as a way to deal with depression and anxiety and was initially inspired by singer Taylor Swift

She has since published three books of poetry and uses social media, including her YouTube channel and podcast, to share her work
Esther is the Production Editor for Young Post, and she worked as a teacher in the United States, Macau, and Hong Kong before joining the Post in 2021. She has an interest in literature and the environment, amongst other issues important to teens today.
Writer Louisa Choi uses her art and poetry to discuss mental health and trauma. She has published three books of poetry and shares her work on Instagram and YouTube. Photo: Nora Tam
"I sit at the same table / I do the same deeds / I tick all of the boxes / but none of them meet my needs," reads a poem Louisa Choi posted on her Instagram account last September.
Earlier that month, after only five days at Wesleyan University in the US, Choi decided she needed to leave.
"I was having really bad depression and anxiety," the 19-year-old poet shared, adding that at first, she resisted treatment. "I could have just been ... extremely miserable and gone through the four years."
But her mum insisted, saying, "I think you need help. And I think now is the time to do this [rather] than forcing yourself through college ... You need to go."
Thinking she would only leave for one semester, Choi heeded her mother's advice and ended up taking a year off from university. She worked with therapists to unravel the childhood trauma underlying her condition – from being bullied at school to being raised by parents with undiagnosed and untreated mental illness. To process everything, the teen wrote poetry and created art.
"I would come home from treatment and didn't have anything else to do. So I would make art, and that was a huge part of my recovery," she said, adding that many of these poems ended up in her book, Farewell to Childhood, published by Bottlecap Press in May.
The Hong Kong artist who worked for Lady Gaga
Born to parents who emigrated from South Korea to the US and then to Hong Kong, where she was born, Choi writes succinctly and candidly about depression, self-worth, body image and trauma. Her poetry is often accompanied by simple yet powerful doodles that invoke the tender earnestness of childhood.
The artist posts her work on Instagram, where she has more than 80,000 followers. With three poetry books under her belt and a fledgling YouTube channel and podcast, Choi is comfortable using social media as an outlet for her most intimate thoughts.
"Everything I write is so personal ... I think my emotions and my writing [are] best when I'm being as honest as I can be," she said.
Choi writes openly about depression, self-worth, and trauma. Her poetry is often accompanied by doodles. Photo: Nora Tam
Long before tens of thousands of people would discover her work online and relate to her sincere messages about mental health, Choi's earliest writings at the age of 11 were songs inspired by Taylor Swift.
"I loved how open she was about her emotions. I thought that was amazing because no one in my family was like that," she said.
Though the teen admitted her song lyrics were "so bad", it set the foundation for how she would approach creative expression.
As she shifted from writing music to poetry, Choi kept her work to herself. But when she was in Year 10 at Chinese International School, the budding poet told an English teacher about her writing, and he encouraged her to make a book.
How an iPad changed everything for artist Sophia Hotung
"I took old poems I'd already written. I handmade all these pages of artwork and poetry, and one of the teachers helped me get self-published," Choi said of her first book, Growth. "Since the secret was out, I was like: 'Cool, let's keep it going.'"
Initially, she only posted her writing on a private Instagram page. Then one day, in her final year of secondary school in 2020, she felt inspired to share a poem on a public account. After positive feedback from friends, she continued posting poems, collages and short films she made.
Unexpectedly, her followers started to grow: one of her collages was reposted by another artist on Instagram, and she wrote a poem for the US-based, teen-run magazine All My Friends. Los Angeles Magazine even featured her art in a story about Gen-Z publications.
"It's just crazy to me that people actually look at [my account] and read it and relate to it and enjoy it," she said. "Like, [it] blows my mind."
Despite her success online, Choi is determined not to make art her career.
"It's hard when you make it a financial thing," she said. "I didn't want to do that with film and art and writing because I know that can be so stressful."
She has expressed this on her account – in bright, angry red font, a post from May notes the challenges of not equating "likes" on social media to acceptance: "I hate my art because not enough people tapped it twice and isn't that hilarious?"
The Hong Kong artist putting a lighter touch on the city's news
So instead of focusing solely on her creative pursuits, the teen plans to study psychology this autumn at Columbia University's School of General Studies, which is tailored for non-traditional students who need more flexibility with schooling.
"Going through treatment inspired me to [study] psychology because I met so many amazing therapists ... It would mean so much for me to dedicate my life towards helping other people in similar situations," she said.
While Choi has no concrete plans for her future, she said she would love to specialise in teen mental health and bring that knowledge to Hong Kong.
"Many of us get anxiety in Hong Kong because we're so focused on the short-term plan ... The way school is structured, you're forced to think about college, the next year or even just the next test," she said.
As she learns how to cope with mental illness and build healthier relationships with herself and her family, people comment on her posts, asking if she will run out of things to write if she is happy.
Artists behind Plastic Wood Studio discuss what they're doing about Hong Kong's waste problem
But the artist said she was comfortable with change and flexible with whatever direction her work could take.
"My account is about me and sharing my story. And that might change over time – that will change over time," she said.
Written in pink crayon lettering, a post from July reads: "Today wasn't a great day. But I survived it to write this as proof that every feeling passes, returns and passes with time."
Get the word out
Unravel 揭開
Investigate and solve or explain.
Trauma 心理創傷
A deeply distressing or disturbing experience.
Undiagnosed 沒有診斷
Not diagnosed or having been subject to diagnosis.
Succinctly 簡明的
In a brief and clearly expressed manner.
Candidly 坦誠的
In an honest and straightforward way.
Have something under one's belt 已獲得的成就
Securely or satisfactorily achieved, experienced, or acquired.
Fledgling 幼鳥
A young bird that has grown feathers and is learning to fly.
Sign up for the YP Teachers Newsletter
Get updates for teachers sent directly to your inbox
Esther is the Production Editor for Young Post, and she worked as a teacher in the United States, Macau, and Hong Kong before joining the Post in 2021. She has an interest in literature and the environment, amongst other issues important to teens today.
Sign up for YP Weekly
Get updates sent directly to your inbox