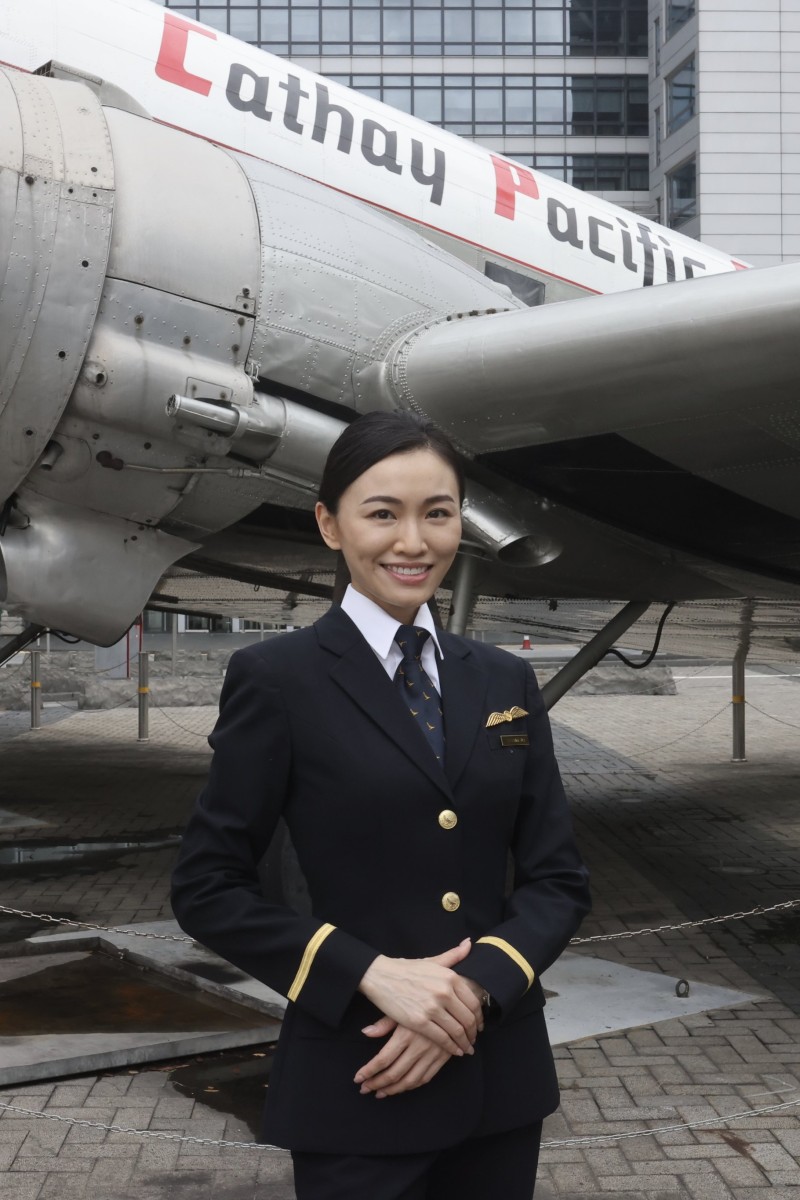 Fly in the face of challenges: how a designer became an airplane pilot, as a woman in a male-dominated profession
Bored with her job in fashion, Christina Ho became a flight attendant and, a few years later, set her sights on becoming a pilot

Every week, Talking Points gives you a worksheet to practise your reading comprehension with questions and exercises about the story we've written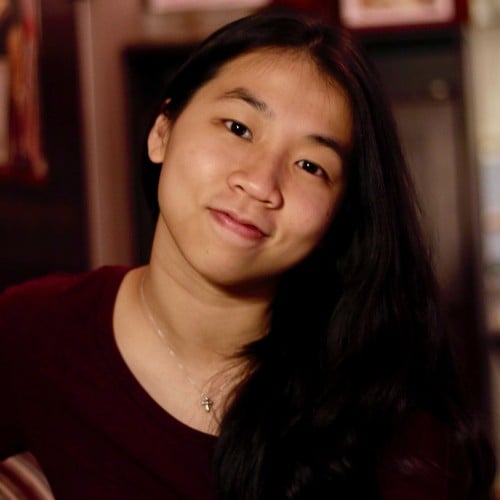 Yanni joined the Post in 2021. She has a bachelor's degree in communication and majored in international journalism. Previously, she worked at Reuters covering Hong Kong political news including the enactment of the national security law.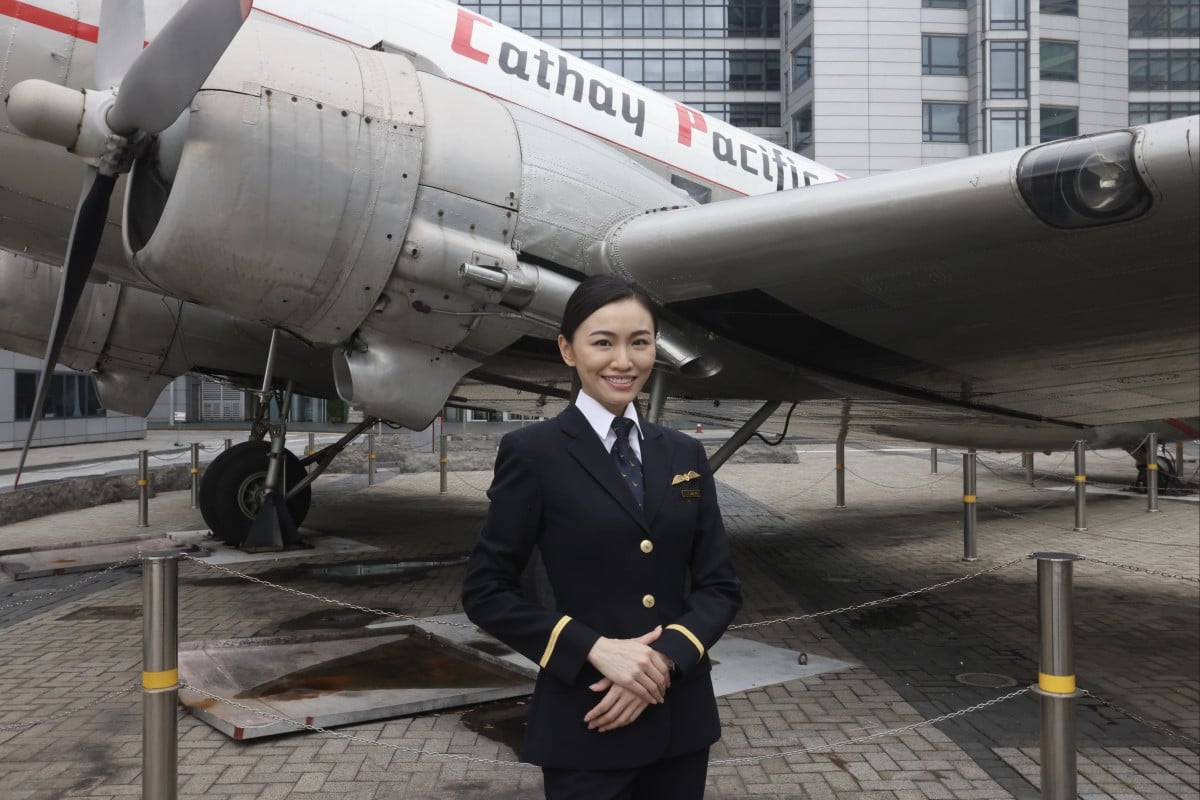 On social media, Christina Ho shares the life lessons she has learned as a pilot, accompanied by charming cat illustrations. Photo: Jonathan Wong
Six years ago, Christina Ho, a flight attendant at the time, needed to attend a friend's wedding in Malaysia, but there were no seats available on the flight there. Luckily, the pilot offered her space in the cockpit.
From the jump seat, Ho admired the sunset through the wide cabin window and was mesmerised by the switchboard's twinkling lights as the captains prepared for take-off. On the runway below, blinking lights indicated the plane's path.
"As the pilot accelerated, it was as if the lights were running towards you – I could feel my heart beating along with them," she said, adding that this moment sparked her desire to become a pilot.
Female gamers face stereotypes, but they are game to stay
This is no easy feat, especially considering only 5.8 per cent of the world's commercial pilots are women, according to the International Society of Women Airline Pilots. After years of preparation, Ho met her goal and has now worked as a pilot for almost four years.
But her dream was not so clear at the start. In fact, she spent years exploring before finding her true calling.
Born and raised in Hong Kong, Ho studied in local secondary schools, where she found few chances to enjoy her favourite art and music classes.
"I started to think that maybe there was some other place where studying would be different," Ho explained.
Since her family had not planned to send her overseas, Ho applied for a scholarship to a high school in the US. When she was accepted, she left Hong Kong after finishing Form Five and didn't look back.
After four flights and an hour-long car ride, she arrived at a remote town in the state of Kansas. There, she noticed students' different hair colours. It was the first time Ho was complimented for her wavy hair, as Hong Kong classmates often suggested she straighten it.
"People there won't try to change who you are. They treasure what's unique about you," she recalled.
Christina Ho at a flying simulation training. Photo: Handout
After high school, she pursued art in university and became a fashion designer after graduating in 2011. Ho got a job in Hong Kong but had doubts two years in.
"I didn't really prefer a nine-to-five job," she said, adding that she craved new challenges. "Through learning and improving, I see a better me."
She stumbled upon a poster recruiting cabin crew and went for it, hoping it would expand her horizons. After a few years of travelling the world as a flight attendant, Ho eventually discovered her calling as a pilot, but it was still a big leap of faith to take.
To determine if she should pursue this career, Ho spent a month with a retired pilot she had met while living in Kansas. There, she learned about flight operations.
"[That month] was good confirmation that I was in the right direction. Or else, I would have kept asking myself if it was just a spark on a flight," she reflected.
After returning to Hong Kong, the aspiring pilot took aviation classes at night while still working full-time as a flight attendant. Given that she had not studied science in university, it was tough to keep up at first.
"It was like forgetting my ... background in art and putting something entirely new in my brain," she said.
Teen pilot reaches Kenya in round-the-world quest
After finishing her courses, Ho applied for a pilot training programme, where she was one of 13 people selected for 55 weeks of training in Australia.
In her cohort, more than half already had licences, one was a helicopter pilot, and others had engineering backgrounds. Ho said 10 to 20 per cent of participants usually failed the course.
"I needed to put in so much more effort than my peers to get a good grade," she said adding that she would continue revising even when classmates relaxed or socialised after lessons ended each day.
Christina Ho spent 55 weeks in Australia training to become a pilot. Photo: Handout
As she practised flying on her own during the training, there was one moment she would never forget.
"While I was marking my location on my flight, the plane was sending me [warning] signals," she recalled. "I was communicating to the control centre about my issue ... and my plane [systems] blacked out."
With only a working engine and no radar or other instruments to assist her, the trainee relied on her instincts and made a perfect landing.
"This incident gave me so much confidence ... It proved to [my classmates] that I could fly," Ho said.
Now, after four years as a pilot, Ho looks forward to more challenges, such as making captain. She has also joined her company's female pilot advisory group to bring more women into the male-dominated industry.
"Having more [female] restrooms at the training centre would already make a difference," the pilot said.
Ho has also returned to her roots in art by creating a series of social media posts titled "Life Lessons from the Sky". With her charming cat illustrations, she hopes to inspire more people to challenge themselves.
"I know how hard it is to try new things and face doubters," Ho shared. "That's why I decided to start the series on social media, where I can be there every step of the way."
Click here for a printable worksheet and interactive exercises about this story.
Sign up for the YP Teachers Newsletter
Get updates for teachers sent directly to your inbox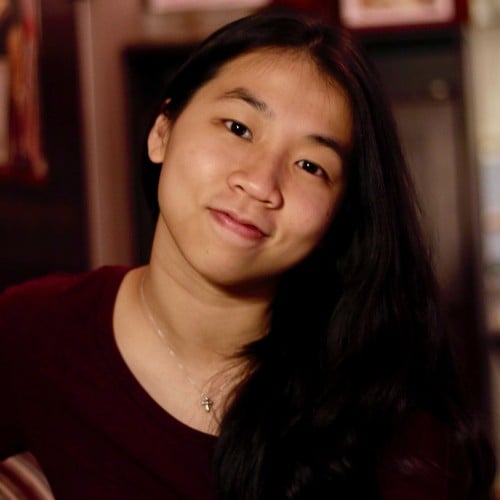 Yanni joined the Post in 2021. She has a bachelor's degree in communication and majored in international journalism. Previously, she worked at Reuters covering Hong Kong political news including the enactment of the national security law.
Sign up for YP Weekly
Get updates sent directly to your inbox