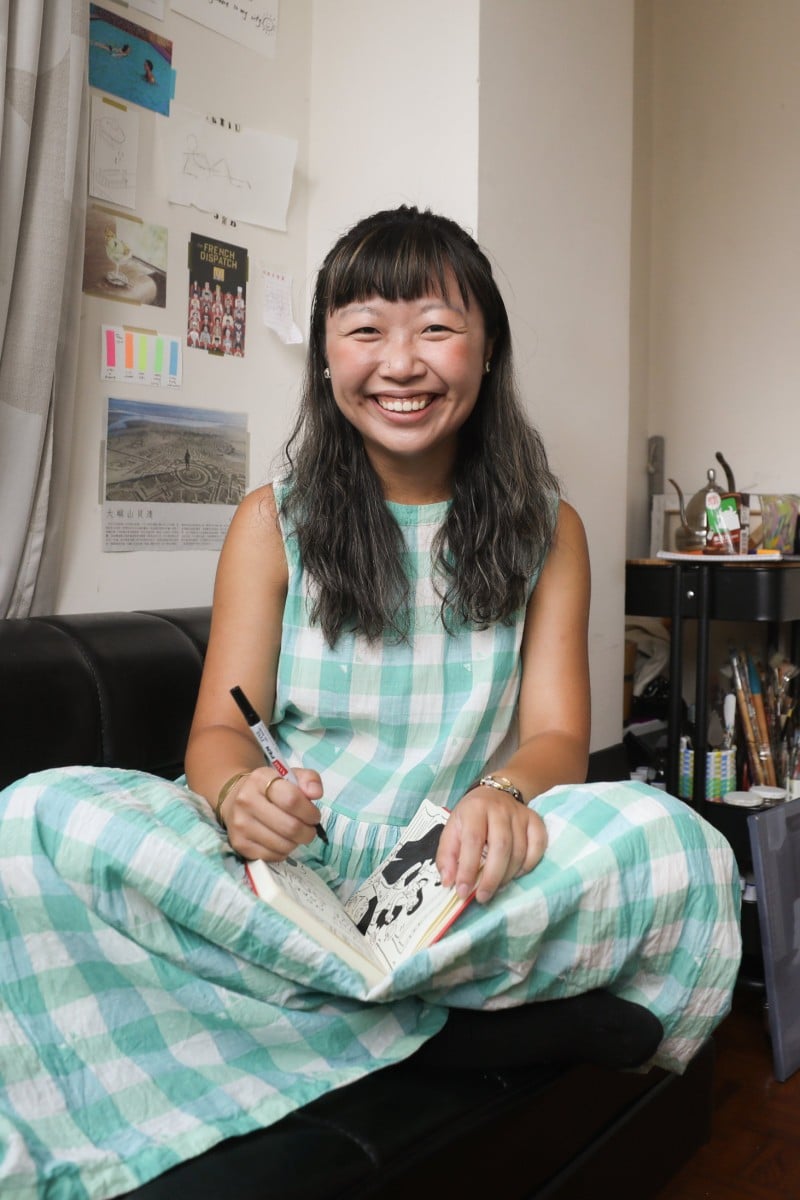 Hong Kong on the move: artist behind Instagram page Moving Drawing shares joy, comfort in cartoons of moments on MTR
Charlotte Lui Cheuk-nok's sketches feature quirky everyday scenes, such as passengers snoozing while standing and students using bags to anchor themselves to train poles

Every week, Talking Points gives you a worksheet to practise your reading comprehension with questions and exercises about the story we've written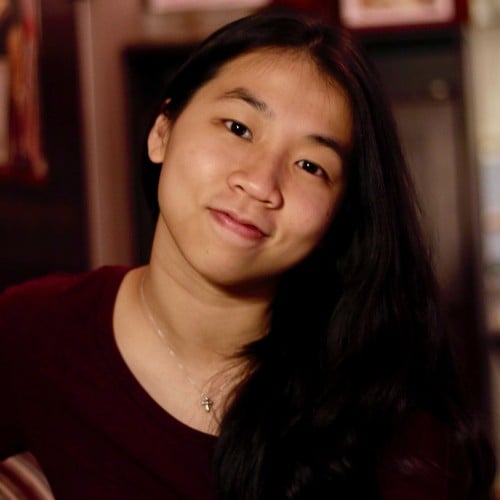 Yanni joined the Post in 2021. She has a bachelor's degree in communication and majored in international journalism. Previously, she worked at Reuters covering Hong Kong political news including the enactment of the national security law.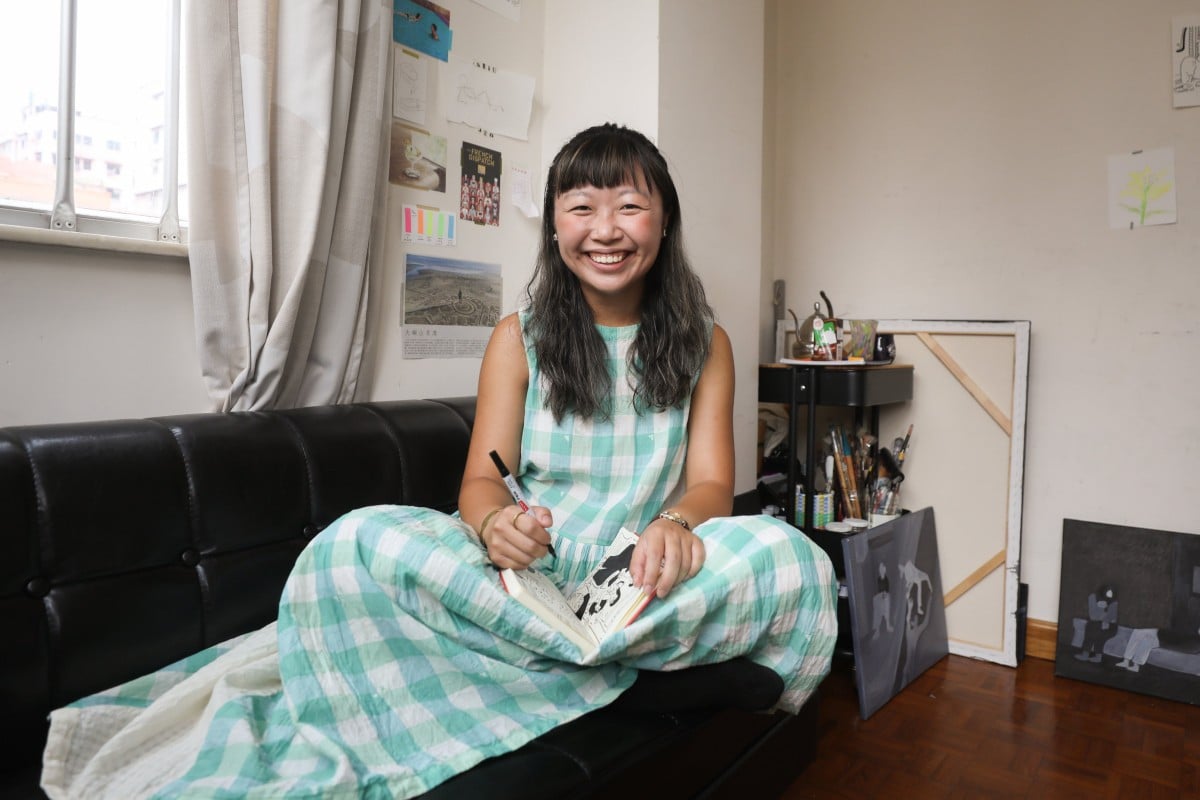 Illustrator Charlotte Lui hopes her drawings can inspire joy and provide comfort for Hongkongers. Photo: Xiaomei Chen
In a packed MTR train compartment, some passengers read; some are sleeping; some have shut out the rest of the world with their earphones. But Charlotte Lui Cheuk-nok stands in the corner, holding a palm-sized notebook as she sketches Hongkongers on the move.
"I think I put a little piece of myself into [drawing]," shared the 25-year-old artist.
For over a year, Lui has been recording the everyday lives of people on the city's trains. Drawn simply in black marker, her cartoons are posted on her Instagram page, Moving Drawing, with more than 69,500 followers. She has collaborated with other artists, curated merchandise and held her own exhibitions.
But a few years ago, she was just another commuter on Hong Kong's railway system, trying to find her way.
Chronically-ill artist felt she lost her career – a gift changed her life
How Moving Drawing got its start
Lui studied visual art in university but felt lost after graduating in 2019. While she had focused on life drawing for four years, she felt she could no longer express herself through it.
"Perhaps because society was in mayhem at the time – you see a lot of things happening but can't really express it through your art. I felt stuck," she said.
At first, she would still draw before going to work. But when she started a new job last year, she had to spend 1½ hours each way between Diamond Hill and Aberdeen. Lui felt like she lost personal time for drawing – until she chose to use her daily commute to sketch what she saw.
"So one day I just picked up a notebook in a bookstore and started to make it into a habit," said Lui, who created her Instagram account in March 2021. "At the start of Moving Drawing, I just drew anything I saw that day and recorded the time I finished it."
Charlotte Lui finds inspiration for her cartoons from her own observations as well as other people's photos on Instagram. Photo: Xiaomei Chen
Half a year since starting the page, she has found new inspirations beyond her own observations.
"Some friends of mine suggested I take reference from MTR Sleepers ... They are so nice that they let me use whatever I need," she said, referring to a quirky Instagram page that posts photos and videos of strange things people do while riding the MTR.
From students using backpacks to anchor themselves to a train's poles, to passengers snoozing against a pillow while standing, these are just some of the bizarre scenes that have inspired Lui's fun sketches.
As the illustrator became more creative with her drawings, she began using her imagination to create witty interpretations of what she saw.
"This is a way to make my friends, my family and even people who saw my drawings happy. They think what I'm doing is very funny," the artist said.
Drawing on hope: Hong Kong artist puts a lighter touch to city's heavy news
Besides inspiring joy, she also uses her lighthearted drawings to comfort others. When two dancers were injured at a concert for local boy band, Mirror, in July, Lui posted an illustration of people closing their eyes and holding hands.
"Dear Lord, please watch over two dancers. Bless and protect them. Amen," the words on the drawing read.
This year, she is passing on the love she receives, inspired by a US artist who draws strangers on the train and gives them the portraits.
"Last year, I saw that Hongkongers were not that willing to engage in physical contact with one another, given the pandemic – some even wore gloves. This year, I think people are more relaxed," she said, explaining why she began giving her drawings to train passengers this year.
It was not easy as people would leave the train too quickly. She failed a few times before finally giving one to a mother and daughter. When Lui first saw them, the pair were expressionless, and the girl had a bag with the logo of a popular drawing centre in Hong Kong.
"I knew it [the centre] focused on the academic side, instead of making drawing fun and relaxing. So I wanted to give the portrait to the girl as a wish to remember happiness when she's drawing, not exams," Lui explained.
This June, she saw a worker at an MTR station cleaning an escalator while looking worn out.
"It felt a bit heart-wrenching. I could feel that she was very tired," the artist recalled, adding she wanted to thank the cleaner for her hard work.
Posting about Hongkongers' home-cooked food to record city's memories
In the video Lui posted on Instagram, the worker took off her rubber gloves to receive the drawing while saying "thank you" profusely and joyously.
"I can see how she held my drawing dearly," Lui said.
Lately, people around the young artist, like many other Hongkongers, have been leaving the city. While she has also thought about leaving, her Instagram account has given her a reason to stay.
"As I commit more to the page, I can see that more and more people choose to stay and create opportunities for themselves," Lui shared.
Click here for a printable worksheet and interactive exercises about this story.
Sign up for the YP Teachers Newsletter
Get updates for teachers sent directly to your inbox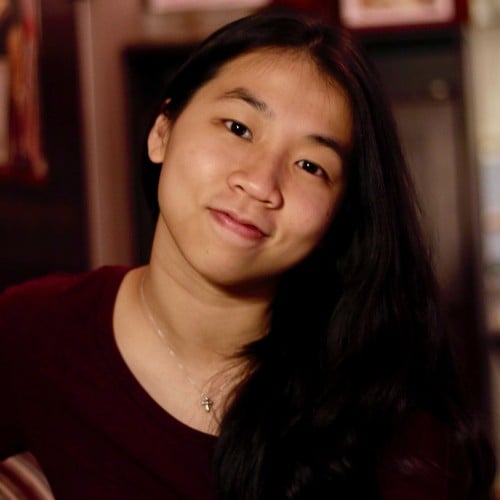 Yanni joined the Post in 2021. She has a bachelor's degree in communication and majored in international journalism. Previously, she worked at Reuters covering Hong Kong political news including the enactment of the national security law.
Sign up for YP Weekly
Get updates sent directly to your inbox