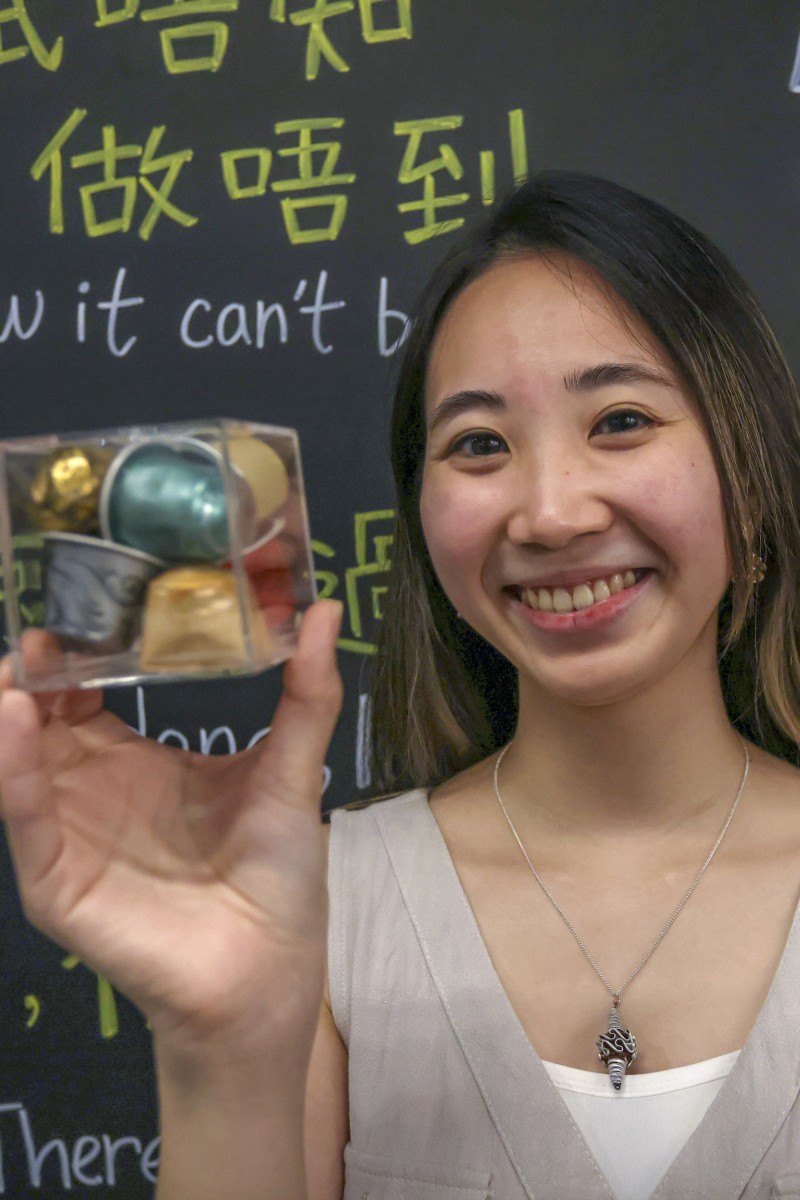 Eco-friendly Hong Kong jewellery brand upcycles used coffee capsules, giving piles of pods a pretty new purpose
Charlotte Wong Ka-man, 25-year-old founder of Wind.n.Sand, makes earrings, key chains and hair-tie charms from up to 500 waste coffee capsules every month

Every week, Talking Points gives you a worksheet to practise your reading comprehension with questions and exercises about the story we've written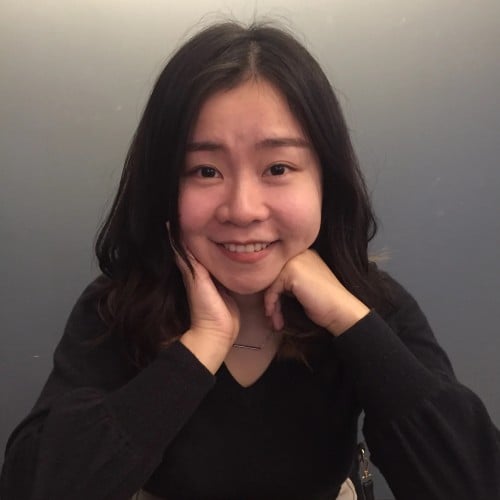 Kelly is a journalist from Hong Kong. She joined the Post in 2018, where she writes about Hong Kong's arts and culture, social welfare and the environment. She has a master's degree in Journalism from the University of Hong Kong.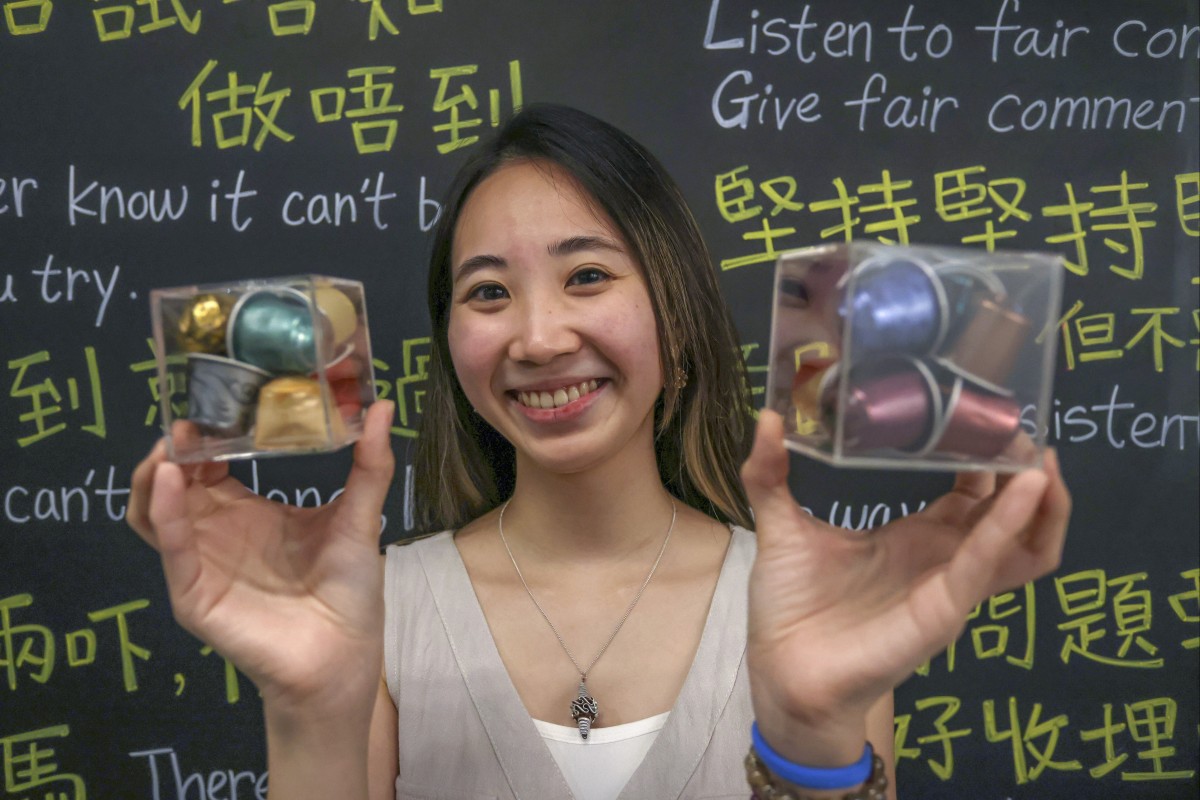 Charlotte Wong hopes Wind.n.Sand can help educate Hongkongers about reducing their waste. Photo: Jonathan Wong
Slick coffee capsule machines offer home brewers their favourite drinks at the push of a button, but this convenience comes at an environmental cost.
These single-use pods are a growing source of waste in landfills. Coated with aluminium and plastic, most of them can take up to 500 years to decompose.
To Charlotte Wong Ka-man, each colourful coffee pod is an opportunity. In 2020, she founded Wind.n.Sand, an eco-friendly accessories brand that upcycles up to 500 waste coffee pods every month to create earrings, key chains and hair-tie charms.
The number of capsules recycled by the brand was "only a drop in the bucket", said the 25-year-old student at Queen Elizabeth Hospital School of General Nursing.
"But I hope to use these environmentally friendly accessories to create conversations about waste reduction and recycling in Hong Kong."
What's the problem with coffee capsules?
Each capsule filled with coffee grounds is inserted into a machine to create one drink before it is tossed.
Halo, a British producer of compostable coffee capsules, says that out of the 39,000 capsules made globally every minute, 29,000 go to landfills.
Although companies like Nespresso offer special recycling programmes for their pods, most of them are not actually recycled. Some brands have created compostable pods that break down more easily than plastic ones. But if these are sent to regular landfills instead of composting facilities, they end up producing greenhouse gas as they break down.
Finding treasure in plastic bottles and broken rice cookers
For Wong, it was an upcycling workshop in 2019 that showed her the issues with single-use coffee pods. After learning to craft accessories from the capsules, she took this idea and made her own collection.
"It created conversations among my friends about the disposable coffee capsule problem," she recalled.
"One to two customers quit using disposable coffee capsules and turned to reusable pods after buying my earrings," she said, adding many customers started giving Wong their used pods instead of tossing them.
How does trash become jewellery?
Every few weeks, Wong peels off the aluminium covers from about 600 pods, removes the coffee grounds, and soaks the capsules in detergent and water overnight.
"If you only rinse it with water without soaking them overnight, the inside will be sticky," she explained.
"Some people store them over a period of time without drying them, which becomes very unpleasant," she said, explaining that most used capsules grew mould as they sat around for days before reaching her.
The next day, Wong rinses them again and dries them in the sun. Then, she can start turning them into beautiful pieces of jewellery. A pair of earrings takes between 45 minutes and two hours to make.
Lend support: Jie Yeah shop in Hong Kong has over 200 items people can borrow
"Many customers are surprised to find out [the jewellery] used to be capsules," the store owner shared.
However, not everyone values upcycled art. "Some say they are just trash," Wong lamented.
"They would rather spend HK$200 getting four pairs of earrings rather than one pair [from my store]," she shared, explaining that her pricing represented the time and money she spent making the items.
Despite only earning about HK$1,200 at her first art fair, Wong takes joy and satisfaction from the impact that her work has on the environment.
Spreading the word in Hong Kong
The artisan has set up an online survey to understand locals' recycling habits. Of the 83 responses so far, more than half of those who use coffee capsules throw used pods into the bin because they do not know where to recycle them or consider it too troublesome.
"We should all learn about the waste disposal of these pods in Hong Kong," she said.
In August, Wong was selected for Trial and Error Lab's Lab Fellow Programme, which supports young people aged 18 to 35 in developing creative careers. This has helped her have an affordable space to operate her business and connect with like-minded groups.
Hongkongers get rid of 400 million coffee cups every year
Wong has worked with local NGOs to organise upcycling workshops in secondary schools, teaching students to create accessories from waste coffee pods.
In the future, she plans to collaborate with other local artisans and host workshops on upcycling.
"Changing Hongkongers' ideas and attitudes about recycling is key," she said. "Organising educational workshops is one of the best ways to promote upcycling because people can get a better understanding of the recycling process."
Click here for a printable worksheet and interactive exercises about this story.
Sign up for the YP Teachers Newsletter
Get updates for teachers sent directly to your inbox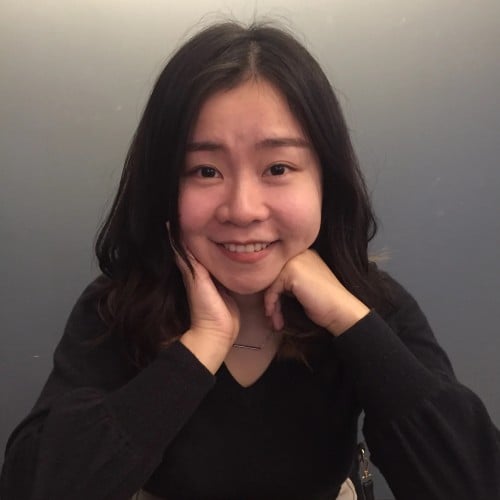 Kelly is a journalist from Hong Kong. She joined the Post in 2018, where she writes about Hong Kong's arts and culture, social welfare and the environment. She has a master's degree in Journalism from the University of Hong Kong.
Sign up for YP Weekly
Get updates sent directly to your inbox