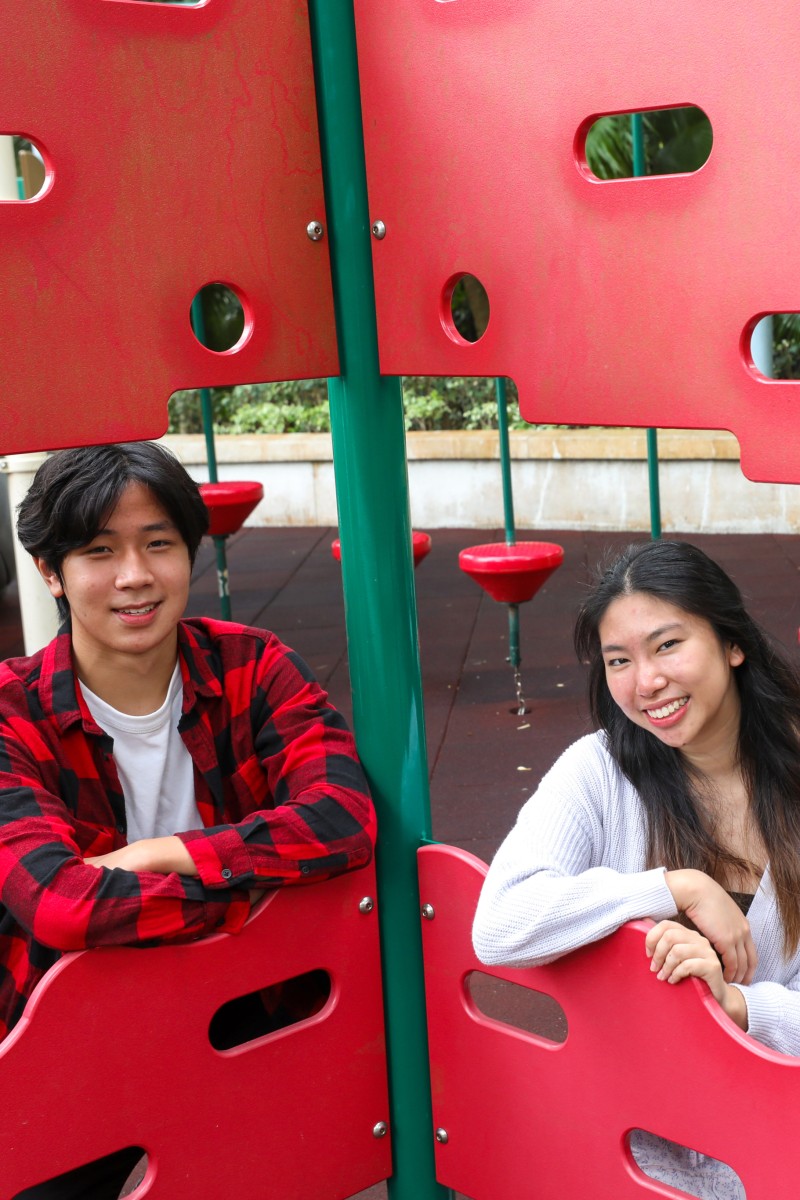 The Play Project: Hong Kong teens make documentary exploring how playgrounds could be made by kids for kids
Three Chinese International School students interviewed experts, conducted a social experiment with younger children and documented it in a 40-minute film

City's public play spaces have long been criticised for being boring, though groups like Playright Children's Play Association are trying to change that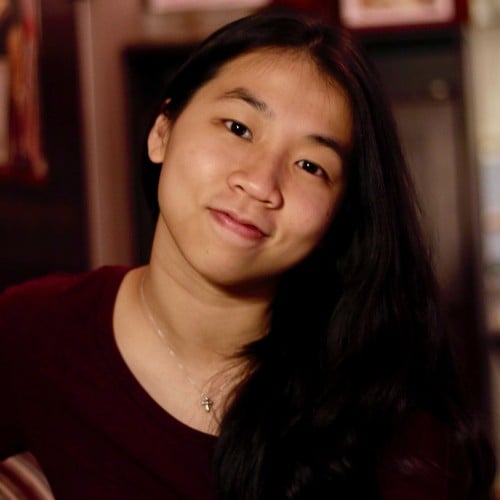 Yanni joined the Post in 2021. She has a bachelor's degree in communication and majored in international journalism. Previously, she worked at Reuters covering Hong Kong political news including the enactment of the national security law.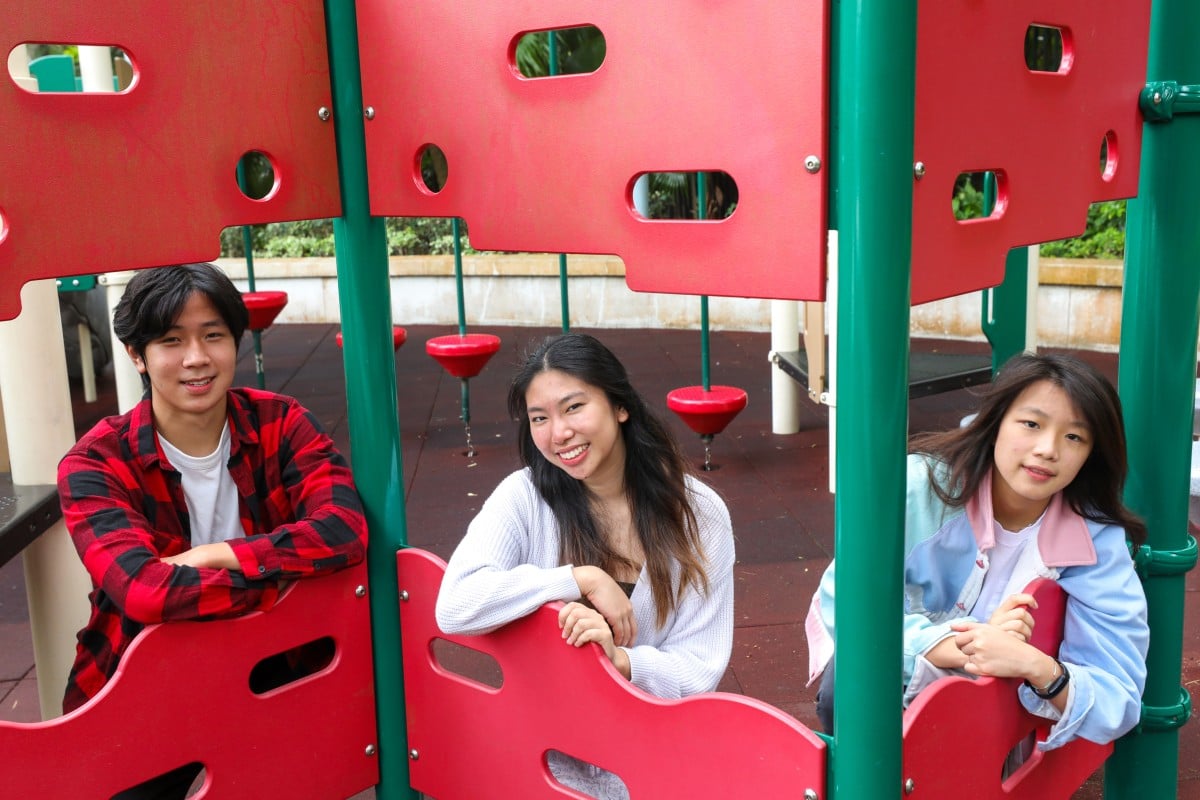 Daniel Yang (from left), Alicia Tang and Evelyn Kwan have made a documentary about crafting play spaces that inspire imagination. Photo: Xiaomei Chen
Swooshing down slides, clambering over walls and swaying on swings in Hong Kong's playgrounds were how Evelyn Kwan, Alicia Tang and Daniel Yang spent much of their youth.
But when the three 17-year-olds recently revisited their childhood havens, they noticed something different.
"All these playgrounds in Hong Kong are exactly the same with the same slides, the same climbing walls. It's really easy for the kids to feel bored of the playground environment," Daniel noted.
Swinging from past to future – the evolution of Hong Kong play areas
They observed how the city's public play structures were often plastered with prohibition signs that read "no skateboarding", "no running" and "no climbing".
"All these restrictions just made us think back to when we were kids. We remember just running around and not having as many restrictions," Evelyn said.
Intrigued, the three Chinese International School students last February began a quest probing into the city's play spaces. They interviewed experts, conducted a social experiment with younger children and documented it all in a 40-minute documentary, The Play Project.
The trio noticed that younger kids around them were not spending much time in the city's playgrounds.
"Schedules are just a lot more busy for them. Even when they go once in a while, they aren't actually communicating with any of the kids there," Evelyn noted.
They also observed how unattractive current play spaces seemed. Alicia recalled playing on tall, bridge-like structures as a child because they looked "risky". Even when she returned home with bruises or tangled hair, she felt free. That should be the spirit of play, she said.
"There were really no rules or restrictions. I could just fully be myself ... and take risks to my own liking," she said.
Why Mr Swing is on a mission to document Hong Kong's swings
Hong Kong's public playgrounds have long been criticised as being too dull.
The teens spoke to Helen Fan Lok-yi, author of The Abstract Playscapes of Hong Kong. Despite earlier attempts at experimental play structures, the government in the late 1980s started buying standard equipment and instituting rules in response to safety concerns.
A 2017 Legislative Council report noted: "The identical playground design ... has been criticised for being boring and failing to satisfy the playing needs of children."
While Hong Kong has no statutory requirements for the design of children's play areas, authorities follow established design codes from overseas. According to the Architectural Services Department, playground design is "interactive, imaginative and inclusive".
Hong Kong's playgrounds often prioritise safety at the expense of fostering imagination and growth. Photo: Felix Wong
In her 2019 policy address, Carrie Lam Cheng Yuet-ngor announced plans to upgrade public play spaces over the following five years with "community engagement and encouragement of innovation".
The teens spoke to Dr Chung Yiu-bun, who is a psychology professor at The Education University of Hong Kong and has taught primary school students. He found the city's current playgrounds "boring". "They do not develop students' creativity," he said in the documentary.
The trade-off between safety and fun is taking away children's opportunities to develop muscles, fine motor skills and a heart to explore.
After speaking to play experts, the three teens wondered: "If playgrounds are meant for children, why are adults designing them?"
To explore the possibilities of creative play, the trio decided to conduct a social experiment by building a playground designed for kids, by kids.
Through various Facebook groups, the trio recruited 10 children as their subjects.
"I definitely met parents who had a very different view towards their children's education and play," Evelyn said, explaining that not every parent valued playtime.
Hong Kong architects make libraries into fun playground for kids
They started with an orientation session at The Big Things, an indoor playground in Tsuen Wan that employs more experimental modes of play.
The children were asked to brainstorm their ideal playground. They spent the day on the floor doodling, scribbling and imagining on a giant sheet of paper.
"Basically, we just gave kids free rein of what they wanted to make," Alicia recalled.
Next, the trio brought the children to experience unstructured play at ½ Playground in Tai Po, operated by local NGO, Playright Children's Play Association.
The unconventional play space lacks the typical monkey bars, slides and swings. It is, however, well-stocked with cardboard boxes, tyres, bamboo sticks, water bottles and other materials and tools. The experience gave the children the freedom to imagine their own playground.
Last July, the 10 kids built a playground from scratch with materials like wooden boards, nets and paints.
While it was fun to watch them develop their world, it was also rewarding for the teens to witness their growth.
Michelle and Inez, two girls from a local school, were shy at the start. But on one of the building days, they constructed what they called a "chicken chair" – a wooden chair with yellow squeaky chicken toys taped to it.
Two girls built a noisy "chicken chair" that inspired them to speak up. Photo: Handout
When the teens asked the two girls why they had built it, they said: "If you sit on it, it makes a loud noise."
Evelyn shared: "They mentioned how this encouraged them to speak up and not be afraid to make noise on the playground ... From there, they opened up."
"By day three, the girls were talking to other kids, and even teaching them how to use some of the supplies."
The result was the ultimate dream play space – a blue skateboard ramp, a pirate ship made of blocks and planks, ropes connecting colourful climbing blocks, and of course, the squeaky chicken chair – made entirely by the children.
For the play structure of their dreams, 10 children created a squeaky chicken chair, a blue skateboard ramp, a ropes course and more. Photo: Handout
The kids had created something so imaginative and enticing that even the three teens felt tempted to play.
"The playground is just a kid's world in the sense that there's no other space where someone is telling them what to do," said Evelyn.
They hope to raise the importance of play to a wider audience as, ultimately, play is not only for children.
"What we need is this mindset of free expression because that is essentially what playgrounds embody. And so, for adults or for older kids, we really need to instil this non-risk averse mindset," Alicia shared.
Get the word out
Swooshing 快速移動
to move with or make a rustling, swirling, or brushing sound
Plastered with 貼滿
to overspread with something, especially thickly or excessively
Probing into 深入研究
to search into or examine thoroughly; question closely
Trade-off 平衡
the exchange of one thing for another of more or less equal value, especially to effect a compromise
Ramp 斜坡
a sloping surface connecting two levels; incline
Plank 跳板
a long, flat piece of timber, thicker than a board
Embody 體現
to give a concrete form to; express, personify, or exemplify in concrete form
Averse 反對的
having a strong feeling of opposition, antipathy, repugnance
Sign up for the YP Teachers Newsletter
Get updates for teachers sent directly to your inbox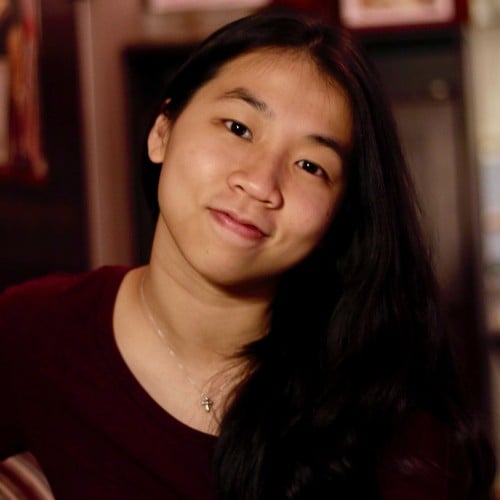 Yanni joined the Post in 2021. She has a bachelor's degree in communication and majored in international journalism. Previously, she worked at Reuters covering Hong Kong political news including the enactment of the national security law.
Sign up for YP Weekly
Get updates sent directly to your inbox