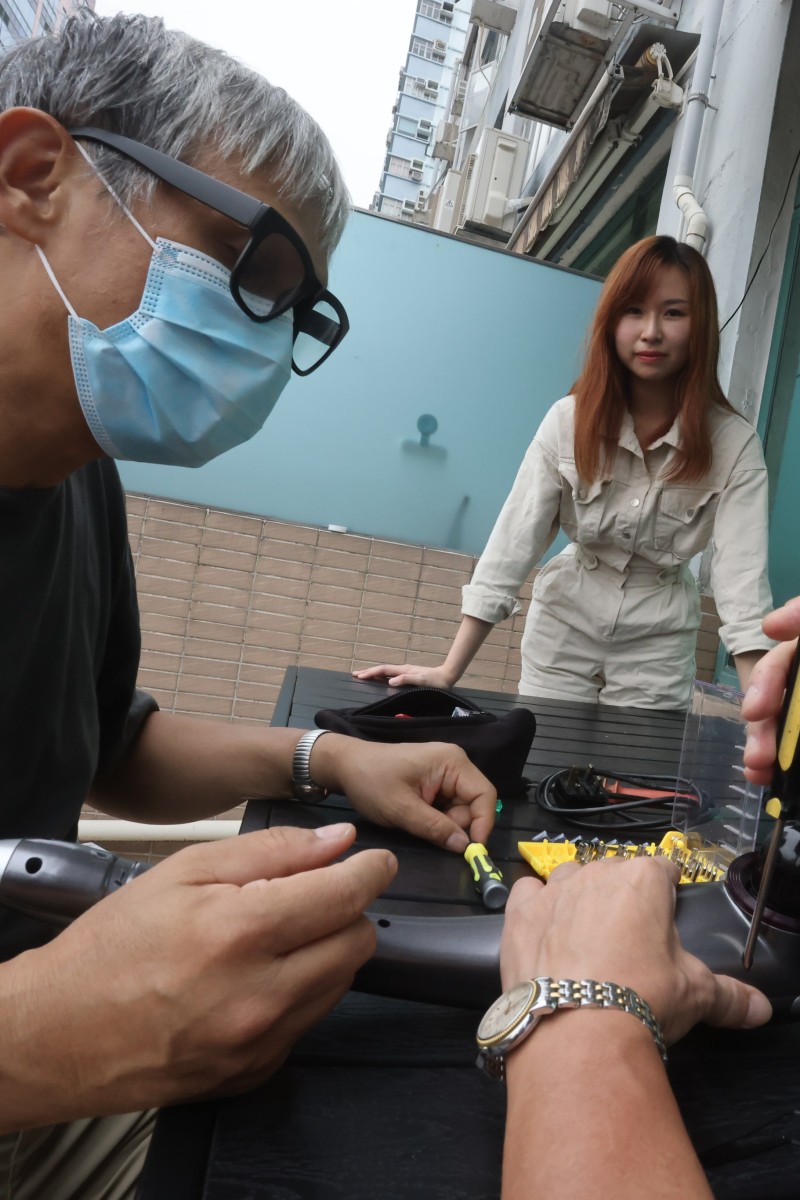 Hong Kong's Repair Cafe helps people save money while working for the environment
Originating in Amsterdam, the eco-friendly Repair Cafe encourages people to bring in their broken bicycles, appliances and other items and get them fixed

Jacky Chan and Kayley Leung, who established the local chapter last month, hope to teach people that there's more to sustainability than recycling and buying less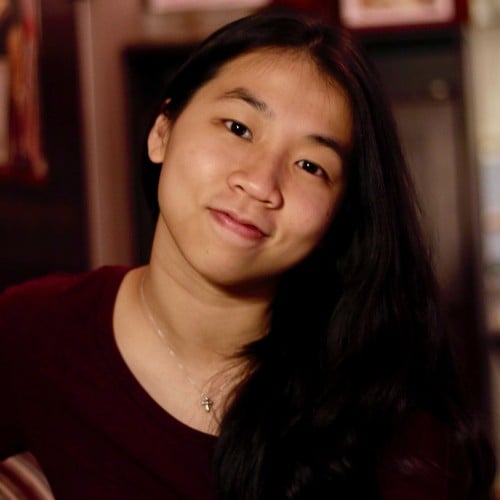 Yanni joined the Post in 2021. She has a bachelor's degree in communication and majored in international journalism. Previously, she worked at Reuters covering Hong Kong political news including the enactment of the national security law.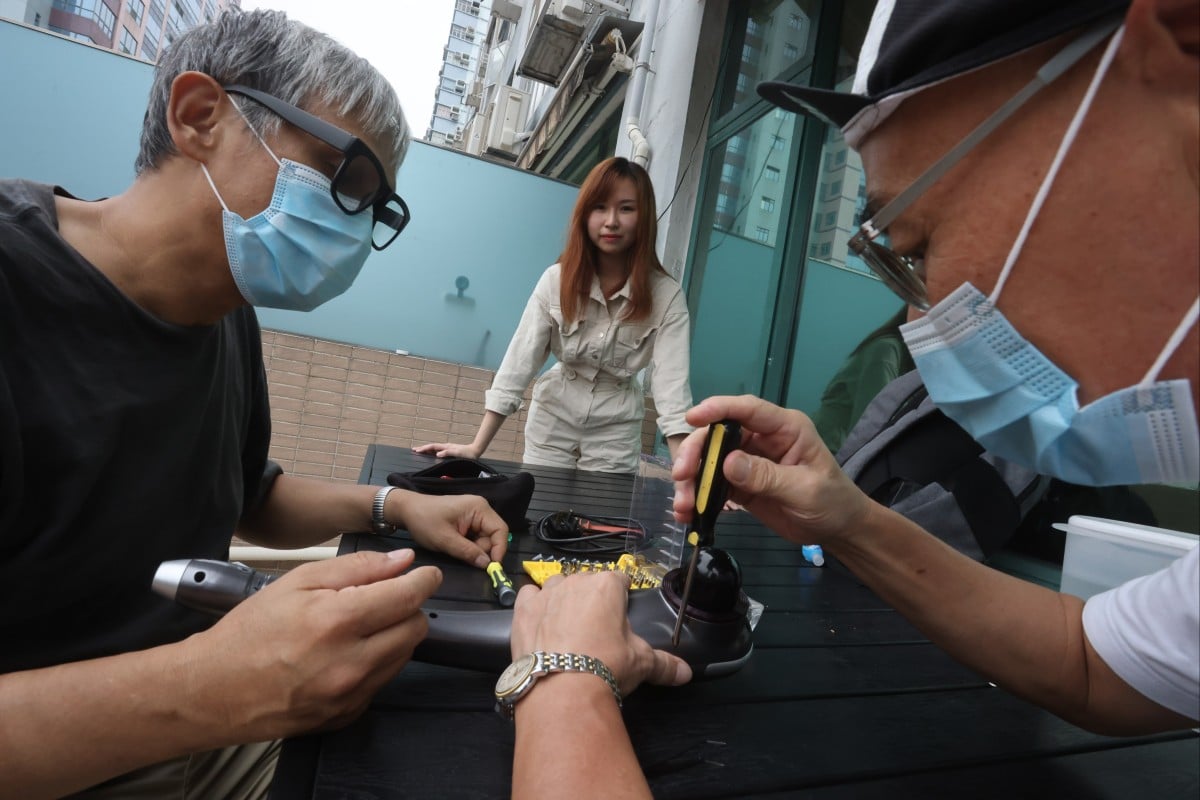 Volunteers at Repair Cafe work to help Hongkongers repair their electronics. The group was co-founded by Kayley Leung (centre). Photo: Jonathan Wong
A bespectacled middle-aged man surnamed Leung was disappointed to find his electronic massager wouldn't work after leaving it idle for several months.
Not wanting the nearly new piece of machinery to go to waste, he turned to Repair Cafe Hong Kong for help.
"I wanted to be more environmentally friendly. Throwing it away after using it once seemed very wasteful," said Leung.
Hong Kong's Fortune Library Jie Yeah builds community with items people can borrow
He journeyed from Sha Tin to a co-working space in San Po Kong, where seven expert volunteers work to diagnose and repair malfunctioning electronics.
Two of them took over Leung's massager, examining it with different tools and equipment. As of now, it is still being fixed.
The Repair Cafe originated in Amsterdam, the capital city of the Netherlands, back in 2009. The initiative encourages people to bring in their broken items – such as bicycles, appliances and furniture – and work with a team of repair experts to bring them back to life.
The eco-friendly scheme aims to help consumers save money while keeping usable electronics out of landfills.
Volunteers for Repair Cafe work on a fan at the cafe's headquarters. Photo: Jonathan Wong
Jacky Chan and Kayley Leung, two Hong Kong environmentalists, established the local chapter of the cafe, which focuses solely on electronics, last month.
The two met a few years ago while working at a local NGO concentrating on environmental projects, such as distributing leftover produce from supermarkets to the needy and fixing broken furniture.
Sharing a love for the environment, they applied to the Dutch headquarters and registered as one of the 2,500 official repair cafes worldwide. This allowed them to be listed on the organisation's website and receive information and kits for repairing electronics.
Eco-friendly Hong Kong jewellery brand upcycles used coffee capsules
Kayley, who studied environmental science at university, said there is an information gap in society regarding eco-friendly practices.
"The public still has the mindset that they just need to buy less and recycle," the 25-year-old co-founder said, adding that while these are good steps to take, people can do more – such as repairing the items they already own.
Co-Founder of Repair Cafe Kayley Leung. Photo: Jonathan Wong
The group hosts a weekly repair workshop for kaifong – people in the neighbourhood – to bring in their glitchy gadgets for inspection and restoration.
The most common things people bring are household items such as electric stoves, fans and rice cookers. Chan, 30, said people usually want to repair these objects because of their sentimental value.
"Especially clocks and watches, they often mean a lot to their owners ... it might have been a gift that holds dear memories," he said.
Another example is the simple electronic fan one couple brought in.
If Mil Mill shuts, Hong Kong loses not only its sole drinks carton recycler but a leader in green innovation and education
"They were so happy to have it fixed because they bought the fan when they first got married," he said.
It can be satisfying to help people fix their possessions, and the joy and gratitude on the owners' faces motivate the co-founders to continue their cafe. Kayley said she experienced the warmth of helping an elderly woman fix a clock gifted by her late husband.
"Sometimes fixing things is not just about being eco-friendly, but about building memories and mending relationships," she said.
Hong Kong's eco-friendly designer upcycling plastic bottles and broken rice cookers into speakers and bicycle bells
For the love of the environment
Since the group doesn't receive funding, it charges HK$50 for each person needing their electronics fixed. It also relies on unpaid, experienced volunteers.
"They do this from the heart," Kayley said.
"It's rare to see people willing to fix and repair in today's consumer culture," said Chan, who is now studying full-time, taking courses in electronic repair.
Try to get your items repaired before throwing them away. Photo: Shutterstock
"Electronics break more easily nowadays, but sending them to their original manufacturers for repair could be pricey," Kayley added.
The duo hopes to continue promoting repair as an option before throwing away or recycling items.
"Repairing is a choice, and we want people to consider it," Chan said. "We also hope corporations and the government could put more effort into establishing repair centres and promoting repair as a viable option."
Click here for a printable worksheet and interactive exercises about this story.
Sign up for the YP Teachers Newsletter
Get updates for teachers sent directly to your inbox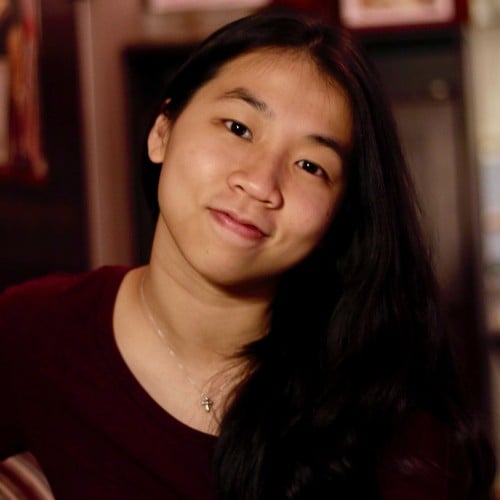 Yanni joined the Post in 2021. She has a bachelor's degree in communication and majored in international journalism. Previously, she worked at Reuters covering Hong Kong political news including the enactment of the national security law.
Sign up for YP Weekly
Get updates sent directly to your inbox