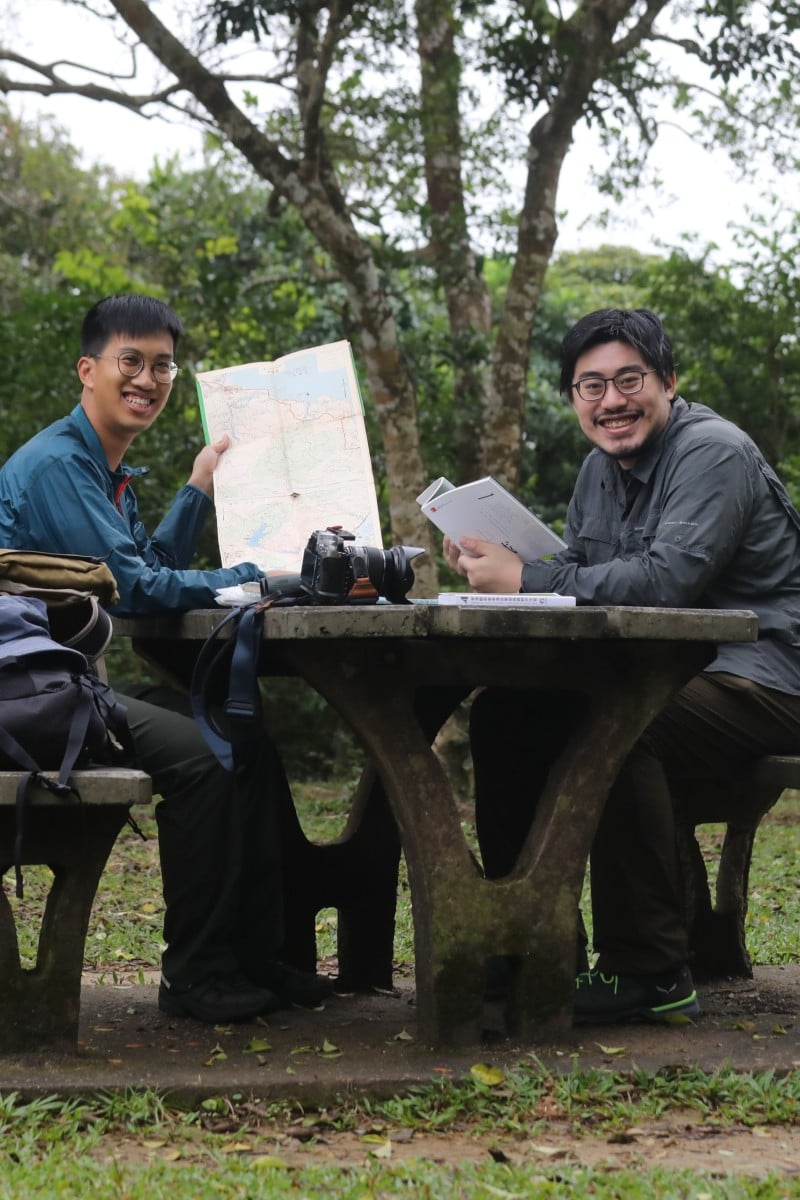 Before going off-trail, group founders Herman Mok and Matthew Au spend hours planning routes and researching the place's history by using books and senior trekkers

Walking groups in the past typically comprised more than 200 people, who would draw their own maps to mark locations missing in government publications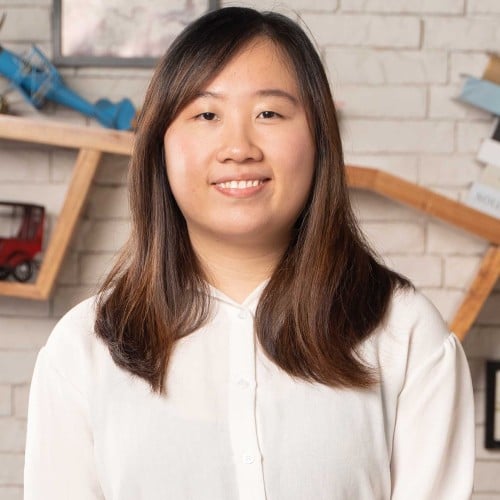 Sue joined the Post in 2021. She graduated from the University of Hong Kong with a double major in journalism and counselling.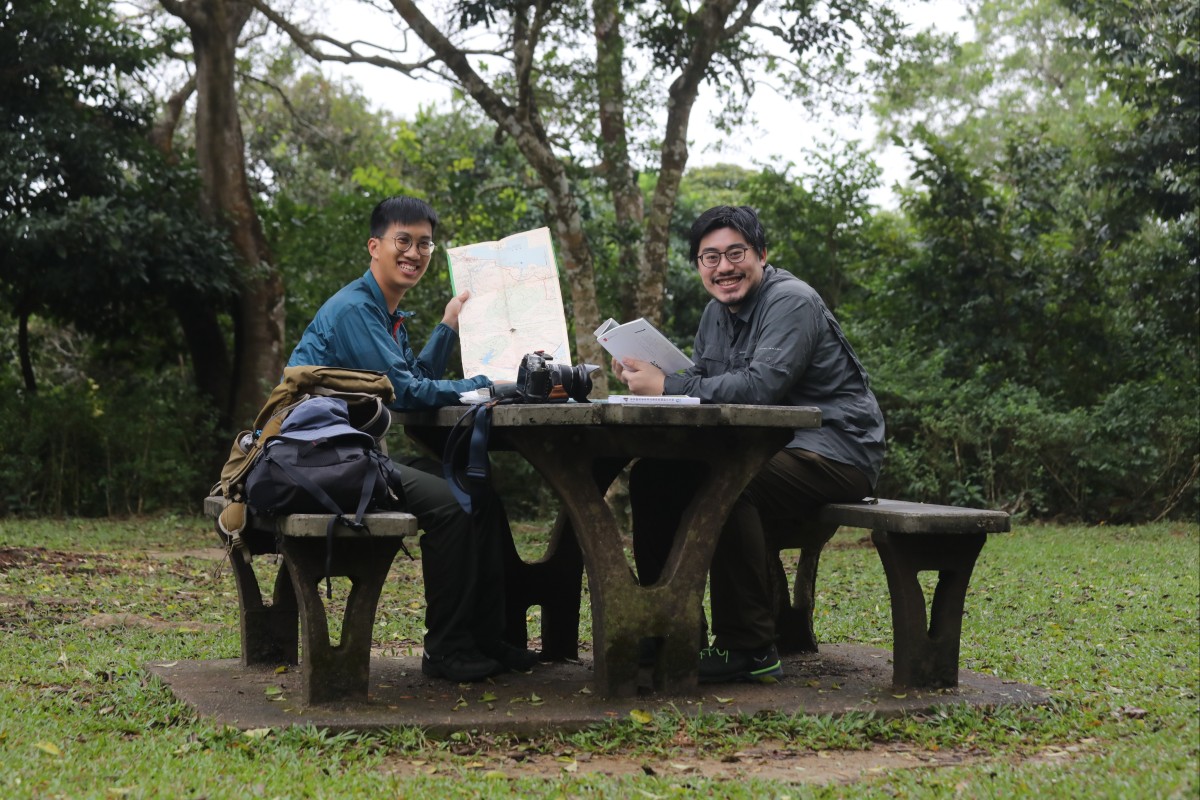 Herman Mok (left) and Matthew Au started Hkhiker in 2015 to share lessons they learned from the city's countryside. Photo: Xiaomei Chen
As a mountainous metropolis, Hong Kong has long provided many picturesque hikes for its residents. On weekends, country park trails are crammed with city dwellers hoping to escape the concrete jungle.
For avid trekkers Matthew Au Yee-chun and Herman Mok Chi-kit, hiking is not just a hobby – it is also a way to forge deeper connections with the place they call home.
After meeting at work, the duo bonded over their love for off-trail hiking. In 2015, they founded a walking group, Hkhiker, to venture into the city's covert corners.
Teen helped kids in need by walking the entire Hong Kong Trail – in just one day
"Hong Kong mountains are riveting," said the 31-year-old Au, who started hiking when he was in university. "While hiking, you get to meet different people and uncover something new in nature. It gives you a different angle to see the place that is our home."
For 29-year-old Mok, what intrigues him most about hiking is the joy of discovering the city's history preserved in its mountains.
"I was not an athletic student and never thought I would be enamoured with outdoor activity ... But I was fascinated by the city's hidden history and remains in the countryside on my first hike, as well as the scenic views."
Exploration of a mountain city
About 40 per cent of Hong Kong's land is designated as country parks and special nature conservation areas.
"Known as a 'mountain city', Hong Kong is one of the few places in the world where the boundary between urban and rural areas is close," said Mok, noting that this divide had shifted over time.
Au added: "On the mountains, there might be some once-lively villages that have been abandoned because of urbanisation. Meanwhile, the places we live in urban areas could have been part of the forest many years ago."
"There is a lot of knowledge and resources available in Hong Kong's hills, in terms of the city's history and ecology. It's definitely more than [just] a spot for Insta-worthy photos," he stressed, recalling why they started Hkhiker in 2015.
The two had joined a hiking tour to Ninepin Group islands led by experienced hikers, and they were surprised to be the only attendees in their 20s. Everyone else was in their 40s or older.
Thus, the pair started Hkhiker to share what they learn from their hikes with others their age. Their Instagram has amassed 12,200 followers, and they have written nine hiking books. With more than 40 active members, the group embarks on off-trail hikes every Sunday.
"We will rent a boat to outlying islands to visit forsaken villages, temples or tombs. If the destination is not far away, we will just swim to the location," said Mok.
Research and hiking go hand in hand
During the pandemic, Sunny Leung Chi-hau, director of the NGO, Mountaineering Council of Hong Kong, observed more novice hikers heading to country parks.
But the coach, who has been educating the public about mountain activities for more than 20 years, added that it was important for hikers to be prepared.
From September 2021 to August this year, there were 256 hiking-related rescue operations in Hong Kong, of which 65 involved solo climbers.
"There are three things people can do to prevent injuries: rigorously plan the routes, prepare equipment like a water bottle and flashlight, and practise and exercise in advance," said Leung, advising people to hike in a group with more than four people and follow experienced hikers.
Lantau hiking: trails, trips and treats
Before going off-trail, Mok and Au conduct hours of research to plan routes and understand the place's history. Most of their knowledge is from books and senior hikers.
"Some places are not recorded on the map, so we can only refer to experienced hikers' memories or records from ancient books, and visit the spot to verify for ourselves," said the pair.
From experienced hiker Walter Chu, they learned that walking groups in the past typically comprised more than 200 people, who would draw their own maps to mark locations missing in government publications.
"Hikers in the 1950s treated the outdoor activity like local studies. They would talk to inhabitants to collect and record information about a place," said Mok. "This is hard to imagine in today's Hong Kong where people mostly hike for leisure."
Preserving the spirit of older hikers
Ultimately, Hkhiker hopes to inspire others to venture into Hong Kong's wilderness with a deeper and broader vision.
"We hope to pass on the practice and knowledge of the older hikers, as it [the spirit] is worth people's acknowledgement," the founders noted, raising an example of the group's expedition to Ngong Ping.
Nestled on Lantau Island, Ngong Ping is renowned for the Po Lin Monastery and Big Buddha. But few know that beneath the soaring mountains are ruins of many other monasteries and temples.
In researching these bygone sites, Mok and Au referred to Lantau Chronicle, written in 1958 by Po Lin Monastery's second abbot about the island's Buddhist temples.
Lantau Island is a treasure trove of beautiful hikes and cultural heritage. Photo: Dickson Lee
After roaming Ngong Ping for five hours, the group located all of the recorded stone huts. "You could feel that the buildings had not been visited by people for a long time. During our search, we even found a hidden chamber that was not detailed in the book," recalled the duo.
These eureka moments are what they enjoy most about hiking. "Of course, it's satisfying to get to the top, but it's more exciting to get to know something new about the place," they shared, adding that they hoped to collaborate with more groups to share lessons from the countryside.
"Hiking is not just about wandering around nature but also includes the research beforehand and how we consolidate our findings and experiences afterwards," said Au, referring to the hiking spirit of older generations.
"For some, their connection with the countryside may just be the photo, but it is only when you understand a place's history and value that you can create a bond with it," said the duo.
Get the word out
Crammed with 擠滿
to fill (something) by force with more than it can easily hold
Trekker 登山者
a traveler who makes a long arduous journey
Venture 冒險
to make or embark upon a venture; dare to enter or go
Riveting 吸引人的
absolutely fascinating; enthralling
Enamored 喜歡
to fill with love
Expedition 探險
an excursion, journey, or voyage made for some specific purpose
Monastery 寺院
a house or place of residence occupied by a community of persons, especially monks, living in seclusion under religious vows
Abbot 住持
who is the head or superior, usually elected, of a monastery
Sign up for the YP Teachers Newsletter
Get updates for teachers sent directly to your inbox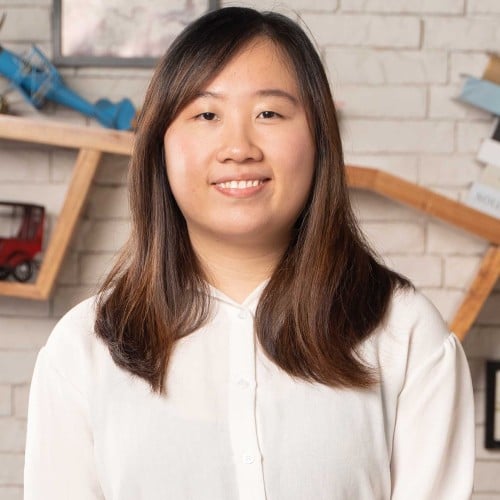 Sue joined the Post in 2021. She graduated from the University of Hong Kong with a double major in journalism and counselling.
Sign up for YP Weekly
Get updates sent directly to your inbox