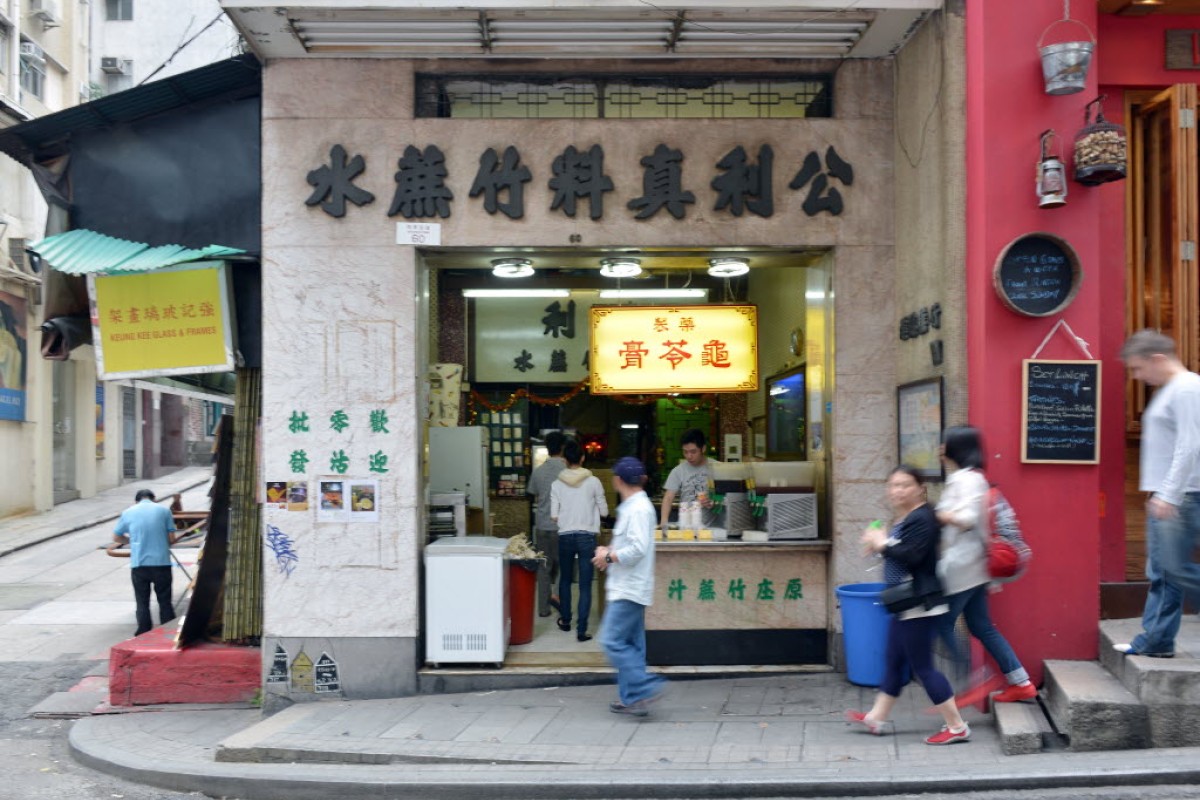 Kung Lee has been in business for 67 years
This story was part of Elephant Community Press' 2015 exhibition, "Beyond the Storefront".
Kung Lee, a traditional Chinese beverage store, is not just like a "second home" to Ben Tsui, but where he lived in
his childhood years. Tsui brings young energy to the 67-year-old family business located on Hollywood Road. The
store serves sugar cane juice and jelly, as well as turtle jelly, a mixture of herbs and a bit of turtle shell, consumed
for medicinal purposes and as a dessert.
The business is a three-man show, father and sons working together fluidly, communicating with just glances,
picking up a task where the other has left off. Tsui is very devoted to his family business, as it is a place that carries
his childhood memories and the history of Hong Kong with its old-fashioned interior design and conventional food
processing methods.
"Back in the old days, my grandparents had to farm their own sugar cane all the way in Shatin. Early in the
morning, they would transport it back through the mountainous areas by foot, then load it onto a truck back to
the store to process it," says Tsui. "They didn't ever have a chance to rest."
Tsui takes a day off only every two weeks, and on work days, he heads off to bed just a few hours before sunrise
and is up again at eight. The lack of sleep is a given, as they work even after closing the store at night, preparing
the delicacies for the next working day.
He feels content when he watches the customers enjoy his family recipe. "My customers are like family," he says. "I
remember doing my homework on the table over there, watching my dad serve a dating couple. They are
married now, and their kid comes to visit us."
Tsui says that he never meant to come back and work in the family business, but his emotional connection with
the store drew him back after studying interior design. When asked about the layout of the store, it is as if a light is
sparked in Tsui as he points out "the simplicity and the ingenuity of the design, which also carries the past of Hong
Kong". The store has a high ceiling and extended fans that stretch downwards to compensate for the lack of air
conditioning in the summer. The sugar cane juicer and the massive bronze tank that dominate the front of the
store have lived through the history of Hong Kong, and a letter on the wall has faded from red to pale yellow,
watching over the store through good times and bad.
Recently, a threat to the existence of traditional herbal tea shops is the shift of "Hong Kong people's preference
for the conveniences of modern herbal shops in MTR stations… [but they] lack heart and aren't as healthy," Tsui
says. Every day, large corporations and chain stores sweep through the streets and replace many traditional
stores that make up the culture and history of Hong Kong. It is increasingly hard to run a business like Tsui's in Hong
Kong, with the "high cost of ingredients, expensive wages, and climbing rental prices".
The family dynamic of this store is what keeps it running, as wisdom and experiences are passed down the
generations through tough times; the family pulls through together. Looking at the store, Tsui wishes that future
generations will continue to support these traditional Chinese tea shops and be able to reminisce about what is
left of Hong Kong's heritage through a heart-warming cup of sugar cane juice.
Sign up for the YP Teachers Newsletter
Get updates for teachers sent directly to your inbox
Sign up for YP Weekly
Get updates sent directly to your inbox